"In this blog, we will discuss the adequate methods through which MBOX can be exported to PST file format."
Microsoft Outlook is one of the most popular email clients which are gradually used by various numbers of clients around the world. Outstanding Services, better features are the primary reasons for its popularity. Outlook provides a wide variety of features as compared to other email clients. Considering the following options, it has led the email users to export their data to Outlook PST.
MBOX is a flexible file format used by a number of email clients, commonly Apple Mail, Entourage, Mozilla Thunderbird, Eudora, etc. to store email messages. However, due to some critical reasons, exporting MBOX to PST file format becomes user necessity. This article contains step-wise instructions to export MBOX to PST files with adequate methods.
Why users convert MBOX to PST?
For the MBOX to PST conversion, every user may have own reasons but there are some common reasons due to which users are initiating for this. Drawbacks of MBOX file format and advantages of Outlook PST file format are making users to convert file format. Few of probable reasons are mentioned below:
MS Outlook has better features, cost-efficiency than Email clients that support MBOX file format.
There is a need of internet connection to perform tasks with MBOX files but there is no such need with Outlook PST.
Email clients that use MBOX file format are not too much advanced hence not preferred by the organizations.
Issues like file locking in MBOX that restricts users to open file, encounters frequently.
Being a product of Microsoft, Outlook has better security features than anyone else.

Shoviv Converter for MBOX Reviewed and Recommended by Spiceworks Professional
Proposed Methods to convert MBOX to PST
The process of exporting one email client mailbox to another has become a common scenario, which is the case with MBOX to PST conversion.
There are commonly two ways to convert MBOX file into PST-
Manual method: The manual method to convert MBOX to PST is a technically enhanced solution, which can export MBOX files to PST file format in ease.
Automated MBOX file Converter
Download A Free Trial Version of Shoviv MBOX to PST Converter
Free Download
A Simple Method to Convert MBOX Emails into Outlook/PST
Save MBOX emails as EML files
It's easy to save your MBOX emails as EML files! We've detailed the steps for Thunderbird below:
First, open up the MBOX email client. Right-click on a folder and select 'New Folder.
Give it a name and click 'Create Folder'.
Then, select the EML messages you'd like to migrate and move them to the folder you just created.
Once all the emails have been moved, select them all and choose 'Save as. This will save them in EML format to any location you choose!
Save Emails into an External Folder
You can easily export multiple emails from different folders to an external folder with the help of an add-on!
Head on over to the Software Installation wizard and hit 'Install'.
Once the add-on is added, restart Thunderbird.
Open Thunderbird again, pick a folder, and right-click it.
From the menu, go to ImportExportTools NG >> Export all messages in the folder >> EML format.
Lastly, select a destination folder and save the EML file there.
Drag and drop the EML files to Outlook
If you'd like to use MS Outlook to access your EML emails, it's easy to do! Just follow these simple steps:
Open the folder where you have your EML emails saved.
Select all the emails, then simply drag and drop them into any folder in Outlook - it's that easy!
Export emails to PST files
Just head to File > Open & Export > Import/Export in Outlook.
In the Import/Export wizard, choose Export to a file and click Next.
Then select Outlook Data File (.pst) and click Next.
Next, navigate to the folder where the EML files are saved and click Next.
Now, enter the destination location for the newly created PST file and select your desired option then click Finish and you're all done
A new PST file will be created at the chosen location.
Note:You can assign a password to the newly created PST file if you like.
Convert MBOX to PST Using Email Clients
Step 1: Import mailbox data into Apple mail
Run Apple mail in your system.
Go to File >> Import mailbox option.
Now select the source of the MBOX file and click continue.
On browse location, choose MBOX file then click continue.
After the import process complete, click done.
Step 2: Create mailbox using Eudora
Add the MBOX file extension to the file that is imported. For example, ABCMBOX needs to be changed to abcMBOX.mbx
Move this to the Eudora directory. The default location of the file: "C: Documents and Settings user >> Application Data\Qualcomm\Eudora"
Then, Open Eudora and double-click on ABCMBOX.mbx and Close the application.
Step 3: Import mailbox using Outlook Express:
Launch Outlook Express.
Now, Go to File >>Import >>Messages.
Choose Eudora from the list of email applications and then choose Next.
Now, browse the location to select the '.mbox' file and click on OK. Finally, click on Next>>Next >>Finish In Outlook Express, the imported data can be used in the Local Folders
Step4: Import Mailbox from Outlook express to MS Outlook
To run into PST file format please ensure that MS Outlook is properly installed
Open MS outlook to export files.
Now, Go to the File>>import and export option.
Select import from "another file and folder" after which select next.
Next, choose Import Internet Mail and Addresses and click on Next
Select "Outlook Express 4.x, 5.x, 6.x, or window mail". Click next
Select the file to import and export from the browser option and click next
Select to finish after the process completed.
The user can find the imported mailbox in your Outlook client.
Though users can select either the manual or automated solution to export MBOX to PST file format however before reaching on the conclusion, let's discuss the drawbacks of manual methods that the users generally face.
Drawbacks of the manual methods
The manual methods to convert MBOX to PST comes with few drawbacks which are mentioned below:-
Manual methods are time-consuming.
Data alteration can occur while performing this task.
Requires technical expertise and granular knowledge.
Does not support multiple conversions of the MBOX file to PST.
To avoid such situations, one can opt for a third-party solution, which is user-friendly, efficient, and does not consume a lot of time to export MBOX files to PST.
Convert MBOX to PST file using MBOX to PST Converter:
Install the software in the user system.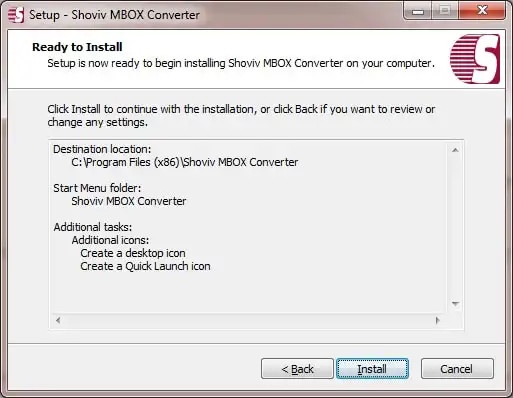 Run the software and Go to the add button on the ribbon bar.
A Dialog will appear in which user needs to select the "Add folder" section and click on the "Browse" button. Later, S/he must select the MBOX file's Folder.
Once the folder has been selected, click on the "Add folder" button to proceed forward.
After MBOX files has been added, Select "Export to Outlook PST" from the ribbon bar.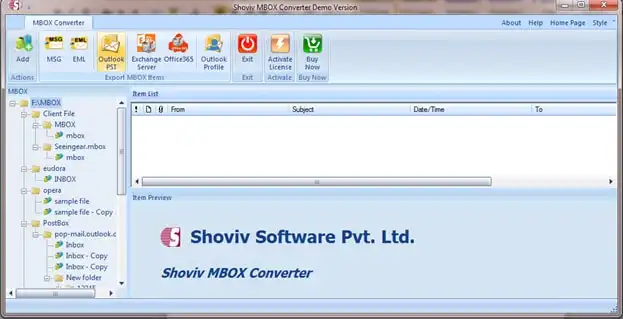 A dialog will pop up in which the users need to check/uncheck the MBOX files along with option to export in PST with given criteria such as target selection and filter criteria.
Fill all the details as per preference.
After the details has been fulfilled, Click on "export" button and wait for the process to get it completed.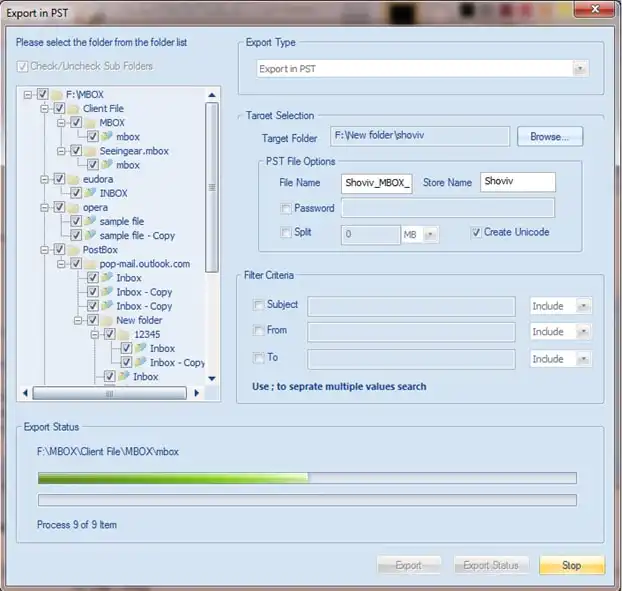 After the process gets completed, the user can save report and end the process.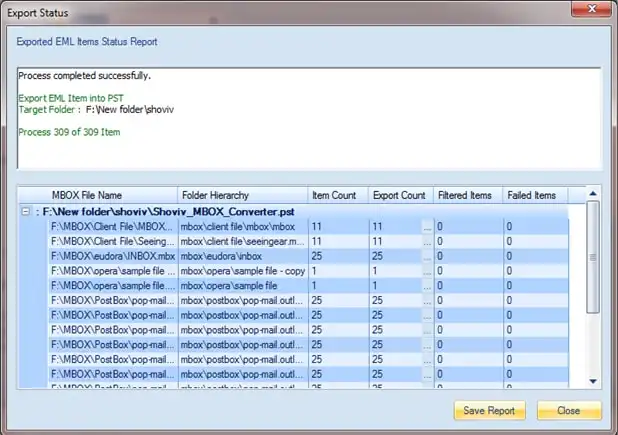 What features Shoviv MBOX Converter offers?
Due to the drawbacks of the manual method, users not prefer to go with the manual way hence make search for the professional software. To execute the task with the highest perfection, Shoviv MBOX Converter offers several features that are very user-centric. Some of the highlighted features are:
Shoviv MBOX Converter allows converting MBOX to PST as well as EML and MSG file format.
It supports 20 email clients like Thunderbird, Entourage, SeaMonkey, Mulberry etc. that create MBOX file.
Shoviv MBOX Converter is also capable of exporting MBOX files to Live Exchange Server and Office 365.
Users can add numerous files of any size for one go; no restriction on adding multiple MBOX files.
For resultant PST files, it provides options like Password setting, PST file type i.e. Unicode and ANSI and option to set PST file size to split PST files and to get rid of oversized PST files.
Shoviv MBOX Converter is compatible with all versions of Windows O.S.
A free trial tour of software can also be taken by downloading the demo version that allows conversion of first fifty items per folder.
5 Steps to Convert MBOX File into PST Format- 100% Working Method:
Step 1: Run "Shoviv MBOX to PST Converter" tool.
Step 2: Add "MBOX files" and Preview email data.
Step 3: Select "Export in PST" from Export Option.
Step 4: Choose "Target Location" to save PST File.
Step 5: Click "Export" to Start MBOX to PST Conversion.
Final Verdict
Choosing a better path to convert MBOX to PST is crucial, else it will result in improper migration and alteration in original data. Thus, if the users are looking for an adequate solution to convert MBOX to PST, we suggest a trust-worthy solution i.e. Shoviv MBOX to PST converter. Go to the main Website: https://www.shoviv.com/mbox-converter.html
Frequently Asked Questions Solved by Shoviv!