Summary: In this simplified guide, you will understand and learn the top methods to backup thunderbird emails to avoid corruption of the MBOX file. By following this blog, thunderbird users can easily backup their mailbox data into an external hard drive. We recommend a professional MBOX file converter tool to backup thunderbird mailbox into PST, EML, MSG, Live Exchange server, Office 365, and Outlook profile.
There are some obvious reasons of which users think for the Thunderbird backup. Developed by Mozilla Foundation, Thunderbird is an email client, news client, chat client, etc. Thunderbird uses the MBOX file format.  The main reason behind the Thunderbird backup is safeguarding the valuable data and creating an extra copy. It is for a bad time if for any reason you are not able to access your Thunderbird data.
Where backup Thunderbird emails?
After clearing the point that why we should backup the Thunderbird, the next basic question is where we should back up our Thunderbird emails. To backup data, it is a must that the target must be easily accessible, easily portable, and safe. The best option for Thunderbird backup is, .pst file of MS Outlook. It fulfills all the conditions of an ideal storage file. You can store them on a Hard Drive too as per your convenience.
PST files are the data storage file (Personal Storage Table) of MS Outlook.  MS Outlook is the most prominent email client in today's world. It is easy to port, easy to view, and also allows applying a password on the PST file.
Try a trial version of MBOX Converter to take the backup of thunderbird Emails.

Methods to Backup Thunderbird Emails to External Hard Drive 
For Thunderbird backup, we have a manual as well as a professional way. Let's know about both ways in detail.
Manual  Ways:
To backup Thunderbird emails in PST file format, we have three manuals ways and a professional solution:
ImportExportTools Add-on
Thunderbird User's Profile backup
Backup Thunderbird emails as a Zip file
Thunderbird backup Using a Professional tool
follow the below-given steps very carefully to execute the backup process using the manual method:
Backup Thunderbird Emails Using ImportExportTools Add-on
Step 1: Firstly, run the Mozilla Thunderbird and open the selected mailbox.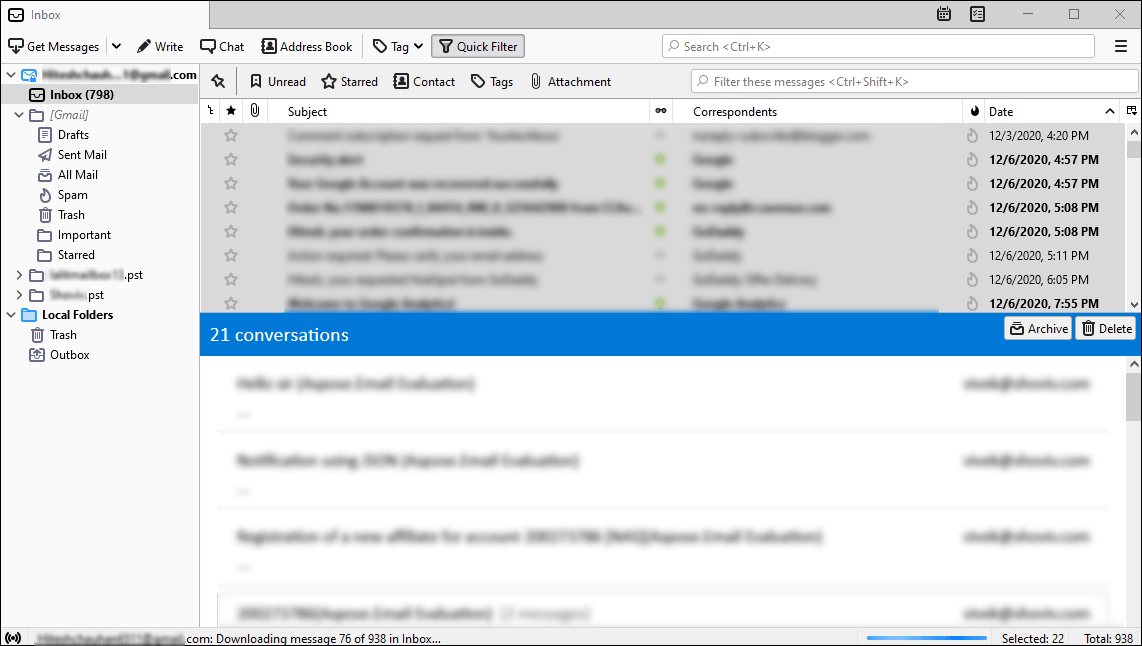 Step 2: Secondly, make the selection of emails that you want to back up in the PST file.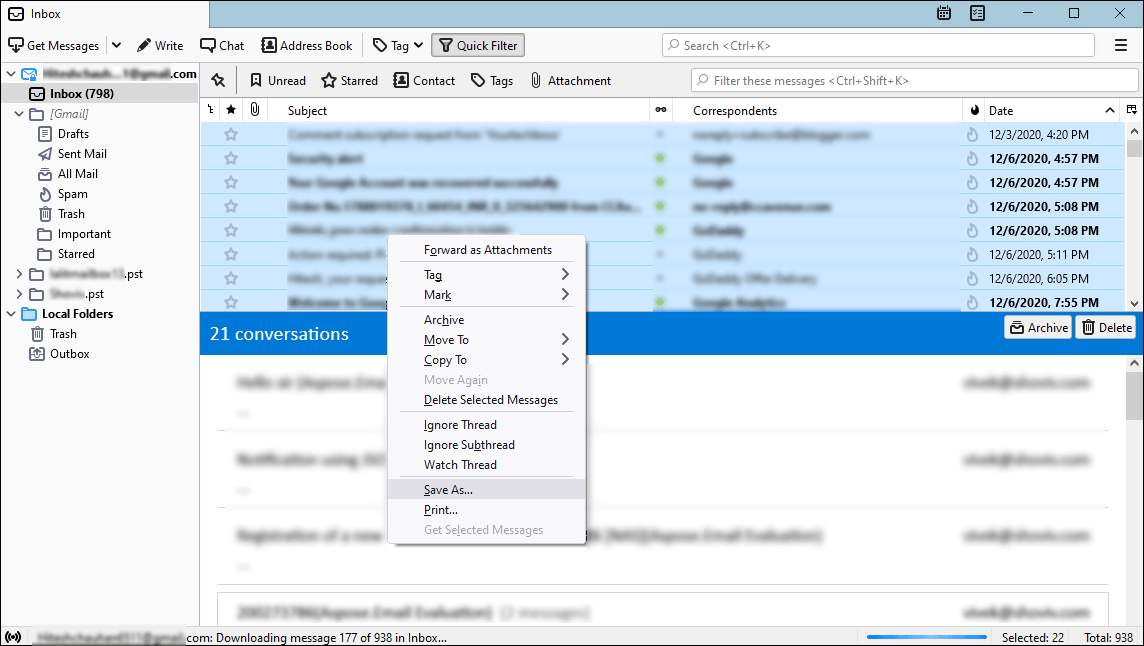 Step3: Make a right-click and go with the "Save As" option.
Step 4: Select the target folder to backup Thunderbird emails by clicking on the "Select Folder" option.
Step 5: Launch the MS Outlook and create a new folder.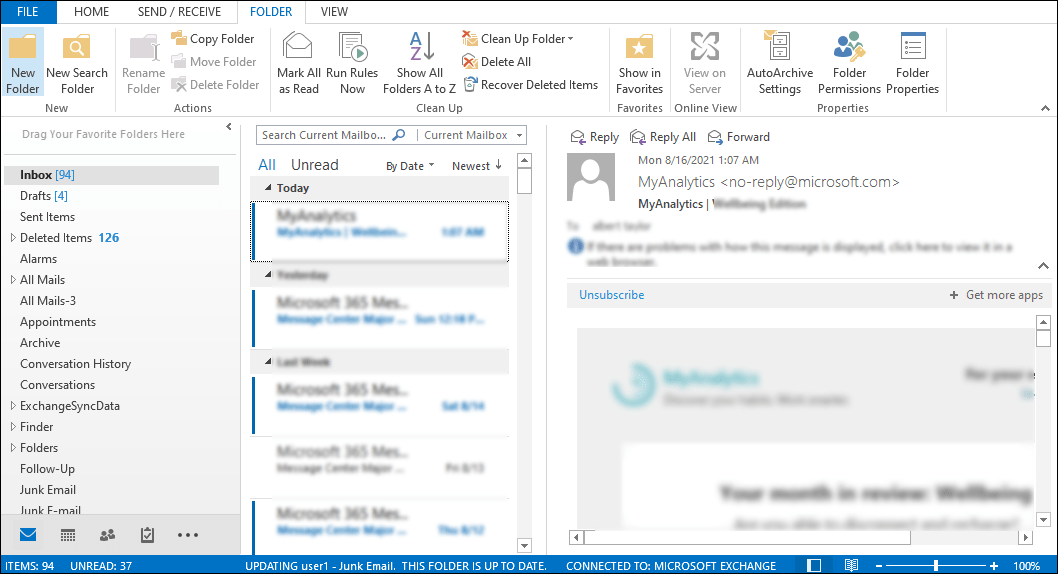 Step6: Using "drag & drop" save the Thunderbird emails by placing them on the Outlook interface.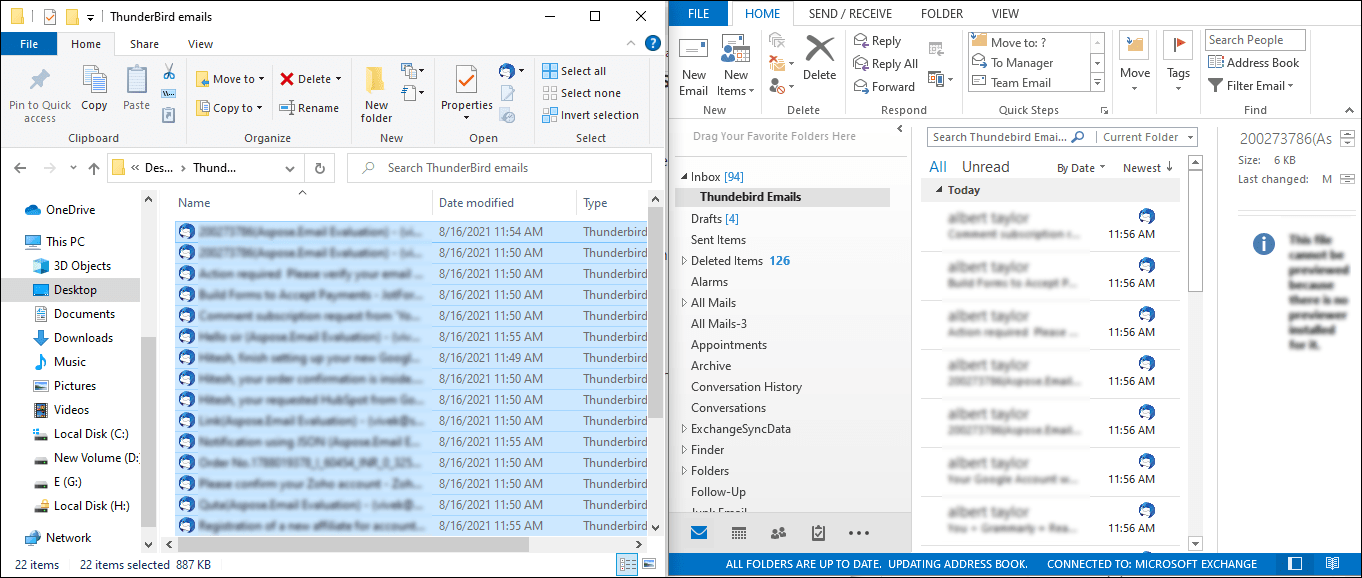 Step 7: Now go to the "File" menu.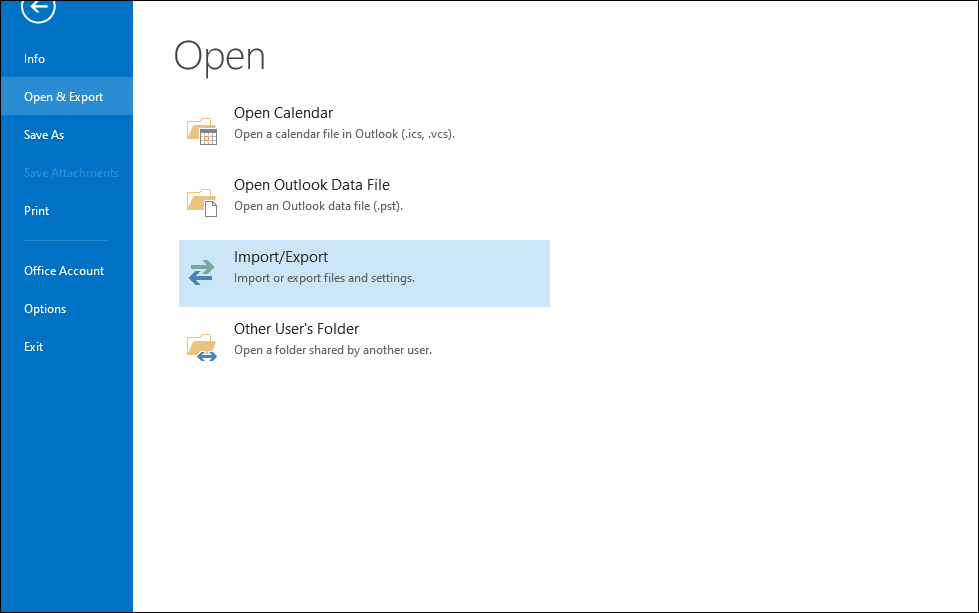 Step 8: Import/Export > "Open & Export"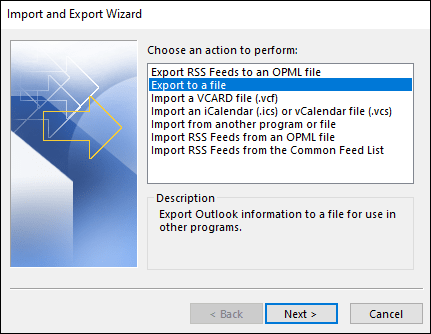 Step9: Go with the "Export to a file" option and click on the Next.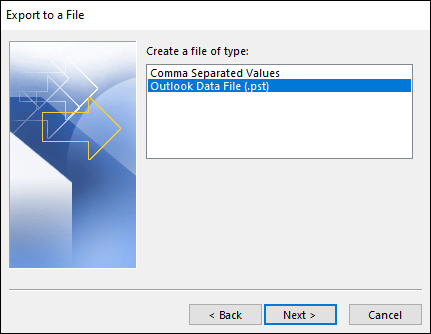 Step 10: Choose "Outlook Data file" and make a click on the "Next" button.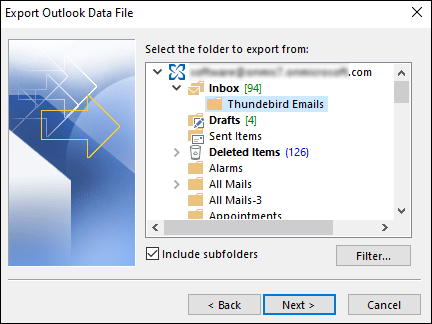 Step 11: Then select the folder containing the Thunderbird emails to export in PST.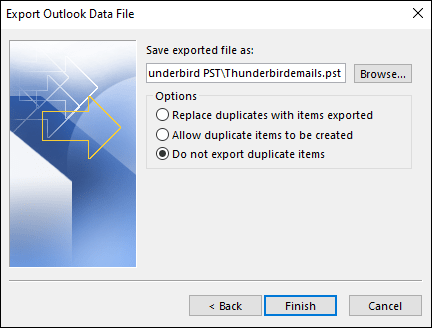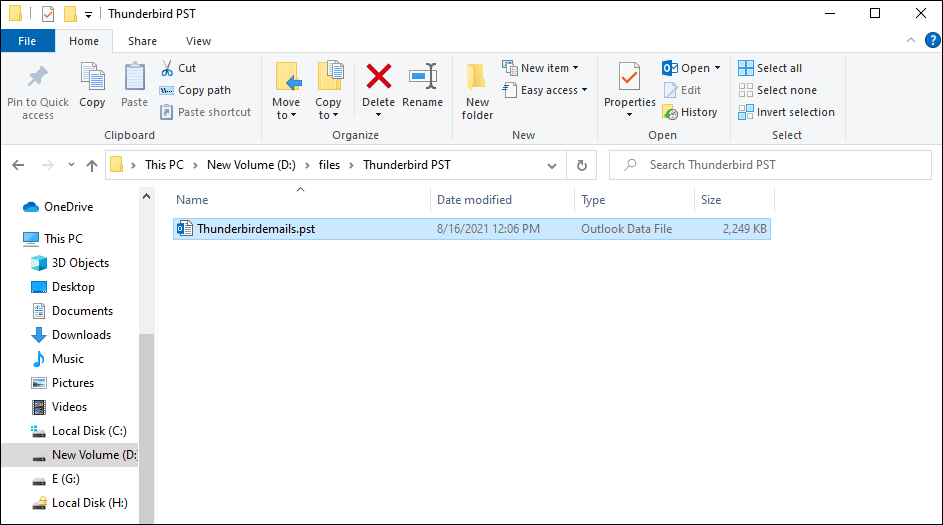 Step12: Set preferences and click on "Finish" to get the PST files.
Backup Thunderbird User's Profile
With the Thunderbird Profile's backup, you can backup your emails. To backup Thunderbird's profile, simply copy data from the user's profile folder and paste it into the desired location.
Below are the steps to follow:
Firstly launch the Thunderbird.
On the icon named "Display the Thunderbird Menu" make a click.
Now move to the Help>> Troubleshooting Information. It will launch the Troubleshooting Information window in the new tab.
Under the Applications Basics section, there is Open Folder (Local drive) button, click on this.
By clicking the Open Folder button, the user's profile directory having a specific name format consisting of the line of the random character will be displayed.
Now come outside the folder. Copy the user's profile folder, and paste it into the desired directory.
By following the above-given steps, you can easily copy-paste the user's profile folder to the desired location.
How to Backup Thunderbird emails as a Zip file?
Thunderbird emails backup as a zip file is not tricky; follow the below steps to perform a one-time email backup as a zip file.
Run Windows Explorer and browse %Appdata%
Or directly Press the Windows+R key to search %Appdata%
The full path looks like C:\Users\Username\AppData\Roaming.
Scroll down to find the Thunderbird folder
Right-click on the Thunderbird folder
Then Select Send>Compressed (Zipped) folder.
Wait until your Thunderbird folder is copied and compresses as a zip archive file.
Note: Your original Thunderbird folder remains as it is; now copy the compressed zip file and save it to an external hard drive or somewhere other you want. Now you get complete thunderbird backup; if anything wrong happens with your MBOX file, extract the zip folder and import MBOX files using ImportExportTools Add-on.
What drawbacks manual methods have? 
There are various limitations and drawbacks associated with the manual way of Thunderbird backup.
The manual method consumes a lot of time and it is very tedious too.
In manual export, Emails often lose their unique SMTP header.
Doer can't be assured of correct and complete export of emails.
Doer must be technically sound to execute the task of Thunderbird backup.
Chances of human-error are very high with the manual way; a single mistake can ruin the whole process.
Professional Method to backup thunderbird emails to External Hard Drive
Every professional wants a perfect and effortless solution to backup Thunderbird emails and no one wants to risk the data for anyhow. To provide a professional solution for the Thunderbird backup in the hard drive, Shoviv Software has developed an advanced tool. Shoviv MBOX to PST Converter provides an ideal way to backup Thunderbird emails; Thunderbird uses MBOX file format for data storage.
Steps to Backup Thunderbird Emails into PST
Run Shoviv MBOX Converter.
Add Thunderbird emails MBOX files.
Choose the Export option as PST.
Select target file location to save PST.
Click on the Export button.
Now your thunderbird email backup is finished.
Click here to view the complete steps with screenshots
Let's know about the Shoviv MBOX to PST Converter with its features:
Shoviv MBOX to PST Converter allows adding and backup multiple MBOX files in PST file format.
This software supports more than 20 email clients that support the MBOX file format.
It also allows us to export MBOX to Live Exchange Server and Office 365 mailboxes.
Options like Filter, PST Password, and PST Split are given within the software for the resultant PST files.
Shoviv MBOX to PST Converter supports all the versions of MS Outlook, Windows O.S., and creates both Unicode and ANSI PST files.
It also allows us to save the data in the EML and MSG file format.
A free trial version of the software is also available.
Final Words:
Everyone has their reason for the Thunderbird backup and users have a choice of manual and professional methods. The manual method is very long, technically complicated, and with limitations while professional Shoviv MBOX to PST Converter is an advanced utility with various functionalities. using professional utility you can easily take Thunderbird email backup in the hard drive. A free trial version of the Shoviv MBOX to PST Converter is also available to download, users can easily download and check the working of the software. The free version also allows backup of the first fifty items per folder.
Stuart Clark is working as a technical content writer at Shoviv Software for the last 3 years. In his free time, he loves to write about new technology and read fiction books, his favorite book is "It ends with us" by Coolen Hoover.