Last updated on October 30th, 2023
The MBOX is a file format used by several email clients, including Thunderbird, Gmail, Apple Mail, and Postbox. Thunderbird is open-source and can be downloaded for free. You might have used Thunderbird to store your emails and then want to import MBOX to Gmail. Importing MBOX to Gmail can be a bit tricky, but the good news is that several methods can help you do this.
This guide will show you how to import MBOX files to Gmail with or without Thunderbird. It will also explain the situations in which MBOX files need to be imported to Gmail mailboxes. Keep reading and complete your migration task.
Some Common Reasons to import MBOX to Gmail
Undoubtedly, today, Gmail is ruling the email niche, and even for some users, email means Gmail, nothing else. Gmail provides several modern-day working abilities for free. Today, Gmail has more than 1.5 billion users around the globe, and the numbers are growing immensely. Some of Gmail's features that attract users into Gmail are as follows:
Thunderbird and Gmail are both free email clients. However, if we compare both for productivity, then Gmail is the streets ahead.
Gmail offers a cloud facility that makes Gmail's data universally accessible anywhere and anytime with an internet connection.
Nowadays, to login into different platforms, it is a must to have a Gmail account even to fulfill ITR and other govt. Related platforms ask for a Gmail account.
Gmail offers Google Meet and hangout facilities for video calls and texting with clients, colleagues, and family. All this comes for free.
Apart from these features, several utilities in Gmail make it the most used email client in the 21st century. Now let's move to our main topic: how to import MBOX to Gmail with or without Thunderbird.
Instant Solution for Your MBOX Emails to Gmail Transfer
Are you in hurry? and don't want to read the full blog. We've got the ultimate solution for your MBOX email file transfer needs right here!
If you want to transfer MBOX Emails to Gmail Personal Accounts: Use the Shoviv IMAP Gmail Backup tool that effortlessly restores or imports your MBOX emails into any old or new Gmail Accounts.

Or Want to Move MBOX Email files to Gmail for business (Usually known as Google Workspace): You can also use the Shoviv Google Workspace backup and restore tool to transfer/import MBOX to Gmail for business (formally known as G Suite).

These tools effortlessly transfer and import your MBOX emails to your desired Gmail account, saving you time and energy. So why wait? Try our tools now and make your email migration process a breeze!
Ways to Import MBOX Files to Gmail
Importing emails from MBOX to Gmail is not a difficult task. However, one needs to follow a certain process to ensure that the email addresses are transferred correctly.
There are two ways you can import MBOX to Gmail. The first method is with the help of the Gmail import option; the second one is with the help of Thunderbird. Let's start with the first one.
Import MBOX File to Gmail Without Thunderbird
It is a quite simple process, and even non-technocrats can use this option without any hassle. However, there are a few drawbacks of this method which I will mention after the procedure. So let's start:
Login to your Gmail account.
Visit the Setting option and go to the Account and Import option.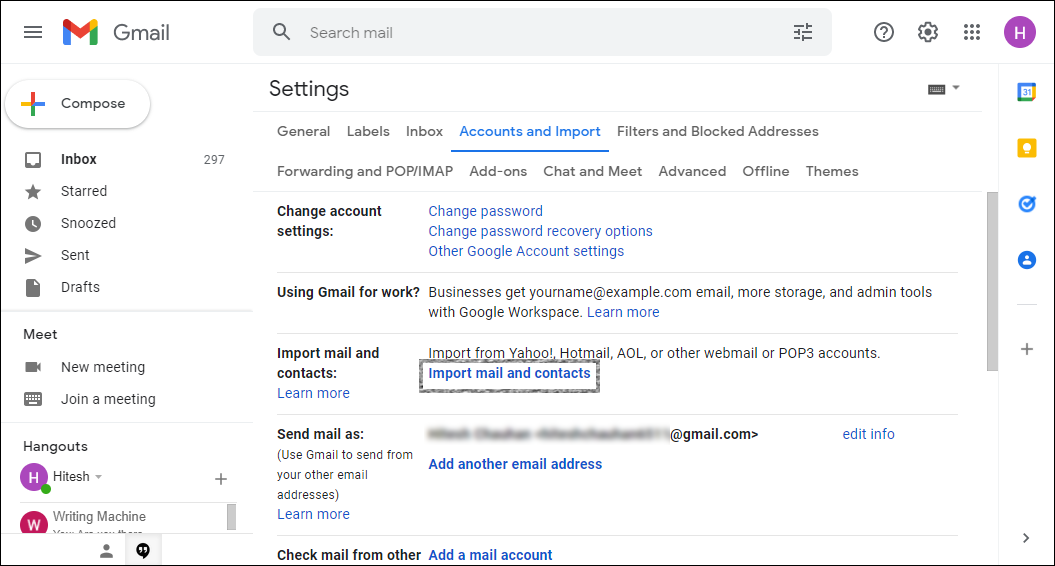 Now click the Import mail and contacts option.
Following a pops-up, here enter your Thunderbird email address and click Continue.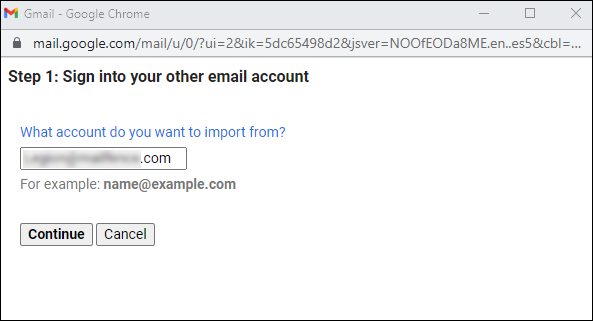 Now provide a password of the respective account and click Continue.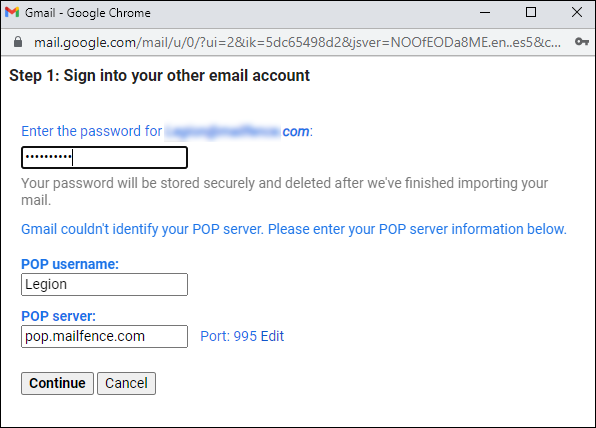 In the following wizard, choose which data you want to import. After that, click the Start import option.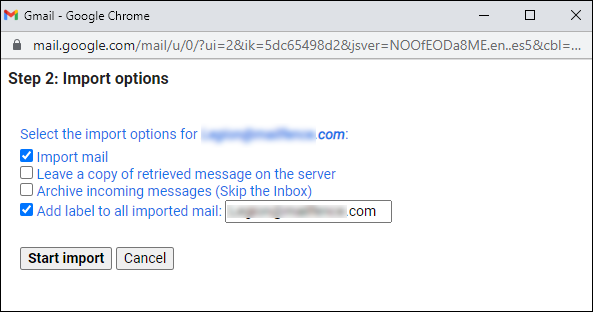 Now your Thunderbird files (MBOX) will start importing into your Gmail account.
This method works for users who are still using Thunderbird and want to import MBOX emails directly from it. Now let's move toward a few of its drawbacks.
Import MBOX to Gmail with Thunderbird
In this method, you need to configure your Gmail account to Thunderbird and then drag and drop emails from the Thunderbird account to the Gmail account. Let me explain:
Open Thunderbird.
Click the Thunderbird Menu button and choose the Account Settings
Now click the Account Action option and choose Add Mail Account option. 
Following, provide your Gmail account password in which you want to import MBOX files. 
Now choose whether to configure as an IMAP account or as POP and click Done.
In the next wizard, login to your Gmail account and allows the asked permissions.
Once done with the above steps, click on the Finish button, and your Gmail account will be listed on Thunderbird.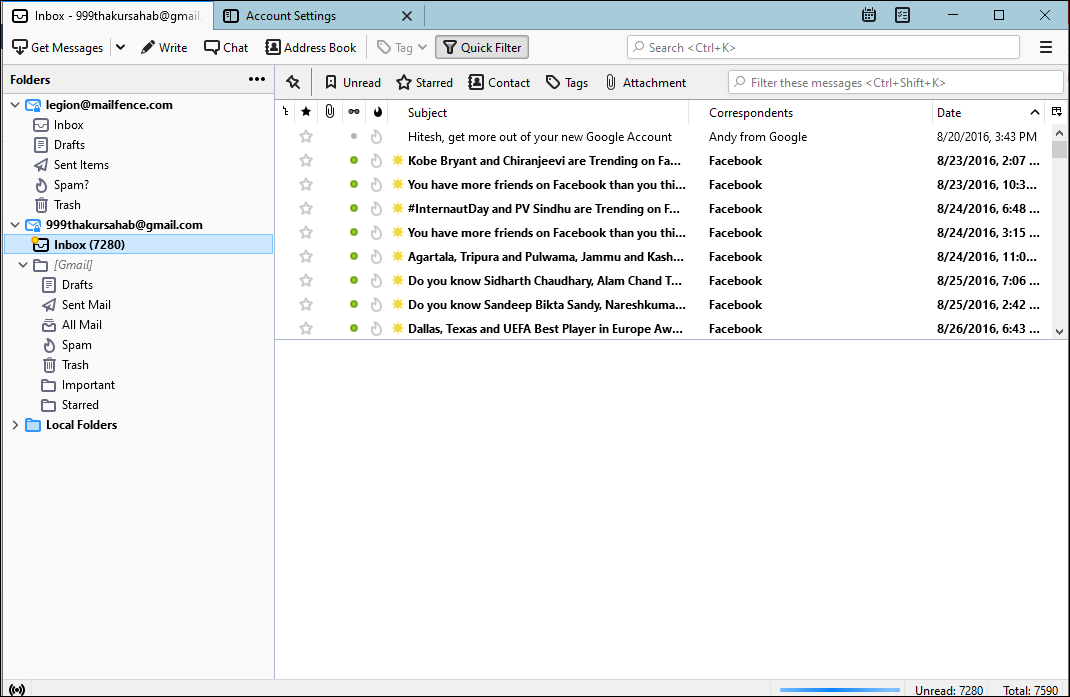 Now all you need to do is select all the emails you want to import into your Gmail account. After that, make a right-click and go to the Move to option and choose the Thunderbird account.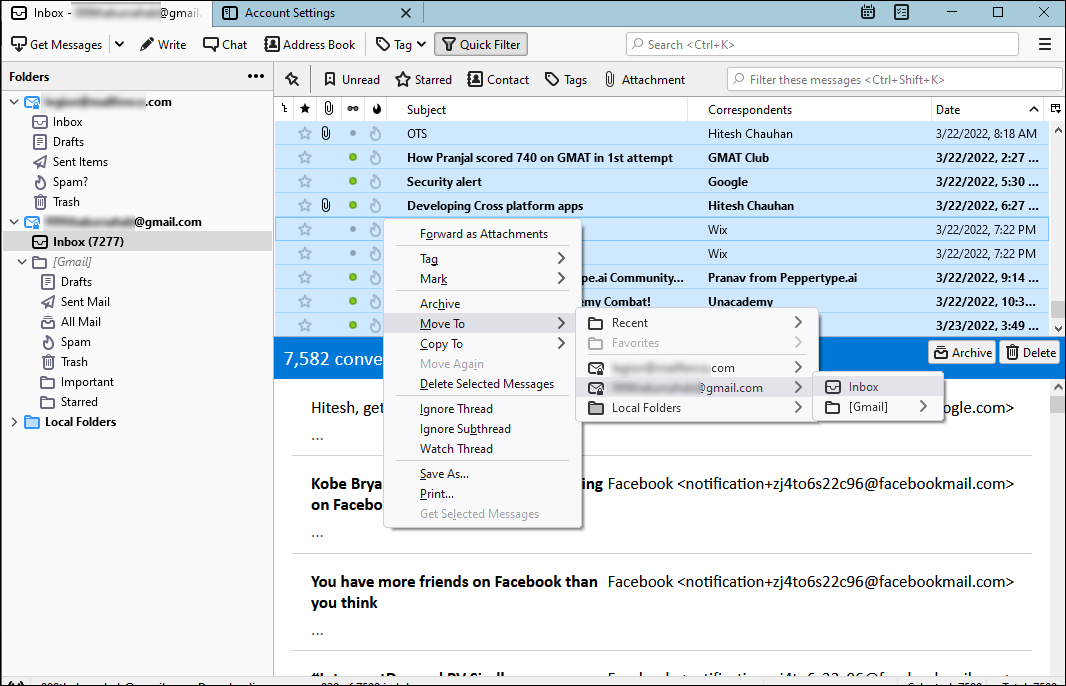 Drawbacks of the method mentioned above:
You cannot filter unwanted items. Hence you'll have unwanted emails in your Gmail account.
It is a slow process and can take up to 2 days to import a single Thunderbird account to Gmail.
The method doesn't allow importing multiple Thunderbird accounts in a single process.
Import MBOX to Gmail: Directly | For Everyone
Both methods work sometimes, but due to the risk of data loss and slow speed, I'll not suggest these. Several organizations and businesspersons used and recommended going with the Shoviv Gmail Backup and Restore tool. It is a picture-perfect solution for users who want to export their MBOX files into Gmail mailboxes with options like data filtration, Incremental Export, Source, Target mapping, and many more.
The icing on the cake: You can install the Shoviv Gmail backup and Restore tool's free version and check its skills. I hope you will, and the tool is worth it.
Below is the process to evaluate the tool and process the first 50 items per folder.
Steps to Import MBOX Files into Gmail In Bulk:
Step 1: Run Gmail Backup and Restore wizard.
Step 2: Click the Export and choose MBOX file option.
Step 3: Add MBOX folders and map them with Gmail.
Step 4: Use the filter option to make for desired export.
Step 5: Click Restore to finish MBOX to Gmail migration.
Here the software will start to export MBOX files to Gmail mailboxes. You have not restricted any MBOX file size and number restrictions, so you can process hundreds of files simultaneously. If needed, you can backup the same Gmail mailbox into PST file format on the local disk.
Detailed Step-by-Step Process to Migrate MBOX to Gmail:
First, install the Shoviv IMAP Backup and Restore Tool.
Select the Restore/Export option.

Now, choose the MBOX file format among the various file formats.
From the Restore Jobs tab, create a restore job.
Provide the job name, select the folder, and proceed by clicking the Next.
Fill in the server name then map the MBOX file with the Gmail mailbox. Finally, validate them and proceed to the Next.
Now you are prompted to the filter page where you can apply the by including/excluding a date range or folder. Click Next.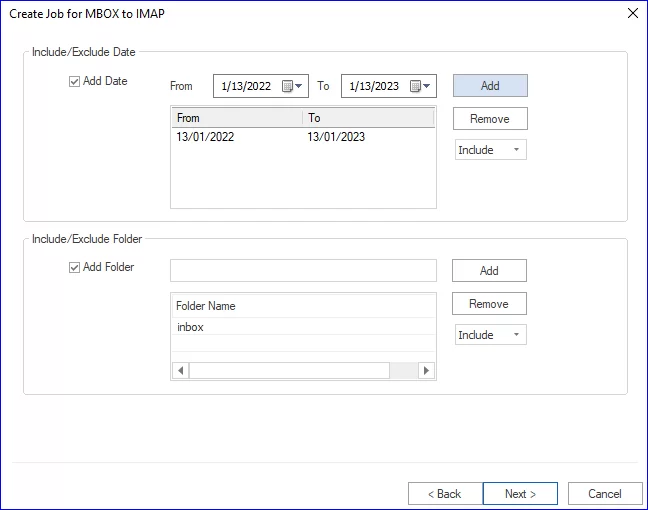 Here, you are prompted to the Settings page. Apply settings as per the requirements for the task.
Finally, you will get a preview of the restore job that you have just created. Click Finish to start the import process. If you want to make some changes then click Back.
Also Read: How to Import Google Takeout MBOX File into new Gmail Account?
Conclusion:
Users are frequently moving towards Gmail, especially from Thunderbird. Here I've mentioned a few solutions to import MBOX files to Gmail without or Without Thunderbird. Shoviv IMAP Backup and Restore tool provides an advanced way of professional handling of the task. Users can also have a trial of the software by installing the free version.
Frequently Asked Questions:
Q. Can I import MBOX to Gmail in bulk using Shoviv's professional utility?
A. Yes, there is no restriction on adding and importing multiple MBOX files. Also, the size of the MBOX file is not an issue.
Q. After importing MBOX files to Gmail mailboxes, will my MBOX file be deleted from the source or remain?
A. The software only copies the data and executes the task. It means only a copy of data will be imported to the Gmail mailbox, and no deletion will take place.
Q. To whom should I contact if I need any assistance with Shoviv's tool?
A. The interface of Shoviv's tool is very simple, and any user can easily complete its task. But, in case you need any kind of assistance, then our support team is 24*7 available to assist. Contact us through the Live Chat option/ email us at support@shoviv.com , or contact us at the given telephone number. Also, you can drop a message on the Contact Us Page.
Q. Is there any difference between the free demo version and the full version?
A. The demo version is just a restricted version of the software that allows processing the first fifty items per folder. There is no such restriction with the full version.