Last updated on May 18th, 2023
Using two or more services for handling emails is a common practice. In professional and personal lives, backup and restoring emails are absolutely fine. In this row, many users search for an effortless, efficient and advanced user-friendly way to import PST to Yahoo Mail. PST (Personal Storage Table) files are Outlook's data storage file format used by many users to store email data. But, many reasons initiate users to import email data from .pst to Yahoo Mail for which users search on the web.
In this blog, we will explore all the dimensions of this task. Also, we will know about a manual and a professional third-party tool to import PST to Yahoo Mail.
Some Common Reasons to Import PST to Yahoo Mail:
There may be various reasons for restoring PST to Yahoo Mail. The reason may be different for every user, but most of them have the same. Some common reasons to restore PST to Yahoo Mail are:
The main reason is being a webmail service Yahoo Mail provides all-time easy access from anywhere in the presence of the internet. On the other hand, PST files remain in this system; you can access them only when you have access to the system or local machine.
Yahoo Mail provides the user with enough space of 1TB so that you do not have to delete emails. It has enough capacity to store a lot of emails without spending a single penny.
By restoring .pst files from your system to Yahoo Mail, you can also free up your system storage.
With Yahoo Mail, you can explore Flickr & Tumblr services at no cost.
Also, One can read an another post on Yahoo Backup

How to Restore PST to Yahoo Mail?
To import PST to Yahoo Mail, generally, we have two ways: a manual method and a third-party professional tool. In this blog, we will know about both of them.
Manual Method to Import PST to Yahoo Mail:
We have Outlook's Import & Export method to manually execute this task. For this, Outlook must be installed in your system, and you have to make a connection with Yahoo Mail ID. After creating a connection, follow the below-given steps:
Firstly click on the File tab then select the Open & Export option.
After that, select the Import / Export option.
Now click on the Import from another program or file.
Click on the Next button.
Then select the data file types as .pst. For this, make click on Outlook Data File (.pst).
Click on the Next button.
By clicking on the Browse, select the .pst files from your system. Select the option as per your requirement from the given three options.
Now click on the Next button to continue.
Select your location wherever you want to import the .pst files' item on Yahoo Mail. Along with this, select the linked Yahoo Mail ID using the drop-down icon.
Finally, click on the Finish button.
Despite Being Free, Why Manual Method Not Preferred?
The manual method comes free in cost, but it is not free from drawbacks and limitations. Due to its limitations, professionals don't find themselves comfortable with this manual method. Some of the limitations/drawbacks are:
It's a very time taking process; may take too much time in establishing a connection and execute importing tasks.
Proper technical expertise is required; always have chances of human error.
You have to do the task time and again.
Users do not get options to apply their preferences like the filter option.
Import PST to Yahoo Mail Using Third-Party Professional Tool:
Due to the drawbacks and demerits of the manual way, the search for the perfect way remains continuous. This search ends with the Shoviv IMAP Backup and Restore Tool. It is an advanced tool developed after understanding the real need of users. As its name indicates, it is also a backup expert; users can use it for the required purpose and on all IMAP supporting servers.
Some User-Centric Features of Shoviv IMAP Backup and Restore Tool:
The software allows restoring multiple PST files into Yahoo Mail in a single go without limitation on number and size.
In this IMAP restore tool, the user gets a filter option based on the folder filter criteria and item date range.
This Shoviv IMAP Backup and Restore Tool have a default incremental feature; do not worry about process interruption.
The software also provides rid of duplicate items.
With this tool, users can create and run multiple jobs concurrently; which saves time and effort.
Users can also download a free demo version of the software.
Steps to import PST File to Yahoo Mail are as follows:
Run Shoviv IMAP PST to Yahoo Import tool.
Click the Restore/Export Button and enter Job Name.
Add PST to Import and Enter Server Name.
Map PST with Yahoo Mail and Use Thread Option.
Check Run Job Instantly box and Process will start.
Detailed Process to Import PST to Yahoo Mail via Shoviv IMAP Backup Tool:
Using Shoviv IMAP Backup and Restore Tool, users can easily and rapidly import .pst to Yahoo Mail. Users just have to follow below given simple steps:
Firstly, install and open the Shoviv IMAP Backup and Restore Tool.
Click on the Restore/Export button present on the dashboard.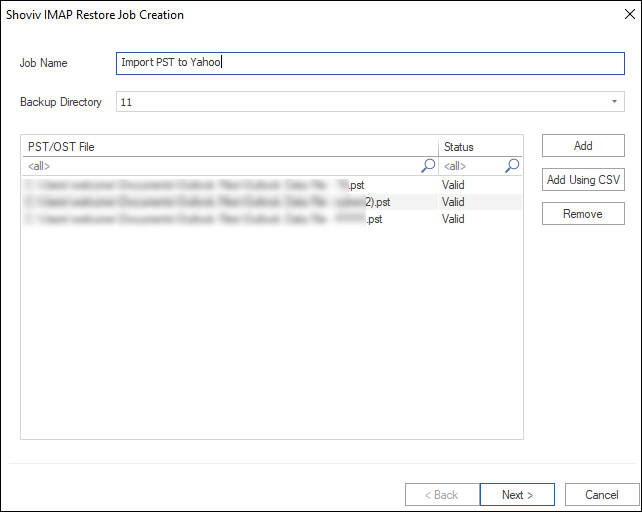 Now give a Job Name and add the .pst files using the given options. After adding .pst files, click on the Next button.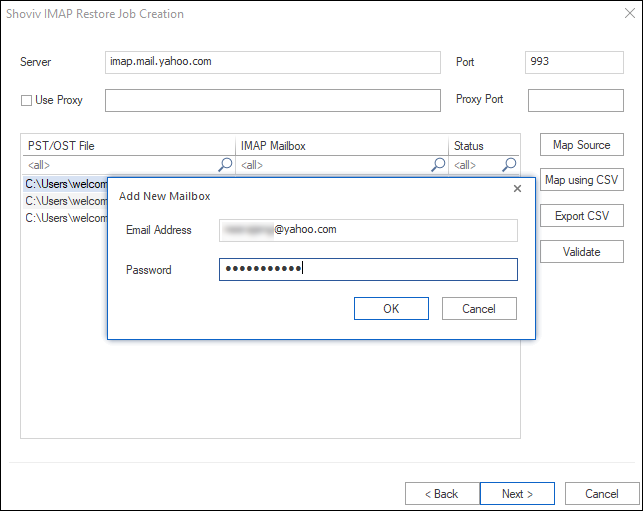 Provide the Server Name and map mailboxes of Yahoo Mail with the added .pst files. By clicking the Validate button, validate the Yahoo mail mailboxes. Make a click on the Next to continue.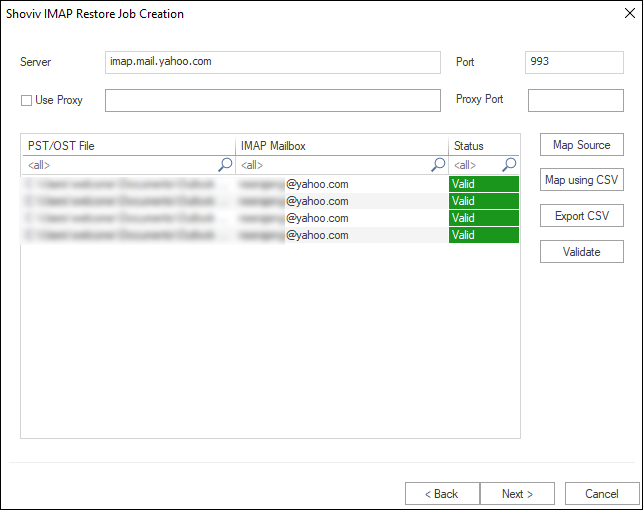 You will be prompted to the filter page where you can apply filter by including/excluding date range and folder. Provide a date range and folder name to include/exclude. Must pay attention to whether you are including or excluding provided details for applying the filter. Click on the Next button.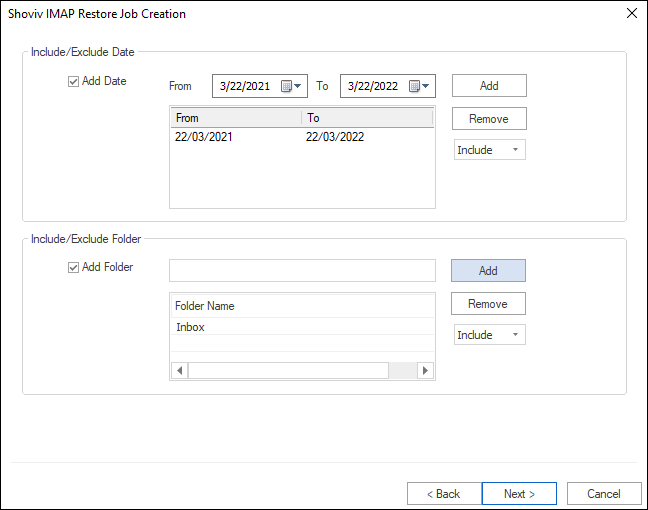 Here, in this wizard, provide some extra inputs for the process as per the requirement. Set the Mailbox Thread Count, Item Thread Count. Also, set the Mailbox Login Attempts, and Mailbox Item Retrieve Attempts for the case of network failure.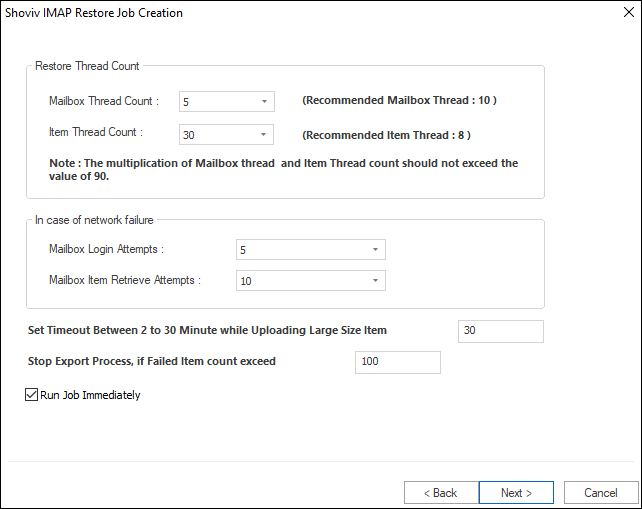 You can also set the limit for the failed items, after which the process will stop. Click on the Next button.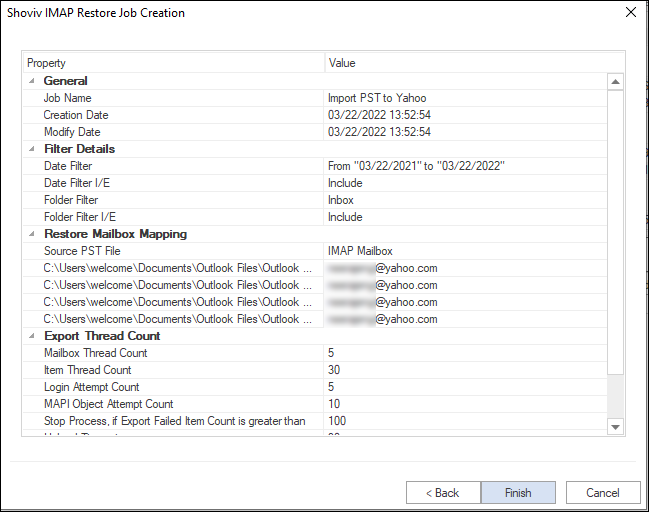 Now you will get a preview of the settings/inputs you have provided for the process. If you are satisfied with the details, click on the Finish button.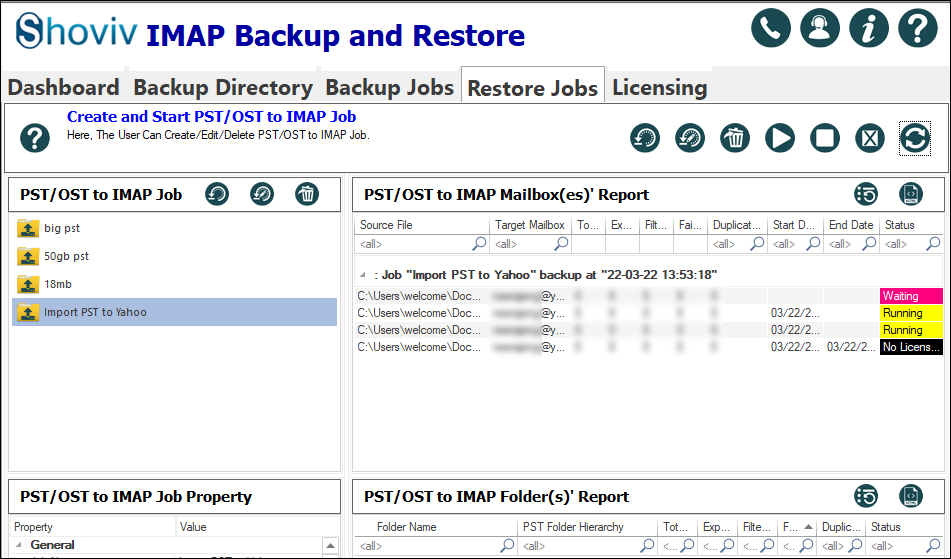 The actual import process will start now, and you will get a complete report of the process after the completion.
Conclusion: 
Many users import PST files to Yahoo mail to fulfill their needs. There may be several reasons behind this; some of them have been already explained in this blog. To import .pst files to Yahoo Mail, users have two ways: manual method and third-party professional tool. Using the Import/Export feature of Outlook, users can execute this importing task free of cost but with limitations and demerits. Going manually may cause time loss, threat over data on mishandling, and uncertainty over the success of the task. While, on the other hand, Shoviv IMAP Backup and Restore Tool provide a fast, secured, and feature-full process with many advanced options. Users can effortlessly import PST to Yahoo mail using this software. A free demo version is also available to download that allows processing the first fifty items per folder.
Users can easily download and check the working of the tool before purchasing. After satisfying with the software, the free version can be upgraded to a licensed full version at any time. Download and explore Shoviv IMAP Backup and Restore Tool if you have the same task.
FAQs: