Last updated on July 12th, 2023
All Gmail users are well versed with Google's facility to backup data: Google Takeout. Google Takeout offers Gmail users to download the data, and many users use it. But if you are a user who wants to import Google Takeout to new account, this blog will help you out with the process.
A Brief about Google Takeout?
Google Takeout offers two file formats to import Google Takeout: .zip and .tgz.
When you choose emails to download, they will be stored in the .mbox file format.
For other items like contacts, it will download in ICS file format, calendars in vCard, and so on.
After importing emails from Gmail to local storage, if you want to import Google Takeout to a new account, Google Takeout doesn't provide any facility.
The Google Takeout process is a bit complicated, and moreover, it has some limitations too. To understand the complete process for Google Takeout, visit here.
Looking to move your email data from Google Takeout to a new Gmail account? Our software
has got you covered! With just a few clicks, you can import all your data seamlessly to your new
account. 
Say goodbye to the hassle of manually transferring your data and let us take care of everything
for you. Our software is fast, efficient, and secure, ensuring that all your email data is
transferred safely to your new account. 
Ready to get started? Download a free trial version of Shoviv IMAP Backup and Restore tool. 
 
How to import Google Takeout to the new account?
Users have two methodologies to import MBOX files (Google Takeout email storing file format): go with the traditional manual ways or use a professional third-party tool. Here, I am explaining both ways; read the blog until the end.
Manual Way to Import MBOX to Gmail using Thunderbird:
In this method, firstly, you must configure your Gmail account with Thunderbird. After configuring, you have to drag and drop emails. Follow the below-given steps to import MBOX to Gmail using Thunderbird manually.
Firstly Open the Thunderbird.
Menu>>Account Settings.
Now select the Add Mail Account option after clicking on the Account Action.
Provide the details for the desired Gmail account you want to export.
This method is applicable only after uploading emails to Thunderbird first. Directly, you cannot import data from MBOX to Gmail. To execute this task in an effortless and user-friendly way, you have to go with a third-party professional utility.
A professional way to import Google Takeout to Gmail account:
No professional wants to get stuck with long and tedious manual ways. To import Google Takeout data (MBOX file format) to the new Gmail account, however, Shoviv IMAP Backup and Restore Tool offers an advanced way. This tool has multiple user-centric features and options for efficient processing. Here are some of the prominent features of this tool:
Shoviv IMAP Backup and Restore Tool offers both downloading (backup) and uploading (restore) tasks in a single dashboard.
Users can backup emails to PST, MBOX, MSG, EML, HTML, and MHT file formats. Also, users can restore all these file formats (including OST file format) to Gmail.
Not only Gmail, but this tool also works for all the IMAP servers like Zoho mail, Outlook.com, Yahoo, Yandex, iCloud and all.
This tool works on job-based processing and permits creating of multiple jobs and running them concurrently.
This tool is boosted with advanced features like incremental export that allows resuming the process if, for any reason, the process interrupts.
Filter options, timeout duration, scheduler facility, and limitations on bad item count (failed items), like advanced user-centric options, are given within the tool.
Steps to Import Google Takeout to New Gmail Account
Step1: Open Google Takeout MBOX Restore tool.
Step2: Click the Export and choose MBOX file option.
Step3: Add MBOX folders and map them with Gmail.
Step4: Use the filter option to make for desired export.
Step5: Setup other settings as per need and click Ok.
Step6: Preview complete settings and click Finish.
How to import Google Takeout to Gmail professionally?
To professionally import Google Takeout to new account, Shoviv IMAP Backup and Restore Tool offers an advanced utility. Just install the software, launch it and follow the below-given steps:
After installing, firstly click on the Restore/Export button present on the dashboard.

Now select the MBOX file format as a source and click OK.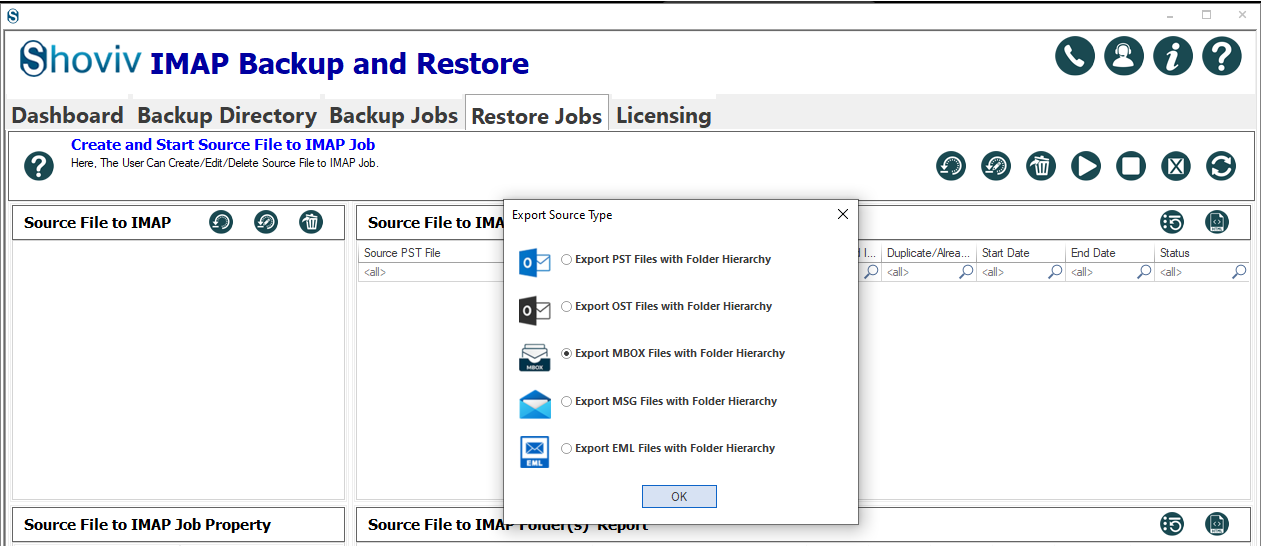 Provide a job name, select the folder and click Next.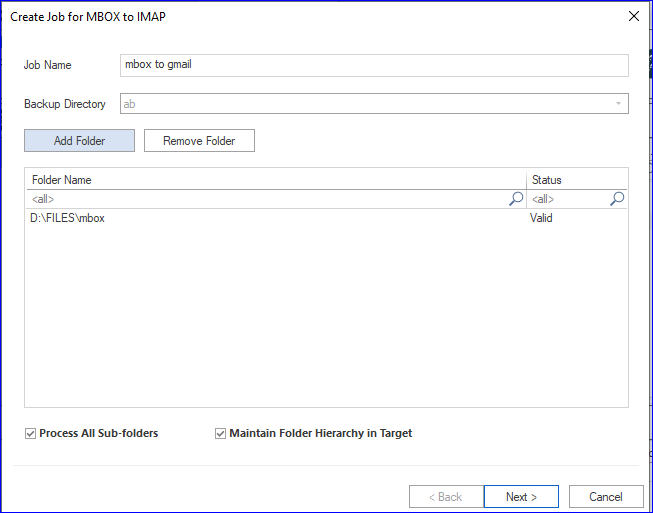 Enter the Server Name, click on the MAP Source and map the MBOX file to the Gmail mailbox. Click on validate and then click Next.
You will prompt to the filter page; here, you can add a date and folder to include/exclude. After applying the filter, click on Next.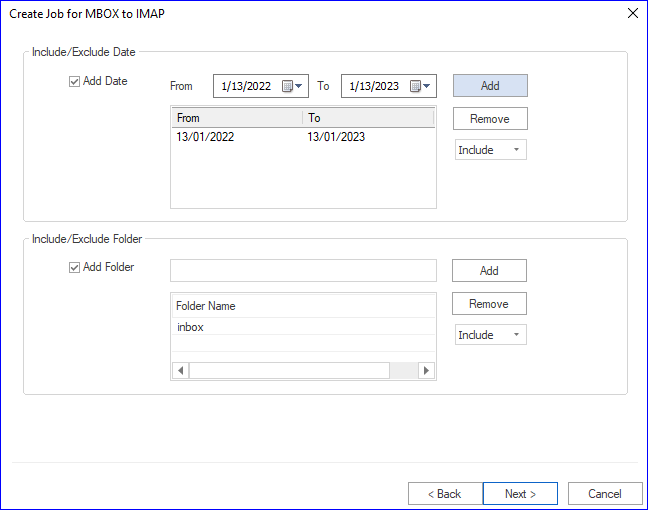 Next, in the settings page, mailbox/item thread count, also you can set attempts for the Mailbox Login Attempts/ Mailbox Item Retrieve Attempts. After doing all settings, click on Next.
Now you will have a complete preview of your task to import Google takeout to Gmail. After satisfying the settings, click on Finish, and the import process will start.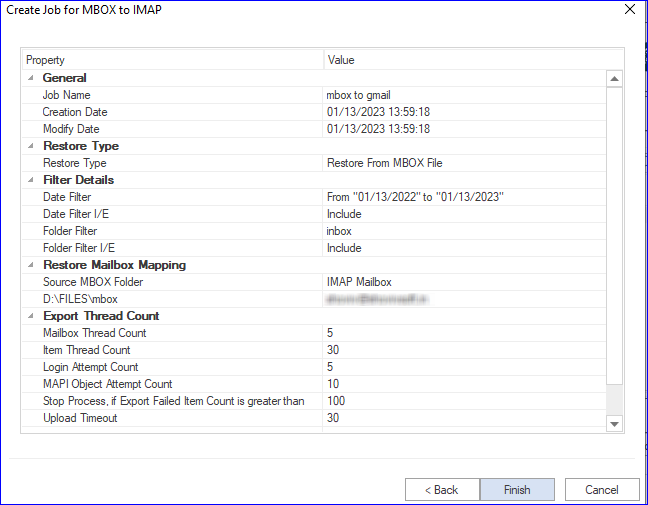 At the end of the process, a complete report will be displayed.
Looking to import your Google Takeout MBOX files effortlessly into your Google Workspace account? 
Look no further! Transfer your contacts, calendars, and emails into Gmail for business
(Google Workspace) via Shoviv G Suite Backup & Restore Tool.

Wrapping up:
To import Google Takeout to the new account, i.e., MBOX to Gmail; we have mentioned and explained a professional utility for proficient execution. No manual method provides a satisfactory and efficient way to import MBOX to a new Gmail account. Shoviv IMAP Backup and Restore Tool also offer a free trial version that allows processing the first fifty items per folder. In addition, the demo version will automatically upgrade to the full unrestricted version after licensing.
Latest posts by Himanshu Pandey
(see all)