Last updated on June 16th, 2023
Yahoo is a well-known email client having a huge user base. But, many Yahoo users are searching for a way to download emails from Yahoo. Various reasons initiate users to download and backup emails, and it varies from user to user. If you are a Yahoo user and have queried how to download emails from Yahoo, you have landed in the right place. This blog will holistically cover this topic and provide an automated solution for this task.
Some common reasons to download emails from Yahoo:
The most common reason is the backup. As a preventive step, users take a backup of emails as mishappening can strike anyone.
Past events of Yahoo, like the security incident of 2014; the outage of 2013, also initiating users to have a backup.
Users can download and back up Yahoo emails and free up server space.
By having data on the local machine, users can access any time even in the downtime.
Note: Don't risk losing your important Yahoo emails! Download them locally with ease using our powerful email backup and restore tool. With just a few clicks, you can have a secure and reliable copy of your Yahoo emails stored on your computer. Get started now and enjoy peace of mind knowing your emails are safe and easily accessible, even when offline.
Ready to get started? Download a free trial version of Shoviv IMAP Backup and Restore tool. 

 
How to download emails from Yahoo?
Users can download emails from Yahoo: the traditional manual way and advanced professional tool is available. The manual method includes ways that ask for a high level of technicalities, numerous processing steps, and some limitations. Firstly, we will explore manual ways:
Using POP to Download Emails
We are using Outlook for this; follow the below-given steps:
Open Outlook and go to the File tab.
Now, select Add Account and here, provide your Yahoo! Mail email address and select the Advanced options.
Here, a checkbox "Let me set up my account manually" is given; check the box and click on Connect.
Now, you must select the POP and enter the password for Yahoo! Mail.
Finally, click on Done to connect Yahoo! Mail to Outlook via the POP.
Using the account settings, you can copy-paste and view Yahoo! Mail. Follow the below-given steps:
Open Outlook, File tab>>Account Settings>> Account Settings.
Click on the Data Files tab, select the Yahoo Mail account, and click on the Open File Location.
Now copy the file and paste it where you want to save it.
Click on the File tab in Outlook>> Open & Export to view your emails.
After that, click on the Open Outlook Data File and select the file that has your Yahoo! Mail message.
Copy the Yahoo Mails
Log in Yahoo Mail account.
Go to the Mail icon.
Now open the email that you want to copy.
Finally, open the Notepad on your PC and copy-paste the selected email on Notepad.
It is also a manual way that answers how to download emails from Yahoo individually.
Why Professionals Don't Prefer Manual Ways:
With manual ways, users must spend a lot of time executing the task. It is a tedious as well as very time-consuming process.
Users do not get advanced options like filter options, search options, scheduling, et cetera.
Technical hands are required; non-technical users may need help with the execution as technical expertise is required.
The chance of human error is always there, as any small mistake can ruin the complete process.
The professional way to download emails from Yahoo:
Shoviv IMAP Backup and Restore Tool offers a professional and proficient way to download Yahoo emails. This tool is boosted with the numerous advanced features that make the downloading Yahoo mail process a cakewalk. Some of the highlighted features of this tool are:
Shoviv IMAP Backup and Restore Tool is an advanced utility that offers both downloading (backup) and uploading (restore) facilities.
This utility runs on job-based processing and can run multiple jobs concurrently.
The software is boosted with the incremental export feature. This feature resumes the process from its last stop, and that's how it prevents duplicity in the target.
Not only Yahoo, but with this tool, you can download/backup mailboxes of any IMAP mailbox.
Users can also filter the data using a date range and folder filter.
It allows downloading Yahoo emails to PST, MBOX, MSG and EML like prominent file formats.
Users can also schedule the backup process daily/weekly/monthly as per their needs.
To get control over the failed/bad items, you can set the upper limit for the bad item count.
How to download emails from Yahoo using the Shoviv Software?
Firstly, install and launch the Shoviv IMAP Backup and Restore Tool.
Now click on the Backup Directory tab available on the dashboard.
Provide a name and backup directory path; your email will be saved here.
Now you have to create a backup job. Select the IMAP Single Mailbox from the left pane; you can also select multiple mailboxes. Now, provide the Job Name, Email Address, Password, and Server Address.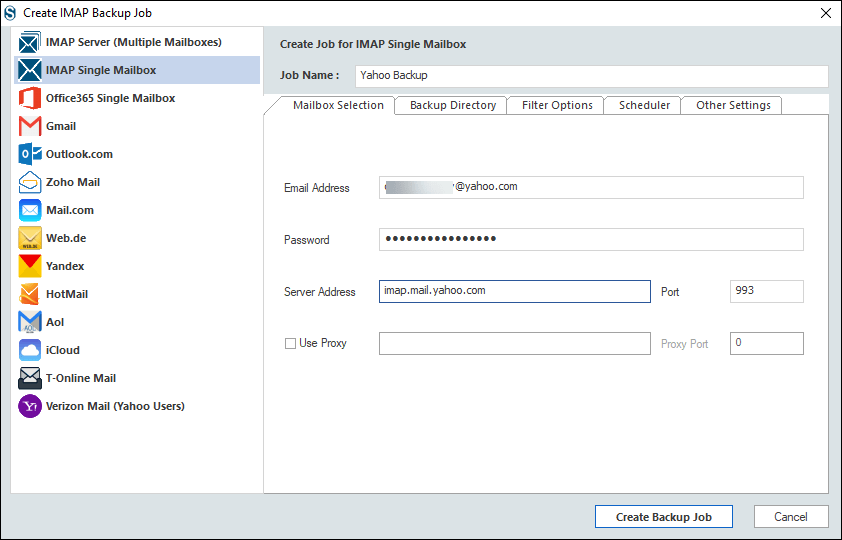 You can also create a backup directory by clicking the tab. However, we have already created the backup directory in the first step.
Using the Filter Options tab, you can apply the filter by including/excluding the date and folder.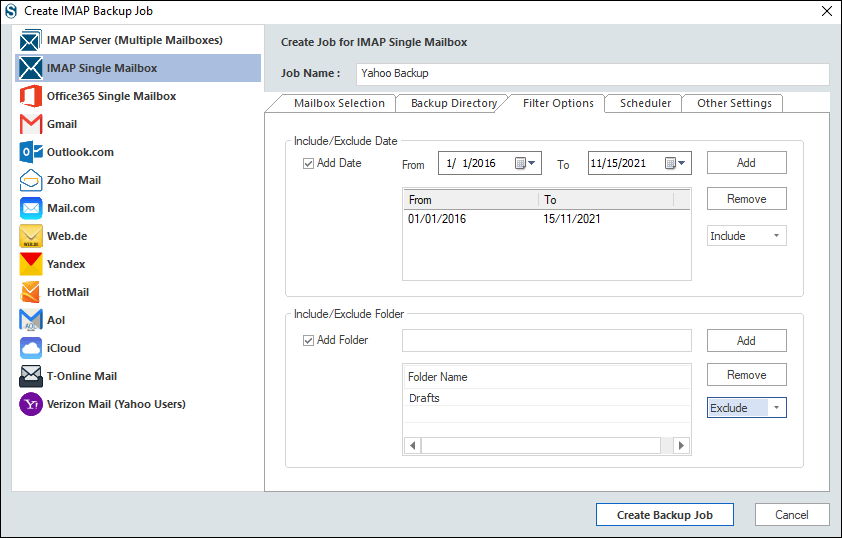 Here, you have two options: Run Job Manually and Job Schedule. If you want to instantly run the job after creating it, check on the Run Job Immediately.
While scheduling the job, you can set occurrence, frequency and duration. Click Ok.
In the last step, from the other settings tab, apply settings. Here, you can set the mailbox/ item thread count. Also, you can set attempts for the mailbox login/item to retrieve attempts. If you are taking backup in the .pst files, you can also set the size for the resultant PST file. The split PST file option is given where you have to provide a size limit, and the software will automatically split .pst files on reaching that size.
Finally, the actual backup will start, and the software will display the complete status of the process.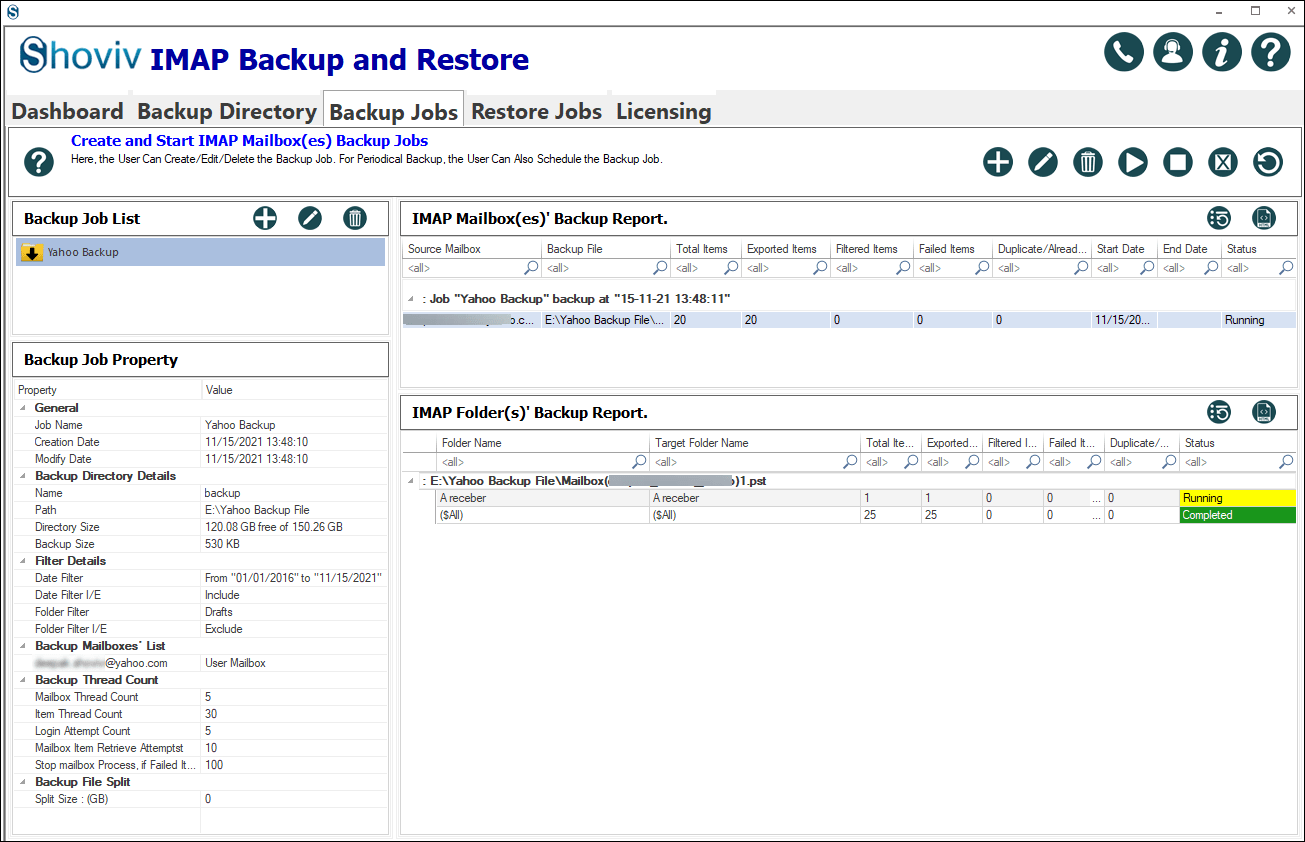 These simple steps were to download Yahoo emails using these advanced automated options.
Conclusion:
Many users over the internet search for how to download emails from Yahoo. In this blog, we learned about all the aspects of this task. In this write-up, firstly, we explored the reasons to download emails from Yahoo then we learned the methods for the same. We learned about the manual methods then we listed their limitations. For efficient and effortless working, Shoviv IMAP Backup and Restore Tool offer a professional way to download emails from Yahoo. Install and try a free trial version of the Shoviv IMAP Backup and Restore Tool.