Last updated on September 1st, 2023
Summary: This guide evaluates and describes a top free and paid method to convert OST files into Microsoft Outlook data file (.pst). It also suggests a professional way to convert OST to PST that helps to easily convert your corrupted or non-corrupted OST file to PST file format.
OST and PST files are both essential in Microsoft Outlook. OST files are used to save the offline copy of the data from the Exchange Server whereas PST files are used to store the copy of data on the configured system from Outlook. There are several obvious reasons that initiate users to convert OST to PST file format. Let's know about all:
Top Reasons Why Convert OST to PST File Format?
OST to PST Conversion has many benefits for Outlook users. For example:
If you convert OST files to PST format, you don't have to worry about your data getting accidentally deleted from the Exchange.
You can also access your data in case your Exchange Server crashes due to any reason.
If you have done OST to PST file conversion, you can save the PST file in a safe location.
During Exchange maintenance, offline OST files become inaccessible. So if you want to use those files, you need to export OST to PST and then import them into the MS Outlook application
This is why we need to convert offline OST files to PST file formats.
Download a Free Demo tool of Shoviv OST to PST Converter to know in a better way.
It supports all the MS Outlook Editions Like Outlook 2019, 2016, 2013, 2010, etc.
Challenges Users Face When Try to Converting OST Files Manually
When Outlook is associated with the Exchange, the users can undoubtedly recreate OST data files with no issues. But in case your Exchange Server is down either temporarily or permanently, it's not possible to re-create OST files. In such a scenario, your offline Outlook data file needs an OST to PST Converter tool. There are some challenges users face when manually trying to convert OST files to PST.
Same Exchange User Account is Needed:  Users can't access an OST file with another account or a different Exchange account. It is only accessible with the Exchange account that was used to create it. All I want to say is only Exchange-connected Outlook users will be able to convert their OST file into PST format.
Corrupted OST file Conversion is not Possible: You know that Outlook can't allow opening corrupted Outlook OST file data. In that case, when your Exchange Server is down, you cannot recreate your OST file to replace it with a corrupted one. That is the situation when manual OST file conversion becomes impossible.
Orphaned Outlook OST files in Exchange Mailboxes can't Recover:  OST files that are not connected to your Exchange server are called orphaned OST files. When Exchange crashes, the only source of the user's mailbox data is an orphaned OST file. Shockingly, there is not any manual method that converts orphaned OST data files. OST file which is connected to your Exchange Server is only converted using manual methods.
Needed Top-notch Technical Expertise: Manual methods are suitable for those users who are experienced in Outlook or those who have technical knowledge in data migration. We advise if you are a novice as per your technical skills, don't try these methods to convert OST to PST. It may cause your OST file inaccessible for Outlook or maybe hardly corrupt.
Top Methods to Convert an OST to PST Free
There are two ways to convert an OST file to Outlook PST file format that you can use. The first method is the old method which involves the manual migration of OST file data.
Let us find out how to convert files Manually with available three methods:
Convert OST to PST Using Outlook Native Import/Export
Firstly, launch the MS Outlook application
Open the "File" menu and choose "Import and Export"
In the next window click "Export to a file" and then "Next"
Now choose Outlook data file (.PST) and click "Next"
Select the mailbox folder to export from. You can choose to include subfolders
Browse and select the folder where you want to store the PST file and click "Finish"
Note: For this method, you need to have an Exchange Server connection and Outlook installed on the local computer.
Convert OST Using Archive Method to Move Mailbox into PST
Step 1: Firstly, open your Microsoft Outlook application
Step 2: Click on "File" menu and then Archive option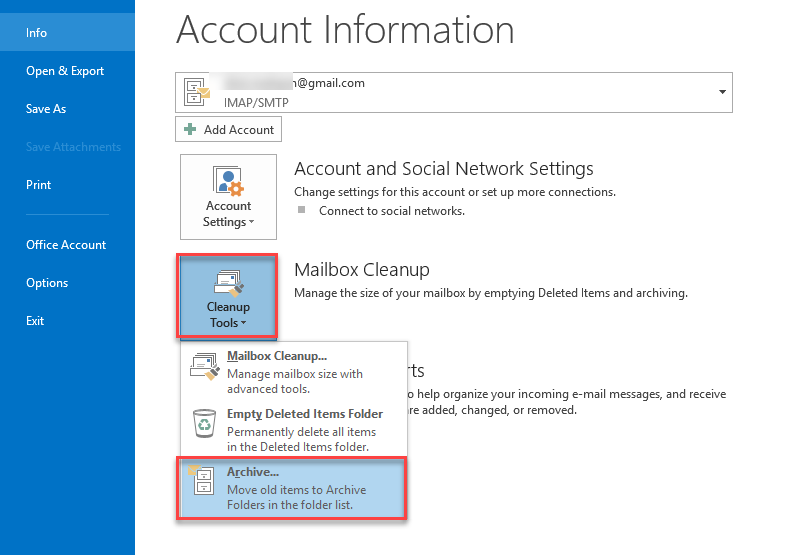 Step3:Now choose the desired file/folder to archive.
Step 4:Browse the location to save the archived file.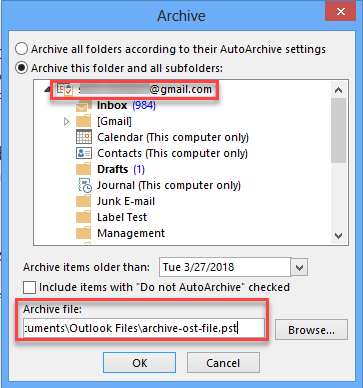 Step 4:At Last click Finish.

Note: With the archive method, you can migrate all OST data except for the contacts.
Convert OST file to PST Using Drag and Drop Method
With this method, you can convert Mailbox data items of the OST file to a new PST file.
Step 1: Firstly, launch the MS Outlook application
Step2: Secondly, create a new PST file in your Outlook Profile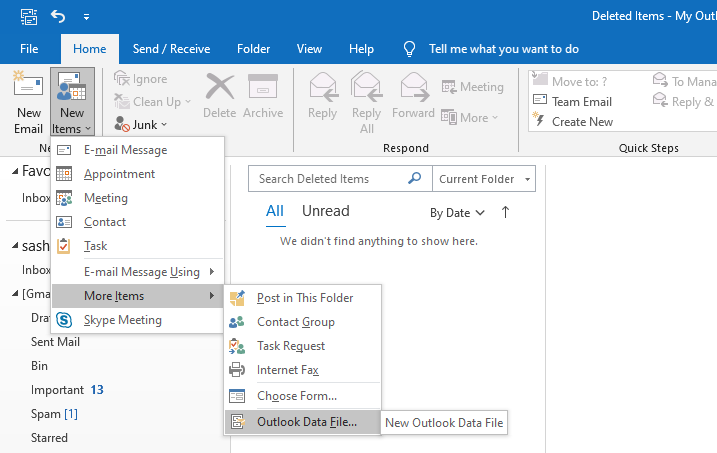 Step 3: Drag all the mailbox folders you want to move to the newly created Outlook file.
Note: You cannot drag items including Inbox, Contacts, etc default folder into a PST file
So above are the three manual ways to convert OST to PST files. These are free methods, which can use by anyone who wants to convert OST files. However, manual methods are not advised for those users who cannot afford to take any risks with their OST file data. Manual methods have certain limitations and it is essential to be aware of them.
The manual methods are slow.
These are unpredictable.
They can involve complex steps.
They may need experience to perfectly go through.
There can be data loss or file modification.
No guarantee of data safety.
OST file Size limitations.
Not suitable for corrupt .ost file.
Email item limitations, etc.
However, if you want to avoid these setbacks, you can use another method of OST to PST conversion, which is the use of automatic professional tools.
A Professional Software to Convert OST to PST File
Shoviv OST to PST Converter is a certified solution to safely convert OST files to Outlook PST files without any risk. The tool works efficiently to repair and convert corrupted and non-corrupted OST files without needing any experience. Both Novice and Professionals can use this tool to convert their OST files without any hurdles.
The tool offers you great results and comes with a set of powerful features that makes it the best OST to PST Converter.
Most beneficial features of the OST to PST converter software:
Import multiple OST files to PST, Live Exchange, and Office 365.
Added OST files have no file size limitations; users easily add large-sized .ost files.
Retains the folder hierarchy of OST folders.
Search for specific OST items with field names.
The software converts inaccessible OST files to other file formats.
Save OST file items to multiple file formats like EML files, MSG, HTML as well as vCard, etc.
Split large PST files into smaller PST files during OST to PST transfer.
File preview to view items before OST to PST migration.
Recover corrupted mailbox data or deleted OST file items.
Convert OST [50 items/folder] with a free demo version of the OST converter tool.
24*7 support assistance.
You can also save the report for the future.
Convert Multiple OST Files Using Shoviv OST to PST Converter: 
Users can easily convert OST to PST within a few simple steps using Shoviv Software. Any non-technical users can proficiently execute the conversion of Outlook OST files to PST file format with the below-given steps:
How to Convert OST to PST
Free Download and Open OST to PST Converter software
Choose the Offline Storage Table (OST)
Customize the conversion process accordingly
Select the Export Button to start the conversion
Download the process completion report
Import the resultant PST file into Outlook.
 
A Detailed PST Conversion Process from Exchange OST Files
At first, install and launch the Shoviv OST to PST Converter.
Now click on the Add OST Files button, which is at the left corner of the ribbon bar.

Now add OST files that you convert into PST file format. To add OST files, use the given options, which are Add, Remove, Remove All, and Search. If you have highly corrupted OST files, then check the "Advanced Scan" option.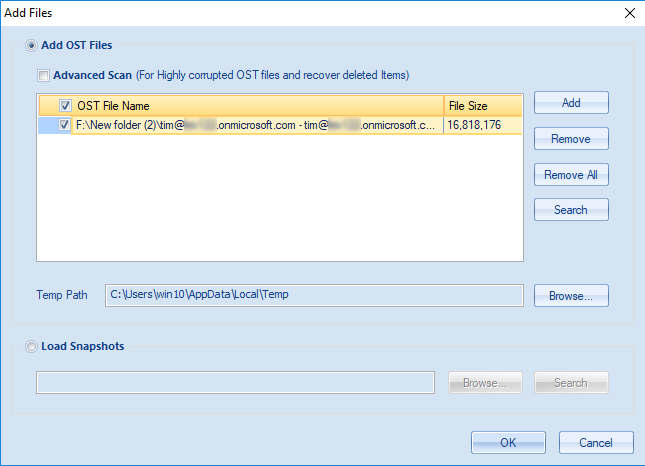 Here, users can preview the selected files under the folder list. The user can also expand the particular folder by clicking it. This feature assures users before they convert OST to PST.

Click on the OST to PST button of the ribbon bar or right-click select the option "Save all Files in Outlook PST" to change OST to PST formats.

Now you will be prompted to check/uncheck Sub Folders. Here check/uncheck the subfolders and click on the Next button.
The filter page will open. Apply the filter on the basis of the "Process Message Class" and "Process Item Date Range" options. Click on the "Next" button after applying the criteria.
Here provide the details for the resultant PST files. Choose whether you want to export in the existing PST file or want to create a new one. For the new PST files, browse the location. Check the PST file type: Unicode or ANSI. Users can also set a password for the PST file. To get rid of oversized PST file issues, users can set PST file size, after which the PST file will split.
Now, in actuality, the OST Conversion software will convert (selected Outlook data file) OST to PST. After completing the OST file to PST conversion, a message "Process Completed Successfully" will be appeared, click OK. A complete report of the process including Item count, Processed Item, Filtered Item, and Failed item will be displayed.
These were the simple steps to convert OST to PST in Outlook 2019, 2016, 2013, and the below versions using the user-friendly Shoviv OST Converter tool for orphan OST files.
Free Tip on Online OST to PST Converter
Many online OST to PST Converter services are already available on the internet, but are they converting your OST file free of cost? They are not free, obviously. They charge around [$10 to $15]/GB for converting your OST file. Remember that you have to upload your complete mailbox data, which contains your information, private or sensitive email data, to an unknown company.
Note: OST file to PST Conversion has some significant advantages; Outlook data file [PST] is portable, easy to importable in any Outlook version, as well as, it is the best way to take a backup of Outlook emails.


Interested? Try It For Free!
You can now test the free demo version of the Shoviv OST to PST Converter. The free trial has been created to ensure that all interested users are able to check out the results before the go-ahead. The full version is easily affordable and comes with great benefits too. You can also export the first 50 items per folder so that you can be sure that this is the tool that you want. Once you upgrade, there is no limit to the files that you want to convert.
---
Frequently Asked Questions:
Q. How do I Convert an OST to PST file free in Outlook?
A. To convert OST to PST for free, you may use the above-described manual methods like Import/Export, Drag, and Drop, or use the Archive method. But, nothing comes for free, for here, the free method comes with lots of drawbacks and limitations. For the proficient and effortless conversion, a professional third-party i.e. Shoviv OST to PST Converter is the best choice.
Q. Can I Move OST file to a new Computer?
A. Unfortunately, you cannot move OST files to a new computer. For this, you must have to transfer your data into PST format.
Q. How do I Open an OST file without Outlook?
A. You can use a free OST viewer by Shoviv to preview OST files. It even allows you to open corrupted OST files effectively. In case you want to export OST to PST, then go with OST to PST converter.
Q. Which is the best Converter for OST files?
A. Although there are lots of third-party OST file converter tools; if you evaluate each tool then it is definitely time-consuming. We suggest trying Shoviv OST to PST converter and deciding yourself. You download a free trial which is worth your evaluation.
---