Last updated on May 20th, 2023 at 05:31 pm
This write-up demonstrates all the possible ways to import OST file into Outlook 2016 and all other versions. Undoubtedly, Outlook is the most popular email client today, and most Outlook users are familiar with the terms OST and PST, but there are a few things you should know about OST.

As the official statement of Microsoft, 'you can't move or import OST files directly into Outlook', just like you import from PST; If you want to copy your offline email data into a new Outlook on another computer, you can either configure the Outlook and connect to the server to create a new OST or convert the OST data file into PST using a Professional OST to PST Converter tool.

What is an OST file, and why did Outlook create it?
We all know OST is an abbreviation for Offline storage table created by Outlook when configured with Exchange Server and stores a copy of the server mailbox into your local drive. Outlook OST file allows us to access our Outlook emails, notes, calendars, or any other data, even in offline mode, we can even send or draft our messages. In my opinion, OST files are crucial for any Outlook user, especially for businesspersons. However, sometimes several instances ask users to import emails from OST file to Outlook 2019 or any other version.
Unavoidable reasons to import OST file into Outlook
This section will be going to be a bit lengthy! There are several instances when you need to import an OST file into Outlook.
Exchange Server Downtime: First, let me clarify what downtime means. The time during a machine is unavailable for use or out of action. Exchange Server downtime can occur anytime due to several reasons, such as malware attacks, viruses, hardware/software failure. Thus users must have a backup of OST files to restore the Exchange Server mailboxes in a minimal time when a disaster/downtime strikes.
Exchange Server Maintenance: Everything asks for maintenance, even the human body. You may be aware to put the Exchange server in maintenance mode regularly to keep it running smoothly and avoid downtime. But when we put Exchange Server in maintenance mode, we cannot access our Exchange mailboxes, so users prefer to import OST into Outlook PST to access it even when the Exchange Server goes under maintenance.
Migrate data from one system to another: Changing systems or switching an organization is becoming common nowadays. However, you cannot move or import emails from the OST file to Outlook. The only to move them from one system to another or one Outlook to another is by converting OST into PST format.
These are the few reasons that can happen to you anytime, and you have to import OST file into Outlook. Apart from these, the worst is OST file corruption, and the only way to recover corrupt OST files is the conversion into Outlook PST format. Let's go on to the next part, which will show you how to import OST to Outlook 2013 or any other version.
Import OST files to Outlook Explained
Rarely, only a few Outlook users (mostly techy) know that OST files get divided into two types when needs to convert OST into Outlook. One is Exchange OST files and the second one is orphaned OST files.
Exchange OST File: These OST files are linked to Exchange Server and Outlook. It is feasible to import these OST files, and there are numerous methods for doing so.
Orphaned OST File: If you have an OST file, but the mailbox for that OST is inaccessible or removed, the OST file will be deemed orphaned, and you will be unable to import or access it.
So before moving to the ways to import Exchange OST files into Outlook, let me provide a way to open orphaned OST files to view OST file without Outlook. If you have orphaned OST files and want to view them, you can install and use the Shoviv OST viewer for free. When I say free, I mean that. Now let's move towards the manual solutions to import OST file into Outlook. There are two available; manual archiving of OST file and import/export the Exchange OST to PST file. Before that, you need to locate your OST files. The location of changes as per your Windows Operating System.  
Locate the OST files as per your Outlook versions:
There are two ways to locate your OST files. You can go to the File tab of Outlook and then click twice on the Account Setting option.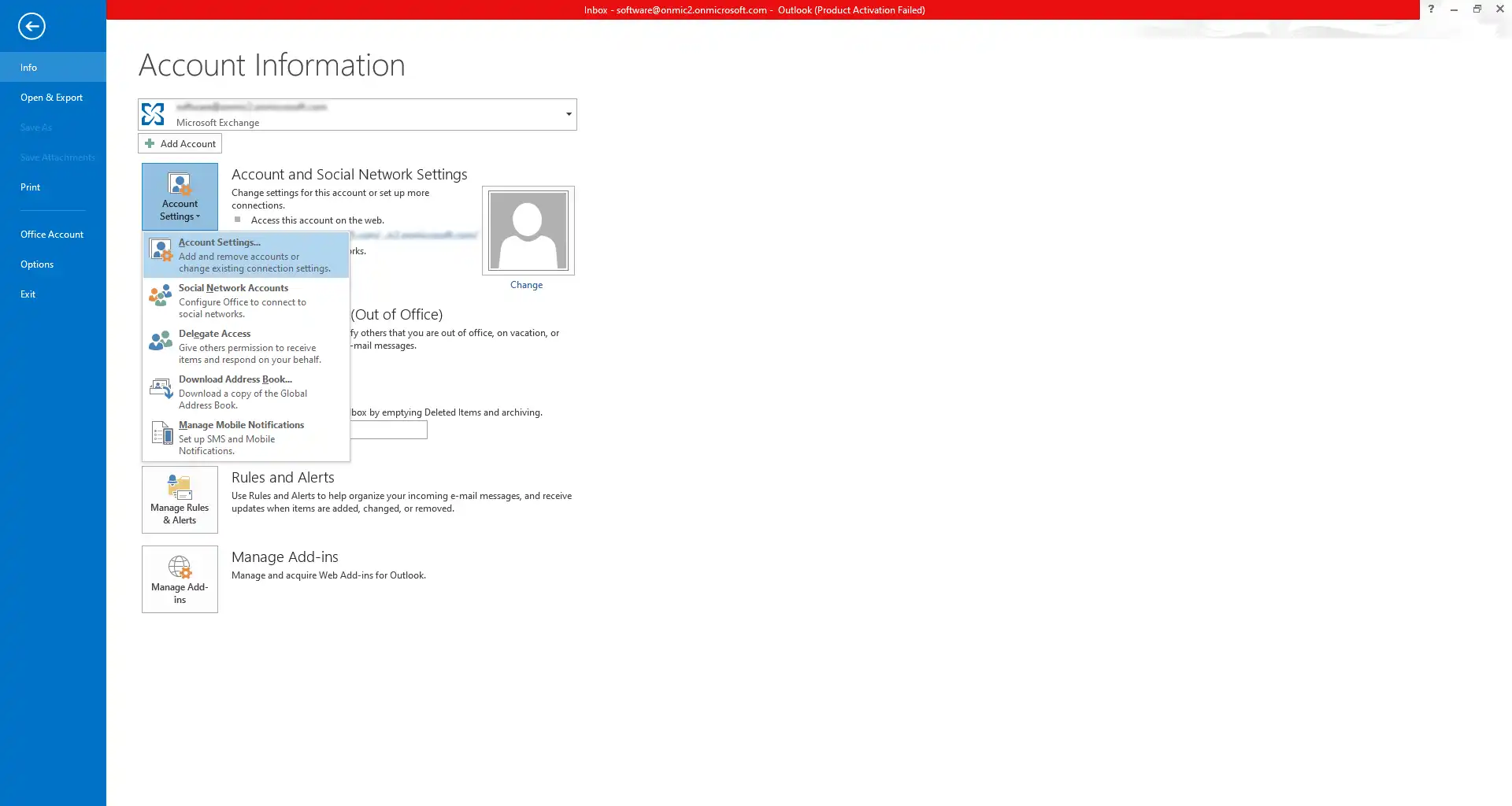 Next, go to the Data Files tab and click the Open File Location option, and you will be redirected to the OST file location.
The second option is by browsing the following location respective to your Windows Operating System.
Windows 10: drive:\Users\<username>\AppData\Local\Microsoft\Outlook
Windows 10: drive:\Users\<username>\Roaming\Local\Microsoft\Outlook
Older Windows versions: drive:\Documents and Settings\<username>\Local Settings\Application Data\Microsoft\Outlook
Now you got your Exchange OST files, let's import them into Outlook PST format.  
Import OST file into Outlook PST format Manually
Using the Archive feature: It is an Outlook feature that allows you to archive old emails from OST files into PST format on a regular basis. Pursue the following steps:

Open Outlook and go to the File
Click on the Optionsfrom the left pane.
Next, select the Advanced option and click on the Auto Archive Settings… 
Following set up the auto-archive as per your need. You have to set the day count to run auto-archive. Also, you can set a count to clear old emails.
Once done, click Ok, and Outlook will automatically create an archive of your OST emails at the specified time.
You can ensure the Archive utility's working by navigating the location that you pick to save the PST files.
Import OST file into Outlook PST with Import/Export

Open Outlook and go to the File
Now click on the Open & Export option and consequently hit Import/Export.
Then, select the Export to a file option in the next wizard.
Following choose Outlook data file .pst option and click Next.
Now select the Outlook profile or folder you want to import into PST format.
At last, browse the folder to save the converted Exchange OST file and click Finish.
These are both manual methods that you can utilize to import OST files but make before using these methods, make sure your OST file is connected with an Exchange Server. Both manual methods are easy to use, but there are a few limitations in both due to which users rarely consider these methods. Below I've described both methods' drawbacks. You can read them before utilizing manual solutions.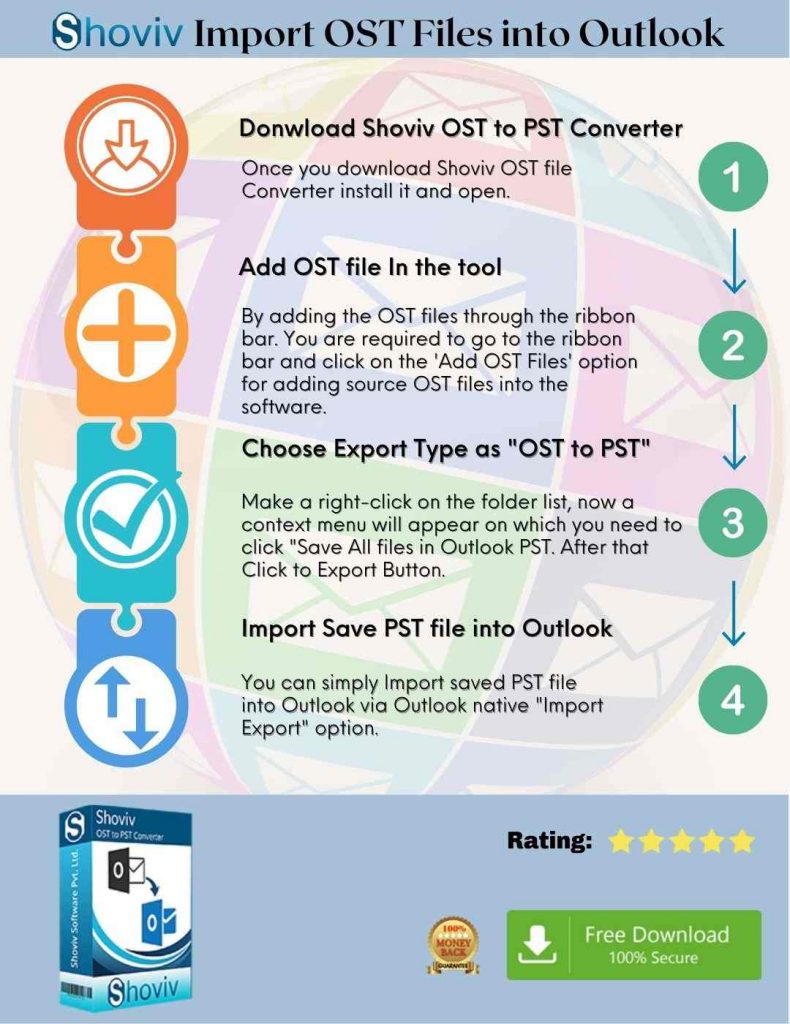 Why do professionals avoid manual solutions?
Archive option only archives emails, which you will receive after configuring the Archive settings. Hence, you cannot import complete OST files using this method.
Importing multiple OST files into Outlook PST is impossible with this utility. Also, there are chances that your OST file gets divided into several PST files, and you can lose your data.
The utility is quite slow, like manual methods process around a Gig of data in an hour. Hence, if you have several OST files, it will take months to import them.
Apart from these drawbacks, one thing is for sure; you cannot import OST file into Outlook using these methods if they're orphaned. Here, the question arises "how to import multiple OST files or orphaned OST files into Outlook PST format". Many Microsoft MVPs and professionals suggest using an automated OST to PST converter tool to import OST to Outlook 2016 or any version. Shoviv OST to PST converter is a tool that is well regarded and recommended for everyone, including non-technocrats.  
Recommended and Automated solution to import OST files
As previously stated, the Shoviv tool is examined by experts in many challenging scenarios, and every time it has become a data savior. Due to its convenient GUI and user-oriented, the tool has been recommended for everyone; tech-savvy to novice users.  
Why should you go with the Shoviv OST to PST Converter?
Import both types of OST files: We have coded the software with an advanced algorithm that effectively imports OST files into Outlook, even the orphaned OST files. Also, the software has no restriction on adding large and multiple OST files.
Recover & preview corrupt OST files: If you have a corrupt OST file to recover and import, then the software is a blessing for you as it can recover the corrupted OST files effectively. Also, after the recovery of OST files, it displays a preview of every bit of the OST file so users can ensure their OST emails before importing them into Outlook PST.
Filter out unwanted & duplicate emails: The software works in default duplicity prevention mode. Hence, if your OST files contain duplicate emails, Shoviv's tool will automatically filter out them. Along with this, you got a filter option to include/exclude unwanted items on the message class and date range-based criteria.
Monitoring mechanism: The software is coded for professionals, and users get control over their import process from start to end. Users can preview all their OST file data and monitor the complete import process on the log report.
No human error and data loss risk: Shoviv OST to PST converter tool automates the import process and provides rid of data loss and human error. Due to its automation skill, the software is popular among novice users.
Import OST to Outlook 2016 and other versions: IF you have OST files of different Outlook versions or you want to access the converted OST files in different Outlook versions, the software is what you're looking for. With Shoviv tool allows to import of OST files into all Outlook versions and works in all Windows Operating Systems. 
How to import OST to Outlook 2019, 2016, and other versions?
Shoviv OST to PST converter offers a simple but advanced process to import emails from OST files to Outlook. Simply, install and open the tool, then add OST files to import and click the Outlook PST option from the ribbon bar. Following, select sub folders of OST to import into Outlook PST format and browse the location to save the PST file. At last, you can filter out unwanted items if required.  
Demonstration of the OST to Outlook PST import process
For the demonstration and evaluation above mentioned feature, install the free OST to PST converter version and proceed as follows:
Click on the Add OST file option from the ribbon bar and Add OST files. (Check the box adjacent to Advance Scan to repair severely corrupt OST files).
Now browse a folder to store the resultant PST file. You can also set a specific size and a password for the PST file.
At last, the filter wizard pops up. You can filter out unwanted items, and for other options, click the Advance option.
In the end, the software will start the import process and displays a live log report to you.
Once the process gets complete, click on the Finish button.
See how easy is to import OST file into Outlook using Shoviv OST to PST converter tool. 
The Bottom Line
I've summarized almost every essential knowledge to import OST to Outlook 2013, 2016, 2016, and other versions. Manually, if your OST files are connected with Exchange Server, it is possible to import them into Outlook otherwise must give Shoviv OST to PST a try.


FAQs