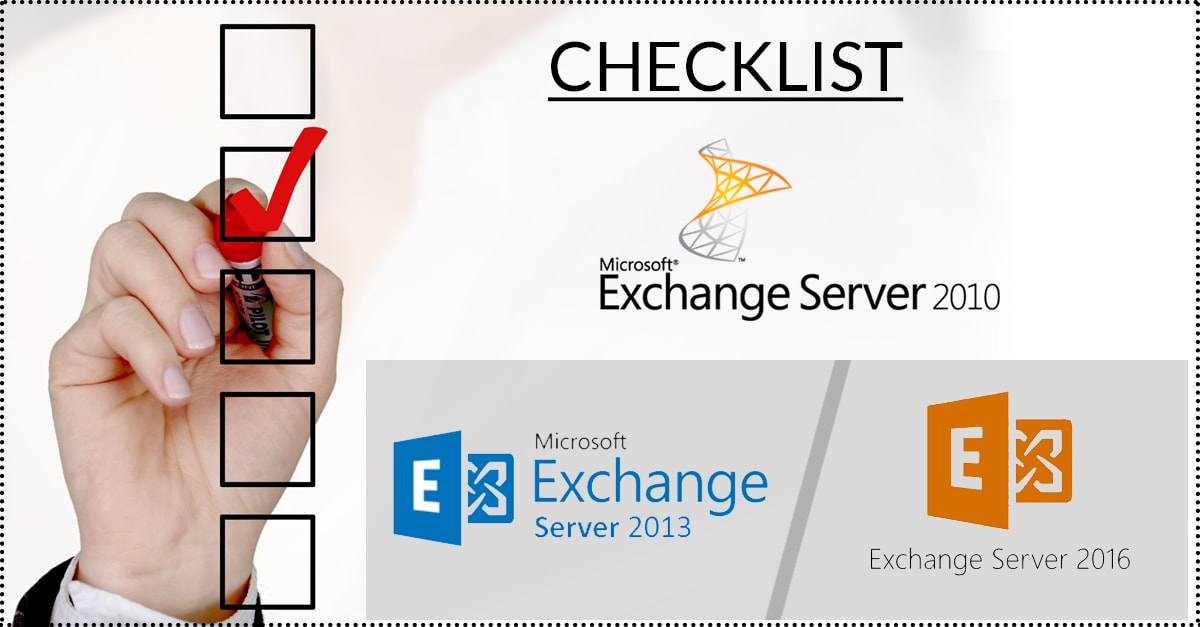 Frequently, if you love to take challenges, so it will be the best challengeable task for you to execute migration from Exchange to Exchange. Surely, the execution of migration from exchange to exchange will take your pretty time, specifically when you will take tasks of moving an older exchange version to the newly launched version such as, migrate from Exchange 2010 to 2013 or 2016 migration. It can get even more terrific and challenging task when the source destination servers are located in diverse forests.  Therefore, you have to invest a sum of the good time from your quality time for preparing to execute the task of Microsoft Exchange Migration easily with some valuable and lucrative methods.
This articulation may be helpful for the reader while they consider all the vital points of migration scripts given for Exchange 2010 to 2013/2016 migration.

01. Planning- Plan is a basic thing for every execution and when it comes to the execution of migration it becomes a vital part of the migration and become a crucial aspect. This aspect involves crucial info required for successful deployment. This phase comprehends all Setup & deployment, Public Folders, Mailboxes, Exchange's Management-Shell, Mail Flows and the Client-connectivity.
02. Deployment– This aspect establishing a co-existence amid the source and the destination Microsoft exchange server migration checklist. And also establishing co-existence without the necessity for disarranging any of the present entity services.
03. Migration- Transitioning of mail flow, mailboxes, public folders etc. from Exchange 2010 to 2013. The last phase is for migration including mail flow migration, public folders migration, clients & mailboxes migration, etc.
Checklist for Exchange 2013/2016 Migration
Whenever you've planned for conducting the execution for Exchange Server Migration from Exchange 2010 to Exchange 2013 or Exchange 2016, then here are some of the best suggestions to assists the admin be master on the migration woes.
Project evolution – In fact, while barring crisp inspection, you don't have options to gather the right resources or even evaluate the nominal time duration of the project submission date. This time and the situation you require to execute the project evolution to get every lucrative aspect literally of the project. Given below factor I'll help you in project evolution.
Firstly you should know the business needs such as recovery, migration needs and many more.
Know the variation of data quantum whatever you want to occlude
Keep in mind the data quantum for the execution of migration
Then Set forth the kind of data to migrate such as emails, address books, appointments, tasks, etc.
Finally set forth the end line for the accomplishment of execution means you can get it in a week, two weeks or months
These are some points and the best strategy, which will help you a lot in accumulating information for making a perfect plan, and also help out to make a perfect figure for the migration execution.
Reaffirm the system needs: when you'll have made a plan and well acquainted with the project with all sides, the finishing date and all included finishing dates, then you should authenticate the PC needs. One should also aware about all necessary details related to the system like hardware needs and the software requirements, the speed of network provided, operating systems need for the execution of the project. Emphatically, don't skip to ensure about the coo existence scripts.
Make neat 'n' clean the Active Directory: One of the most important checklists is to clean up and make spotless your Active Directory and remove all references to Exchange domains and other AD objects that are not authenticated. Whether these substances would be implying while the executions and become the cause for the migration execution failure. You should eliminate these elements from the AD with ADEdit, but ensure and re-check that you have already gotten the backup.
Archiving Data or Compiling Data: Before execution of an Exchange migration, compiling the data is very important. Archiving Data mere not only defer the redundant migration of data to the newer exchange server migration checklist, but also assist alleviate the server pullulate. Suppose as, if you have a 4 TB of data on your messaging system, then without compiling it would pullulate and increase itself up to 5 to7 TB in quantum, because of the SIS factor (single instant storage), causing data reproduction in the newer version. Simply, you can remove it by compelling the data and only elements of it would be injected to exchange server migration checklist 2013/2016. Hereby, removing the risks of data loss and corruption in data files.
Assure about Good Health of Exchange Database: Assuring about the health of exchange Databases help you a lot and certainly make you aware from the future calamity and woes which would come during the execution of migration, that's why it is necessary to ensure the good health of the Exchange Databases. It's important to preserve the healthy database utilize ESEUTIL utility whenever you need and keep routinely backups to defer any disintegration. Everyone aware how critical task is the migration execution of the mailboxes and public folder, So nobody wants to lunch with new woes within exiting Exchange Databases.
Plan for Server Roles: Exchange 2010 utilizes five given below server roles.
Client Access server (CAS)
Mailbox server
Hub Transport server
Edge Transport server
Unified messaging server
However, in exchange server migration checklist 2013, solely need two server roles – the Mailbox Server and Client access server (CAS). And it becomes vital & mandatory to assess the current architecture and enumerate how this modification is going to affect the overall migration performance. Hence, it will also guide you to start evolving your migration journey.
Enumerate the Impact on Hardware Resources: It has proven that Exchange 2013 preview release seems more to have exertion on hardware resource than the deployment execution of Exchange 2010. That's why, it also becomes mandatory to assess how Exchange 2013 will give outcome on your recent hardware resources, which you utilize for the accomplishment of migration executions.
Be aware in keeping Public Folders: Public folder migration is such a silly evasive task, With Exchange 2013 – you have to work with modern public folders. Till the last working days it was feasible to migrate public folders content to SharePoint, now with the execution of modern public folders, you've to be more wary and careful until the accomplishment of the modern public folder execution. But, you still have the options to save those folders in legacy Public folders.
Develop Smooth Migration Roadmap: New versions of exchange took an extremely different process to execute the Exchange 2013 migration from the previous versions. So, make estimate all the recent exchange server migration checklist setup for Exchange 2013 and perceive how it is going to put an impression on your organization. Often-time, run it down to certainly develop the smooth roadmap and prosperous execution of Exchange Migration.
Final deduction to Exchange 2016: Particularly, execute a final validation where compile all the data from your existing messaging system and inject to new version exchange server migration checklist  2016. When you've gotten the fullest confidence and finally convinced that all the Exchange elements are doing fabulous, then you may perform as your decision to go live on your Exchange 2016 platform.
However, do not forget to equipment the post-migration tasks, once your migration execution is accomplished to Exchange 2013/2016. This all done to accredit that everything is performing very smoothly – such as your mail flow, mailboxes, etc after achieving success in the migration.
Microsoft exchange server migration checklist 2013/2016 Migration is keen tasks to execute with few of the basic executions along with a comprehensive migration that should be accomplished end to end. Well, any of the admin will get the gorgeous outcome and safe migration by following the above-mentioned factors.
To know more about exchange migration you can read our previous blog on Lotus Notes to Exchange Migration.
Despite utilizing this all, you have an option to select an alternative path to evacuation from the complication manual migration task utilizing a sophisticated, swift and secured third-party Exchange migration tool such as Shoviv exchange server migration checklist suite to execute the exchange server migration checklist which allows glib Exchange to exchange/Office 365 migration or any version in the same domain and cross-domain atmosphere. The tool consists of the perfect feature as all the pre-migration checklists to ensure glib, sophisticated and successful Exchange migrations execution outcome.
For more information, you can also read our previous blog on Exchange Server Recovery.
Note: you can also try Exchange Recovery Manager tool to Migrate Exchange and Office 365 Mailboxes: https://www.shoviv.com/exchange-recovery-manager.html