Last updated on May 18th, 2023
You urgently need to convert the OST files to PST format. One of your friends or office colleagues suggests you using a professional OST to PST Converter tool. Maybe this is the first time when you're looking for any such 3rd party tool. When you search for the "best OST to PST converter tool" on Google or any other search engine, you find many options out there. I've got a quick guide here about how to choose the right OST to PST Converter for you.
OST and PST are two different types of Outlook data files. And sometimes, a situation may arise where you need to convert the OST files to PST format. I've already discussed why OST to PST conversion becomes a necessary task for Outlook users in my previous post.
But now it's time to learn how to do that. Microsoft doesn't provide any freeware utility or a built-in feature to convert OST files to PST. Although there are a few DIY tricks to import the mailbox data from OST to PST file, sometimes they may not work for you. Therefore, a professional OST to PST Converter tool is considered the best solution to convert ost files to pst format.
Download the best OST to PST Converter tool to know in a better way.


There are many vendors out there on the online marketplace who provide 3rd party OST to PST Converter Tools, and the situation becomes difficult sometimes. With multiple options to choose from, how do you choose the best ost to pst converter?
Choose the Best OST to PST Converter Tool
There are more software vendors to choose from than there are weeks in the year. And the number of OST to PST Converter tool providers on the online marketplace is constantly growing. Therefore, choosing one from the ever-increasing list can be daunting for any user. However, after closely reviewing all the software for OST to PST conversion, the OST to PST Converter tool from Shoviv Software is the best solution. Why? Well, I can explain my reason.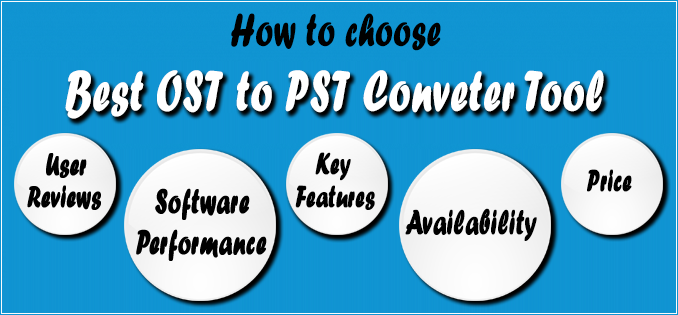 User Reviews
Online reviews are considered one of the biggest reasons for business growth. It definitely increases sales by giving consumers the needful information they require to decide to purchase a product or service from a particular business. So before you can buy any 3rd party software, you should always check the product reviews posted by worldwide users.
Software Performance
Generally, performance means that the software works correctly and the response to user actions is prompt. So it's important to know how quickly or efficiently the software can actually work. As compared with other OST to PST Converter Software, this tool is known for its excellent performance.
Features
The best part is indeed the essential features that you're getting in this software. This OST to PST Converter tool contains more advanced features than any other tool in this category to date.
Visit On Our Latest Arrival: https://www.shoviv.com/how-to/convert-ost-to-pst-step-by-step-using-the-manual-method.php
Quick and Safe
The OST to PST Converter tool can convert OST files to PST and other formats in one go. You can select any size of OST file for conversion, i.e. there's no such size limitation. Although it's quick, it doesn't cause any alteration to the original OST files. In fact, it keeps the original OST files intact during OST to PST conversion. Also, it retains the original hierarchy of the original OST folders.
Fix Corruption Issues
Don't worry if the OST files are corrupted. It can successfully repair the Offline storage table and recover the maximum possible data from it. And after that, you can save all the recovered data into a new PST file. Additionally, it can recover the accidentally deleted emails and other mailboxes data from the OST files.
Smart File Preview
The ost to pst converter software enables you to check the preview of your mailbox data before conversion. If you need to convert corrupted OST files, this feature is handy. Also, you can select the mailbox folders which you want to save into a new PST file.
Save into Multiple Formats
Although the software is primarily used to convert OST files to PST format, you can save the OST files' data into different file formats. Other than PST format, you can convert OST files into EML, MSG, VCal, vCard, HTML, etc.
Split PST File
If you want to split the output PST file into multiple parts, you can do that efficiently. Using the split option, you need to define the size of the result PST files so that the software can produce a similar number of files as per the size specified by you.
Export OST to Office 365 & Exchange
Via this OST to PST Converter tool, you can successfully migrate the data from OST to Office 365 and Exchange mailbox. The intelligent "mapping" option of this feature helps you map the OST files with the Office 365 and Exchange Server mailboxes with ease.
Note: Ensure the user used for fetching all the mailboxes from Office 365 and Exchange Server has full access rights, including the global admin right.
Interactive GUI
The user interface of this software is simple, easy to use, efficient, and responsive. There's no prior technical understanding required to use this OST to PST Converter tool. Any technical or non-technical user can use this software with ease.
Support & Compatibility
It supports OST files created by all popular versions of Microsoft Outlook, including 2000, 2002, 2003, 2007, 2010, 2013, and the latest 2016, 2019, etc. And it runs smoothly under all major Windows operating systems, including the newest Windows 10 (32 & 64-bit).
Price
It's generally believed that one should consider more than just price while choosing something needful. However, when you're getting something at an affordable price, you shouldn't spend your money just like that. OST to PST Converter tool is one of the most affordable solutions available on the online marketplace. To avail of this software, you just need to spend $49.
Availability
Shoviv OST to PST Converter Tool is readily available online for instant download. Before purchasing the licensed version of the software, users are strongly recommended to download the demo version for a free evaluation. Generally, there's no significant difference between the licensed and demo versions. Using the demo version, you can successfully scan the OST file and check the preview of its mailbox data. But there's a limitation in the saving feature. Using the demo version, you can save only the first 50email items from the selected mailbox folders of each OST file you choose. And if you're satisfied with the results, then only you should purchase the software.
How to convert an OST to a PST file
Install and Lunch the OST to PST Converter software.
 Go to Ribbon Bar and Click on the 'Add OST files'.
'Add or 'Search' for the desired OST files and Click OK.
Right-click to an added OST file folder in the 'Folder List'.
Select the 'Save All Files in Outlook PST' option.
Here, 'Check/Uncheck' required subfolders and click Next.
Now, options for Export Item in PST.
Select any one 'Export in existing PST' or 'Create and Export in new PST'
Users can set the Password for the resultant PST file.
Check Incremental Export option if needed.
Users can set the split resultant PST file size. Click Next.
Then, apply the filter based on 'Message Class' and 'Message Date'. Click Next.
After getting a message "Process completed successfully,". Click OK.
Save the report by clicking on the 'Save Report' Button. Click Finish.
Conclusion 
I know that too many options create anxiety and leave you less satisfied. To choose the best OST to PST Converter tool, you need to understand the basic fundamental principles. This article explains why OST to PST Converter tool from Shoviv Software is the best solution for Outlook users. Now it's your turn to make use of it.