Last updated on May 18th, 2023
Emails are an integral part of our technological world and the numerous email clients surround us. Thunderbird and Outlook are some prominent email clients developed by Mozilla and Microsoft, respectively. Users' tilt toward any email client varies from user to user. If you are a person who is using Outlook and want to import Outlook to Thunderbird, then you have landed on the right blog. This blog will show us the most suitable way for this task.
Ways to Import Outlook to Thunderbird:
We can import in two ways: Manual way and Professional way. The manual way is the traditional way that can import Outlook PST to Thunderbird to some extent. Here, we will learn about both ways:
Manual Way:
Follow the below-given steps to import Outlook to Thunderbird:
Click on Start (Windows O.S.)>> Default Programs >> Set your default program.
Now, select Outlook and make it the default email client.
On the same system, launch Thunderbird and follow Tools>>Import.
Go with the radio button next to the Mail option and then Next.
In the next wizard, choose Outlook >> Next>>Finish.
Now, again make Thunderbird the default email of the system.
Following the above-given steps, you can import Outlook to Thunderbird, but it differs from what professionals look for. With the manual way, professionals have to spend a lot of time and still do not get the desired results. Also, it is very tedious and doesn't provide any advanced options. Also, you have to execute the task repeatedly, requiring technical hands for errorless processing. Chances of human error are high; hence users need an alternate tool for proficient and desired results.
To efficiently and effortlessly import Outlook to Thunderbird, Shoviv Software provides an advanced professional utility. It offers multiple user-centric facilities to users.

What do Shoviv IMAP Backup and Restore Tool offer?
It is a multifunctional utility that can back up/export IMAP server mailboxes to MBOX, PST, MSG, and EML. Also can restore/import PST/MBOX/MSG/EML to IMAP server mailboxes.
Users can add multiple Outlook PST files to import/restore into server mailboxes. There is no restriction on the file size.
The software is equipped with the advanced incremental option. This feature resumes the process and prevents duplicity.
It allows applying the filter—filters based on the folder and date criteria that help to process only the desired items.
Users can create multiple jobs and restore multiple PST files into IMAP mailboxes.
Users get backup (IMAP mailbox to file formats) and Restore (file formats to IMAP mailboxes) on a single dashboard.
You can set the bad item count to control the failed item while processing.
A free trial version is also available; users can easily install and use it.
How to Import Outlook to Thunderbird using Shoviv Software?
Follow the below-given steps to import the PST to IMAP mailboxes (Thunderbird).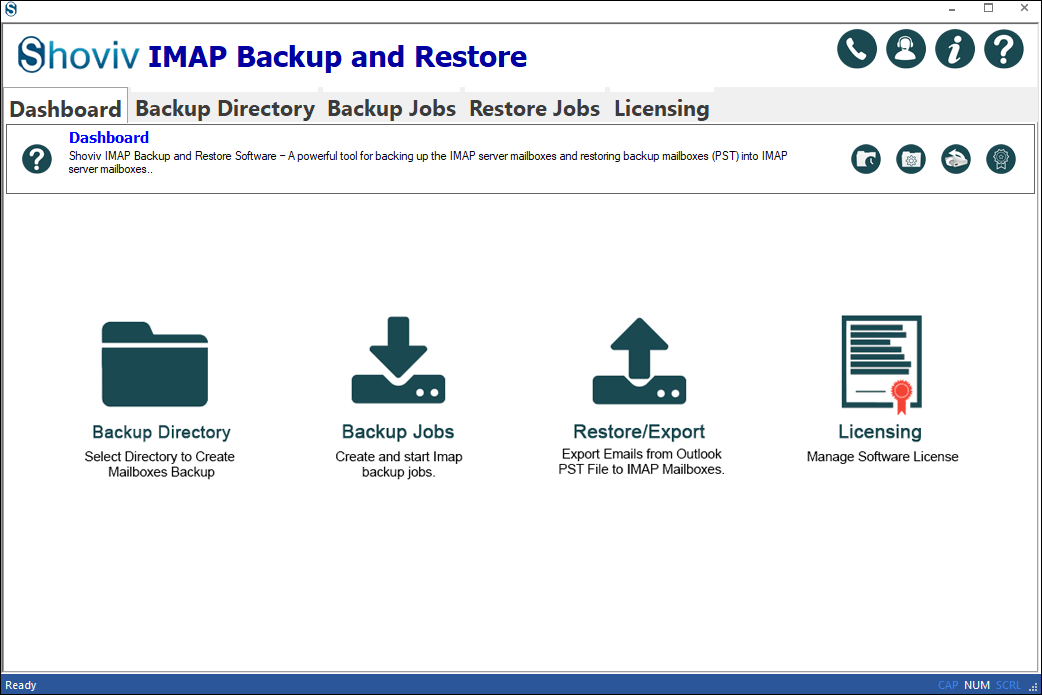 Enter a job name and add the PST files you want to import. Click on the Next.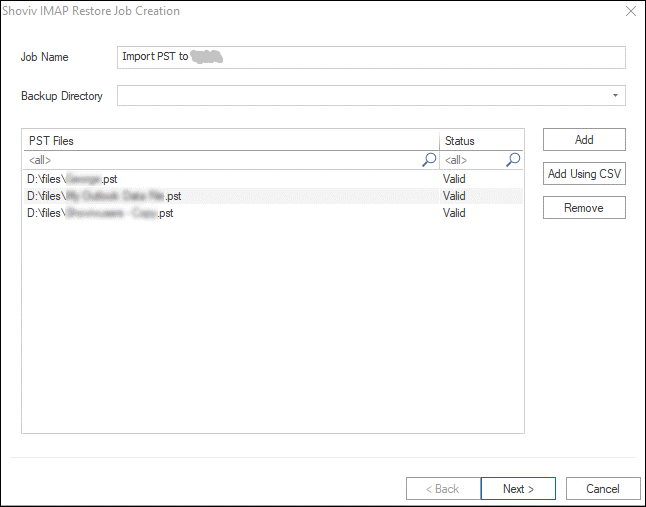 Here, provide the server name (Thunderbird) and map PST files and mailboxes. Validate the .pst files with the IMAP mailboxes and click on Next after validation.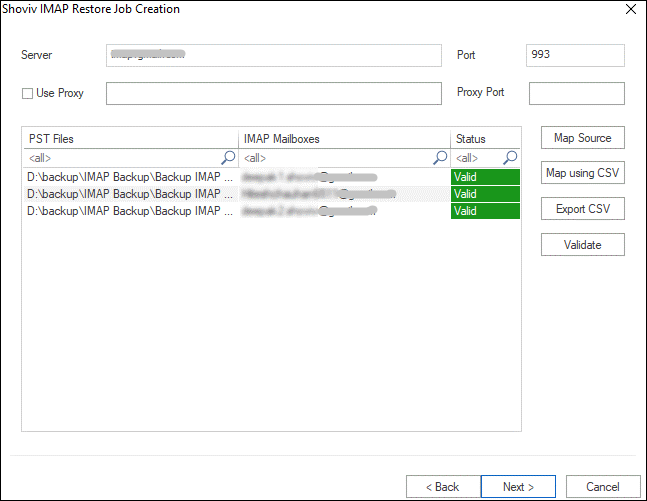 A filter wizard will pop up where you can apply the filter with the date and folder basis. After applying the filter, click on Next.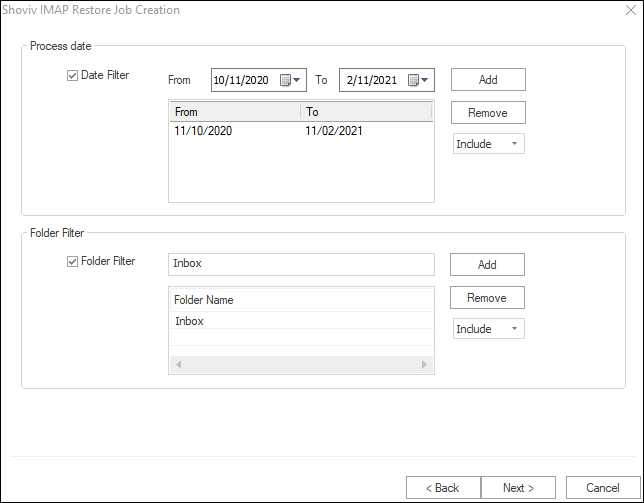 Now you are prompted to the settings wizard. Here, you can set the mailbox/item thread count. Also, an option to set mailbox login and mailbox item retrieve attempts is present; it can also set failed item count limit.
Here, you will get a preview of the settings. After cross-checking, click on Finish. And this is how your task to import Outlook to Thunderbird start.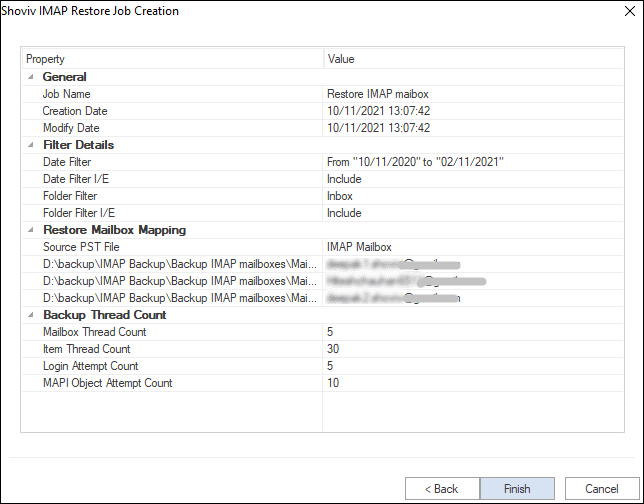 Related blog: How to Import Outlook emails to Gmail?
Final Words:
A lot of users search for a way to import Outlook to Thunderbird. However, there is a manual and indirect way to execute this task, and its limitations/ drawbacks don't make it a wise choice. A professional tool for perfect and effortless working is a must; Shoviv IMAP Backup and Restore. It does expertly import Outlook to Thunderbird or any IMAP mailbox. It also permits users to check its efficiency by downloading the demo version. This free trial version allows you to import the first fifty items per folder. After satisfying with the software, you can easily purchase the license and upgrade the software to the full/licensed version.
Latest posts by Himanshu Pandey
(see all)