Last updated on August 17th, 2023
Undoubtedly, Outlook is ruling the email niche because of its rich functionalities and systematic data management. But as we all know, it is not a free email service and comes with the Microsoft Office suite. If we talk about the free email clients, Thunderbird is top of the list. Nowadays, several individuals are moving towards Thunderbird from Outlook and seeking a solution to import PST to Thunderbird to have all their Outlook data in Thunderbird.
However, it is not everyone's cup of tea as this task manually requires technical expertise and a lot of patience. In this write-up, we will know the different aspects due to which users want to move into Thunderbird and ways for the same.
Why should you break the Outlook trend and move into Thunderbird?
Outlook is not bad, not at all, but as said, "Not everyone is master in everything, but someone will surely master in something." Hence, there are a few characteristics in Thunderbird, or you can say, persuasive reasons to import PST to Thunderbird; the following are some of them:
Thunderbird uses MBOX, which is one of the most reliable formats for confidential data. Like it stores a single mailbox folder in a single file, such as Inbox. mbox, so if you need to share your data, you can share that particular folder instead of the whole mailbox.
In Thunderbird, you got 1200+ add-ons, and all of them are free. Like you can use Add-on for merging emails, postponing send, and changing the conversion view.
Thunderbird is available for all three operating systems, Windows, Mac, and Linux.
Last but not least, Thunderbird encrypts emails partially. At the same time, Outlook uses the CRC32 hash algorithm to encrypt PST files, and literally, there are several automated tools in the market that can easily crack PST file passwords.
In layman's terms, Thunderbird is a viable free alternative for Outlook; users will get the free email client with good security features and 1200+ add-ons. Now let's move to the ways to shift Outlook PST to the Thunderbird mailbox.
Instant Solution: Get Shoviv IMAP Backup & Restore tool to Import an Outlook PST File into 
Mozilla Thunderbird any version.

Ways to import PST File to Thunderbird mailbox| Free
One can utilize the Google takeout utility to import PST to Thunderbird mailbox. However, it is a three-phase process and contains the risk of data loss; not recommended for newbies. First, we'll configure Gmail to Outlook, then use the google takeout to extract MBOX files from Gmail, and last, we'll import MBOX to Thunderbird.  
Phase1: Configure Gmail to Outlook
Before starting, make sure your Gmail account has IMAP service enabled; if not, then go as follows:
Login to Gmail >> Settings > Forwarding and POP/IMAP and select the radio button adjacent to Enable IMAP.

Next, you need to create an Outlook profile for the Gmail account; for this, pursue the following steps
Open Outlook and go to the File
Now click the Add Account
Following, provide the Gmail credentials and click Next.
After creating the Outlook profile for the Gmail account, use Outlook's import/export wizard to add the PST file to that Gmail account. I think you all are aware of the process.
Phase2: Google Takeout to Extract Uploaded PST Data into MBOX file
Log in to your Gmail account previously configured with Outlook.
Now search Google Takeout in the Google search box, and it will display the following option.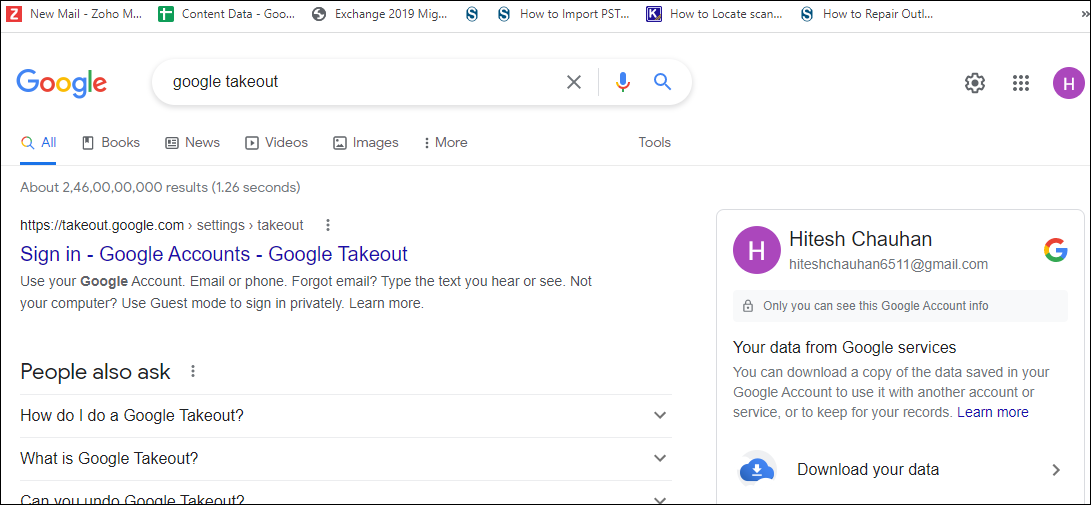 Click on the Download your data and check the Mail option in the next window. You can also select a specific Label to import. Once done, click on the Next step at the bottom of the page.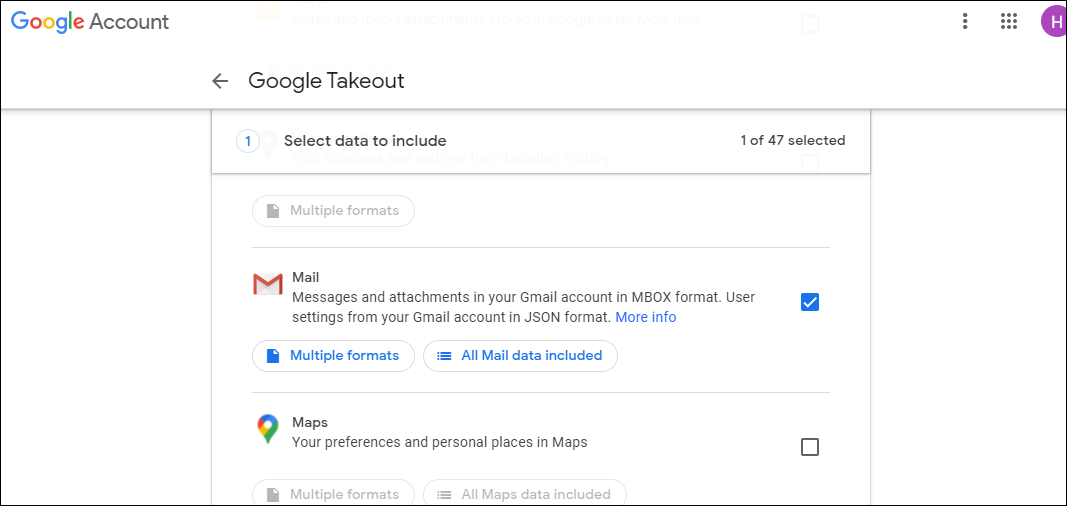 Next, navigate the following options:
Delivery Method: From this dropdown menu, you can choose where you want to get a download link for MBOX files once your files are ready.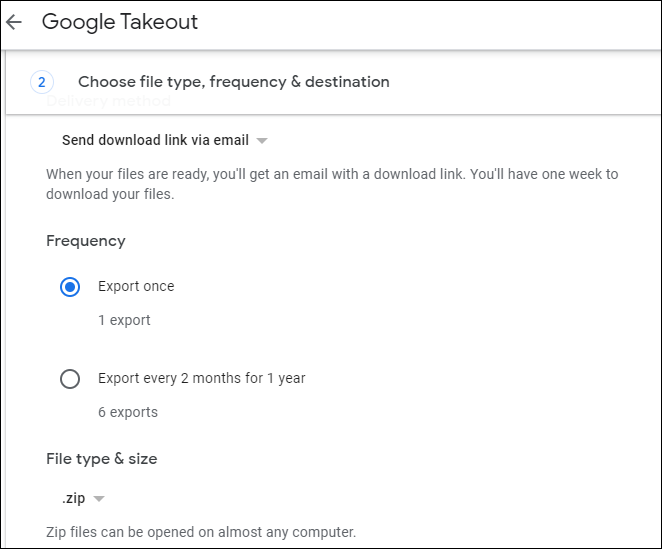 Frequency: This option works like a scheduler; you can choose whether to export data once or after every two months for 1 year.
File type& size: From here, you can choose a file format and file size for the MBOX files. (Don't worry, if any file is larger than the defined size, they'll split into multiple files).

At last, click on the Create Export button, and it'll start exporting PST emails into MBOX format. You can cancel the export anytime.

Now all your PST files emails are converted into MBOX format. So, let's import PST to Thunderbird (converted MBOX to Thunderbird).
Phase3: Import converted MBOX files to Thunderbird
Open Thunderbird.
Add import/export NG extension and import MBOX files.
Here the manual process to import PST files into Thunderbird gets complete; as you can see, it is a lengthy and time-consuming process. Also, if you have multiple PST files to import into Thunderbird, then this is not the solution you want.
Manual Method Limitations:
Here we listed some limitations of manual methods you have to be aware of when importing a PST file into Mozilla Thunderbird.
Compatibility issues: The manual method of importing PST files into Thunderbird typically involves using an add-on, like ImportExportTools, which is compatible with the latest version of Thunderbird or does not work correctly with certain PST files.
Complexity: Manual import of PST files into Thunderbird is quite complex, especially for users who are unfamiliar with the technical terms.
Time-consuming: Manual import of PST files into Thunderbird is quite time-consuming, especially if you have large or multiple PST files to import.
Risk of data loss or corruption: Using the manual import process may result in some data loss or corruption if it is not followed correctly.
Email Duplicity: When you import your emails into Thunderbird using manual approaches, you may find duplicate emails and items in your inbox folder.
A Reliable Solution to import PST files into Thunderbird Directly
If you're one of those who have multiple PST files and want to import them into Thunderbird, the Shoviv IMAP Backup and Restore solution is the picture-perfect solution for you.
The software allows to directly import PST to Thunderbird mailboxes in batches and with several user-oriented features. Its convenient GUI makes the import process a cakewalk even for non-technocrats.
For better understanding and evaluation, install the free version and process as follows:
Steps to Import a PST File into Thunderbird Mail
Open the tool and select the 'Restore' option from the menu.
Click on the 'Add PST File(s)' button to import your PST files.
Enter IMAP server details such as server address, username, password, and port number.
Map source PST folders with Thunderbird mailboxes.
Begin the migration process by clicking the run job instantly.
By following the above process, you can easily import PST to Thunderbird in batches and save costly time. Also, there are several features in the tool that will provide you with an effortless process.
Why Shoviv IMAP Backup and Restore is in high regard?
When users spend money to do some work, obviously, they want to make that work effortless and enhanced. The Shoviv IMAP backup and Restore tool is a master and value for money.
This tool allows you to import PST, MBOX, MSG, and EML files to the IMAP mailbox at a single cost. Also, if required, users can backup the same IMAP mailbox into the PST and other given file formats. Hence, "To kill two birds with a stone," you will have backup and export to IMAP mailboxes in a single cost and dashboard.
Furthermore, the tool is laced with every required feature to export PST to Thunderbird like a pro. I.e.,
You can map PST files with the IMAP mailboxes for a seamless and accurate import of PST files.
It offers filter options to make the process desired; using filters, users can include & exclude items of a particular date range and folder.
You can run multiple threads for added mailboxes and items. Hence, you can simultaneously process multiple mailboxes and items to boost processing speed.
The software is compatible with all windows operating systems and IMAP-based email clients, so you don't have to worry about the email client and operating system. If you need to backup your IMAP mailbox or export PST, EML, MSG, and MBOX to an IMAP server, install and use the Shoviv IMAP Backup and Restore tool.
Wrapping Up:
Undoubtedly, most of the email clients are IMAP-based. And if you also use Outlook, Gmail, Office 365, or any other IMAP-based email client, then the Shoviv IMAP backup and Restore tool is the solution for you to backup or export them into a single email client/PST file. Must use the free version to check how the Shoviv tool accurately imports PST to Thunderbird.
Frequently Asked Questions
Q. Can I import PST file to Thunderbird?
A. Yes, you can import a PST file to Thunderbird. One way to do this is to use a third-party tool like Shoviv IMAP Backup and Restore tool, which can easily import your Outlook PST files to Thunderbird MBOX format quickly and easily.
Q. What is the best Outlook to Thunderbird converter?
A. When it comes to the best Outlook to Thunderbird converter, Shoviv IMAP Migration tool is a great option. It offers a user-friendly interface, quick and reliable migration of emails, and supports migration between any IMAP Email Application.
Q. Can I import multiple emails from Outlook to Thunderbird?
A. Yes, you can import emails from Outlook to Thunderbird. One way to do this is to first export your Outlook emails to a PST file, and then use a tool like Shoviv IMAP Backup and Restore to import the PST file into your Thunderbird. Alternatively, you can also use the IMAP Migration tool to transfer/Move/Migrate your Outlook emails to any IMAP application including Mozilla Thunderbird.
Q. Can I Import the PST file into Any MBOX Email client?
A. Absolutely! Our tool has a range of MBOX email clients available for selection, so you can easily and quickly import PST files into the same.
Q. What are the benefits to Migrate from Outlook to Thunderbird?
A. Many Outlook users consider switching to Thunderbird thanks to its incredible range of features. These include pCloud storage, high security, spam filtering, handy plugins, one-click archiving, and broad support for multiple operating systems like Windows, Mac, Linux, UNIX, and Ubuntu. Best of all, Thunderbird is free!