Nowadays, emails are an important part of our life. A user may have different emails for different purposes. These emails can be of multiple file formats like PST, EML, MSG, and HTML. This blog will tell you the procedure to convert EML to PST files.
What are EML file format and its role?
The EML files contain the message with the subject, sender, recipient(s), message date, hyperlinks, and joined attachments. Since .eml files are saved in a partial text format, users can access them on several different platforms. This might be the primary reason users create EML files.
However, EML files are one of the file formats not supported by Outlook, and to convert EML to PST effortlessly and accurately, a professional EML to PST Converter is a must. But before the third-party tool, below are the few manual methods for the same.
Download a trial version of Shoviv EML to PST Converter to know in a better way.

EML vs PST – Quick Differences with Overview
Are you trying to decide between EML and PST files? It is helpful to keep in mind the basics that will help you make your selection when you are converting EML files to PST files for Outlook.
| | |
| --- | --- |
| EML File | PST File |
| A single email file or message. | A collection of emails and other mailbox data. |
| EML files are typically saved as text files. | On the other hand, a PST file is stored as a binary file. |
| EML file is generally much smaller in size. | In comparison to EML files, PST files are larger in size. |
| EML files are great for migrating a single email! | PST files come up with an easy exporting process for multiple emails. |
| Platform-independent: This means multiple email clients such as Thunderbird, Windows Live Mail, and Entourage support EML files | Platform-dependent: PST file format has been introduced to be compatible with MS Outlook. |
| EML files do not support password protection. | The PST file can secure with a password. |
| A single EML file can import into Microsoft Outlook. | PST files cannot import into other email clients. |
| EML file store a single email message, so you can be sure your data will not be corrupted. | PST files store all the email data, and one can easily access and manage its data, but the chance of corruption increases when size increases. |
User Query:
Why do You need to Convert Your EML files into PST?
Following are some top reasons why someone might need to convert emails from EML to PST file format:
Switching to a New Email Client: If you are switching from an email client that uses EML file format to one that uses PST file format, you will need to convert your EML files to PST format.
Consolidating Multiple Email Accounts: If you have multiple email accounts that use different file formats, you may want to consolidate them into a single email client using PST file format. This will require you to convert your EML files to PST format.
Archiving Emails: If you want to archive your old emails for backup or compliance purposes, you may want to convert your EML files to PST format, as PST files are widely used for archiving.
Better Integration with Microsoft Office: If you are using Microsoft Office applications like Outlook, Word, and Excel, you may find that PST files integrate better with these applications than EML files.
Larger File Size: EML files have a smaller size limit compared to PST files. If you have a large number of emails or attachments, you may need to convert your EML files to PST format to accommodate the larger file size.
Improved Email Management: PST files offer better email management features, such as the ability to organize emails into folders, create rules for managing emails, and search through emails using advanced search options.
Free but Restricted Ways to Convert EML to PST:
Below I've mentioned three native procedures for EML to PST conversion. But before starting the process, the first and most important step is having the EML files backup. Take the backup of data because no manual method is fully secure.
Using Windows Live Mail and Microsoft Outlook
Launch the MS Outlook and Windows Live Mail applications on the system.
In Window Live Mail, click on the File tab, and from the export option, select the Email messages.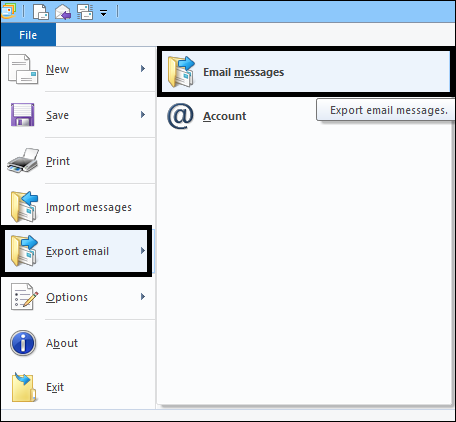 Select the Microsoft Exchangeas the export option and click on the Next.
A Pop up will display on your screen that all emails will be exported to Microsoft Outlook/Microsoft Exchange. After that, click OK.
Using the Select folders option, you can choose whether you want to export all email folders or a particular folder. Then, click OK.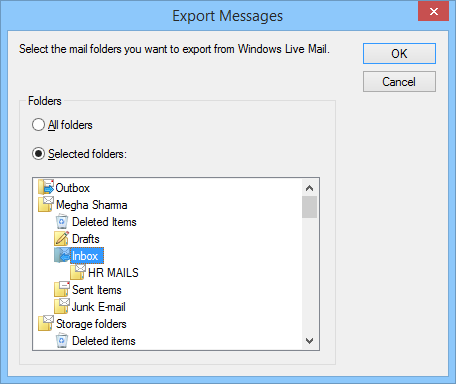 After completing successfully, an Export complete wizard will come, click on the Finish.
Using MS Outlook Application, Drag & drop the method is preferred when EML files are separately saved on the computer and not any EML-supported email client is installed on the system to access them.
Firstly, open Outlook on your system.
Navigate the location of EML files, and then select the file.
Drag the selected EML file.
Drop it into Outlook Application.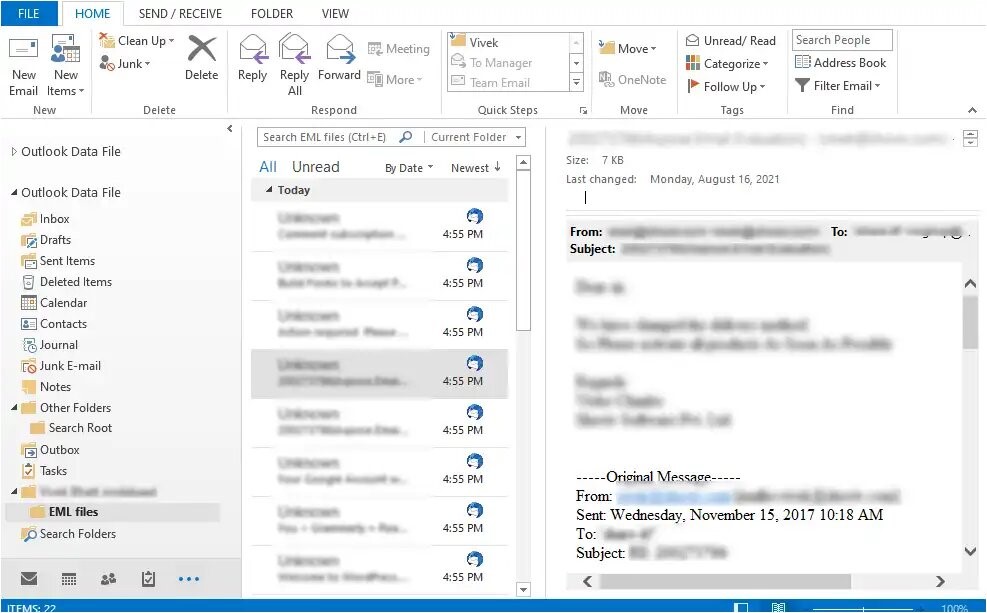 By doing this, you will be able to open & view it in the Outlook application.
Outlook Express to Migrate EML to Outlook
At first, configure the EML files with Outlook Express by dragging them in it. After configuring, follow the below-written instructions.
Launch Microsoft Outlook on your system.
Click on the Filetab select the Open and Export.
Then click on Import/Export.
Choose Import Internal Mail and Addresses>>Outlook Express >> Next >> Click on the Finish to export .eml files to Outlook.
Why should you stay away from the Manual Ways?
Manual ways come free but come along with the limitations. Let's know its limitations and why a professional EML to PST Converter is needed.
The biggest concern about the manual method is the chances of data loss. The chances of human error are high, and a single mistake can lead to data loss.
Email attachments will rarely migrate to Outlook.
When the user has many EML files to open with Outlook, the manual method becomes a very tedious and time-consuming task.
The chances of loss of data integrity are also high in manual ways. The probabilities of alteration in the SMTP header part of an EML file and Meta properties of an EML file are very high.

Professional EML to PST Converter:
You'll find several automated tools on the web, but one which is trusted and recommended by several Organizations and professionals is Shoviv EML to PST Converter. The reason behind its popularity is simple; it is laced with many looked-for features, and on top of it, the software holds a convenient GUI. Let's have a look at some of its features:
There is no size and number bar on adding the EML files. Hence, you can add any number of EML files and import them into Outlook in a single process.
You can import EML files into Outlook PST, Office 365, and Live Exchange mailboxes.
The software is compatible with several email clients where EML is generated as well as it supports all the versions of MS Outlook and Live Exchange.
Being a migration service provider, Shoviv knows nothing can be worst than the process interruption. That's why we provide an incremental export option that allows you to resume the interrupted process.
The software provides a preview of EML files and their attachments and splits resultant PST files if needed.
"Shoviv Converter for EML file Reviewed and Recommended by Spiceworks IT Professional "
Get Your EML Emails into Outlook/PST
1. Step 1: Install and Run Shoviv EML Converter Tool.
2. Step 2: Browse and Add EML files or Folders.
3. Step 3: Select Export Type as "Export in Outlook PST"
4. Step 4: Browse and choose the target folder.
5. Step 5: Click on the Export button & process will start.
The detailed process of the Shoviv EML converter
Download, Install and Launch the software in your system.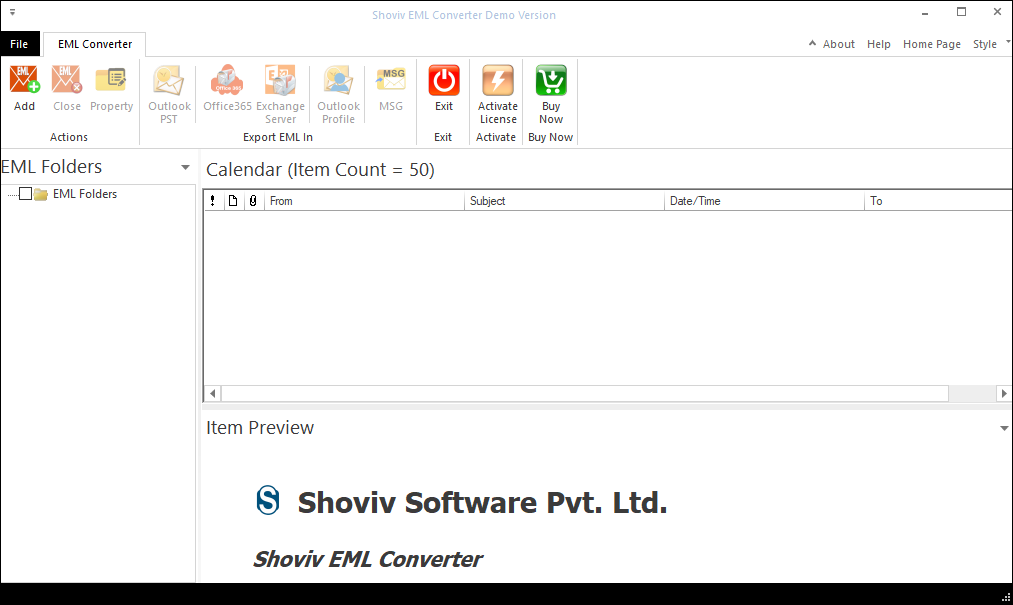 Click on the Add button of the menu bar on the left side.
Add the EML files that have to be converted. The browse and search option is given. Check the EML files folder name and click on the OK.
Select the Outlook PST option from the menu bar to export in Outlook PST.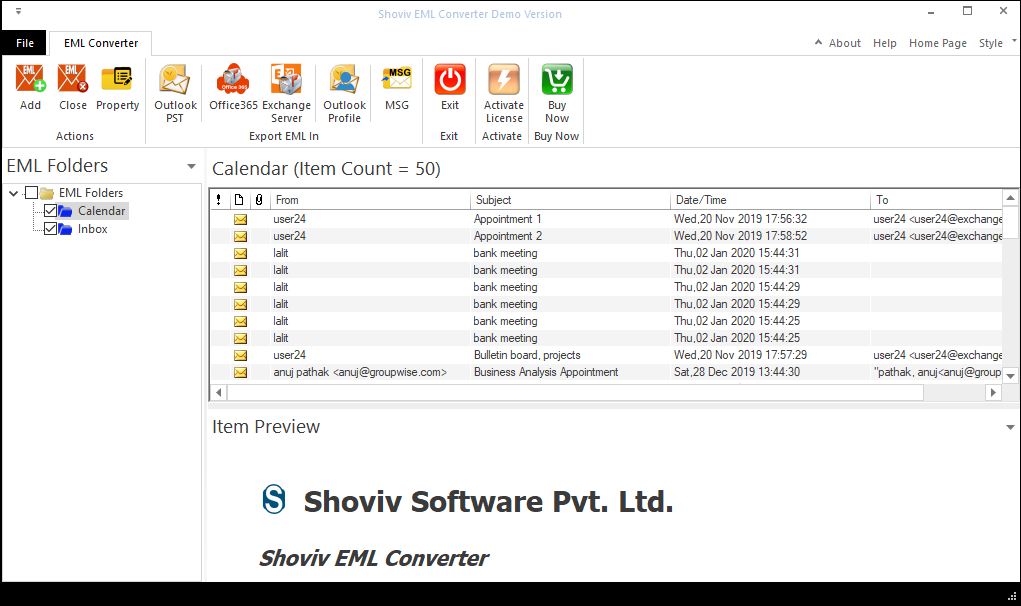 Browse the Target Folder location where you want to export. Here you can also set a password for PST files and provide the file size for PST files.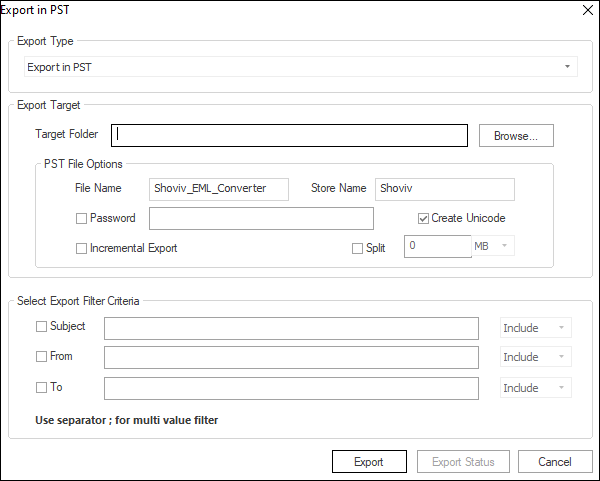 Option to filter is also given, check the Subject, From, To checkbox and Apply filter if required. Click on the Export.
By clicking Export, you will be prompted to the status report page. After completing the process, you can save the report by clicking on the Save Report. Click Finish when done.
Wrapping up:
To Convert EML to PST, we described both manual and professional ways. The manual method comes with some limitations, and it is not appropriate for professional use nor when you have several numbers of EML files. The Professional EML to PST Converter (Shoviv EML to PST Converter) facilitates many user-centric features and provides effortless conversion of EML to PST. Shoviv also provides a demo/trial version of the software to check the software's working, which allows the conversion of the first 50 items per folder.
FAQs
Latest posts by Himanshu Pandey
(see all)