Last updated on June 22nd, 2023
Summary: Are you Microsoft Live mail users and looking for a method to import windows live mail emails to Outlook 2019 and 2016. Then, you landed in a right place. Microsoft Outlook doesn't allow to import of windows live mail emails into Outlook using Outlook native Import/Export option. In this blog guide, you will know which is the best method for transferring contacts and email messages to outlook from windows live mail email client.
Window Live Mail is one of the email Mail clients. Sometimes, due to its limitations, the task becomes difficult to manage the data in Windows Live Mail. On the other side, Microsoft Outlook is one of the popular email mail clients used globally. It contains the (.pst) file format to save all the Outlook data files. It provides several advanced features to the users due to which Windows Live Mail users are deciding to Export Windows Live Mail to Outlook. When we talk about maintenance, Outlook requires low cost as compared with Windows Live Mail. Microsoft Outlook serves the enhanced feature for data security and also provides the facility of better data manageability in comparison to Windows Live Mail.
Therefore, from the above scenario, it seems to be very clear what makes the users export Windows Live Mail emails to PST. But, how it can be possible to Import Live Mail to Outlook. So, this article will help to export Windows Live Mail eml files to PST and clear all of your doubts. Let's start discussing the different approaches to exporting Windows Live Mail to PST file.
Why Export Windows Live Mail to Outlook?
The user base of the Outlook Email client is more broad as compared to the Windows Live Mail email client.
Managing emails data in Windows Live mail is complex, whereas Outlook is widely known for its email managing features.
As far we know, Microsoft discontinues Windows Live Mail, and it no longer gets any updates.
Sometimes Windows Live mail gets error id 0x800ccc0f which affects your system security and overall performance.
What Expert Says About Windows Live Mail to Outlook Transfer
As I clear above, Microsoft discontinued the Windows live mail, but it doesn't mean the services users use in live are shutting down; only further updates are closed. Microsoft tries to link their old users into a new email technology like Outlook and Office 365. Adopting Windows Live mail is now some evident risk.
Microsoft will not provide any direct assistance for this email client.
Additionally, now users are restricted to updating and downloading live mail on the official website.
Are you still confused it is worth switching to outlook 2019? Following are some frequent bugs in windows live mail. I hope you will not face these errors till now. If you encounter any of them, then definitely it's time to switch to Outlook.
Winsock errors.
general errors.
Simple Mail Transfer Protocol (SMTP) problems.
Network News Transport Protocol (NNTP) failures.
HTTPMail errors.
Remote access errors.
Internet Message Access Protocol (IMAP) errors.
Here, I select a user query on windows live mail emails conversion from the Spiceworks community.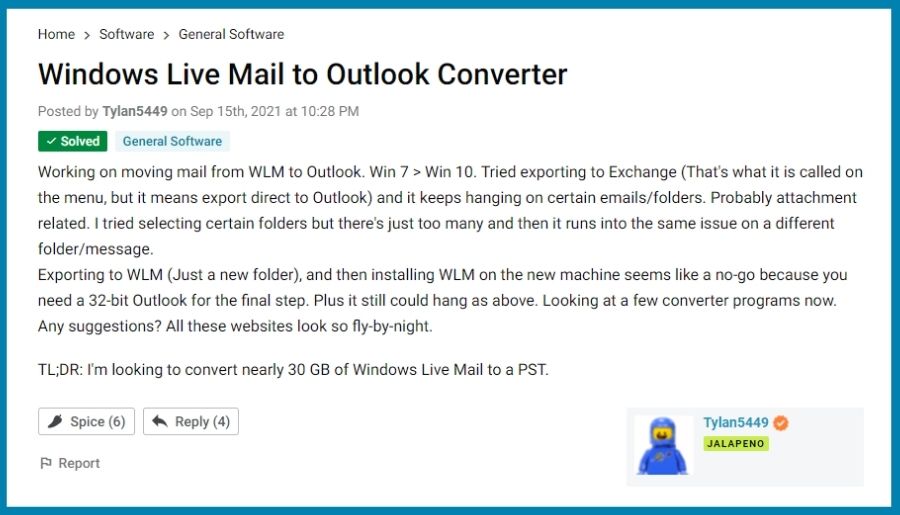 For Instant conversion from live to Outlook. Download Shoviv EML converter.
Methods to Export Windows Live Mail to Outlook
Currently used Methods to import windows live mail emails and contacts into Outlook.
Manually Export the process of Windows live mail emails to outlook.
Manually Export Windows mail Contacts.
Automated method to export both emails and contacts.
Both methods contain different procedures. An Automate method for exporting emails into Outlook is much easier and highly recommended by experts, whereas a manual method for transferring emails contains several steps. We tried to make these steps easier for you, but unfortunately, we did not find any skippable steps for this transfer.
Below I explained both methods, "how to use" and what is the "merit" and "demerit" for those methods.
Export Emails Messages Using Windows Live Mail:
Windows live mail users has advantage to export email messages from WLM. Just follow the below mention steps to export email data into Outlook 2019, 2016, and below versions.
Run Windows Live Mail in system File>Export Mail>>Email Message.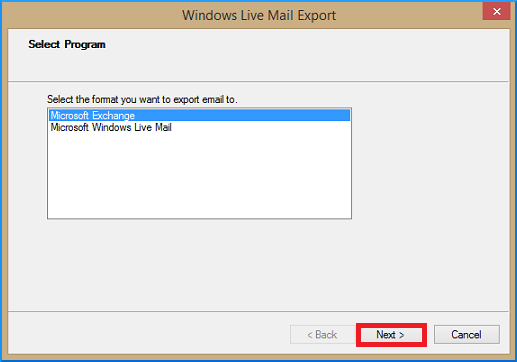 Select the "Microsoft Exchange"from the drop-down and press "Next".

Now you will get a pop-up on the display click "OK" to continue.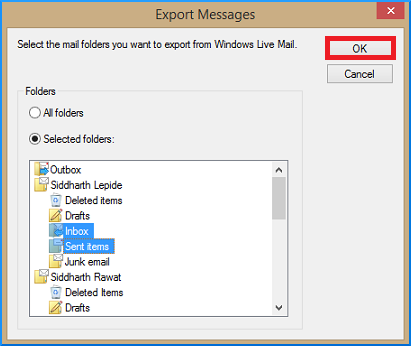 Next select Outlook from the drop-down and press "OK".
Choose either the All directories or Selected folder choices from the Export Messages dialogue box before clicking OK to continue.

The current state of the export process is shown in a new dialogue box.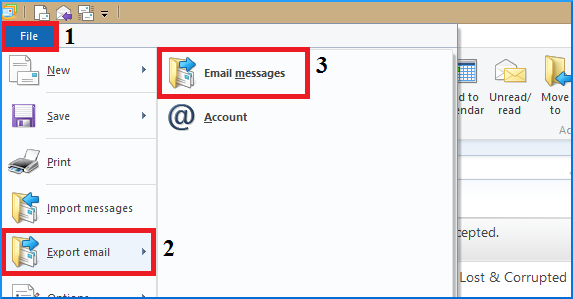 You will get a notification stating that the procedure was successful.
Export Windows Live Mail Through Drag and Drop Method: –
Transferring emails through drag and drop method needs a copy and paste work. Create a new folder in outlook desktop client and paste all WLM email messages into the newly created folder.
This procedure is described below: –
Go to: C:\Users\ [Username]\AppData\Local\Microsoft\Windows Live Mail
Copy or download all mailbox data.
Open Outlook and create a new folder named as WLM.
Drag and drop the all the emails data into this folder to Finish the operation.
You cannot export Windows Live Mail contacts to Outlook by following the above process. For the same, you need to export WLM contacts into CSV format and then import the CSV into Outlook. Pursue the following procedure:
Export Windows Live mail contacts to Outlook (using CSV)
(Outlook 2007-2010)
Open the Windows Live Mail.
Click the contacts menu and select WLM contacts to export.
From the ribbon bar, click the Export option and choose CSV as a file format. After that, browse a location to save CSV files.
In the Next wizard, specify the contacts field you need to export and click the finish button.
You can export Windows Live Mail contacts to CSV files by doing this process. Now all you need to do is export the CSV file into Outlook using the import/export wizard. The process will be slightly different for different Outlook versions.
Export CSV into Outlook 2007-2010
Launch Outlook and select Contactsfrom the left pane.
Next, go to the Fileoption and click the Import/Export option.
Following pick Import from another program or file option.
Choose the Comma Separated Value (DOS) and click next in the following wizard.
Now select CSV files you created earlier and navigate through duplicate option as per need.
At last, select the Outlook contacts folder and click Next. You can also map custom fields if required.
You can export Windows Live Mail contacts to Outlook 2007 & 2010 versions by following the above process. For Outlook 2013 and later versions, go through the following process.
Export WLM contacts CSV to Outlook 2013, 2016, 2019
Launch Outlook and go to the File tab.
Click on the Open & Export and select Import/export.
Following, select Import from another program or file and click Next.
Now choose Comma Separated Valuesand browse the CSV files in the next wizard. Also, can specify duplicate filter option.
Next, choose the contacts folder of Outlook and map custom fields as per requirement.
Limitations to Manually Export Windows Live Mail to Outlook
After following the above steps carefully, now it's time to check the exported Windows Live Mail to Outlook. Generally, the user faces many difficulties to import Windows Live Mail to PST with a manual method. Some of the limitations of using manual method are: –
The manual method did not support Exporting or Converting large or multiple EML or EMLX files.
During the Manual EML file conversion, it may be possible some portion of your email data is lost (There is no guarantee of complete EML to PST file conversion)
Transferring Email attachments is not possible by manual methods.
Lots of effort and time are required when performing manual EML file conversion.
Require Installation of two email clients at the same. (i.e., Windows Live Mail and Outlook email client).
Automated Method to Import Windows Live Mail to Outlook
To overcome these limitations, one should use an automated method. There is a professional and smart solution known as Shoviv EML to PST Converter which can easily convert Windows Live Mail to PST. Along with this, the tool also offers various exciting features to the users. Such as easy and smooth conversion of EML files to various file formats like HTML and MSG along with its attachments. With the help of the Shoviv EML to PST converter, it becomes easy to Import the EML file into multi-destination such as live exchange, and Office 365. Along with it supports all the versions of Microsoft Outlook. It is much more secure and properly maintains the integrity of the data.
After this, start working with the Shoviv EML to PST converter. Follow the below-given steps:-
Simple Steps to Migrate Windows Live Mail to Outlook PST
Step 1: Run Windows Live Mail EML Converter.
Step 2: Run, Add EML/EMLX Files and folders.
Step 3: Select Export Type as "Export in PST".
Step 4: Choose the destination path to save PST.
Step 5: Click Export button to start the conversion.
After this, start working with the Shoviv EML to PST converter. Follow the below-given detailed steps:-
Download and install the Shoviv EML to PST Converter.
Click on the Add button.
After that the wizard opens, click on the Browse button to select the drive. Then, select the Search or add option. Click "OK".
Now, the users can easily check the content present inside the EML files.
Select the export type as export in PST. After this, browse for the target folder. Now, in the PST file option set the passwords for the PST file and also have the choice to set the size limit to split the resultant PST. Along with this, the user has the option to select export filter criteria. Then finally, click on the export button.
Here, the process gets completed successfully within a few minutes. Along with this, one can also save the report. From the above discussion, it seems to be very clear that how can be the users easily Import Windows Live Mail to Outlook with the help of an automated, fast, and professional tool. On the other hand, the slow and lengthy manual method fails to Import Windows Live Mail to PST.
Wrapping up:
Moving toward the advanced one is an obvious thing hence the export emails from Windows Live Mail to MS Outlook data file is in trend. For the import, users have two choices: one is using a manual way and another one is a professional third-party tool. The manual way due to limitations is not preferred by the users. Professional tool i.e. Shoviv EML File Converter comes with advanced user-friendly features and provides effortless working. A free trial version of the software is also available that allows importing the first fifty items per folder. Must download the demo version and check working efficiency.
Frequently Asked Questions
Q. Can you convert Windows Live Mail to Outlook?
A. Yes, you can convert Windows Live Mail to Outlook. One way to do this is to use a third-party tool like Shoviv EML to Outlook Converter, which can convert emails from Windows Live Mail to Outlook PST format quickly and easily.
Q. How do I import Windows Live Mail into Outlook 365?
A. To Import Windows Live Mail Outlook 365, you can use manual methods as well as professional solutions such as Shoviv EML to Office 365 Migration tool. This email migration tool benefits you in many ways such as you can filter your email items, splitting PST files, and most importantly Incremental export option. 
Q. Is Outlook and Windows Live Mail the same thing?
A. No, Outlook and Windows Live Mail are not the same thing. While both are email clients, they are developed by Microsoft and have different features and interfaces.
Q. Which is the Best Converter for Windows Live Mail?
A. Shoviv EML Converter for Windows Live Mail is considered one of the best converters for Windows Live Mail. It offers a user-friendly interface, quick and reliable conversion of emails, and allows to convert EML files into MSG, and PST formats.