Last updated on September 15th, 2022 at 07:01 pm
Here in this blog, we'll discuss the reasons to export mailboxes from Office 365 to PST and highlight the approachable ways to export Office 365 mailboxes to PST instantly & securely.
Outline
The use of better emailing clients and servers has gradually become popular amongst the user for better services. Office 365 and Outlook are both brand names of Microsoft. However, some situations convince users to export Microsoft Office 365 mailboxes to PST. Due to this, many IT firms choose to keep the backup of their valuable Office 365 data with themselves as a hard copy.
Reasons- Office 365 Export mailbox to PST:
Listed below are a few circumstances when the users require to export Office 365 mailbox to PST:
IT firms take backup of Office 365 mailboxes to keep themselves ready for unfavorable conditions that could arise in the future.
The need for backup also appears when the user(s) leave the organization.
Sometimes legal purposes also become a reason behind the backup practice.
When users like to shift to another mail service.
To reduce the size of the Office 365 mailbox to cut down the subscription fee subsequently.
3-Ways to Perform Office 365 Export to PST:
Here we will look into possible ways for Office 365 mailboxes to Export to PST. The possible ways include the manual way, which exists by eDiscovery and PowerShell. Another one is by using the automated tool. Let's see the working through the ways to export Office 365 mailboxes to PST one by one.

Way-1: Office 365 mailbox export with Microsoft's eDiscovery:
Step1: Login to Office 365 with Administrator credentials.
Step2: Open the Admin Center and, Click on the Security option on the left side.
Step3: Click on the Permission option and select the eDiscovery manager.
Step4: Navigate to the eDiscovery Administrator option and click the Adjacent Edit.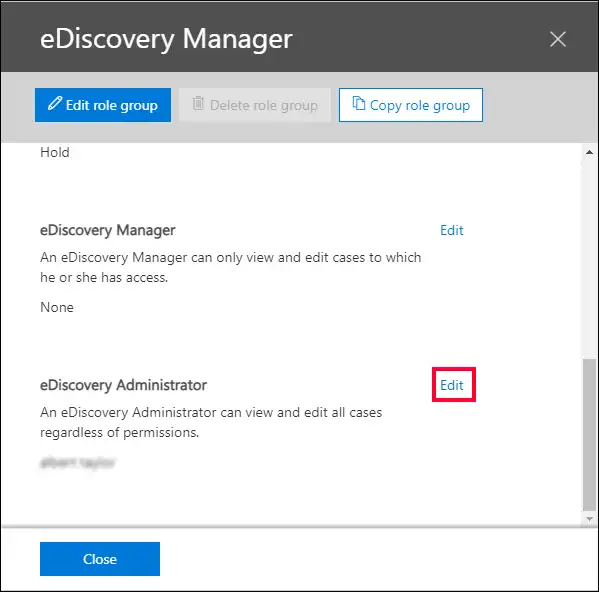 Step5: Now select the Administrator for eDiscovery and click the Save.
Step6: After this, click the Search option and hit the Content Search.
Step7: In the content search window, click the +New Search.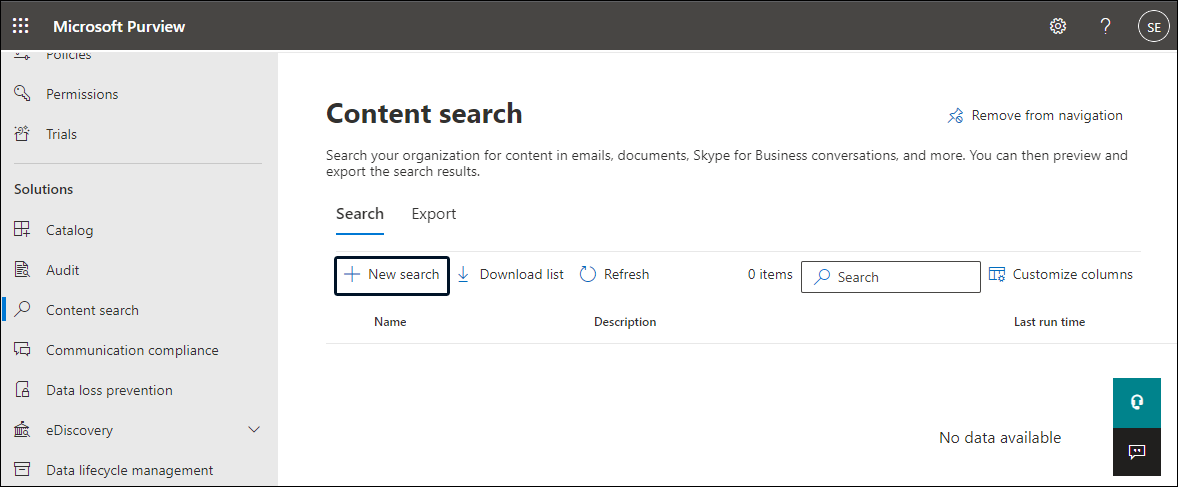 Step8: Provide a name and description for the new Search, and select mailboxes to export. At last, add conditions and hit the Submit button.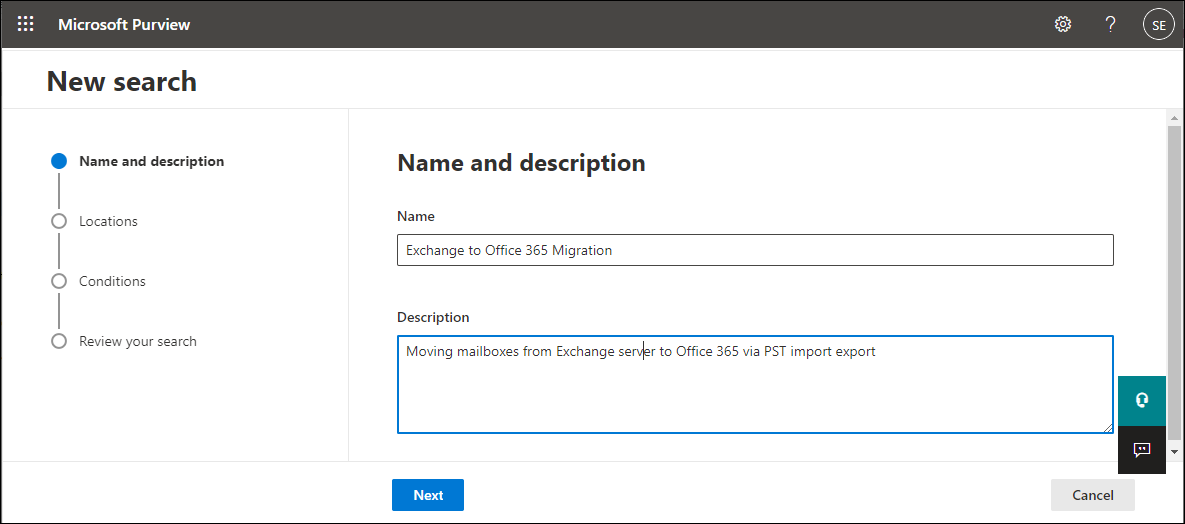 Step9: From the search window, select the last created search and click the Action; from the dropdown menu, click the Export Result.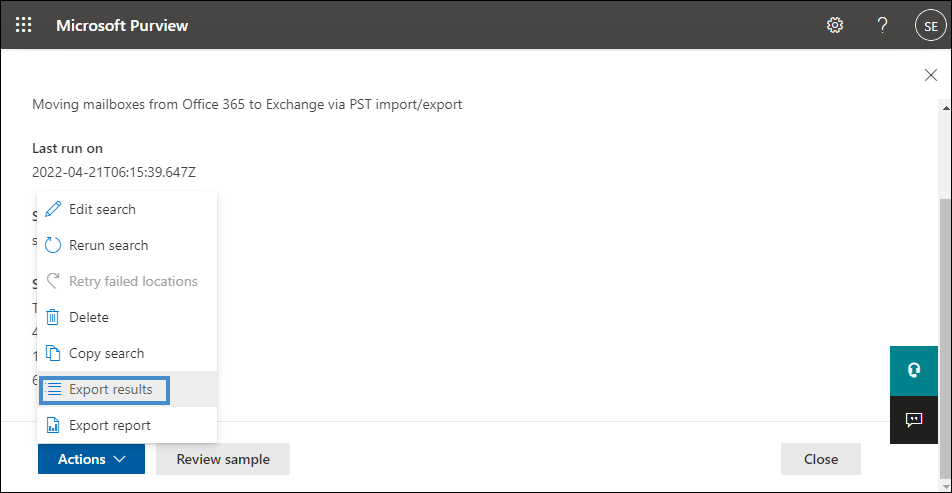 Step10: Following, choose the Output option as per the need and click on the Export.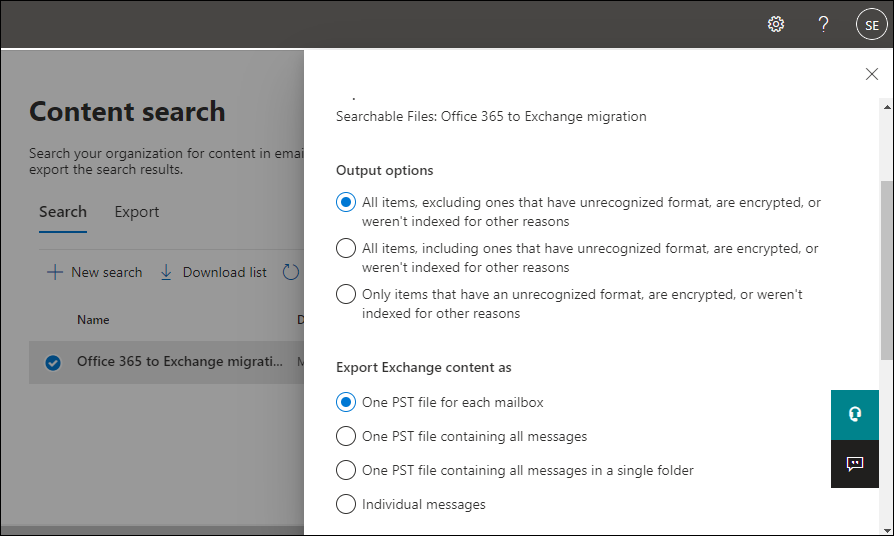 Step11: Now click the Export option from the Search window and select your Search. Then, copy the export key and hit the Download results (Search may take a few hours to blink on the Export tab).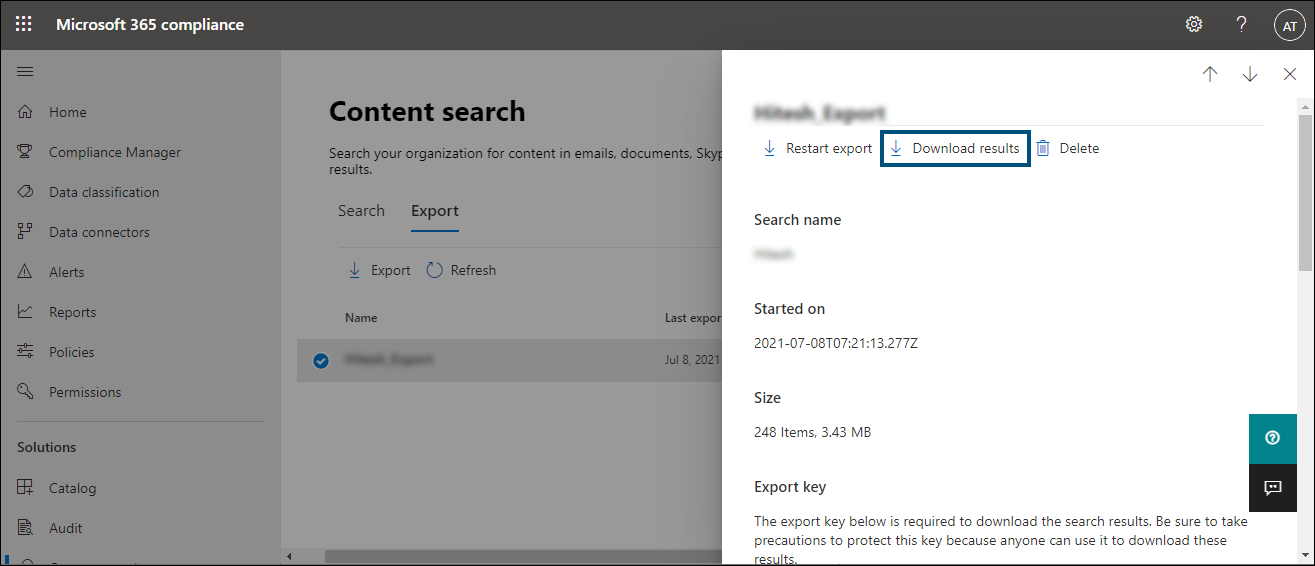 Step12:Now, an Office 365 Export Tool will get downloaded to your system. Open the utility, paste the Export key in the space specified, and browse the location to save the PST files. At last, click the Start button.

Solutions to the error that often arises in the eDiscovery Method?
Recently, users are facing errors while using the eDiscovery Export tool to export Office 365 mailbox to PST as it gets crashes frequently and displays the following error.

So, the question is how to resolve them to get effective backup. For this, you need to find the WHY factor behind this happening. Below are the conditions that could bring this error with the practical solutions.
You're using an outdated Windows Operating system and if this is the reason, upgrade to Windows 10.
You've not installed the ClickOnce add-on with the third-party browser. (Install ClickOnce extension)
Not utilizing Microsoft.NET Framework 4.5 or later and using Internet Explorer 9.0 or later. (Install Microsoft.NET Framework 4.5 or later).
You're using an Outgoing proxy server, and the connection to your outgoing proxy server has timed out. Go with the below-given steps:

Open the command prompt by clicking the Windows+R key simultaneously.
Run the command: netshwinhttp show proxy
Next command: netshwinhttp set proxy proxyservername:8080 (Replace proxyservername with yourservername.com).

You've set up an incorrect local intranet zone in Internet explorer. Pursue the following steps to setup correctly:

Open Internet Explorer and click Internet Options from the Tool menu.
Select Local Intranet from the Security tab.
Now click Site and then click Advanced.
Check for https://outlook.com in the list. Otherwise, add by yourself.
At last, click Close.
Why Professionals Don't Prefer the eDiscovery Method?
The eDiscovery method to export mailboxes to PST from Office 365 is lengthy and consumes a lot of time.
It cannot export selective data altogether, for example, emails, calendars, and contacts.
This method does not provide any filter option to export items, and also there is a risk of data loss and human error.
The manual method to export Office 365 mailbox to PST requires technical expertise. Thus, non-technical users may find it challenging to operate.

Way-2: PowerShell cmdlets to Export Office 365 mailboxes to PST
Before using the PowerShell commands for Office 365 export mailbox to PST format, one has to create a search using the New-Compliance search option.
In the below script, I am searching for all my Office 365 mailboxes
New-ComplianceSearch "your_descriptive_name" -ExchangeLocation all | Start-ComplianceSearch
Then you need to use the following command to export the results of the search:
New-ComplianceSearchAction "your_descriptive_name" -Export -Format Fxstream
Wait until the exporting process is finished, and then use the below cmdlet to find the URL you need to download the converted data.
Get-ComplianceSearchAction "your_descriptive_name_export" -IncludeCredential | FL
The Results include two components for downloading the output file: the Container URL and the SAS token. Together, they make a URL.
Now we'll use the PowerShell commands to export Office 365 Mailbox to PST. I've divided it into different phases so it'll be easy to understand. First, launch EMS and proceed as follows.
(I can't cover your scenario of data filtration or any other specified requirement, but I hope you'll get an idea of how this works).
Phase1: Establish connection with Exchange Server:
To start, we need to establish a connection first, and for this, run the following PowerShell command
"$UserCredential = Get-Credential"
In the above command, enter the credentials of Office 365 users.
Now run the following command
"$Session = New-PSSession -ConfigurationName Microsoft.Exchange -ConnectionUri https://outlook.office365.com/powershell-liveid/ -Credential $UserCredential -Authentication Basic –AllowRedirection"
Then use the following command
"Import-PSSession $Session"
Phase2: Grant access rights to administrator:
Here I am granting sales@shovivsoftware.com full access rights to support@shovivsoftware.com. 
"Add-MailboxPermission – User sales@shovivsoftware.com –Identity support@shovivsoftware.com -AccessRights FullAccess -InheritanceType All".
Phase3: Create Outlook profile for administrators:
Now you need to create the Outlook profile of the user to which you assigned the access rights earlier. In my case, it's support@shovivsoftware.com. 
Once you create an Outlook profile, ensure the other user is also listed on the left pane. If not, wait for a few moments, as the access rights can take minutes to apply. Also, ensure you have enabled Cache Exchange mode.
Phase4: Use Outlook import/export to export Office 365 mailbox to PST
Go to the File and click on the Open&Export from the left pane.
Now, click the Import/Export and choose Export to a file
Choose Outlook Data File.pst and select a mailbox which you want to export into PST format.
Now choose the location to save the Office 365 PST file and select a duplicate filtration option.
The process to export Office 365 mailboxes to PST using PowerShell is completed here.
Now I know many of you have eliminated this method due to its lengthy process and commands. But apart from this, there are a few more things to keep your hand away from this method.
It has a risk of data loss, and I have read several feedbacks where user mailboxes get corrupt between the process, or their mailbox doesn't get listed in Outlook profile.
You can only export a single mailbox at a time. No matter how small your mailbox or how many items it includes, you can only export a single mailbox at a time.
Only the administrator can export the Office mailbox to PST, and they must have full access to other mailboxes. Otherwise, you can't.
Now many of you might probably be thinking, is it possible to export the mailbox to PST from Office without any hassle and risk of data loss. So, yes, it is; you can simply use Shoviv Exchange Recovery Manager.
It is a tool recommended by Microsoft MVPs to Office 365 and Exchange administrators/users to manage their mailboxes.
In the below section, you'll know why professionals and MVPs recommend this tool for Exchange and Office 365 related tasks.
Way-3: Shoviv Office 365 Export Tool | Suggested by Microsoft MVPs
Office 365 is the product of Microsoft, and there cannot be any better solution than the Microsoft MVPs and professionals' recommendations.
Shoviv's Office 365 to PST export tool (AKA Shoviv Exchange Recovery Manager Tool) is a highly recommended and regarded tool by Microsoft professionals for Office 365 export from mailbox to PST files. It offers a wide variety of features that ease the export process and make it achievable for everyone including beginners. Let me mention some of this tool's functionality, so you will know what makes this tool the elite to export Office 365 mailboxes to PST file format.
Here's how to Export Office 365 mailboxes to PST:
Step1: Install and launch the Office 365 export tool.
Step2: Add Office 365 mailboxes to export into PST.
Step3: Click the Outlook PST option on the ribbon bar.
Step4: Check/uncheck the Office 365 folders to export.
Step5: Use a filter and other Advance options; as required.
Step6: Click Next and O365 mailboxes will start to export.
Export Office 365 mailboxes to PST: A Complete Guide
First of all, download the software, install it successfully on your system and proceed as follows:
Step1: Open the software, click on Add Source from the ribbon bar, and a wizard will appear.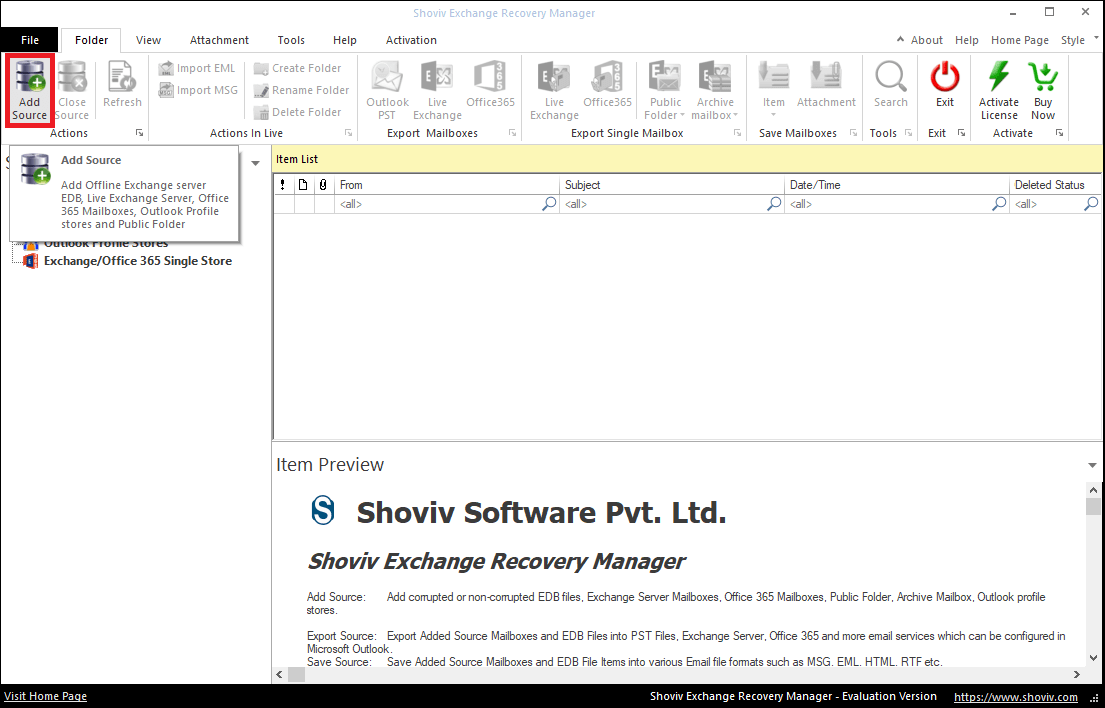 Step2: Choose Office 365 mailboxes from the left pane, enter credentials, and hit Next.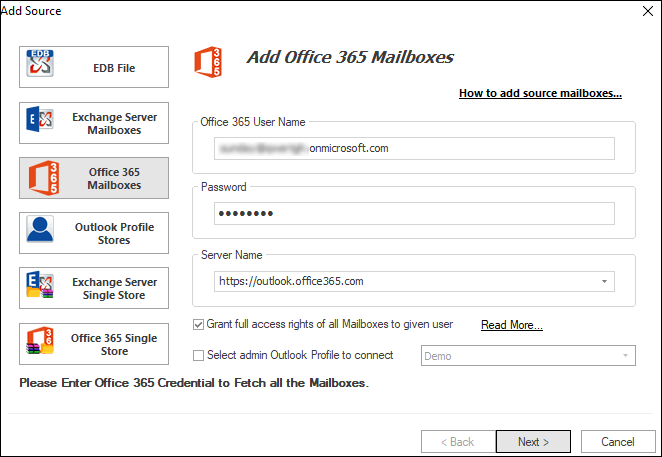 Step3: Choose the mailboxes that you want to add for backup process and subsequently hit Finish.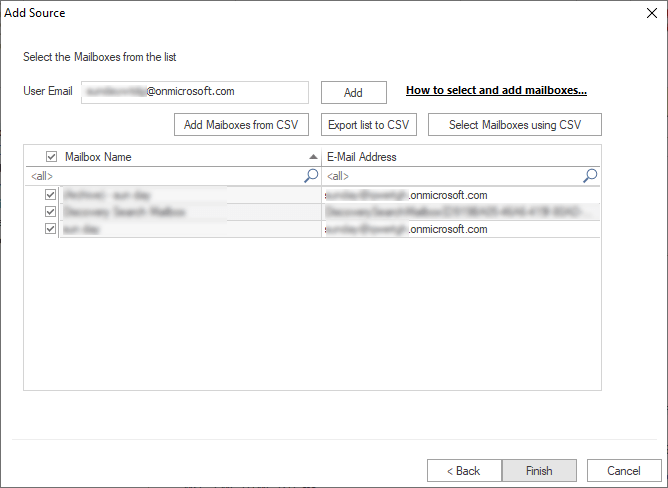 Step4: Now click on the Outlook PST from the ribbon bar.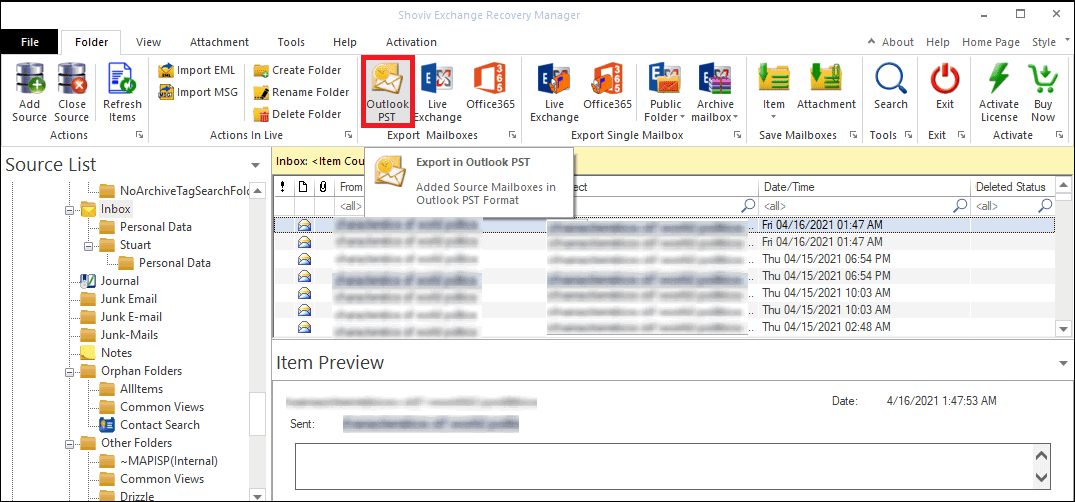 Step5: Deal with the sub-folders accordingly and hit Next.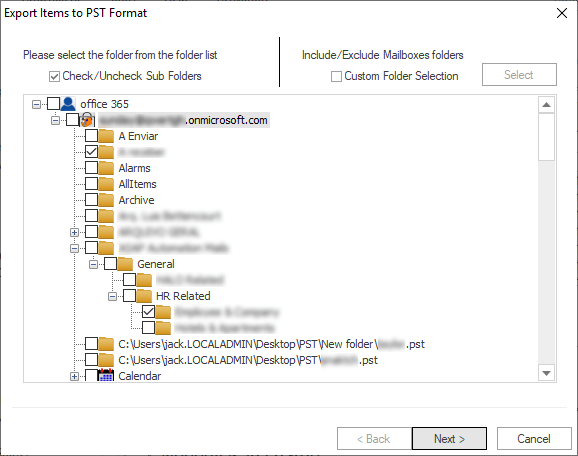 Step6: Choose to save the data in Export in Existing PST or Export and Create New PST Files, provide path for the same and press Next. (Here users also get an option of a PST split to export PST from Office 365 in desirable sizes.)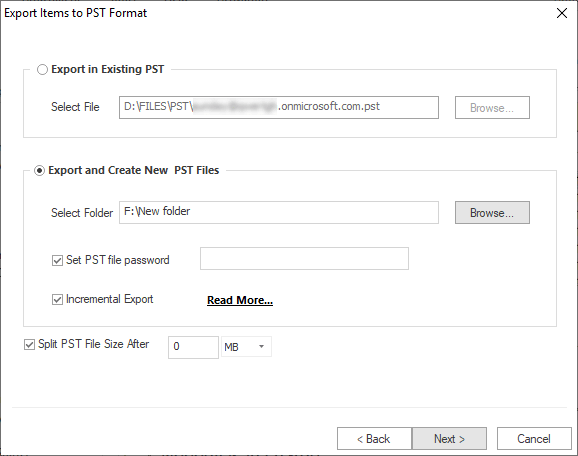 Step7: Use filters based on Message class and Message date, tap on Advanced Option tab.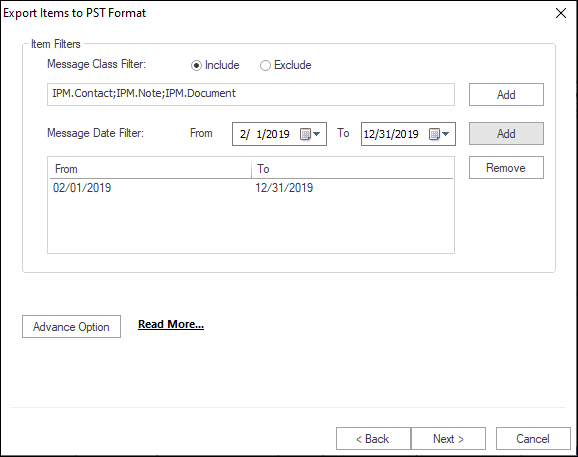 Step8: Perform Folder mapping and email translation task and hit OK and then Next.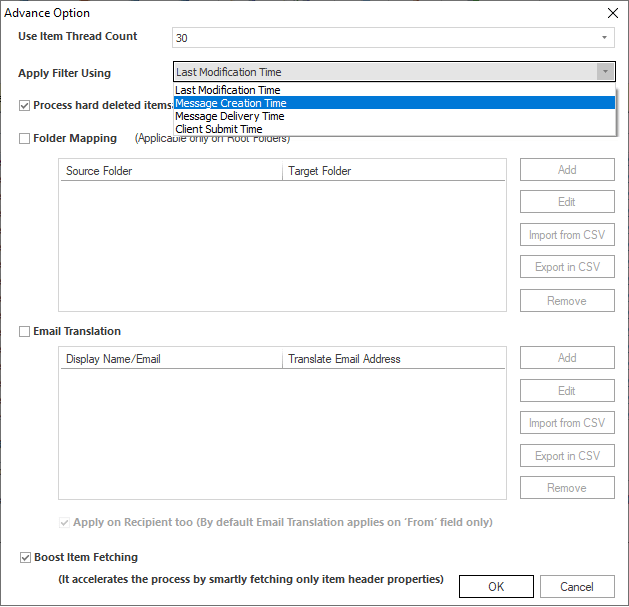 Step9: The process will start, users can save the process report after the process completion and thereafter requires to hit Finish.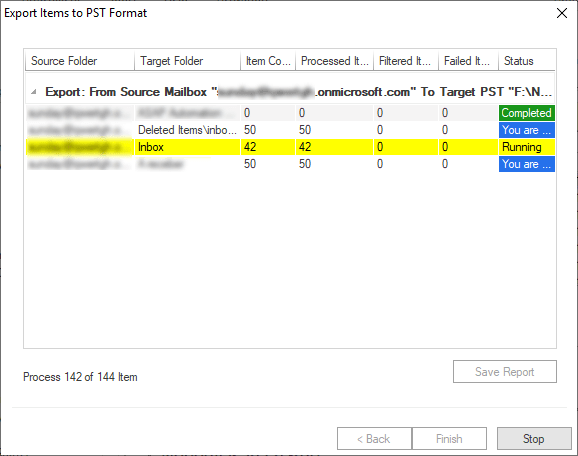 Why Microsoft MVPs Recommend this Tool:
Fully secure: Shoviv Office 365 to PST export tool is ranked one of the most secure tool to export confidential data. Also, the software keeps the mailbox integrity and folder hierarchy intact and displays a live log report of the process. Apart from this, the software doesn't store any data and credentials, so it will remain to you.
Preview Office 365 data: Once you add the Office 365 mailboxes to export, the software will fetch them and display a complete preview of them. You can even check recipients, attachments, item property, and all other attributes.
Export mailboxes in batches: Shioviv Office 365 export tool allows users to export Office 365 mailboxes to PST in batches and subsequently saves crucial time. You can process any number of mailboxes, and the software will work with them seamlessly.
Desired size & password-protected PSTs: With this tool, you can export PST from Office 365 of the desired size. For example: if you have 300 GB of Office 365 data and want to create PST files of 40GB, simply provide the size in the software, and it will split the PST files into 40GB each.
Use anytime: Yes, you can use this Office 365 export tool anytime and export mailboxes from Office 365 to PST whenever you need.
Now you may be convinced why this software is above the competition and recommended by Microsoft MVPs. You can check all these features for free, install its free version from the below-given link and pursue the following process.
End Note:
We would conclude that there is a need amongst the users to export Office 365 mailbox to PST file format. For the same, we provide Shoviv Office 365 export tool (aka Shoviv Exchange Recovery Manager), which several Microsoft professionals recommend. It is proficient at managing such tasks and giving satisfactory results with no interruptions. Moreover, users can use the Shoviv Exchange Recovery Manager tool to export Microsoft Office 365 mailboxes to PST with the first 50 items per folder.
Frequently Asked Questions:
Stuart Clark is working as a technical content writer at Shoviv Software for the last 3 years. In his free time, he loves to write about new technology and read fiction books, his favorite book is "It ends with us" by Coolen Hoover.