Last updated on July 31st, 2023
Summary: Want to create a local copy of your Google Workspace account data? If yes, here in this article, you will get a complete overview of different methods to backup Google Workspace, comprising a manual and third-party solution.
Google Workspace, previously known as G Suite, is a Google service that helps users communicates via email effectively. It has multiple arrays of user-centric applications like Google Docs, hangout, contacts, etc. However, its primary objective is to easier the task for users to manage their email communication.
Later on, it regularly keeps on adding more and more services under its name. Many users think that data saved on it is isolated from external threats like data deletion. However, it must be every user to backup Google Workspace emails on a regular basis.
Backup Your Google Workspace mailbox using Shoviv G Suite Backup & Restore Tool.


Why taking Google Workspace Backup is so important?
All know that the data of Google Workspace saves on the cloud, which directly increases the safety of the data. Many users think having effective data security in place why, should we look to backup Google Workspace data, but they don't know that a single mistake can have a major impact or adverse impact on the data. However, creating a backup is always helpful in many situations, which are mentioned below:
In the event of a merger or acquisition, companies look to share their data with others, so by taking Google Workspace backup locally, and it becomes easier for them to share the data outside an organization.
Access to accounts from other locations or different systems can prove wrong. Any particular with access to your account can intentionally or intentionally delete data.
At times when there are outages in Google where users cannot access their data.
If any employee takes an exit from the organization, then to restore their data, it is beneficial to have a backup of their data.
Mostly android phones users have pre-installed Gmail app, and the user has synched their Gmail account in order to run the play store. So when the phone gets stolen, it creates chances of data deletion.
Different Methods to backup user Google Workspace Mailboxes:
Users will have multiple choices of methods to take Google Workspace emails backup, but here we will list only a few of them. First, we start with the manual solution, and in the last section of this write-up, we'll introduce you to third-party software.
The method which we will focus includes:
Data Export Tool for Admin
Google Takeout
Third-Party Google Workspace Backup tool
First, we will start with the first solution, using the data export tool for the admin.
Backup Google Workspace Data Using Data Export Tool:
We have illustrated some steps by following them, and you can easily move your emails from your Google Workspace account. Let's start explaining with you the procedure:
Start with login into your Google Workspace admin console.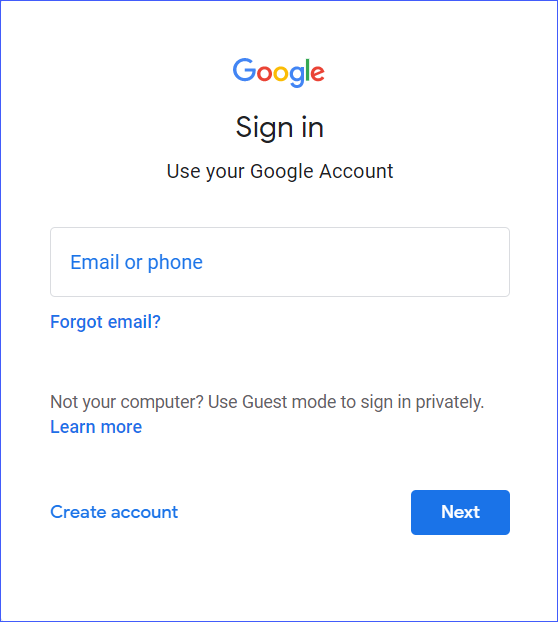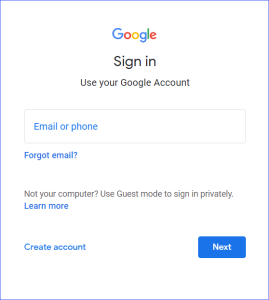 Once done with the above step, you need to click on the > button from the Google Workspace admin console and then kindly hit on Data Export.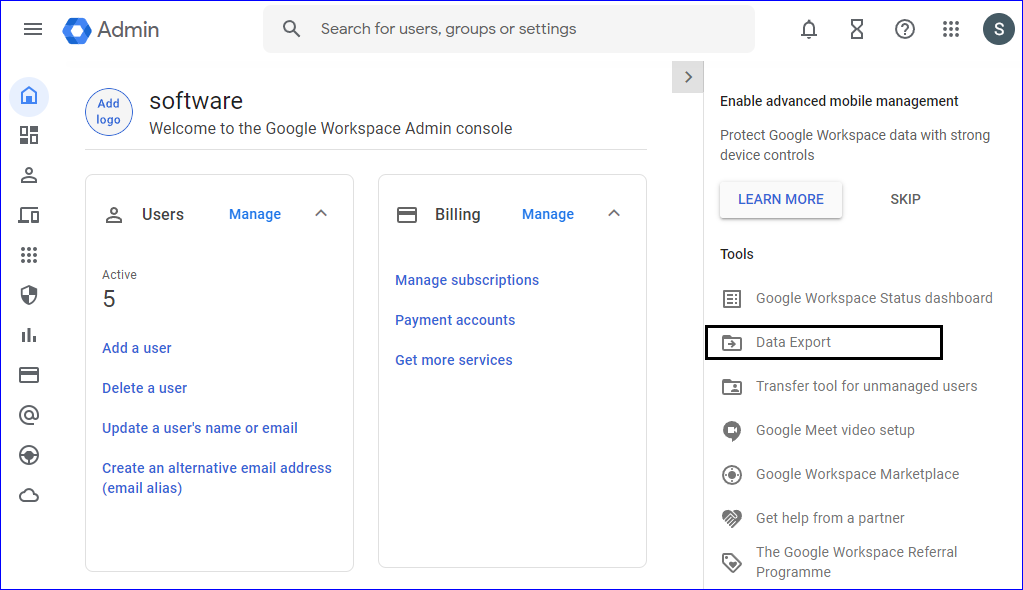 Here, you just need to press the Start Export to commence the process to backup Google Workspace emails.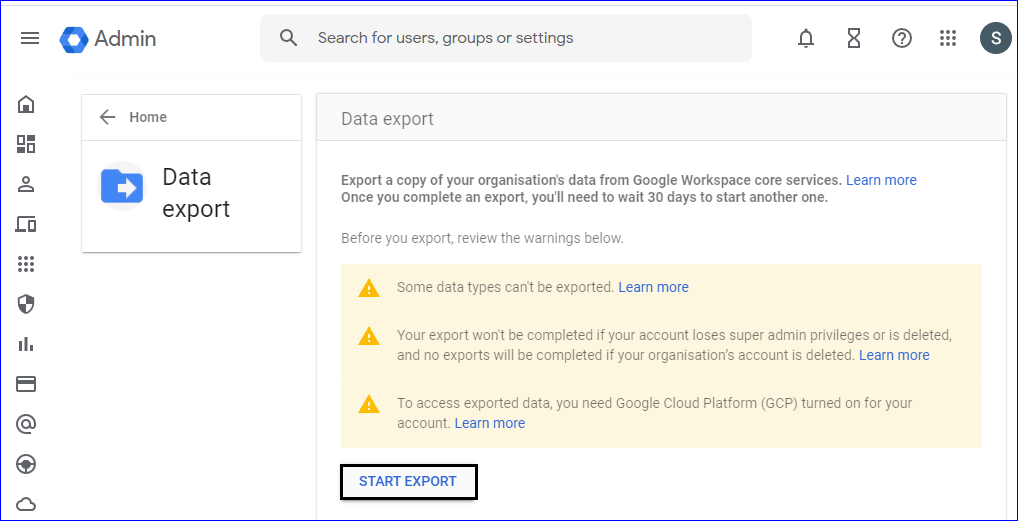 Note: – After creating the backup process user will not be able to start another backup process as they will need to wait for at least 30 days. Moreover, if you lose control over the super admin account or the account is deleted, your backup task won't be completed.
Wait for some period to receive the link to download the exported data.
Once you receive the link, kindly open it and then you should click on the Access Archive to start downloading the data.
 Drawbacks of the data export method:-
However, this method has many limitations, which do not make this solution ideal for taking G Suite backup. Some of the drawbacks while taking the Google Workspace backup include that once this method starts; there are no options to stop the process. It takes more time to back up the data, and many others make this method a non-favorable for users.
Google Takeout Solution to Extract Data from G Suite:
Google Takeout is a free utility that helps to solve user problems by backup the data from their Google Workspace mailboxes. Users can completely back up their account data, including Google map history, documents, browser, etc. To know how to backup Google Workspace emails from this solution read out the following procedure.
 Select the required data you need to backup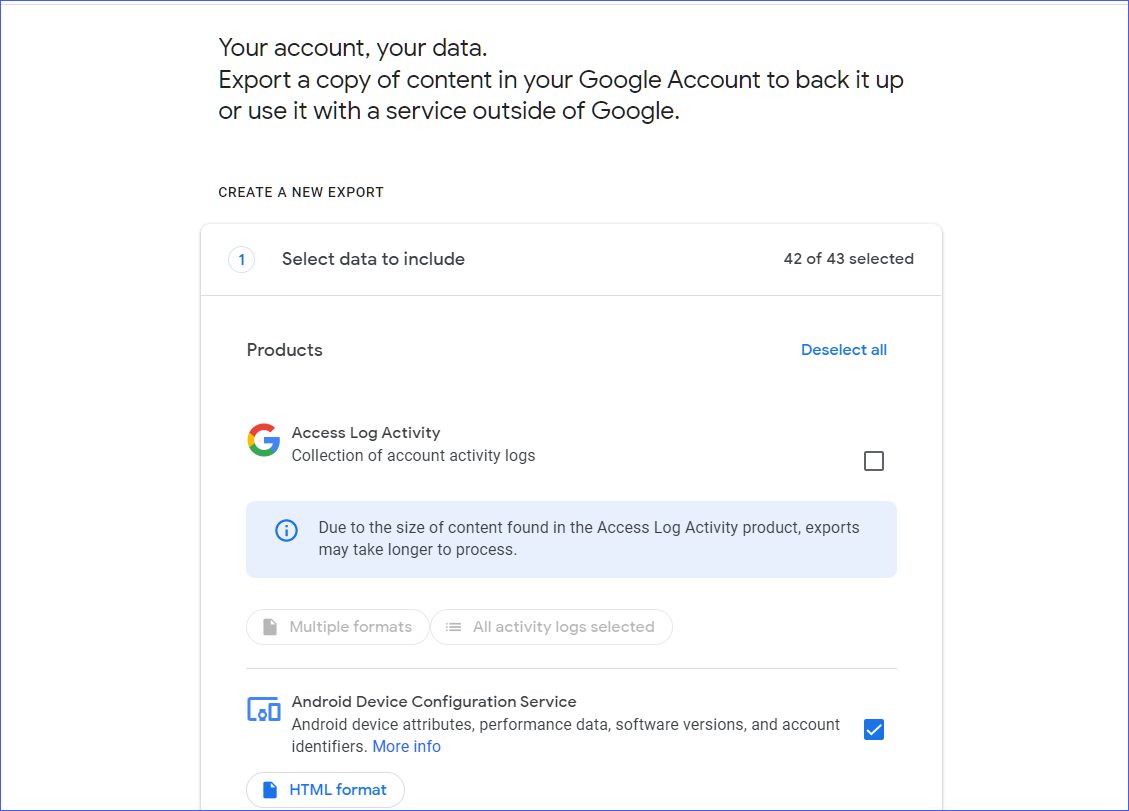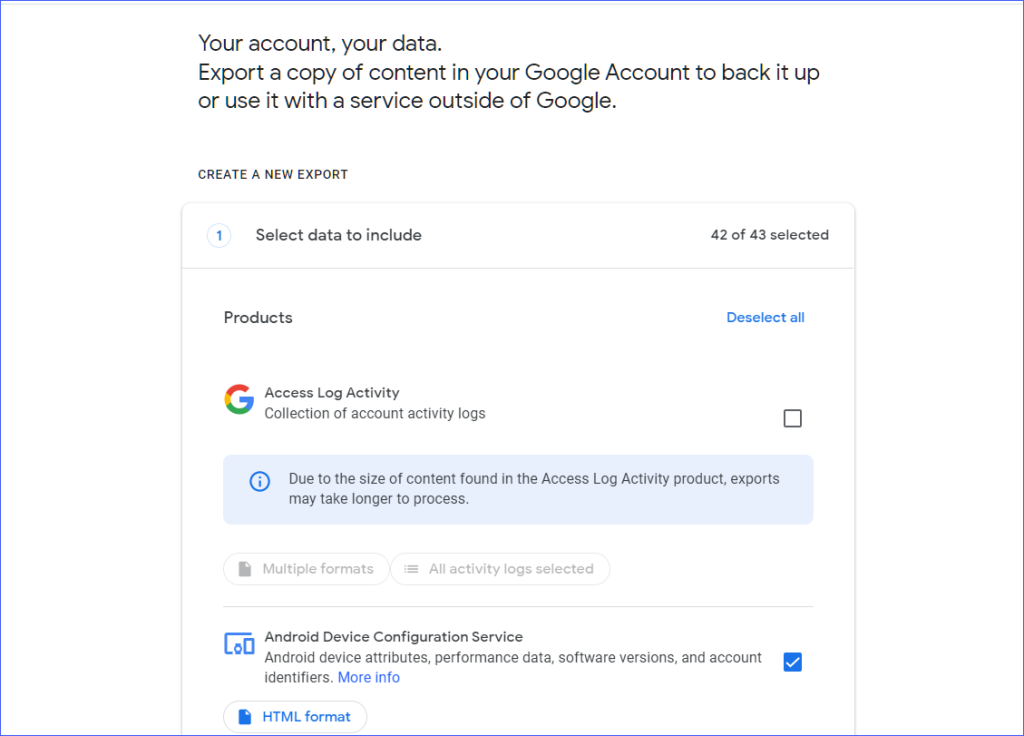 Now users can select the frequency to export the data from Gmail. Here we are choosing once. Click on create export to initiate the backup process.
.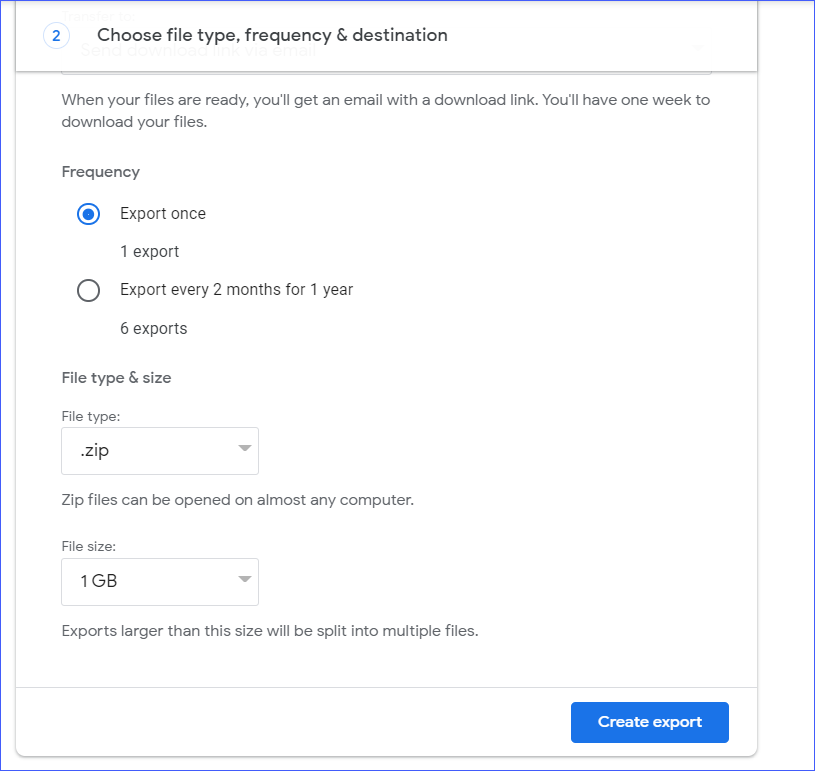 After the above-listed step, the export will get created, and the user will have the chance to cancel the process.

Now, you can save your data with the help of the download your files button.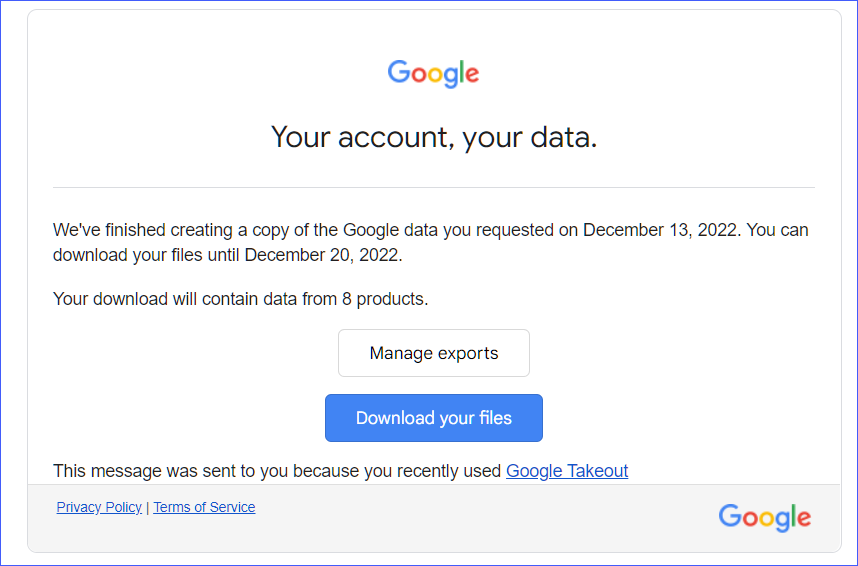 This backup method Google Workspace emails comes with many drawbacks, which users should know before proceeding with this backup solution. Some of them would include the availability of the download link to copy the data for a limited time period. Users cannot run the same process multiple times.
Moreover, there are many other shortcomings of this method apart from the listed one that makes the area for users to look for a better alternative.
A Better Solution to Backup Google Workspace Mailboxes
We have highlighted some solution which covers the data export tool and Google Takeout utility to backup the user mailboxes data. However, both of them somewhat fails to meet user expectation. So to overcome it the need for an alternative solution to backup Google Workspace emails arises. Now, we will present one of the better solutions to make the backup easier and more effective for all.
Shoviv G Suite backup and restore tool makes their space one of the efficient solutions in handling the process of backup up multiple mailboxes. Users can easily adapt to its working because of the software's convenient user interface.
This Google Workspace backup solutions provide many features that will make it easier for users to handle backup effectively. Check out some more features of this tool below:
Users can take the backup of multiple Google Workspace mailboxes into file formats like MBOX, PST, MSG, etc.
It allows users to remove unwanted data, and with the help of multiple data filter criteria, users can make it possible.
Due to its inherent incremental backup facility, the software will only process the remaining items from the Google Workspace mailboxes when users resume the interrupted backup.
Users can make use of its bar on failed item count. Once the failed item count exceeds the limit the without any user intervention, the software automatically stops the process.
This software to backup Google Workspace mailbox solutions manages several backup jobs once without affecting the software performance.
The free trial version of this software comes with the facility to process the first 50 items from each added Google Workspace mailboxes folder.
Follow easier steps to backup emails of the Google Workspace account
After launching the software, go to the connect source tab in order to make the connection with the G Suite.
Now, enter the required details, such as the project name, Service account ID, and P12 file path. After entering details, click on Connect.
Once done, kindly go to the backup job section and click on the Create backup job button. After that, select the mailboxes from the list shown here. You can go with a single or even multiple mailboxes.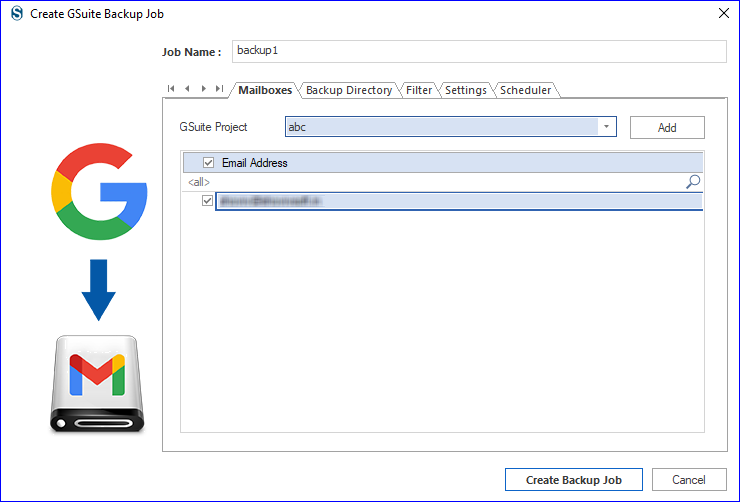 Here you can create the new backup directory as well as select the already created directory. Choose as per your need and then go to the next tab.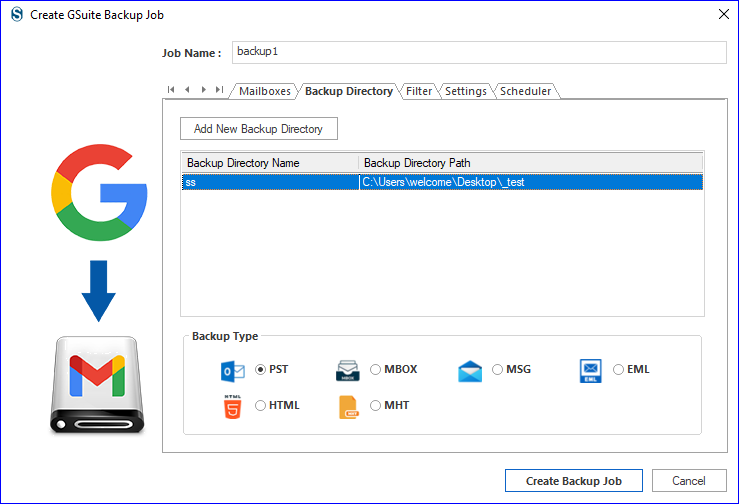 Now the data filter option comes, which allows including and even excluding data based on various available filter criteria.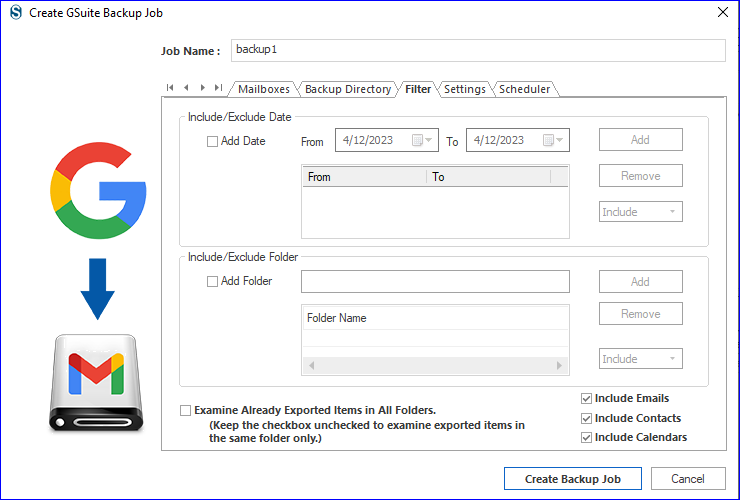 This tab allows customizing the backup Google Workspace process. Make modifications according to the requirements.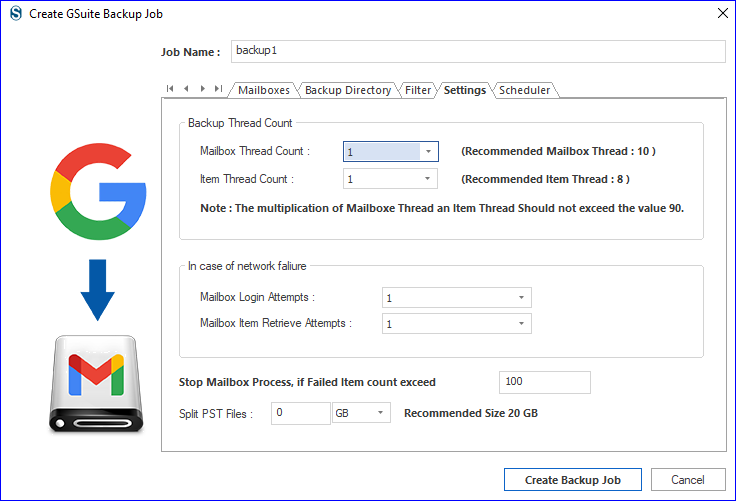 The last step in this process is to choose any option from the given option, like running the backup job immediately or scheduling the job periodically. Go with the required option and click on Create backup job.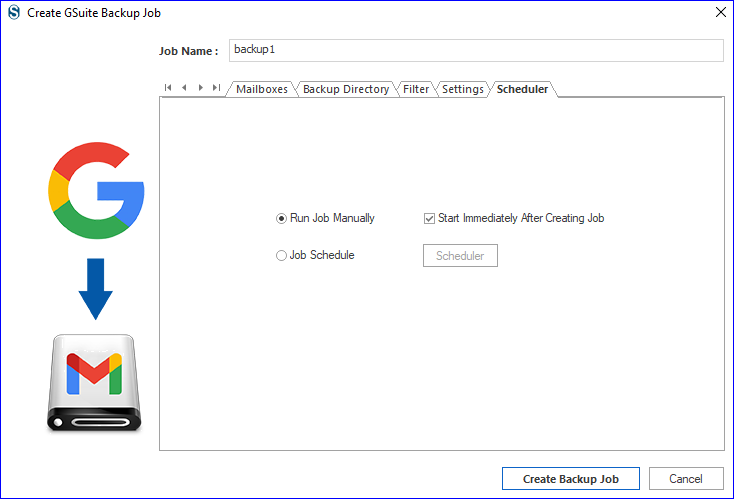 The software will now start executing the process, wait for some time, and once the software finishes the job, the user can download the complete process report.
Wrapping Up:
We hope you have learned how to perform the required task from the given strategies. This blog lists a mix of manual and third-party tools to backup Google Workspace emails. Although all methods will not have the same efficiency, it depends upon the user's needs to go with any of the listed methods.
However, we want the user to try the third-party software because it offers some of the most impeccable features. This software keeps your data safer and completes its task by taking minimal time.
Frequently Asked Questions:
Question: Does Google Workspace have a backup?
Answer: Google Workspace keeps primary data backups to ensure disaster recovery and business continuity. Although it's uncommon, Google Workspace may use these backups to restore data in rare cases to maintain high reliability. However, please note that these backups aren't accessible to customers for data restoration upon request.
Question: What is the best backup for Google Workspace?
Answer: The best backup for Google Workspace is vary user to user. However, the .pst file is the best format for taking a backup of the Google Workspace mailbox.
Question: How do I back up my Gmail Workspace?
Answer: For Gmail Workspace backup either you can use Google Takeout to export Gmail data manually or use an automated software solution that is specially developed to backup your Gmail emails data.