In this write-up, I'll mention a reliable G Suite backup solution and a few reasons why G Suite data is crucial for you. Let's start with the reasons.
G Suite is a platform many businesses use to run their businesses because it is easy to use. G Suite comes from a brand that everyone knows and trusts, it's easy and comfortable to use, and it makes it easier for remote and mobile workers to work together and have access to everything.
Data in G Suite Apps, like accounting spreadsheets, sales contacts, and email records, is used by many businesses to run important processes. But Google isn't in charge of backing up your app data, and many people don't realize this until it's too late.
Backup Solution for G Suite Is a Necessity, and Here Are Some Reasons
The disclaimer from Google
Despite Google's assurances that your data is secure, they cannot guarantee that it will be protected from human error, hacking, ransomware, malicious attacks, or theft or loss. Google guarantees the infrastructure it provides as a service, but it does not guarantee the data contained within that infrastructure by Google.
When you sign up for a Google account, you agree to the following disclaimer in the company's terms of service:
"When it comes to the content provided by the Services, we make no guarantees. As long as it is permissible by law, Google, and its suppliers and distributors, will not be held liable for any financial losses or damages that are not directly related to the use of Google products."


The use of third-party software
There has been a rise in the number of malicious actions taken by 3rd party applications installed on your domain. Adding third-party apps to G Suite, an employee may simply click the "allow" button and grant access without reading through the list of required permissions. To a hacker, these rights represent a series of hidden dangers that could lead to the theft of your data.
Lost Devices
According to the company's motto, G Suite is "Available 24/7/365." When you're used to signing in to several devices, you don't think what might happen if one of those devices is stolen or lost. We all do it because it's easy and it's handy.
However, if a device is stolen or lost, sensitive company data may be accessed, and the sole copy of your work may be deleted. File sharing and storage on Drive are convenient for the vast majority of us. If you don't have a copy of your data stored on your own disc or device, it's gone for good.
Overwritten information
Allowing team members to effortlessly collaborate on files and folders is a key benefit of G Suite's collaboration tools. There is a substantial probability that an employee will overwrite data and/or mistakenly destroy a file. The only way to recover data that has been mistakenly overwritten or destroyed is with a G Suite backup solution.
Outages
As reported by CNET, Google's Gmail and Drive services were unavailable to users worldwide on March 13 due to a global outage. However, any SaaS infrastructure is susceptible to outages, so Google's only assurance is the SaaS infrastructure they supply their consumers. Businesses of all sizes were affected by this outage, which was caused by a problem with the platform.
Outages of G Suite data could be greatly alleviated with a backup solution. G Suite Apps aren't accessible during an outage, but you may still access your data and make a backup in case the outage affects any of your files.
No amount of Google's resources will suffice
In order to download data from all of the Google Apps connected with a G Suite account, use Google Takeout. It's a great tool; however, you can't download data from shared folders or all of the data at once if it's over 50 GB in size.
So these are the few reasons that initiate users to search for reliable G suite backup solutions.
Which is a recommended solution to backup G suite?
If you search on the internet, you'll find several automated solutions, but not all are worth money or made for you.
We (Shoviv) have developed a picture-perfect utility for G suite users. That can backup as well as restores G Suite data at a single cost and interface.
Shoviv G Suite backup and Restore Tool is laced with several features that effectively enhance the process and provide desired results to users.
Steps of G Suite Backup solution for backup
Step1: Install and open the software in your system.
Step2: Click on the Connect G suite from Dashboard.
Step3: Enter a job name, Email Address, Server Account ID, P12 file path and click Connect.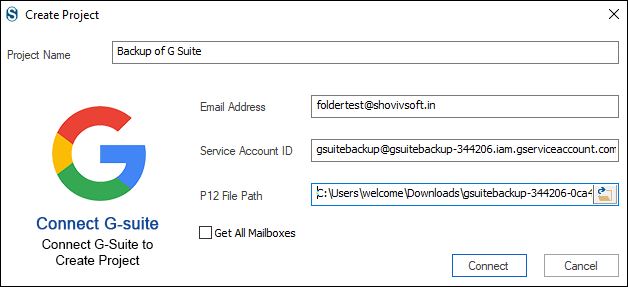 Step4: Go to the Backup directory tab and browse a backup directory to store the backup files.

Step5: Navigate to the Backup job window and again provide the backup job name, and select G suite mailbox for backup.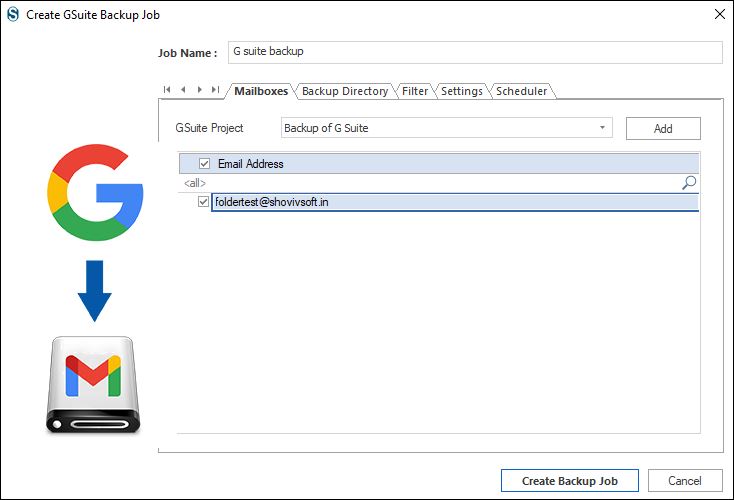 Step6: Click the Backup directory tab and select the backup directory.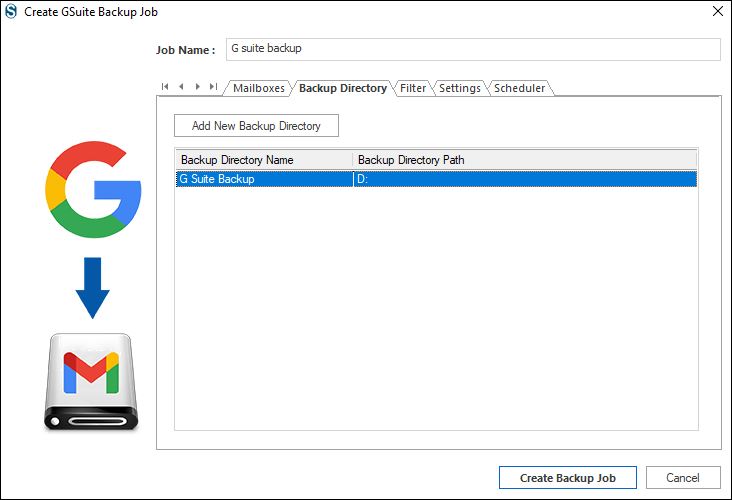 Step7: Move forward to the filter option. Apply filters as per your need.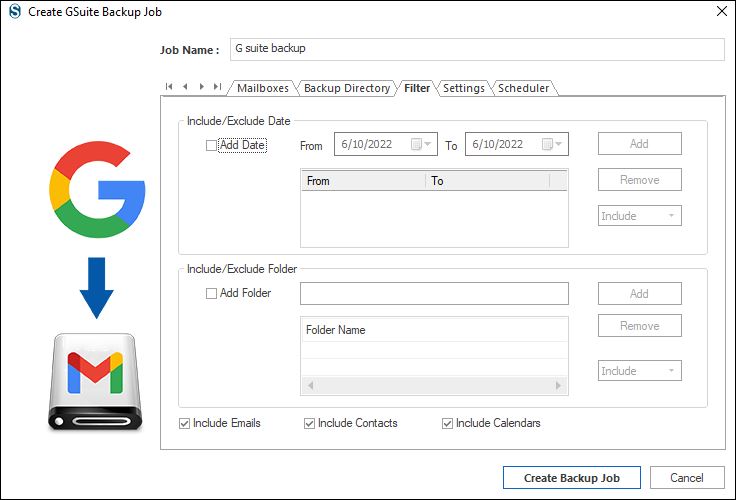 Step8: Following setup thread count and size for the backup file.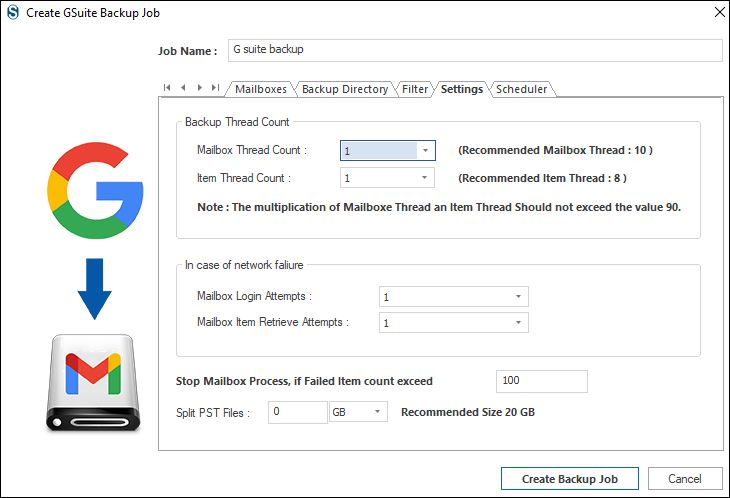 Step9: Schedule the backup process for weekends or any specific day/time you want.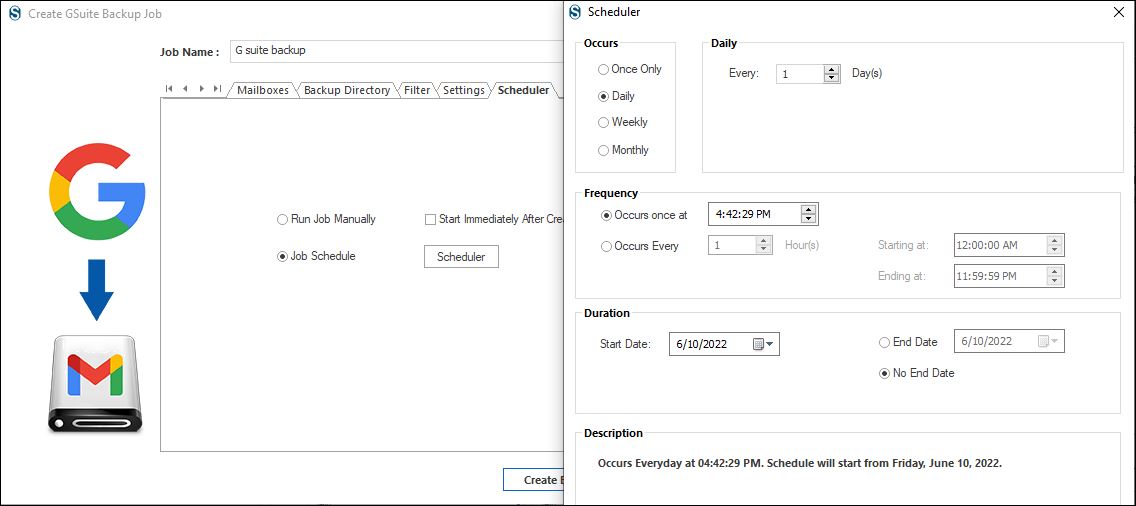 Step10: Once done with all steps, click on the Create Backup Job option from the bottom.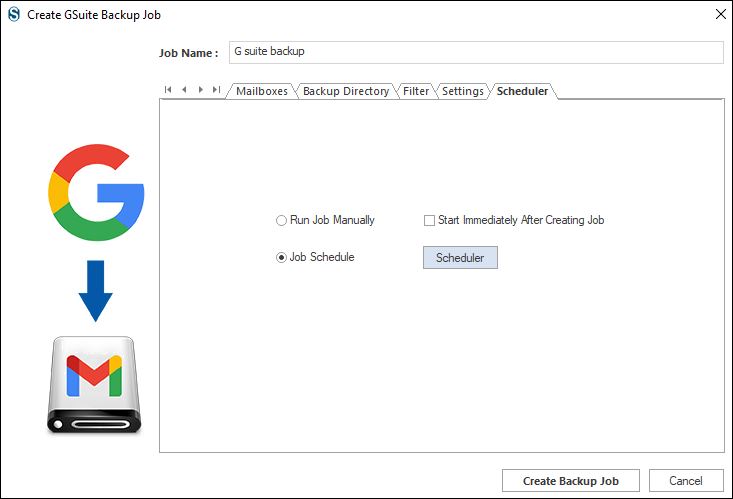 So it is the complete process of the Shoviv G Suite backup solution; as you can see, the process is straightforward. Also, the tool offers several features to make the backup process an enhanced experience.
Bringing all together
There is no doubt that the G suite contains several crucial information. It necessary for users to backup it in local Drive. However, there is no native tool/method available that can do this task for you. Also, several professionals suggest the use of an automated tool. You can have a free trial of the Shoviv G suite backup and restore tool. Before making further decisions about G suite backup solutions.