Last updated on June 12th, 2023
Read this post on Import EML to Gmail. Ever wish you could import your EML files into Gmail instead of Outlook? Well, if you know the correct way to do it, it's easy. Whether you want to import one file or thousands of files, this article will show you how to do it. But before this, we'll discuss why to import eml files to Gmail accounts. So let's start.
Why should you import your EML files into Gmail account?
Please keep in mind that the following examples are not made up. Importing EML files or emails into a Gmail account can present a number of challenges.
You may discover that many others have the same problem as you when it comes to uploading an EML file to Gmail.
Scenario 1
The Windows Live Mail app and old emails with attachments are still on my desktop. But I won't do anything with it right now. Instead, I'll upload the emails to my own Gmail account and then delete the account. Can someone tell me a software solution that will speed up the process of uploading EML to Gmail?
Scenario 2
Using a USB port cable to transfer data from my old laptop to the new one, I had a folder full of 1299.eml files. Could you please assist me to open EML file in Gmail?
There's no need to worry if none of the above scenarios match your current need to import old EML files to your Gmail account.
For "how to import EML to Gmail account," there are countless possibilities because it is a typical question.Now the other question is How to import EML files to Gmail account.

Possible ways to import EML into your Gmail account
We all know EML files are compatible with several email accounts. So, you can configure your Gmail account with any EML-supported email client and import your EML files into Gmail.
However, I only recommend this way if you're a bit techy and only want to import EML into a single account and without any data filtration. Apart from this, this approach can take much time and will only work if you configure your Gmail account properly.
A better alternate to import EML to Gmail accounts
One can also use automated tools to import EML files into multiple Gmail accounts simultaneously, and even it is the method recommended by several professionals.
Shoviv IMAP Backup and Restore tool is a picture-perfect solution for you as it is laced with several user-oriented features. Also, the tool can work with all Windows Operating systems and provide desired results.
Let me describe its process, so you will know how easy it is to import EML files to Gmail using Shoviv IMAP Backup and Restore tool.
Steps to Open/Import EML Files to Gmail are:
Step 1: Run Shoviv Gmail IMAP EML Import Tool.
Step 2: Click on the Restore/Export button.
Step 3: Enter the Job Name and Add EML files.
Step 4: Fill Server Name to MAP EML with Gmail.
Step 5: Check Run Job Instantly box, and Process will start.
Detailed process to import EML to Gmail for enhanced results
Here I've described the process in detail, so you can also know how its features work and how you can get the desired and enhanced results. If you still haven't installed the software, you can install it from the link below for free.
Install the software and open it in your system, where the EML files are stored. (It is compatible with all versions of the Windows Operating system and EML clients, so you don't have to worry about anything).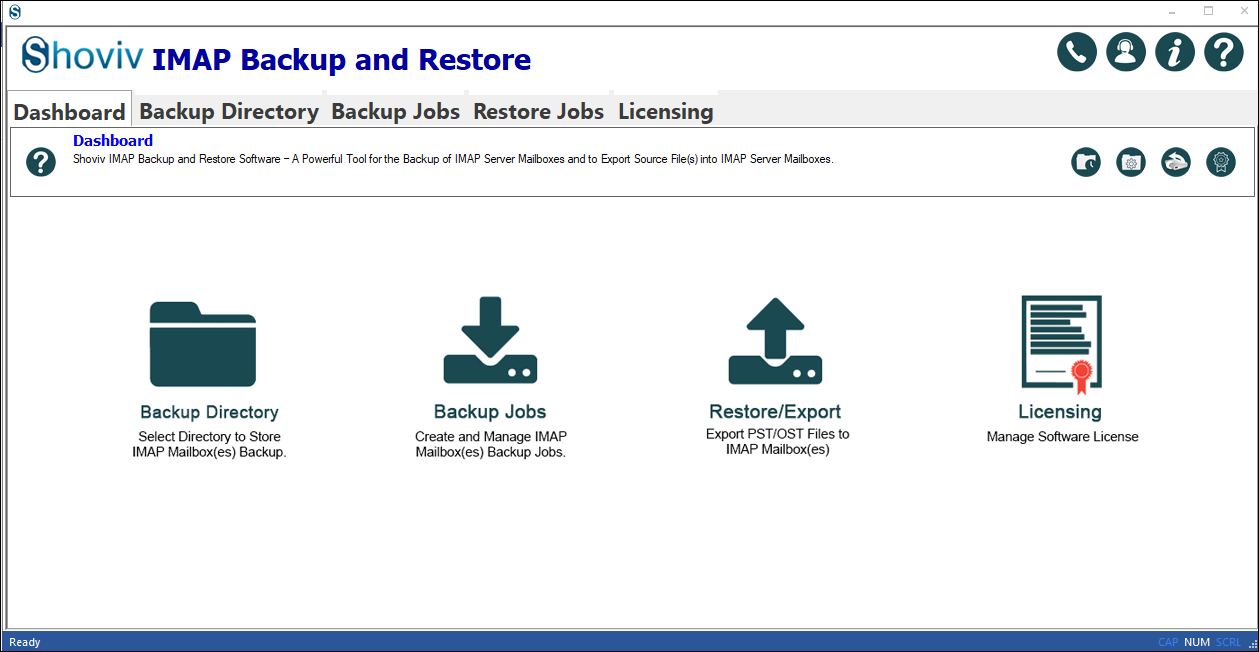 Now click on the Export option from the dashboard, and a window will pop up; select the radio button adjacent to Export EML files.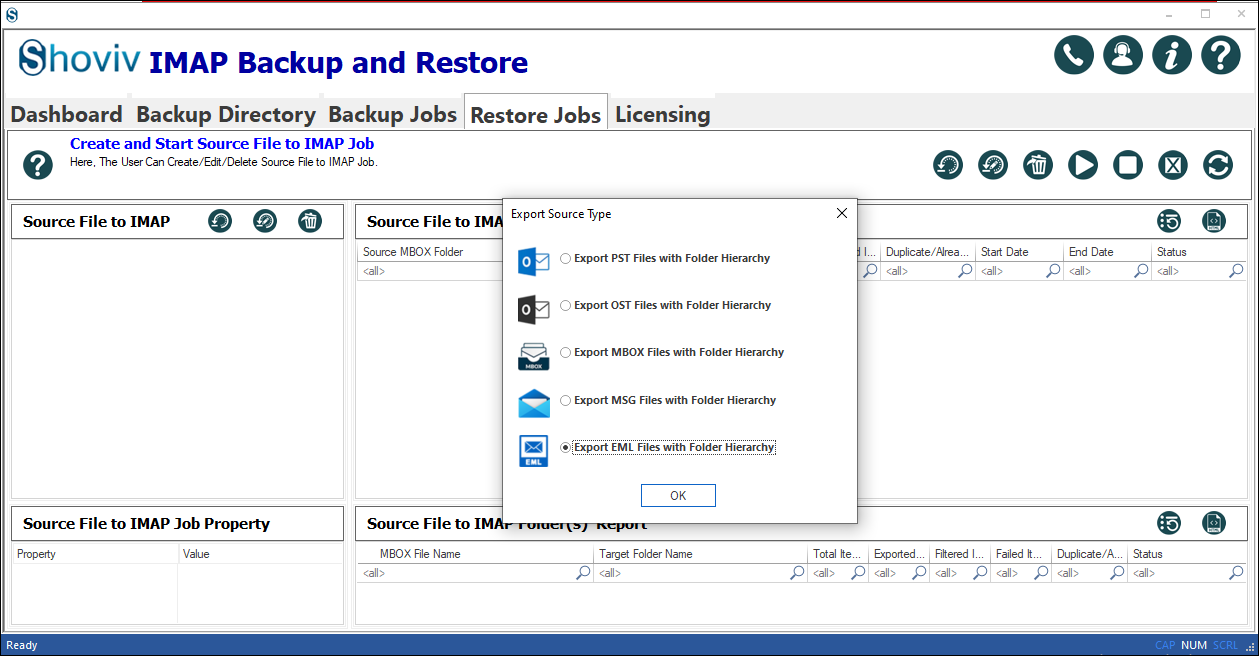 In the next window, enter a job name and Add EML folders. After that, click on the Next button from the bottom.
Enter Gmail server (imap.gmail.com) in the following window and click on the Map Source option. Enter the email address and password of the Gmail account and click Ok.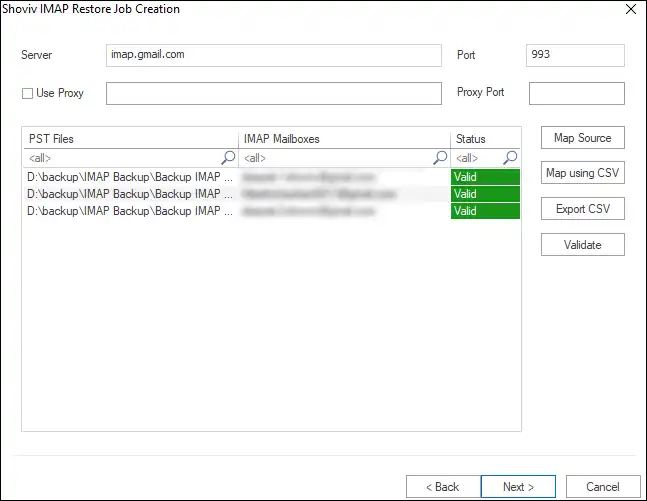 Next will be the filter option on the process date and folder filter-based criteria. You can add a specific date or folder and include/exclude EML files on their behalf. Once done, with it, click on the Next button.
Now, you will be prompted to the Advance settings window, where you can set thread count for items or mailboxes and process several items simultaneously.
You can also set a bad item count, so if several items get failed, the process will stop. After that, click on the Next button.
At last, the software displays a complete preview of your settings.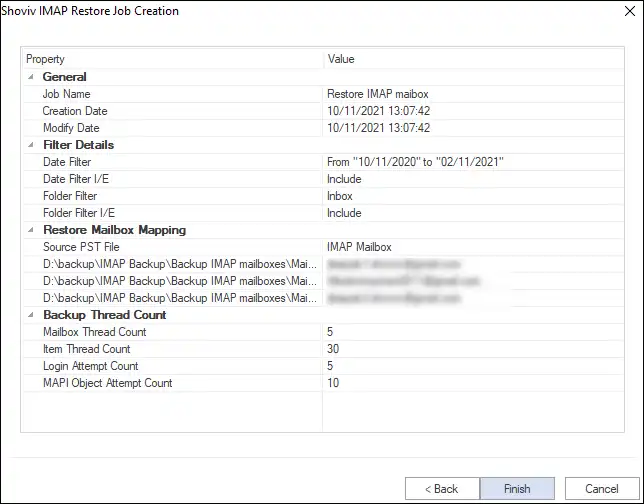 If everything is okay, click Finish to process further. Otherwise, click Back and change the configuration.
Now you might be well aware of what the features in this software are and why I said it is a picture-perfect solution for you to open EML file in Gmail.
Bringing all together
People are using Gmail, or I might say the world is adopting it, and it has the most users today. It's obvious to have multiple EML files as it is a file format that only stores a single email at a time. Now I'll only suggest you use the software for free to import EML to Gmail and get the enhanced and desired results.