Last updated on July 13th, 2023
Migration of data from one system into another is a requirement of most organizations. Data is crucial to any company or individual user as it could be any sensitive information. So many Gmail user looks to migrate Gmail to another Gmail account in multiple scenarios. In addition, keeping the safety point of view during the migration is paramount because a single mistake can harm your data. To migrate data safety, there are several solutions exist that users can take a look over them.
This guide is specially prepared for users looking to move their data from one Gmail account to another. We have explained methods to make it easier for layman users to complete their tasks smoothly.
What makes users look to move data from One Gmail account to another?
The different situation makes it essential for users to transfer their Gmail account data into the new account. However, some of the most common cases where users look for migration have been listed below:
Gmail storage depends upon the plan user opts for. If the data storage reaches a level where the new email cannot come into their account, many of them opt for creating a new Gmail account and transferring their older data.
Many users have multiple accounts on Gmail, and at some point in time, it's become tedious to manage them all. So moving the data from all accounts into a Gmail account is their solution.
Switching from one account to another takes a lot of time, so transferring data into one account saves time and resources.
As figuring out the solution on your own is not easy, we have presented better ways to transfer Gmail to another Gmail account. In general, the solution to accomplish the above task includes creating of new Gmail account and, later on, linking an older account to a newer Gmail account. Also, apart from it, a professional third-party solution is available.
So we are now moving towards the first solution to transfer Google account to new email account.
Get Instant Solution to Migrate Emails from Gmail to another Gmail Account. Shoviv IMAP Email 
Migration tool easily transfers your emails into Gmail from your another Gmail Account.




Note: A Free Trial Version Allows Migration of 50 Emails Items/Folder.
How to transfer emails from one Gmail account to another one?
The method we will going to discuss has been spread into multiple phases. So to make it easier for users to migrate Gmail to Gmail, we have shared step-by-step migration procedures, which are as follows:
Phase # 1 Configure POP to Your Old Gmail Account
After enabling POP (Post Office Protocol), your older Gmail account can access your Gmail account to an email client that utilizes the POP protocol. Now follow the step given below to o the underline task:
Go to the Gmail account and kindly click on the Setting icon.

Now click on See All Settings to open the POP settings.

Here, from Settings, make sure to select Forwarding and POP/IMAP tap.

In the POP download section, kindly enable the POP for mail option.

Select any required option when messages are accessed with POP, like keeping' Gmail copy in Inbox, deleting Gmail copy, marking Gmail copy as read, and archiving Gmail copy.
The last step is to click on the Save Changes button
Link Your Older Account to New Gmail Account
Here, we will explain the process of fetching the complete emails from the older account into a new Gmail account. The second phase of the process for exporting Gmail emails to another Gmail account has been listed below:
Once again, go to your Gmail account and click on the Settings button from there.
Select Accounts & Import, which is located just near Inbox.

Now in the check mail from other accounts, hit the Add Account button.
Enter the email address from which you need to transfer the emails. Once done, then click on Next.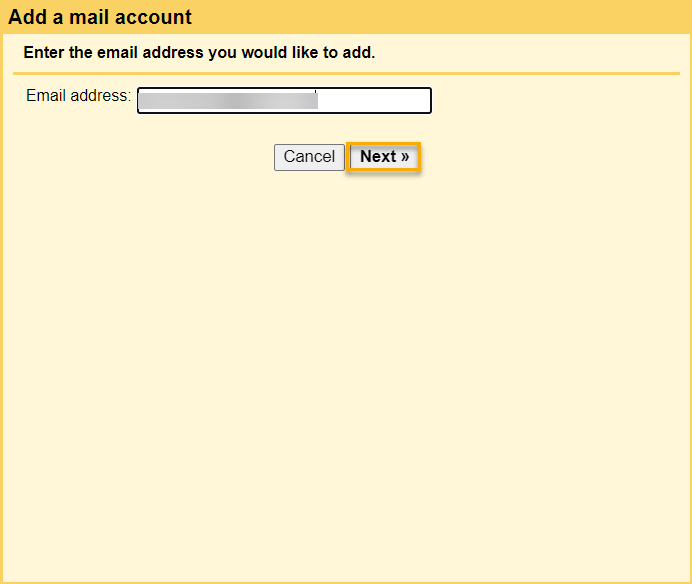 Kindly make sure to add the password to the associated Gmail account. Click on Add Account to continue.
Move Emails from Older Gmail into Newer
This is the last phase in the Gmail migration, so follow the given procedure carefully to avoid any mistakes:
Click on the Next Step from the opened window.
Now you need to verify the added emails and to make this happen, click on Send Verification button.
Check for the verification mail in your older and newer Gmail account.
Once received, open it and then click on the confirm button.
Thereafter, the older account emails will be moved into a new account. So, this is the end of the above-listed process to transfer Gmail to another Gmail account. However, this method takes much more time and effort for the user. To bypass the long process of migrating your older account emails, you can follow the next method shared below.
Method to Quickly transfer emails from older Gmail into Newer
Moving emails from an older Gmail account comes with a lot of challenges. So to make your task easier to safely and quickly manage the procedure to migrate Gmail to another Gmail can be done by taking the help of a third-party tool.
Here, we will introduce one solution that makes it easier to manage the transfer of Gmail account emails. One such solution is Shoviv IMAP to IMAP migration tool, and it is one of the finest software available to complete the task while taking little time.
It has many advanced-level features, making this migration utility the first choice for many users. This software allows you to transfer Gmail to another Gmail account by following a couple of simpler steps. Its user interface is easier to grasp, eliminating the risk of a mistake. Apart from this, users can also schedule their migration in several time frames.
Steps to follow for migration from one Gmail account into another:-
Pre-requisite to run Migration: In order to migrate Gmail to another Gmail, the user should create the connection of the source and the target with the software. Rest follows the instruction given below:
Go to the Migration tab of the software, and then click on the + sign to create the new migration job.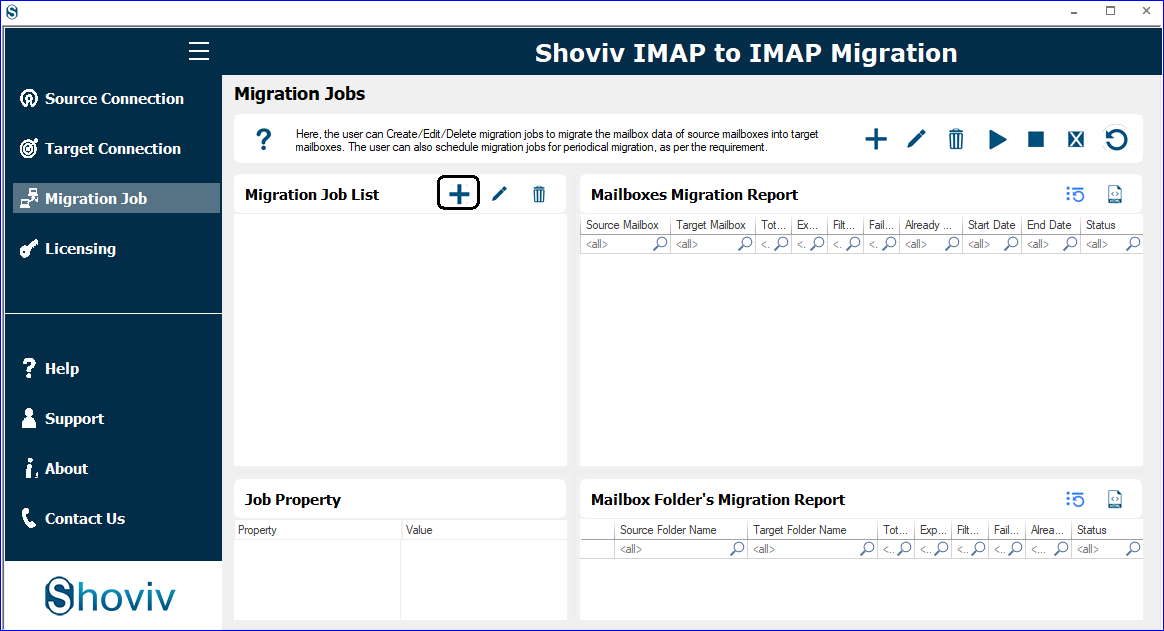 Now the IMAP to IMAP migration window will appear, where the user must enter the existing source and target connection. Once done, then click on Next.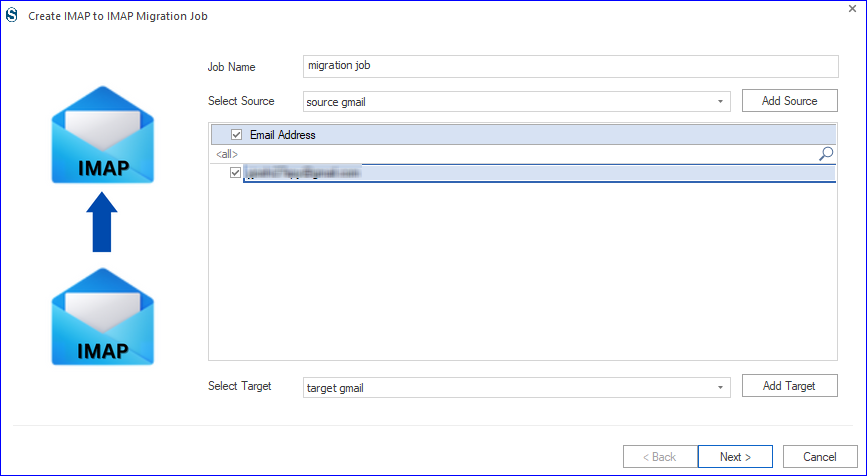 Kindly map the required mailboxes from here and press the Next button.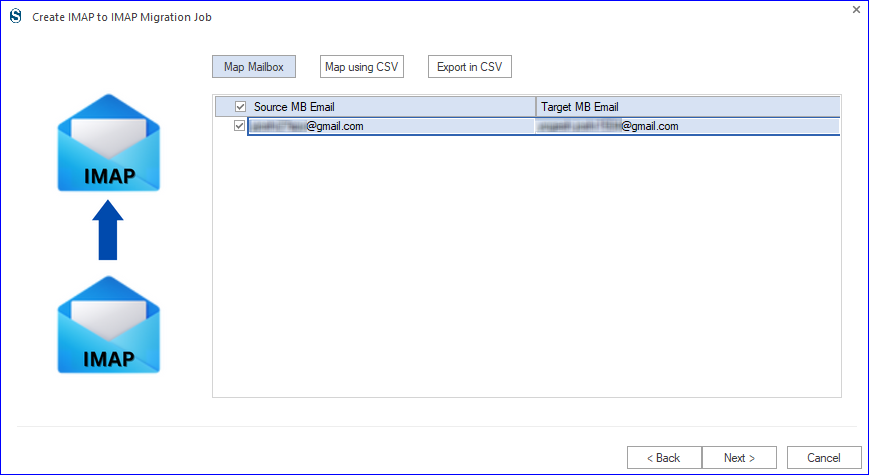 Now the process will take you to the filter option. Apply the required data filter criteria and click on Next.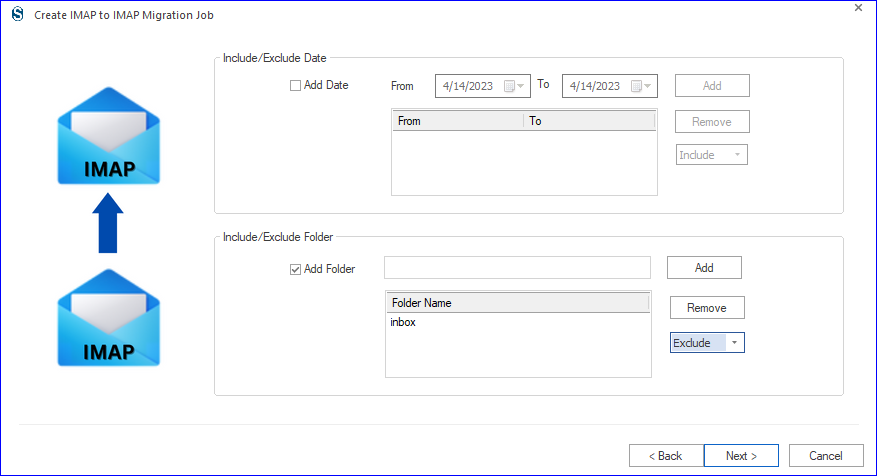 Do the adjustment here according to your needs. Also, specify the failed count item and time for large items; if the limit crosses, the software automatically stops the migration. Once done, then hit on Next.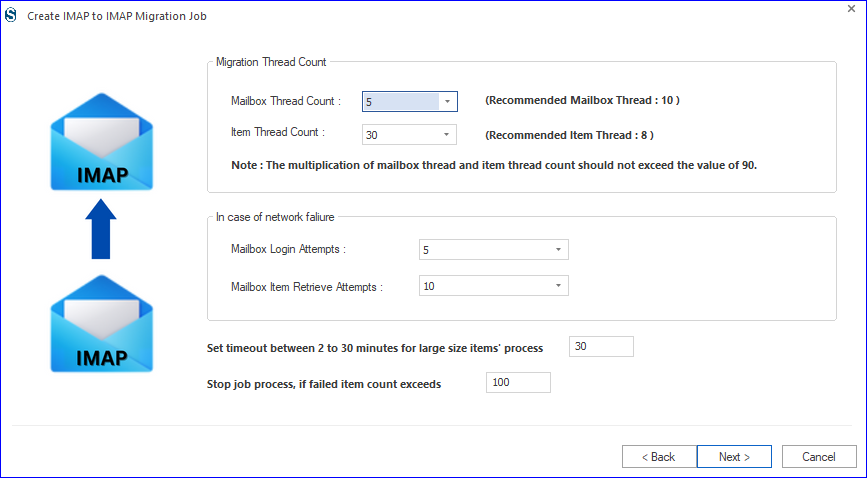 The last phase/step of the Gmail migration is to schedule the job. Users can run the migration immediately or even schedule it periodically. So according to your need and click on Next.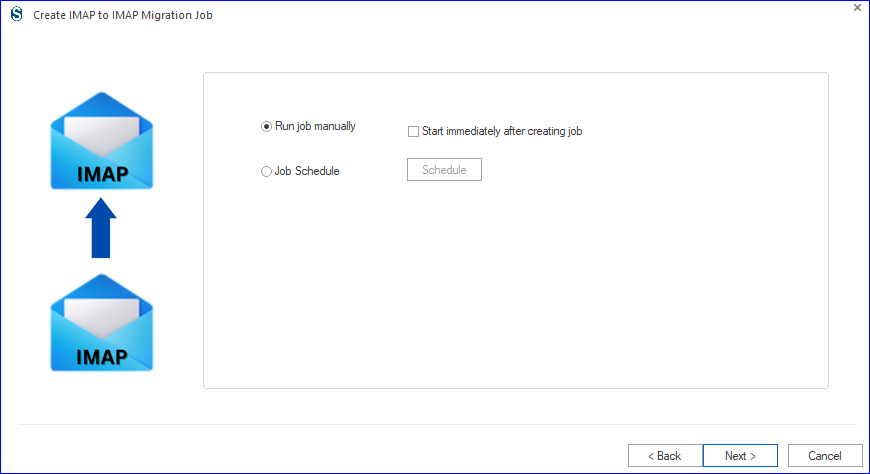 Kindly review the applied option for the migration, and to start it, kindly click Finish.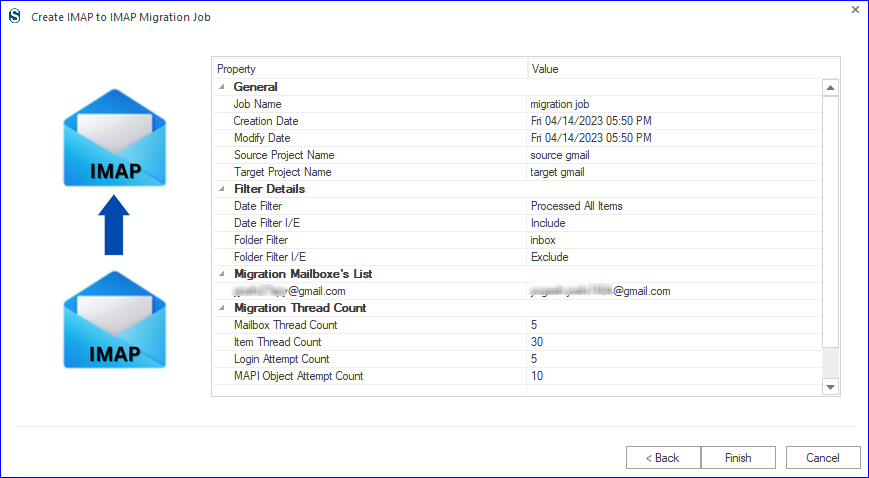 Conclusion
Migrating emails from your current/old Gmail account into a new one requires technical expertise and knowledge. However, through this blog, we have made things easier for users to migrate Gmail to another Gmail account. The solution described here includes the manual solution, which is quite lengthier, and the other one is the professional third-party tool. To get a promising result, we suggest users look for the professional tool due to its commendable user interface and functionalities.