Last updated on September 1st, 2023
"Here I am providing information, which will describe the step-by-step process to migrate Lotus Notes to Office 365 using IMAP Connector and a professional Lotus Notes migration tool. Before starting, I'm also giving a few reasons that initiate users to this migration task."
Microsoft Office 365 provides new and advanced features and benefits to its users. Office 365 provides various productive applications that ease user's businesses work. Due to its popularity, both; small and large entities desire to move toward Office 365 from other platforms, especially from Lotus Notes.
However, Lotus Notes and Office 365; are products of different tech giants, and Microsoft doesn't allow access/import NSF to Office 365.
Hence, to access the NSF files in Office 365 mailboxes or shift from Lotus Notes, users have to import NSF file data into O365 mailboxes. Manually, it is not an easy task to migrate Lotus Notes to Office 365.
This post will focus on the solutions that make the migration of Lotus Notes NSF files into Office 365 quick. So, scroll through this post till the end to get detailed information about the solutions.
Why Professionals are Replacing Lotus Notes with Microsoft Office 365?
Some factors hold Office 365 in high regard and make it the choice for business persons, MNCs, and small firms.
Cover all types of Business: Today, Office 365 is used by millions of small firms and business giants, and the main reason behind it is its cost flexibility. Office 365 offers business plans for all types of firms, from small scale to multinational, and even individuals.
Includes Everything: Office 365 offers every needed feature for the modern working environment like it offers cloud storage, email, calendars, file storage and sharing, and many more.
Anytime & Anywhere accessibility: It's the 21st century, now businesses rely on emails, and everyone wants 24*7*365 accessibility to their data, and Office 365 offers the same. Users can access their Office 365 emails from anywhere and anytime.
User-friendly and Economical: Office 365 GUI is quite convenient compared to Lotus Notes, and as I've mentioned, it has subscription plans for everyone. A good thing with Office 365 is you only have to pay for what you use; makes it cost-effective.
Shoviv Lotus Notes Migrator Tool is available for free download. Check the tool; the tool is very
easy to use. Let us know if you have any Query related to Lotus Notes Migration. 
 
Methods to Migrate Lotus Notes NSF File to Microsoft  365?
There are a few known ways available by using which you can shift your Lotus Notes NSF files into Office 365 mailboxes. Here, we'll first start with the IMAP connector.
Method 1: Migrate Lotus Notes to Office 365 using IMAP Connector
Follow the below-given step-by-step process to migrate data into Office 365 from Lotus Notes using IMAP Connector:
1. Backup your Lotus Notes database(NSF Files).
2. Create new user mailboxes in Office 365.
3. Enable IMAP connection (TCP/IP port) for new user accounts.
4. Synchronize your emails from Lotus Notes to Office 365 via IMAP Connector.
Here is a detailed migration process using IMAP Connector:
Step 1: Backup NSF Files – The first and foremost step is to create a backup of NSF files. As we know, the manual method is always full of risks. Hence, a backup of data is a must.
Step 2: Now, for each user who has an account in Lotus Notes, create new mailboxes in Office 365.
Step 3: Enable IMAP TCP/IP port
In the Lotus Notes application, open the Domino Administrator.
Move to the Configuration
Execute the IMAP service by opening the server document.
Follow Ports>Internet Ports>Mail
Then, From the Mail tab, enable the TCP/IP port value status.
By clicking the Save button, save the changes.
Step4: Make synchronization with the IMAP Connector using this, Synchronize mailboxes between Lotus Notes & Microsoft Office 365
Disadvantages of the IMAP-based Migration Method
Proxy and Firewall: Lotus Notes' active firewall and Proxy Server can block the internet connection.
Manual entries: The hardest thing you have to do is manual migration of Calendar entries as the IMAP connector cannot migrate calendar entries.
File size restriction: The IMAP connector merely migrates the online data of Lotus Notes to Office 365. There is a restriction on file size and transfers NSF files of up to 1 GB.
Complex process: The IMAP needs a high-level technical setup for the procedure. Users need to apply several filters that are complex and quite expensive too.
Human-Error: In manual migration, the chances of human error are very high. A single mistake can ruin the complete migration process.
Method 2: Migrate Lotus Notes to Office 365 using MONTI
Before following the steps to implement the MONTI method, I recommend you download the MONTI.exe. You can download this file from Microsoft's official website.
Step 1: After downloading the MONTI.exe, run it in your system.

Step2: Use the Browse button to choose the location where you need to extract the migration guide.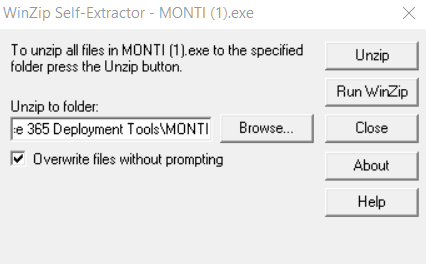 Step 3: After that, unzip the MONTI.exe file and extract the documents at the location.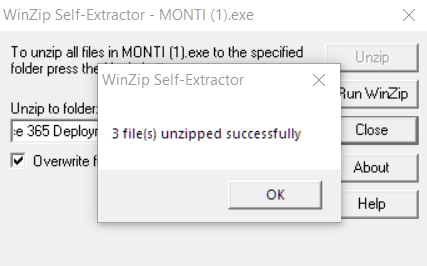 Step4: Now go to the location and then Office 365 Deployment Tools > MONTI > Docs Folder.
Step 5: At last, open the MONTI 3.2 Configuration Guide to migrate Lotus Notes to Office 365. Read all the instructions carefully described in this Guide.
This is the step-by-step process of Lotus Notes migration using MONTI. But this method is lengthy and isn't easy to implement. The MONTI 3.2 Configuration Guide is about 86 pages which becomes very complex for users to understand it properly. Therefore, it would be better to go through a professional solution to perform this task without any difficulty.
Lotus Notes to O365 Migration (Recommended Solution)
Here, I'm discussing an automated solution to migrate Lotus Notes to Office 365 because prior, we've discussed the problematic situation while migrating with the manual process.
Shoviv Lotus Notes to Office 365 migration tool is a reliable solution for swift, flawless, and easy migration.
It is a desktop-based utility specially coded to migrate Lotus Notes mailboxes to Office 365. Its convenient GUI makes the migration process easy as pie, and even non-technocrats can achieve desired migration results without any technical setup and assistance.

Why Choose Shoviv IBM Lotus Notes to Office 365 Migration Tool:
It can import NSF to Office 365 without restriction on size and number. Other than Office 365, it allows migration of NSF to Live Exchange and PST file format.
The software has folder mapping and mailbox mapping features which you can utilize to enhance the process and make it accurate. With the mailbox mapping feature, you can map the NSF file with the specific Office 365 mailbox.
The folder mapping feature allows to map NSF files' folders with Office 365 folders or create a new folder to save particular NSF file data.
Users are enabled to resume the interrupted migration process; save time and effort. Also, it has a filter option on the date range and item type based. Using the filter option, you can choose a specific item type or date range to exclude/include required emails.
The software has compatibility with all versions of Lotus Notes and Windows Operating Systems. Also, it has a free version to evaluate the skills and features of the tool.
Below I've described its processing to import NSF to Office 365. I recommend installing the free software version to go through the process and evaluate the skills and compatibilities.
Steps to Successfully Migrate from Lotus Notes to Office 365
Step1: Run Shoviv Lotus Notes Migrator tool.
Step2: Browse and Add the NSF File or Folders.
Step3: Select Office 365, then check folders and subfolders.
Step4: Enter O365 credentials, select filters & folder mapping option.
Step5: Finally, click on Next button to start the migration process.
Detailed Steps to Migrate HCL Lotus Notes into Office 365
Follow below mentioned step by step process to migrate NSF to Office 365 in an easy and quick manner. We suggest you before going through the steps; you download the Shoviv Lotus Notes to Office 365 Migration Software from the official website of Shoviv.
Step1: At first, install and launch Shoviv Lotus Notes to Office 365 migration software.
Step2: Now add NSF files. Click Add NSF File button and use the Add File (s), Search File (s), and Add Domino File(s) options to add the NSF files. Then browse NSF files that you want to migrate into Office 365.
Step3: Now click on the Office 365 option in the Export Multiple NSF Files group from the ribbon bar or select the option by making a right-click.
Step4: Now, the wizard to check/uncheck subfolders will appear. Check the subfolders and click Next.
Step5: Provide the credentials of the Office 365 admin and click on the Next button.
Step6: Now Map Mailbox wizard will open. Map NSF files with Office 365 mailboxes; users can also Validate Target.
Step7: Now, the filter wizard will open. Here check and choose the Export Selected Item Type, Export Only Message Date. Option to Map NSF Folder and Item Email Translation is also available; use if needed.
Step8: After applying filters, click the Next button. Now the software will start the migration and display a live log report. You can also save the log report for the future by clicking the Save Report button.
Wrapping up:
Manual migration from Lotus Notes to Microsoft 365 is a typical task; it requires technical expertise. Hence, technical experts suggest utilizing alternate software to migrate Lotus Notes NSF files to Office 365. Shoviv Lotus Notes to Office 365 migration tool offers the best way to accomplish this without any hassle. Any user can complete the migration with ease. A free demo version of the software is also available that allows migrating the first 50 items per folder.


Frequently Asked Questions:
Q. Which is the best software for Lotus Notes to Microsoft 365 Migration?
A. Shoviv Lotus Notes to Office 365 is considered one of the best software available in the market for migrating Lotus Notes NSF Files into Microsoft 365.
Our tool ensures a seamless and hassle-free migration process, preserving the integrity of your data while minimizing downtime during the migration. With its user-friendly interface and advanced features, This Lotus Notes Migration Tool provides a smooth migration experience for organizations of all sizes.
Q. Can I open Lotus Notes emails in Outlook?
A. Yes, you can open Lotus Notes emails in Outlook with the help of third-party tools. Shoviv offers an efficient solution called Shoviv Lotus Notes to Outlook Converter, which allows you to convert Lotus Notes NSF files to Outlook PST format. By using this tool, you can easily migrate your Lotus Notes emails, contacts, calendars, tasks, and other mailbox items to Outlook.