Last updated on July 30th, 2022 at 03:48 pm
Exchange 2010 to Office 365 migration is in the talk of the town. Office 365 is a cloud-based software as a service that has numerous user-centric features and services. It has a lot more to offer you. Unfortunately, users of Exchange Server have a limited manual method to migrate Exchange 2010 to Office 365.
Cutover Migration to migrate Exchange 2010 to Office 365:
If less than 200 mailboxes are there on your Exchange Server, the cutover migration process is the perfect solution for Exchange 2010 to Office 365 Migration. This can be done using Setup wizard or by EAC (Exchange Admin Center). Using the Setup wizard, users can move 150 mailboxes only. You can also move 2000 or more mailboxes with Exchange Admin Center.
Know more about the Cutover Method:
At first, you need to open the 'Exchange Deployment Assistant' site. It covers all the scenarios migrate Exchange 2010 to Office 365. Use the cloud-only option for a better response.
Now it should be a check that Exchange 2007 server infrastructure supports MS Outlook Anywhere and Auto discover. Use the guide to authenticate the Exchange server 2007 setup after that. After the verification of the setup, use Microsoft Remote Connectivity Analyzer and verify Outlook Anywhere. Also, the user needs to be sure that you assigned the migration permissions for a correct account to the mailboxes that you're going to move.
Download Exchange Server Suite tool to Migrate Exchange Server mailboxes.


Open Microsoft Remote Connectivity Analyzer website.
Click Outlook Anywhere (RPC over HTTP) test. Click Next to proceed further.
Enter the required information.
Then, verify the usage of Auto discover to detect server settings.
Enter Verification code now.
Click Perform Test.
Cutover Migration Process Configuration:
At first, login into Office 365 Admin Center.
Open Exchange Admin Center
Click the Migration button.
Then, click on the Plus (+) button and choose Migrate to Exchange Online option
Choose cutover migration now and click next.
Enter on-premises account details and proceed further.
RPC Proxy Server Setting along with Next Exchange Server will be selected automatically. Click next after that.
Rename New Migration Batch. Click Next.
A completely new Exchange Server Migration batch file will get formed, and you'll see the status of syncing the provided information from the old file. One can check migration detail by clicking "View Details" under Mailbox Status.
Migration Process Completion
After Exchange 2010 to Office 365 migration, the synchronization status will change from Syncing to Synced. You will also receive a confirmation report by mail.
As a hybrid approach, it serves as both a migration and an implementation strategy in and of itself. Exchange 2003 and 2007's staged migration can be modernized with this new approach. It's possible to use both Exchange 2010 and Office 365 Hybrid in the same environment. If you have a lot of data to migrate Exchange 2010 to Office 365 and the procedure is going to take a long time, this option is ideal. The only native way for migrating more than 2000 mailboxes is a hybrid approach. When it comes to moving more than 150 mailboxes, Hybrid is the best option.
Depending on the demands of each user, some businesses employ hybrid deployment as the final stage, rather than an intermediary step. In these cases, users are distributed across on-premises and online environments.
A Hybrid Configuration Wizard is used to set up the hybrid environment (HCW). Find out how to use the HCW and address issues with deploying a hybrid environment by reading this article.
Exchange 2010 to Office 365 Migration by PST files
The final native migration is accomplished through the usage of the Office 365 PST Import Service. The basic concept is to export Exchange 2010 mailboxes to PST files and then import them into an Office 365 organization. This method entails some manual work on the part of the administrator. This involves virtually constructing an Office 365 setup from scratch.
Exporting all mailboxes to PST is a task that is best accomplished using PowerShell and the New-MailboxExportRequest cmdlet. The PST files must be shared or stored on a file server. You must then upload them to the Azure storage location and create a CSV mapping file from this location. The PST Import service imports PST files into the appropriate user mailboxes using the mapping file.
Microsoft also offers the option of shipping physical drives to them, which entails copying PST files to physical storage devices and sending them to Microsoft. This service is charged at a rate of $2 per gigabyte of data.
The drawbacks of the Manual migration processes
Each of the native approaches mentioned above has some drawbacks due to which users always worried about their data during the native Exchange to Office 365 migration.
Limitations of Cutover Migration
A cutover migration is all or nothing solution and as mentioned above is only recommended for upto 150 mailboxes and when you've a team of tech geeks otherwise a single misstep can make your data lost or corrupt.
Limitations of Hybrid Migration
Moving to the hybrid migration, it is a time-consuming and slow process. Same as cutover method, you also need geeks in your team to accomplish this task with minimum data loss.
Limitations of Migration through PST export
Ah, you're thinking Exchange 2010 to Office 365 migration using PST will be an easy process or might be quick, so let me clear don't even think about it if you have several mailboxes. Don't know where to start but this method not convenient, not even hasty. Like you first need to migrate Exchange to PST and for this you have to use PowerShell in several steps which is also a walk-on eggshell on itself. I'll only suggest this method if you have only few emails to migrate and you don't mind to recreate your Exchange 2010 environment in Office 365 from the scratch.
Common limitations of Native utilities
Limitations don't end here like there are few limitations which are common in all native options such as:
Numerous steps of the migration will require the use of PowerShell. While knowing how to utilize this strong scripting language is really beneficial, you must have a particular level of skill. During this difficult process, learning on the fly may be unpleasant for you and detrimental to the (server) environment.
If the process to migrate Exchange 2010 to Office 365 disrupts, you will have to restart it from the very beginning.
It is a very complex process and not gives 100% assurance of success.
You might have lost some files while migrating them between servers exchange.
Upgrade your servers to the latest version for the greatest migration experience. It is advised that you upgrade to Exchange 2010 SP3. As a result, if you have not upgraded your machines, you should plan on doing some maintenance.
Downtime is unavoidable, particularly when migrating public files. You'll need to plan carefully, even more so if the resources on your servers are used continuously.
There is no filtering available. Both nor Cutover and Hybrid Migration allow for the filtering of Office 365 items that are transferred.
Shoviv Exchange Server Suite – Professional's Way
Shoviv Exchange Server Migration Tool is a remarkable tool, which helps with Exchange 2010 to Office 365 migration process in the most efficient way. Using Shoviv Exchange Server Suite helps to get all the files successfully migrated from one server to another. Shoviv Exchange Server Suite is built with the advanced GUI and has many user-oriented services and features, for example:
Users can add mailboxes of any Exchange Server variant.
Users can review the Exchange mailboxes items and their attributes before migrating them.
Allows the recovery of corrupted EDB files and also recovers deleted mailboxes from EDB files.
It has a search option to navigate and migrate specific items from Exchange Server to Office 365.
Users can exclude unwanted items from migrating to Office 365 from Exchange 2010 and any other variants.
The software has an Incremental export option that allows resuming the interrupted migration process without duplicity.
These are the few highlights of the software that comes in handy to migrate into Office 365 from Exchange 2010 as per requirements. Now let me show you how this tool works:
(Recommended: Install free Exchange migration tool's version and pursue below-given steps to examine the software skills and capabilities for free)
Steps to Migrate Exchange 2010 to Office 365:
Step1: Open the software and click on the Add Source option. 
Step2: Select the Exchange Server option and add mailboxes.
Step3: Click the Office 365 option and add target mailboxes.
Step4: Map Exchange mailboxes with Office 365 mailboxes.
Step5: Use filter options on the message class and date criteria. 
Step6: Now, the Exchange to Office 365 migration process will start.
Detailed Steps for Exchange 2010 to Office 365 migration using the Shoviv tool
Open the software in your system and click on the Add Source option from the ribbon bar.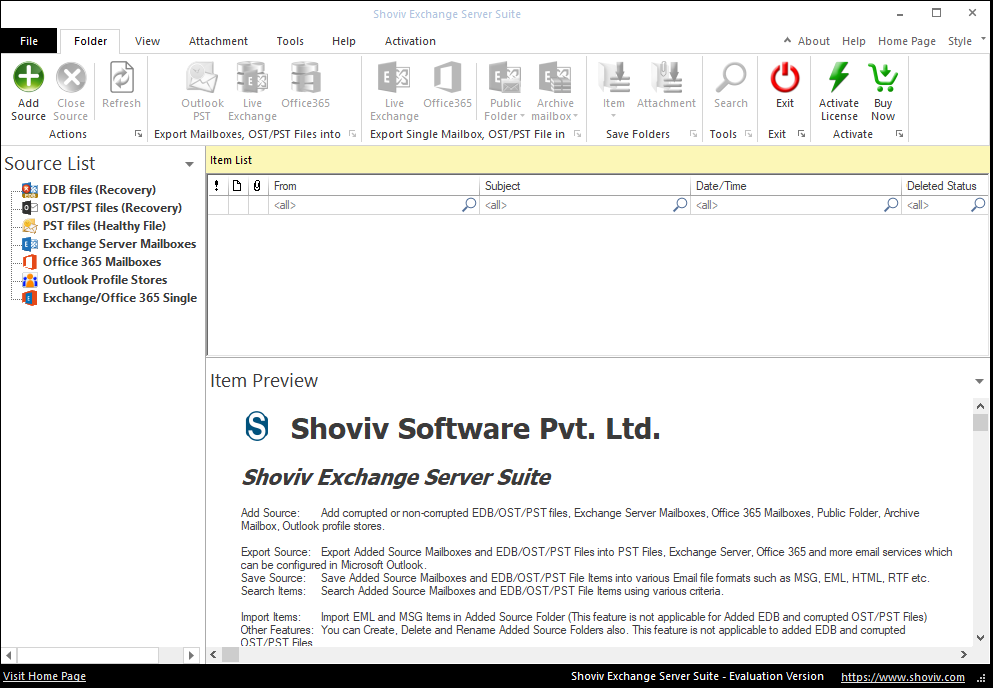 Now, select an option to add mailboxes; you can add EDB files or Exchange Server mailboxes per your availability. Once done, click on the Finish button. Here, I am processing an EDB file containing several Exchange mailboxes.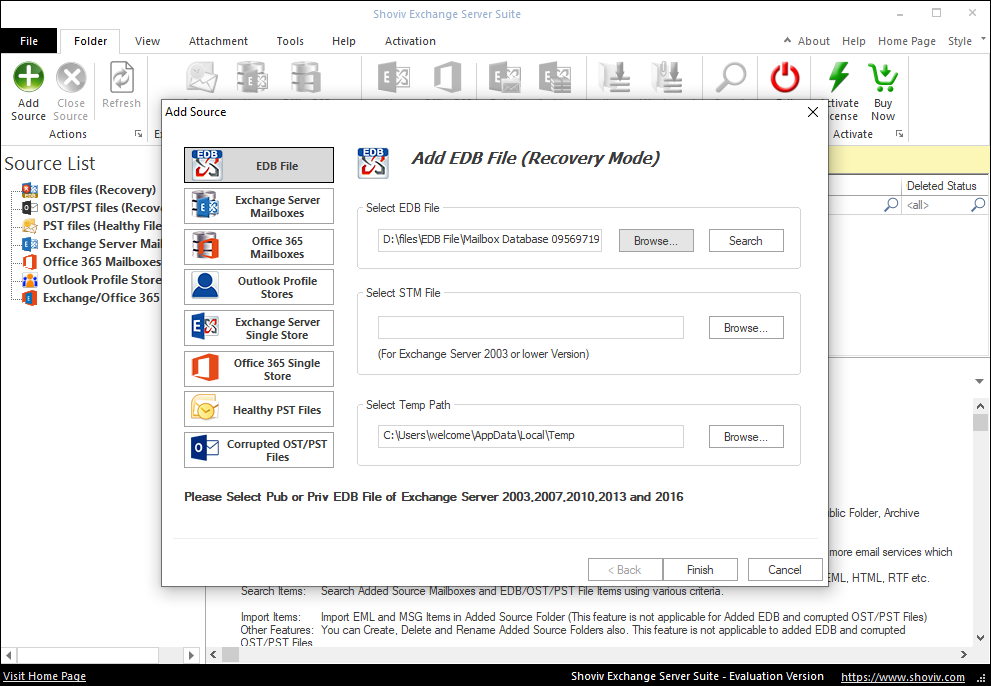 Now select the EDB file from the left pane and click on the Office 365 option on the ribbon bar.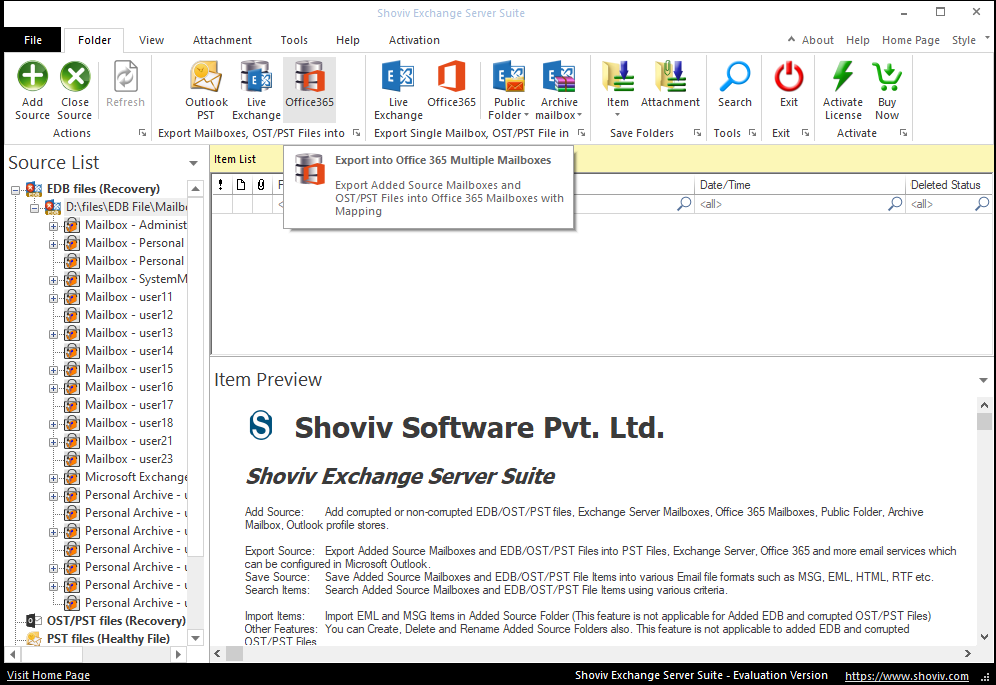 In the following wizard, check the mailboxes/folders/subfolders you want to migrate into Office 365 and click the Next button.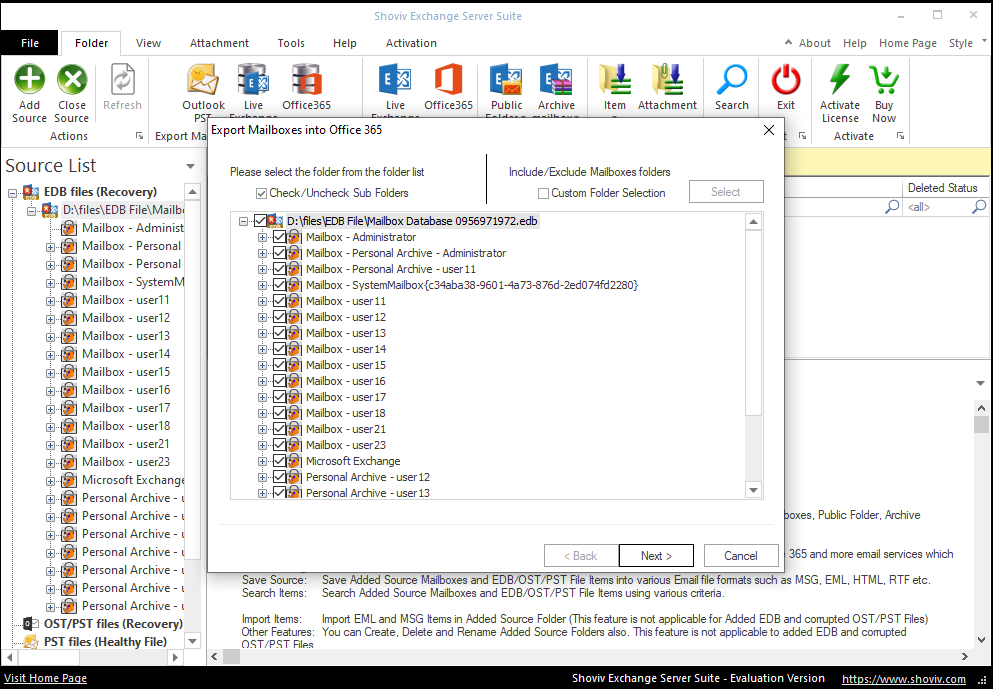 Now, in the export mailboxes, into Office 365 wizard, provide Office 365 administrator/users credentials and click on the Next button.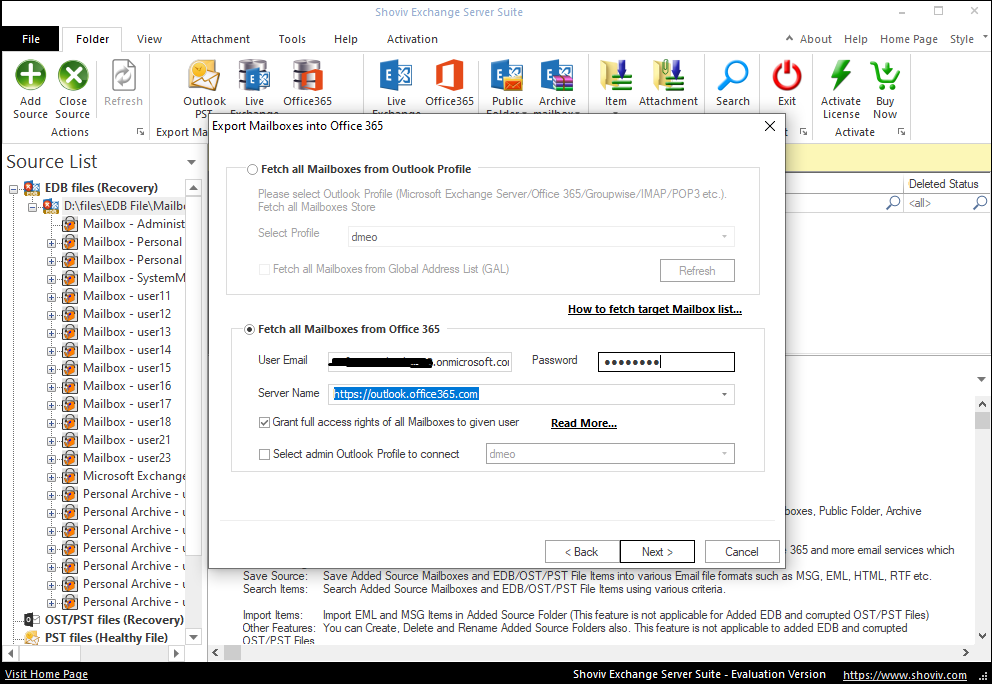 Next will be the mapping window. Here, you need to map the source mailbox and target mailbox for accurate migration. Click on the Target mailbox box adjacent to the source mailbox and map it with Office 365 mailbox.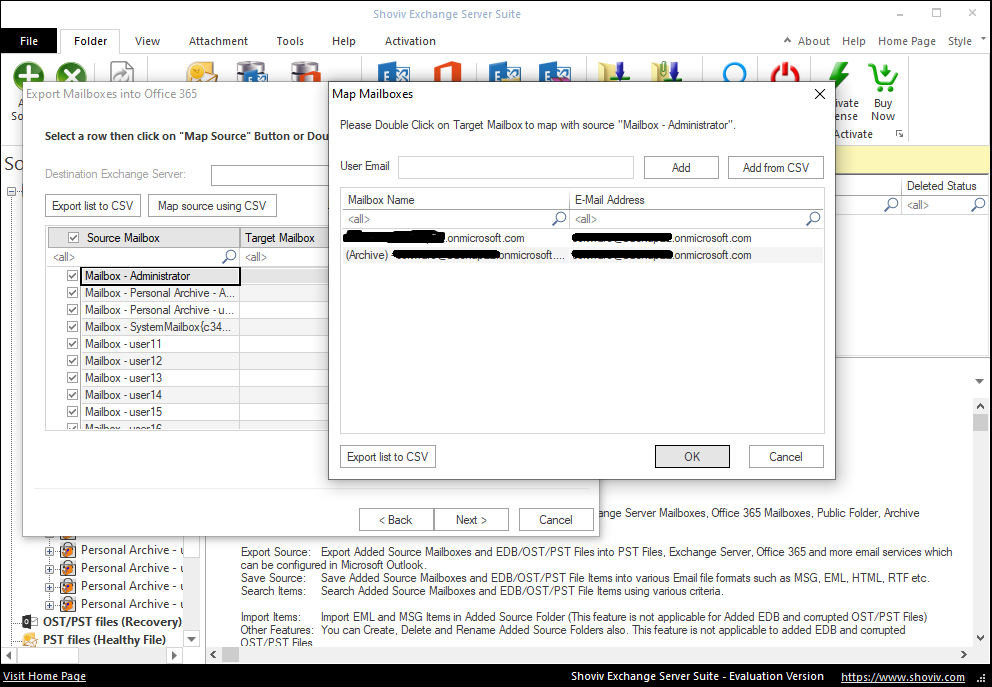 Now, you will be promoted to the filter window; use the filter options as per need to include/exclude Exchange items on the Message class and date filter. Also, you can exclude inaccurate Exchange items from the Exchange 2010 to Office 365 migration process.
An advanced options button is also available by clicking it; you can use the Email translation and folder mapping options. Once done with all options, click Ok and then Next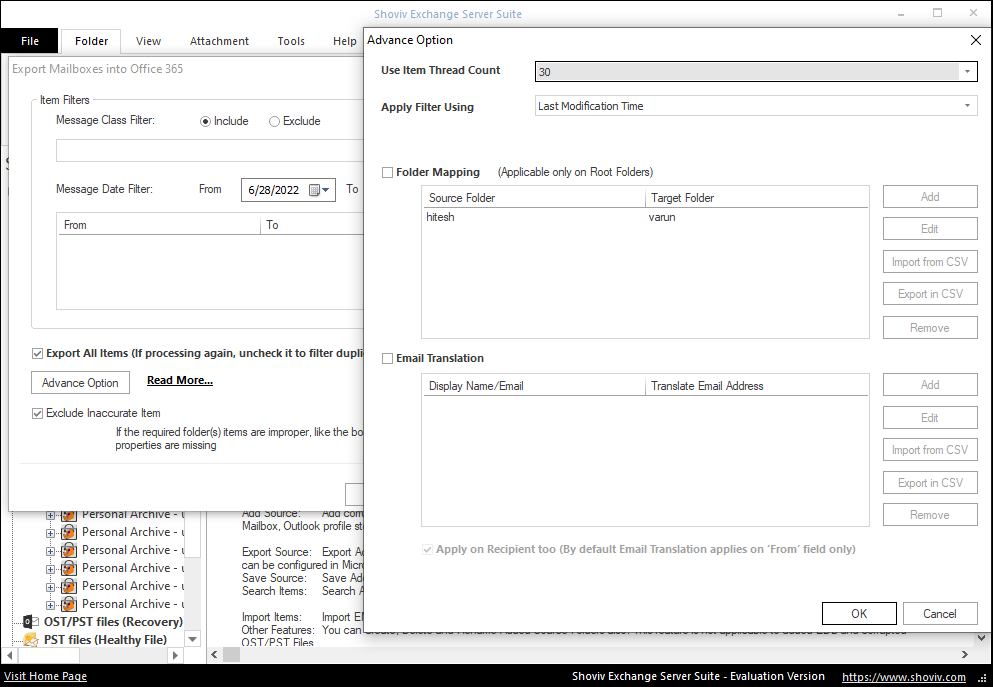 Now the software will start to migrate Exchange 2010 to Office 365 mailboxes and displays a live log report.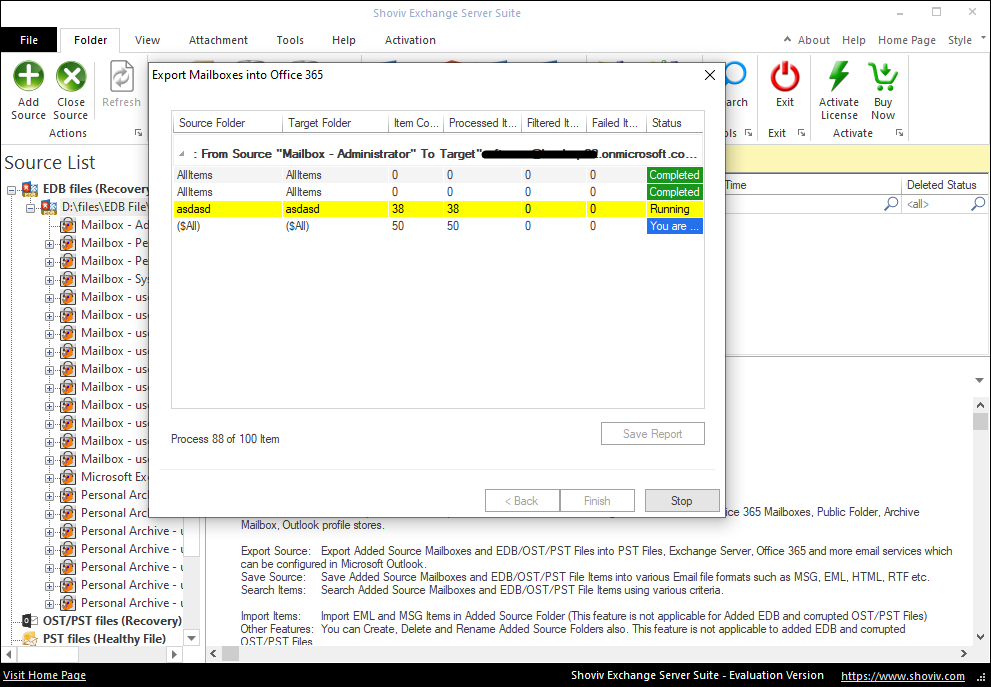 It is the process for Exchange 2010 to Office 365 migration using the Shoviv Exchange Server Suite. Honestly, the software is very convenient, and using it is the same as using an android application. You can check the software processes and skills using the free version.
Conclusion: 
Above, we discussed how to migrate Exchange 2010 to Office 365 step by step. With the mentioned third-party tool, it is very easy to migrate the data and information from the Exchange Server to Office 365. A free demo/trial version of the Shoviv Exchange Server Suite is also available to download. The free trial version allows the migration of the first 50 items per folder.
Stuart Clark is working as a technical content writer at Shoviv Software for the last 3 years. In his free time, he loves to write about new technology and read fiction books, his favorite book is "It ends with us" by Coolen Hoover.