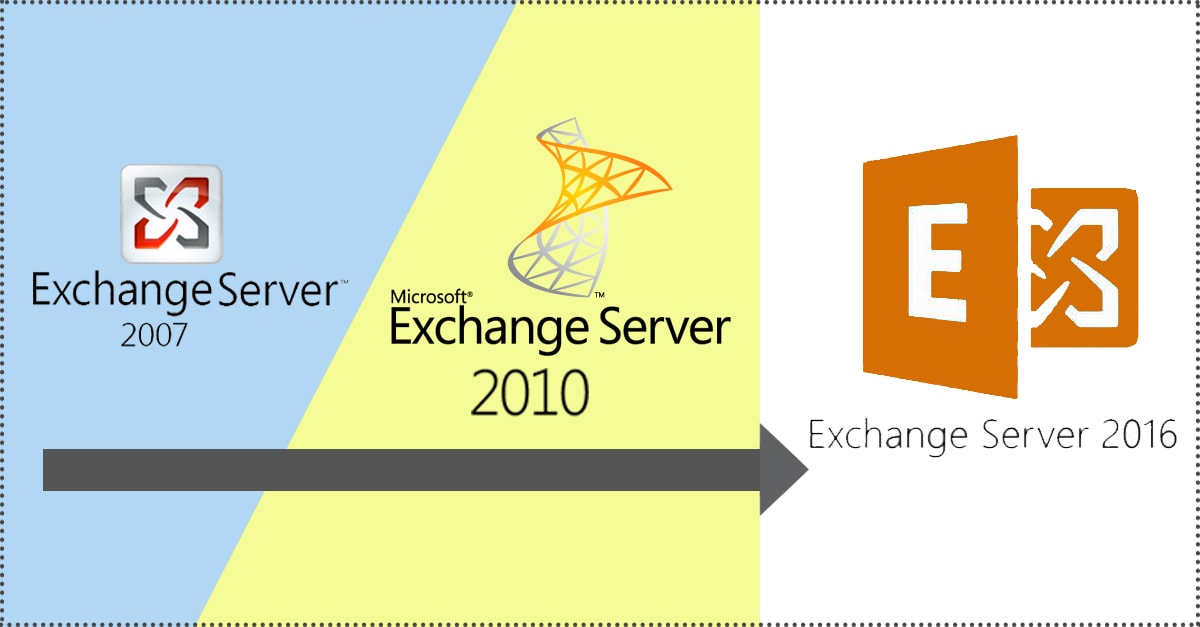 Exchange server 2007/2010 to 2016 move is a quite required sort of migration for the users. They need to upgrade from server 2007 Exchange to 2010/2013 and then again from 2010/2013 to Exchange server 2016.
The method of the move is given here for ease to apply-
1- Upgrade form 2007 Exchange server to 2010 Exchange server- Make sure that your system has minimum configuration required to meet the expectation of the migration program.
For easy installation of Exchange server migration 2010 server and upgrade it from server 2007, make sure that you have the minimum system requirements. You also need Exchange 2007 Service Pack 3 for each server to make is smoothly functional.
Download a trial version of Shoviv Exchange 2010 to 2016 Migration to know in a better way.


To make disjoint namespace run in Exchange, follow the instructions-
Make use of GPMC and configure the DNS suffix search list. After that, you need to set a DNS suffix search list and for this, you are recommended to use a GPO.
Now, create a list that will include the allowed DNS suffixes. And, for doing this, modify the relevant attribute value- "MSDS-AllowedDNSSuffixes" of the domain object container by using the Active Directory Service Interfaces editing option. You need to verify these settings in order to make your server response quickly. This can be achieved by pinging from other servers.
Client Access Role installation is required now. It is the primary server role to a role that needs to be installed. It facilitates the working of Exchange email clients. This can be installed from Exchange 2010 DVD by running the setup exe.
For Exchange server 2010 installation, the user should accept the agreement of license, and follow the given instructions in the dialogue box.
Steps you need to follow while going through different installation wizard pages-
Enable the error reporting feature
Choose Custom Exchange Server Installation (Change path accordingly)
Go with 'Client Access Role' on server Role Selection page
Install Exchange. Verify it using Get-ExchangeServer. Add digital certificates and configure MS Outlook Anywhere along with virtual directories after the installation.
Install the Hub Transport Role
Install the Unified Messaging Role
Install the Mailbox Role
At next step, you can migrate offline address book generation to Exchange server 2010. 'Move Offline Address Book wizard' can be used to perform this task.
After installing Client Access Role, it is likely to install Unified Messaging and Mailbox Roles along with Hub Transport on the similar server. But, the method for doing this is somewhat different.
This can be done by the process given here-
Choose Microsoft Server Exchange 2010 from Control Panel – Programs and Features, and go with Change.
Click Next.
Pick the required role in Server Role Selection
Proceed it and complete the process.
And finally, reboot the PC/laptop.
Now, you need to install the 'Edge Transport Role'.
Move public folder data and mailboxes from Exchange server 2007 to 2010.
The user needs to create a request for a local move in Exchange for migrating mailboxes from Exchange server 2007 to 2010.
The user needs to replicate them using the Exchange Management Console for migrating public folder from Exchange server 2007 to 2010.
Final task
Make use of Get-ExchangeServer cmdlets. This will help you verify the installation of Exchange Server. Now, proceed for the configuration of accepted domains, MS Outlook Anywhere, internal mail flow, safe list aggregation, and internal SMTP server list.
Migration of Exchange server 2010 to 2016
You need to Migrate from Exchange 2010 to 2016 in the second stage of Migration.
Install 2016 Exchange server into your 2010 organization.
Make the configuration valid for 2016 and 2010 Exchange server coexistence.
Migrate mailboxes, public folders, data, and other crucial components from 2010 to 2016 Exchange server.
Now remove and discharge all 2010 Exchange servers.
Migration move of Mailboxes from 2010 to 2016 server.
Users can make use of Exchange Deployment Assistant to get the process of deployment completed.
Restriction– The restriction of using the manual method for the migration from exchange 2007/2010 to 2016 are mentioned here-
It is not a very reliable method for the move.
The process is very complex and can't be handled carelessly else the motive wouldn't be completed.
The process is time taking.
If you are looking for a sure-shot solution for the migration from exchange 2007/2010 to 2016, try Shoviv Exchange Migration Tool. It is one of the perfect solutions for exchange server migration. Try this tool and perform the task impeccably.
For more information, you can read our latest blog on " Exchange Server Recovery"
Conclusion: The above discussed operational method is pretty helpful in making you understand the process: "How to migrate from exchange 2007/2010 to 2016".  Follow the write-up and given instruction to execute your migration plan.