Last updated on September 15th, 2022 at 03:58 pm
If you want to know how to migrate Exchange 2010 to 2016, you are at the right place. For easy and quick migration, you need a third-party Exchange Migration Tool to help you in the process. Since Exchange 2016 is the latest operational version, many users want to do Exchange 2010 to 2016 migration. Most users find it confusing in migration since the manual process is complex.
Today we will tell you how to upgrade from Exchange 2010 to 2016 with 100% success. But first, let's examine the manual method for migrating Exchange 2010 to 2016.

Steps to Upgrade/Migrate Exchange 2010 to 2016 Manually:
Literally, you cannot move directly from Exchange 2007 or 2003 to Exchange 2016. Hence Exchange 2010 is the oldest version from where you can directly upgrade to Exchange 2016. Before starting the Exchange 2010 to Exchange 2016 migration, let's know the pre-requisites.
Your Operating System must be compatible with the mailing platform.
Ensure Integration between 2016 and 2010 Exchange Server platforms.
You must fulfill all the hardware requirements.
Download Shoviv Exchange Migration tool and Migrate Exchange 2010 mailbox to 2016.
If you have any queries,our Support team is here 24x7.


Upgrade Exchange 2010 to 2016 Using Exchange Admin Center
(Note: Here, I'm using classic Exchange Admin Center).
Open the Exchange Admin Center by clicking here. Then sign in to your account.
Now go to Recipients Tab and select the Migration option.
Then, click on the Add (+) sign and pick Move to a Different Database option.
Following will be the New local mailbox move wizard. Click (+ Add) and select the mailboxes to upgrade into Exchange 2016. Once done with adding users click on the Add button. (One can use a CSV file to add users in bulk).
In the following wizard, provide the New migration batch name, Target database name where you would like to move mailboxes. You can also set the count for Bad items. After that, click Next.
A new wizard will open. Here, select the user to receive the migration report after the migration gets completed. Also, pick the option to Start and Complete the migration batch and click on the New button.
Once done with the above steps, go back to the Migration wizard and ensure whether the upgrade process is running or not.
As you would have observed by now, the process to manually migrate Exchange 2010 to 2016 is quite nuanced. If you want to excuse yourself from the hassle and complication of the manual process, we have an alternate for you.
Shoviv Exchange Server Migration Tool – Easy Solution:
Shoviv Exchange Server Migration can carry the process to migrate Exchange 2010 to 2016 without any need of intervention from you. Not only is it fully automatic, but it has also got a bunch of features to let you design results according to your choice.
Specialties of Shoviv Exchange Server Migration:
You would never have encountered the smoothness in the process to migrate Exchange 2010 to 2016, which you will have with the Shoviv Exchange Server Migration tool.
Adds Large Source Mailboxes:
Not only smooth but swift migration is also the hallmark of this Exchange Migration tool. This tool would amplify the process to upgrade Exchange 2010 to 2016 by adding large source mailboxes at once. There is no size limitation in adding the Exchange mailboxes.
Keeps Folder Hierarchy Intact:
People who migrate Exchange 2010 to 2016 complain of their folder hierarchy going haywire. This tool takes care that it doesn't happen to its users. The software maintains the proper folder hierarchy of added source mailboxes. Also, there is no chance of the source mailbox getting affected while adding them to the folder list.
Preview Facility to View Source Mailbox Items:
This Exchange migration tool takes every possible step to ensure the users' comfort. The preview facility is an addition to it. Before you command the tool to migrate Exchange 2010 to 2016, it will let you view the added mailboxes at once. You can view item body, item property, recipients, and attachments.
Migrates Source Mailboxes to the Popular PST Format:
Along with Exchange 2010 to 2016 migration, this tool lets you migrate the added mailboxes to Outlook PST. The user even gets the option of splitting PST files into any size of files they would want. It lets users arrange large PST files into smaller PST files conveniently.
Migrates from Exchange to Office 365:
With this Exchange migration tool, you can not only migrate Exchange 2010 to 2016, but you can also Export from Exchange to Office 365. You can migrate single or multiple-source mailboxes to Office 365.
Migrate Live Exchange Public Folder and Archive Mailbox:
Using this software, you can also migrate Live Exchange public folders/ archive Mailbox and EDB Public folder to another Live Exchange/ Office 365 Public folder and archive mailbox.
Filters Added Source Mailbox Items:
If in the process of Exchange 2010 to 2016 migration, you want to exclude/ include items, this tool is at your service. Its filter option lets you include and exclude source mailbox items to filter items based on two criteria- message class and item date.
Prevent Duplicity in the target mailbox:
We have kept users' expectations in the center of the software developing process, and it can be possible that your source mailbox keeps duplicate items. The software has an advanced algorithm that automatically filters out duplicate items from the migration process.
Search Criteria to Easily Search Added Items:
Using this feature, you can search out your desired item instantly. The criteria allowed are multiple- message class, message date, CC, BCC, subject, attachment name, etc.
Resume interrupted process with Incremental Export:
Process interruption is the worst scenario that appears during the migration process. Manually, if the migration process gets interrupted, you have to start it over. But Shoviv Exchange Migration Tool offers an Incremental export option that effectively resumes the interrupted process and saves the user's effort and time.
Check These Features with a Free Trial Version:
These features in a tool that can migrate Exchange 2010 to 2016 may sound amazing on their own, but what if we told you that you can test them for free? Yes, you can enjoy all these services free of cost with the free trial version of this tool. Get it at the soonest and let us know your experience.
Steps to Migrate Exchange 2010 mailboxes to 2016 are:
Add Exchange Server mailboxes to the source.
Check them and select Live Exchange Mailboxes as the target.
Check/uncheck subfolders and provide target credentials.
Map the source, validate the target, and, if necessary, apply a filter.
The Exchange 2010 to Exchange 2016 migration will start.
How Shoviv Exchange Migration Tool Works – Detailed Steps
Upgrade Exchange 2010 to 2016 in easy-peasy steps 
Step1: Start with installing and launching the software.
Step2: Click on the Add Source from the ribbon bar.
Step3: Select the Exchange Server mailboxes option.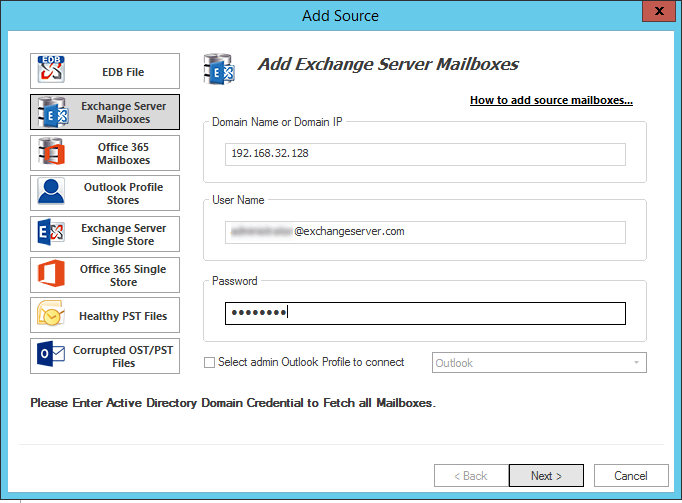 Step4: Provide Exchange admin cred and click on Next.
Step5: Select mailboxes to migrate and hit the Next.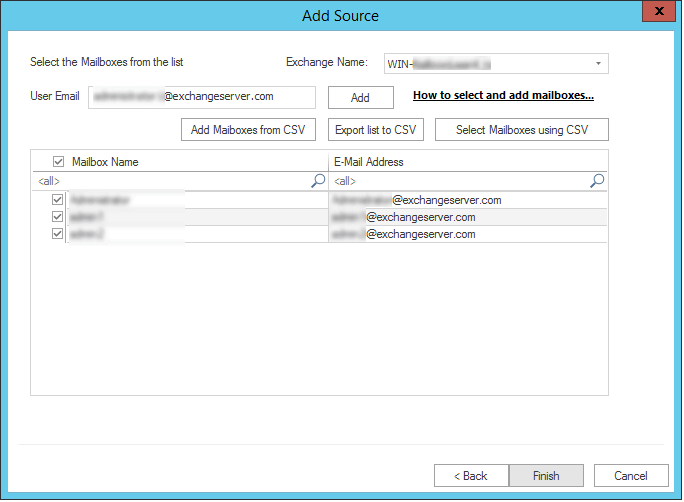 Step6: Click the Live Exchange option on the ribbon bar.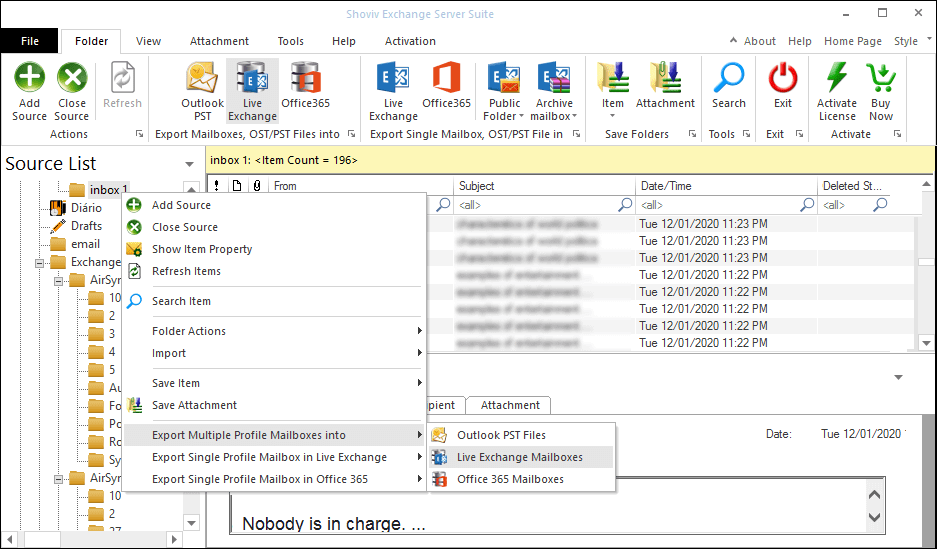 Step7: Check/uncheck subfolders and enter target Exchange cred.

Step8: Now map source and target Exchange mailboxes.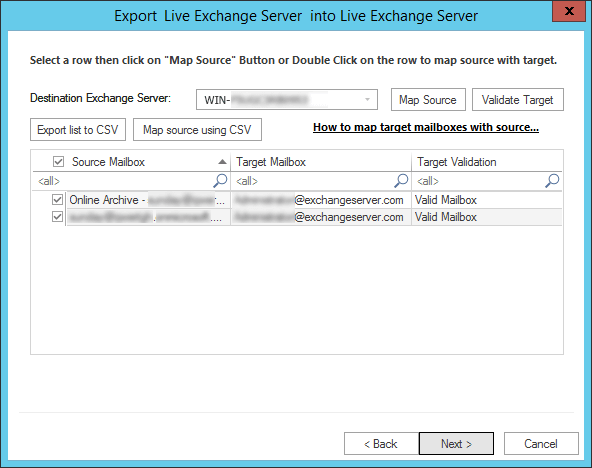 Step9: Use the filter and other advanced options and click Next.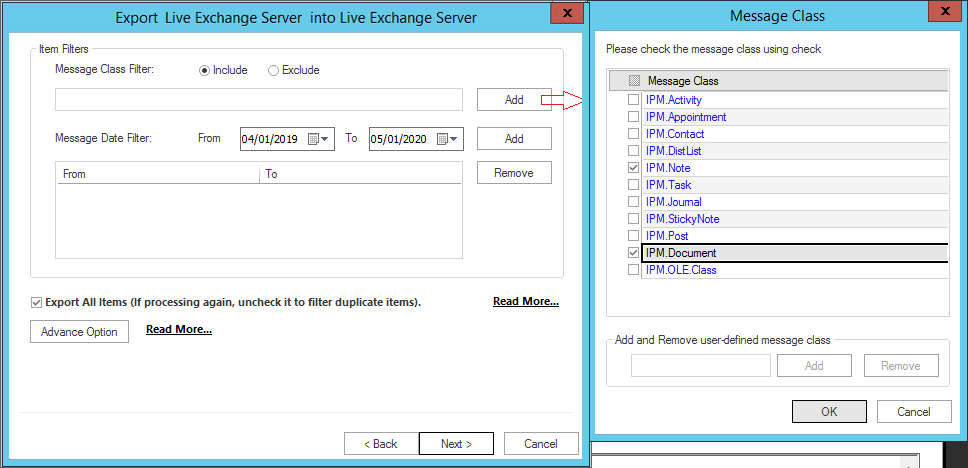 Now, the software will start exporting items from Exchange 2010 to 2016 and display a live log report with all the information.
Bringing all Together:
Exchange to Exchange migration is a hectic task manually, but the Shoviv Exchange migration tool is specially designed for this task. In this write-up, I've also mentioned a manual method (Admin Center). Now it's your call what you choose, hassle with the manual process or effortless upgrade with the Shoviv Exchange Migration tool.
Related Topics-
Stuart Clark is working as a technical content writer at Shoviv Software for the last 3 years. In his free time, he loves to write about new technology and read fiction books, his favorite book is "It ends with us" by Coolen Hoover.