Office 365 has gained a large user base due to its all-in-one offerings in the past few years. Being a cloud-based SAAS, Office 365 has a lot of products in its bucket. With an Office 365 subscription, users get Word, Excel, OneDrive, PowerPoint, Teams, and Skype for Business, like many user-friendly services/products we have used for a long time. Due to these advantages and other particular needs, users want to migrate email to Office 365 step by step from their existing email client. In this write-up, we will know how to execute this migration and cover all its related aspects.
Let's Know Why to Do Email Migration to Office 365.
Office 365 offers many products and services in a single subscription.
Due to its cloud-based presence, it is very easy to access from anywhere.
Office 365 always remains updated, hence no downtime.
When compared to other platforms, Office 365 is cost-efficient.
Being a product of Microsoft, there is no question of security.
It has convenient subscription plans that suit the needs of every end user. From single users to enterprises.
Way to Migrate Email to Office 365:
Most email clients use IMAP (Internet Messaging Access Protocol) to send and receive messages from the server. Some examples are Gmail, Yandex, Apple Mail, Zoho Mail, AOL, Hotmail, et cetera. For the complete and effortless email migration to Office 365, Shoviv Software has developed an advanced tool that can migrate emails from any email client using IMAP to Office 365 in a few clicks. This utility has a lot to offer, and some of its highlighted features are:
Migrates any IMAP using an email client to Office 365 without any restriction on the number and size of the mailbox.
Along with migrating into Office 365, this utility also offers migration to Exchange Server.
It runs on job-based processing and allows users to run multiple jobs in parallel. In this manner, you can migrate multiple mailboxes in a single go.
You can filter the data based on the date range and folder criteria.
After creating the migration jobs, you can also schedule the migration job, and migration will start at the scheduled time.
An advanced facility called incremental export is also given within this tool. It allows users to resume the process from the last stop.
This professional tool keeps originality intact; hence, there is no need to worry about data alteration when you migrate to Office 365.
How to Professionally Migrate Email to Office 365 Step by Step?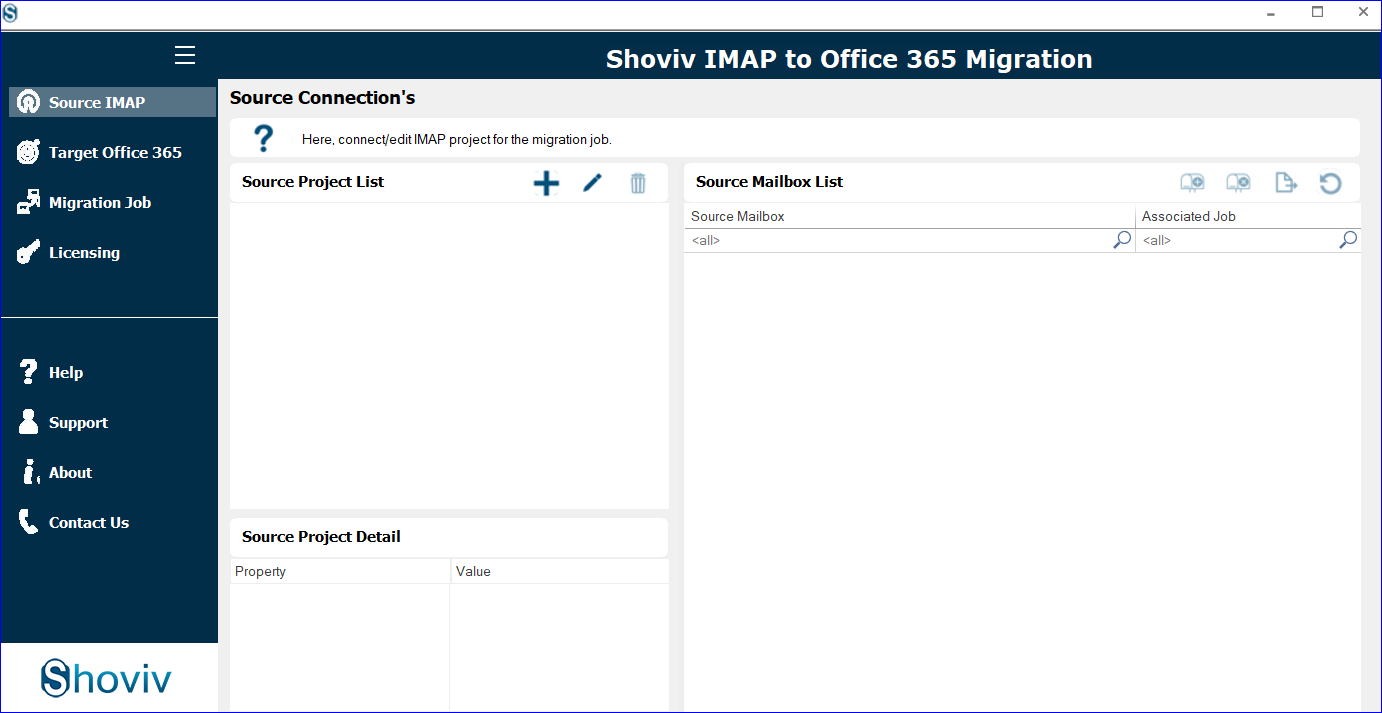 Enter the asked credentials and click OK.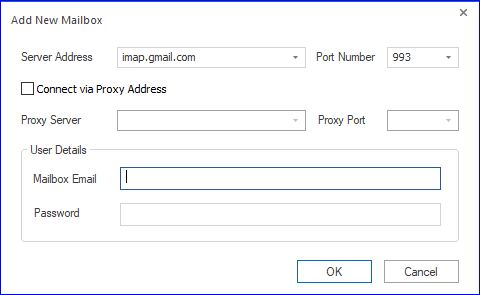 Now select the Target Office 365 tab to create an Office 365 connection.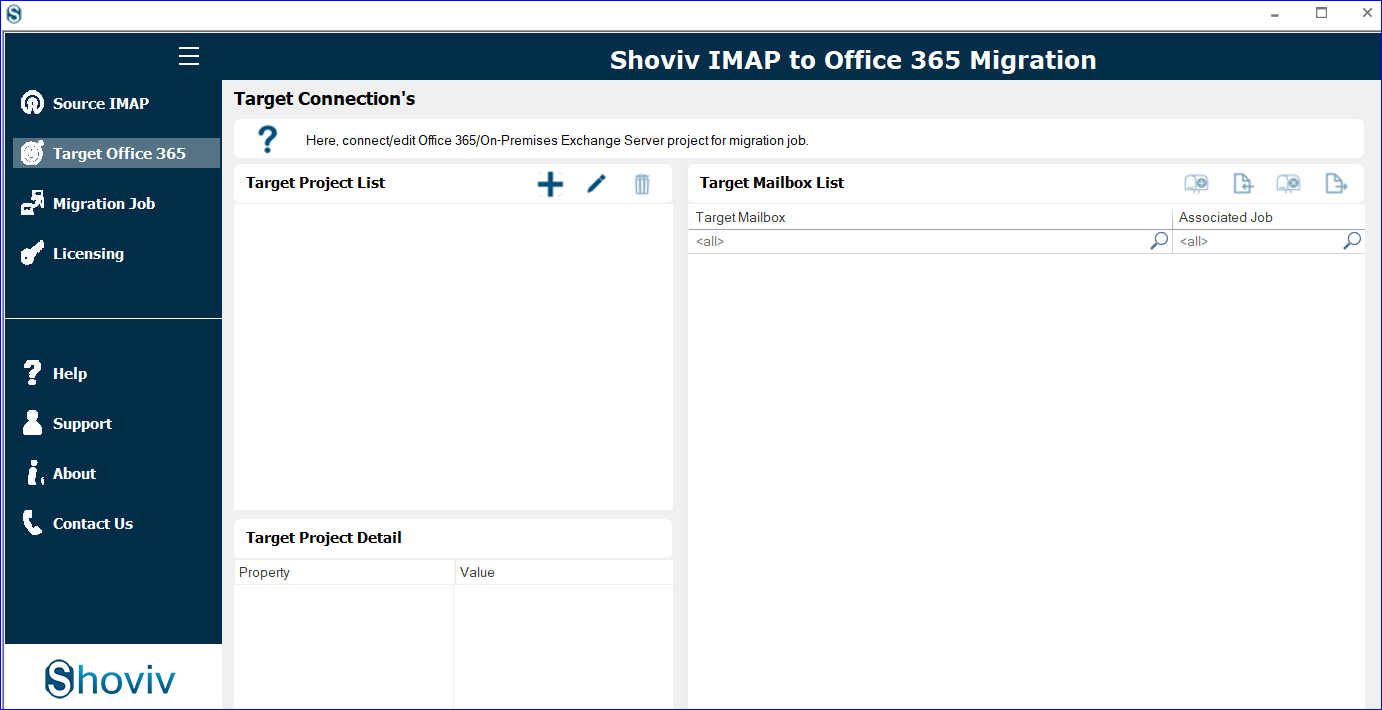 Provide the required credentials. Must check the Modern Authentication (Auto-Registration). Click OK.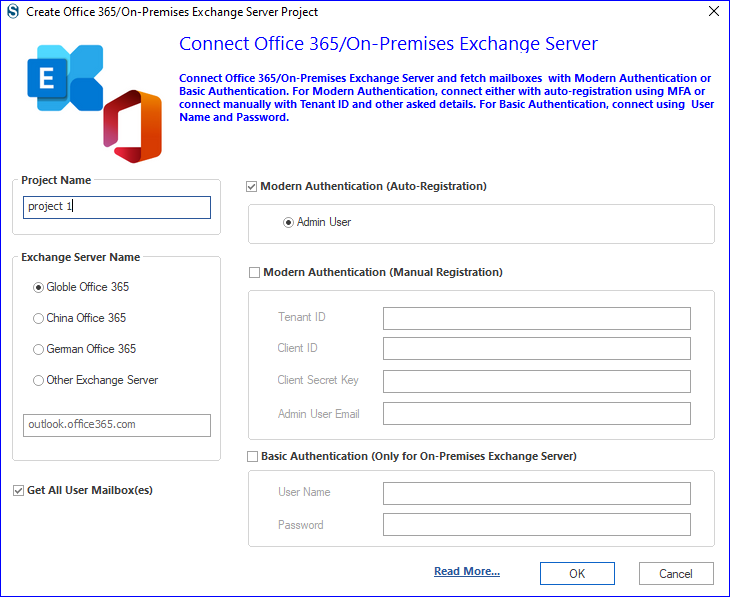 Provide Microsoft email address and password. Also, verify your identity.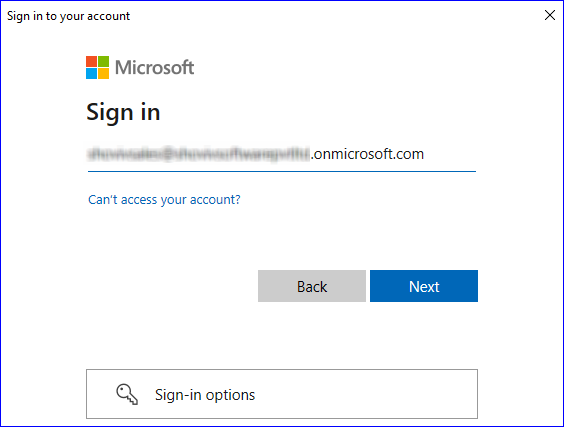 Click on the Accept to permit request.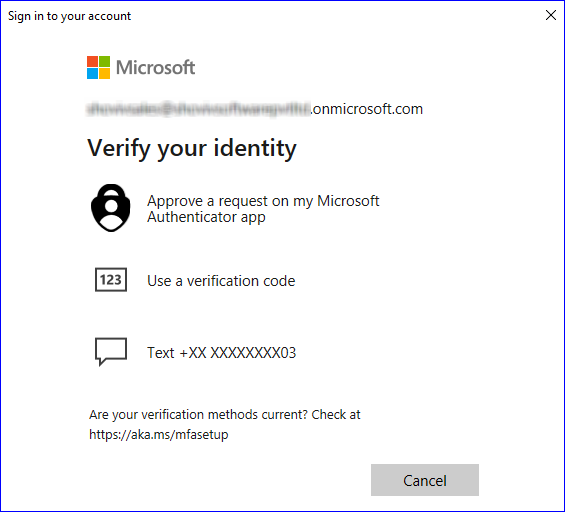 The next task is to create a migration job and click on the Migration Job tab.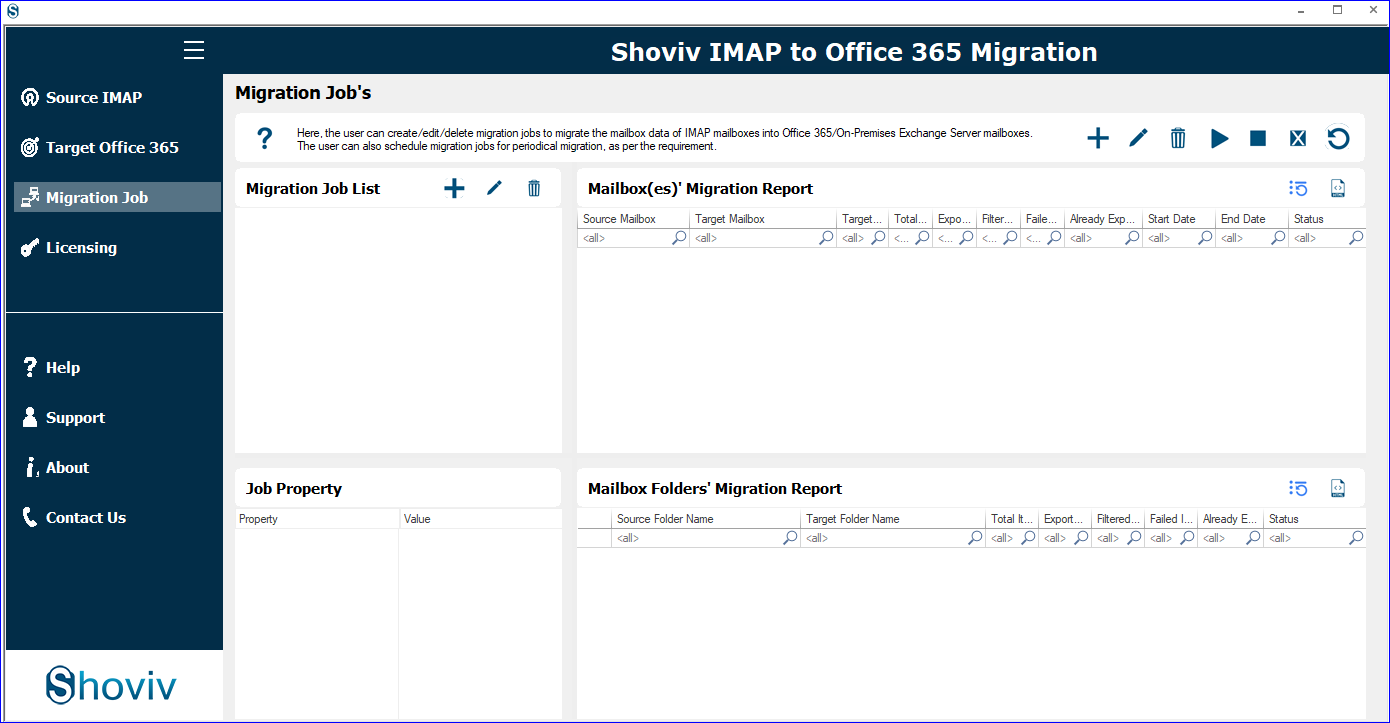 Give a job name, and add IMAP and Office 365 projects. Check the mailboxes and click Next.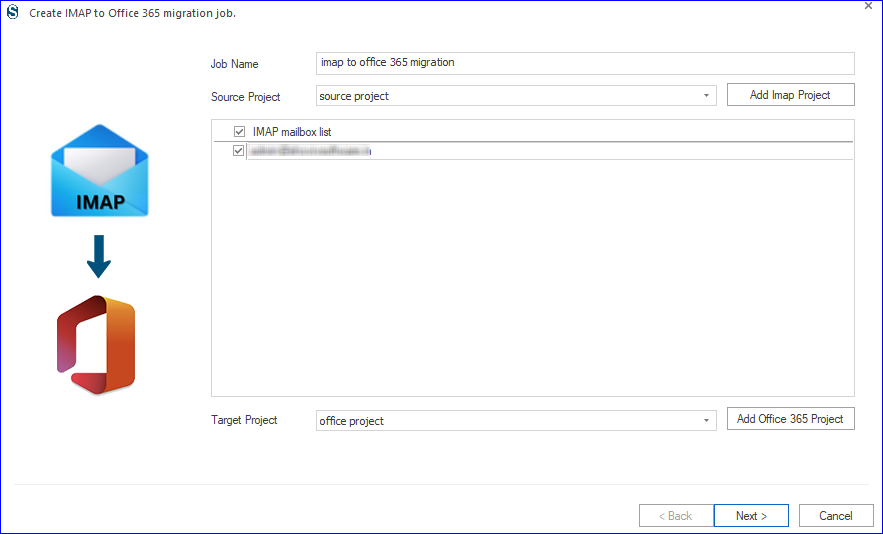 Map the target mailbox with the source ones. Also, select among Primary/Archive Mailbox and Public Folder. Click Next.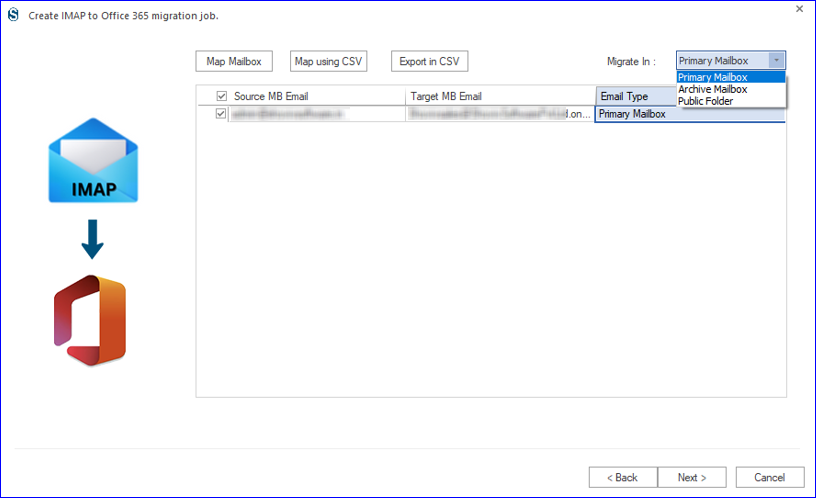 Apply the folder-wise/date criteria to filter the email data. Click Next.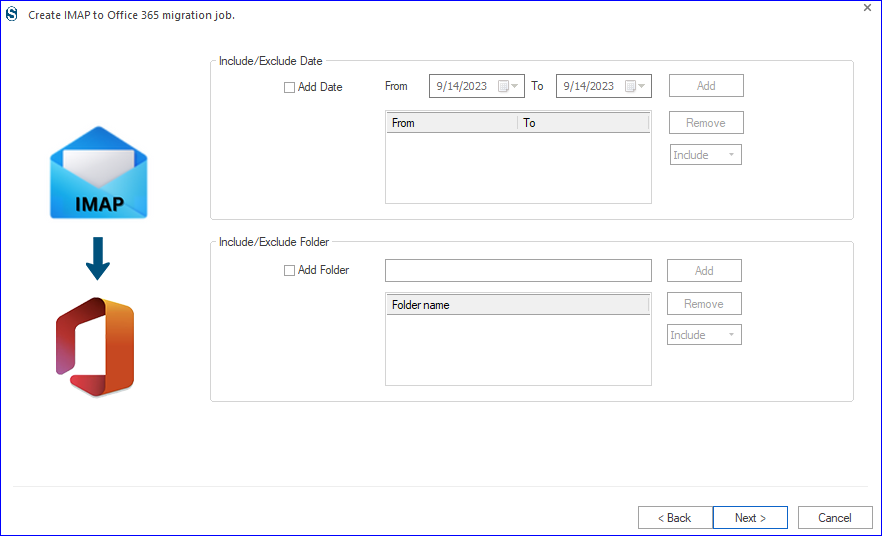 Now, you will be prompted to the settings. Apply settings as per the need for the task.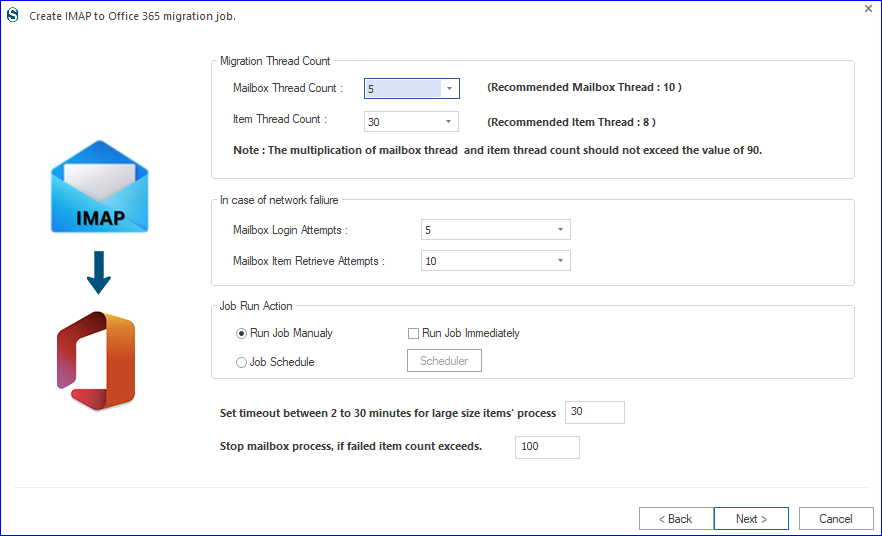 You will get two options: Run the Job Immediately or Schedule.
You can schedule migration using occurrence, frequency, and duration criteria.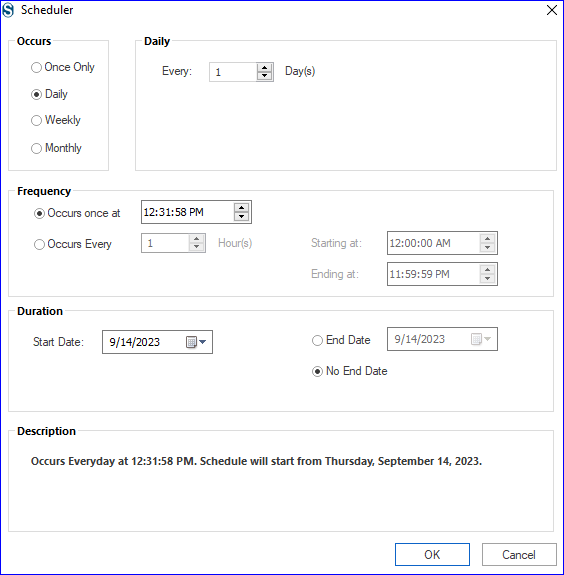 Finally, check all the settings, and if satisfied, click Finish.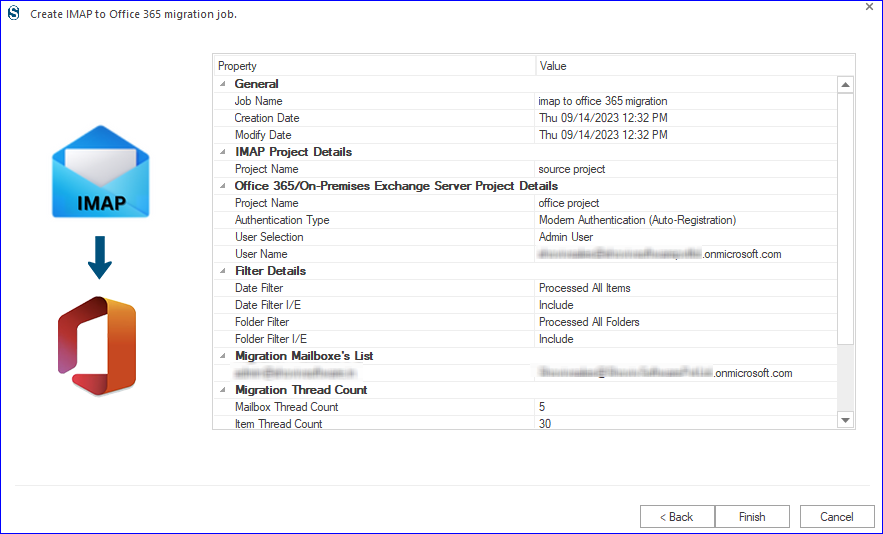 Final Words:
A lot of reasons are initiating users to migrate emails to Office 365 and searching for an advanced and easy solution for the same. Shoviv IMAP to Office 365 Migration Tool is a one-stop utility for this task. It is boosted with multiple user-centric features; hence, many professionals have recommended this. A free version of this tool is also available to download, which allows users to migrate Email to Office 365. You will also get free technical support with Shoviv's products.


Frequently Asked Questions:
Can I migrate ProtonMail to Office 365 with Shoviv IMAP to Office 365 Migration utility?
Yes, you can easily migrate ProtonMail to Office 365. You can migrate any IMAP using an email client/server.
What will happen if the migration process gets interrupted due to connectivity or outage-like issues?
Don't worry if you are migrating through Shoviv IMAP to the Office 365 migration tool and process interrupts. No need to start from scratch; the software will resume the process as well as prevent duplicity in the target.
What is the difference in the demo version and the licensed version?
With demo version there is a restriction of first fifty items per folder. While with a licensed version there are no such restrictions. In working both are same.
Can we add multiple mailboxes in batches and migrate them simultaneously?
Yes, you can create multiple jobs and in each job add and migrate multiple mailboxes concurrently.