Last updated on August 1st, 2023
Summary: Fixing corruption in PST files is the main concern for Outlook users. In this article, we will share the techniques to repair PST files quickly. Also, we will guide a simplified way to complete the PST repair process in an easy way. So, kindly read this article till the end to understand the solutions.
A Healthy PST file is essential for the smooth functioning of Outlook. When these files face corruption, users encounter issues while accessing their data. Also, while opening Outlook, users may sometimes see some errors, which might be a case of PST corruption.
Are you looking for a solution to repair Outlook data files or reached in a situation where you are not getting any idea to repair Outlook PST files? The discussion will help you provide the best method to repair the PST file. Before this, one should be clear why the PST files are corrupt. 
What Makes PST Files Corrupted?
Hardware Damage: Same as other PST files, PST files are also vulnerable to corruption. Issues related to any physical or hardware damage can make PST files corrupt.
Sudden Termination of Outlook: Sometimes, we all shut down the Outlook or system without closing applications. It is never a good move, especially if you're an Outlook user. Termination of Outlook randomly while the process is running in Outlook.
Oversize PST: If you're familiar with Outlook and have used its prior versions, you might know that different PST versions have different PST sizes. And when the PST file exceeds the size limit, there is high of its corruption.
Virus Attack: I don't think the virus needs any introduction. This one is the worst that can happen with a user. The entry of a virus or any malware issue also corrupts the PST file.
"Download a trial version of Shoviv PST Repair tool to know in a better way. Don't lose your important
emails! Repair your corrupt PST file today."

So What Do Next?
The article suggests two different methods to repair Outlook PST files in a simple way. The first method is the manual method, named SCANPST.EXE, and another method is a professional third-Party tool called Shoviv Outlook PST Repair Tool.
Repair PST Files using ScanPST.exe
ScanPST.exe is an inbuilt utility of Outlook, also known as an inbox repair tool. This utility does repair Outlook 2016, 2013, and 2010, 2019 version PST files. To proceed with the manual method, follow the below-given steps.
Firstly, you need to locate the ScanPST.exe in your system. Follow the given screenshot to look for the ScanPST.exe in your system.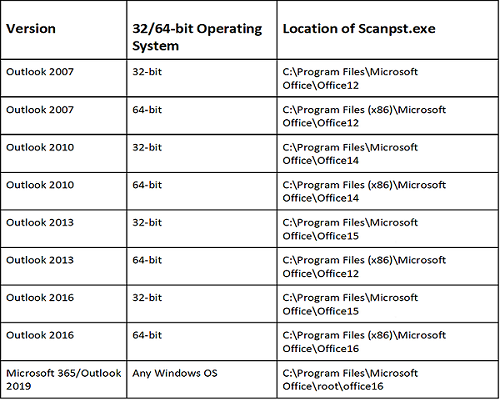 Open the ScanPST.exe after double tap on it.
Click on the Browse button and locate the PST file that you want to repair.

 
Then, click on the Start button to scan the added PST.
After completing the Scanning process, click on the repair button to fix the corruption in the PST file.
Following, the dialogue box will pop up with the message Repair complete. Click on the OK button.
The process of SCANPST.EXE gets completed but not as wished. Also, ScanPST.exe has several limitations and drawbacks.
Why is the Manual Method Not for You?
Risk of data loss: exe is a simple process; however, "too err is human," and a single misstep can corrupt your PST file.
PST size restrictions: ScanPST.exe restricts the users not to exceed the PST file size of more than 2 GB. Hence, only repair PST files that are up to 2GB. In my opinion, there is a rare chance for users to have 2 GB PST files.
Repair minor corruptions: It is an inbuilt utility and can only fix the minor level of corruption. Hence if your PST is severely corrupted, you must opt for a third-party tool.
Technical process: The manual methods process has 8 phases, and for the same, technical expertise is required. 
A Professional Tool to Repair PST Files: For Everyone
Users can overcome the manual method's problems by choosing the Shoviv Outlook PST Repair Tool to complete this repair process. It is one of the advanced tools to repair Outlook PST data. It serves the facility of quickly working in a user-friendly interface and supports all versions of Outlook. 
What Makes Shoviv Outlook PST Repair High in Regards?
Repairs damaged PSTs: With this Outlook PST Repair tool, users can quickly recover damaged/corrupted PST files. Along with PST repairing, the software recovers/repair hardly deleted items of the PST file as well.
Maintains Folder hierarchy: The software is developed with a highly advanced algorithm and works in only read mode. In other words, the software doesn't alter the PST files' original hierarchy and properties.
No Restrictions: The software is developed by keeping the users' needs at the center of the development process and has no restriction on adding multiple and large PSTs. Hence you can repair Outlook PST files without having any restrictions.
Multiple Targets: After the repair and recovery process, the software offers popular file formats and servers to export PST files. Users can export the PST file into Office 365, Live Exchange, and many more file formats.
Incremental Export: Shoviv Outlook PST repair tool has an incremental export option that comes in handy to resume the interrupted process. For this, you have to apply the same settings as in the interrupted process and check the Incremental Export
Splits resultant PST: We all know, Outlook has a size restriction of 50GB for PST files. And to eliminate the oversize in the resulting PST file, the software has a split feature. Users can split the resultant PST file into the desired size with the split feature.
Free version: Shoviv Outlook PST Repair tool comes with a trial version, so users can check the software skills before purchasing the paid version. The free trial version also allows you to repair PST files and save the first 50 items per folder. 
Few Easy Steps to Repair PST Files:
Download and Open Microsoft Outlook PST Repair Software.
Add the required PST files to repair.
Select the Outlook PST option.
Choose the location to save the Output PST file.
Apply the filters if needed.
Click on the Next button to start the repair Outlook PST files task.
At last, click on the Finish button.
Understand the Complete Process with Screenshots
Start with installing the software and then launch it in your system.
Secondly, click on the Add PST files option from the ribbon bar. Now the below-given wizard will open, Add or Search PST files. Check the Advance Scan option for severely corrupt PST files.
Now click on the Outlook PST option from the ribbon bar or also can make a right-click and select the Save all files in Outlook PST option. 
In the following dialog, check/uncheck the subfolders to export and click on the Next button.
Following will be export items in PST wizard. Browse the folder to save the PST file. Users can also select a particular size for resultant PST files and set a password on PST files.
Next will be the filter wizard. You can include/exclude desired items on the message class and message date basis.
For email translation and other user-oriented features, click on Advanced Options.
Once done with all options, click Ok and then click the Next button..
Now, the software will start the process to export PST files and display a live log report of the process. Once the process gets completed, click Ok and then click Finish.
Conclusion:-
As we discussed above, the solution is to repair PST files. We can conclude that the uneasy, slow-performing manual method does not result up to the mark. Therefore, to repair Outlook PST 2019, 2016, 2013, and 2010 professionally, the Shoviv PST Repair tool is a must.
Frequently Asked Questions:
Q: How do I repair Outlook PST files without ScanPST?
A: You can use the Shoviv PST Repair Tool to repair the Outlook PST file. Also, you can try its free version first and check all the features.
Q: How do I repair a large Outlook PST file?
A: Try Shoviv Outlook PST Repair Tool. It helps you to repair large Outlook PST files within less time.
Q: How long does it take to repair a PST file?
A: Usually, this depends on the size of the PST files. However, the manual method takes longer than half an hour to repair PST files less than 4GB. In contrast, the Shoviv Outlook PST repair tool takes very less time.
Q: How do I open a PST file without Outlook App?
A: You just need to select the desired PST file; the tool will give a preview of the added file.
Q: Can a PST file be repaired?
A: Yes, there are two ways to repair PST files; one is by using Scanpst.exe (for PST files less than 2GB) and an automated tool such as Shoviv Outlook PST repair (No restriction on PST size and multiple PSTs).
Q: Does this professional tool capable of repairing PST files of Outlook 2010?
A: Yes Shoviv Outlook PST repair tool is compatible with all versions of Outlook, including Outlook 2010, 2013, 2016, and 2019.
Q: How do I repair Outlook 2013 PST files?
A: Users can download and use the Shoviv Outlook PST repair tool as there is no manual method available to repair Outlook PST files of Outlook 2013 and above versions.
Q: Does Outlook Repair Tool run in Windows 10?
A: Yes, Shoviv Outlook PST Repair Tool runs in all versions of Windows operating systems.
Q: Which tool is to be used for repairing corrupted PST?
A: Shoviv Outlook PST Repair Tool is the best software to repair corrupted PST file quickly.
Q: Is there free software to recover Outlook PST files?
A: Yes, you can go for the free demo version of the recommended tool to recover PST files.