We all are well versed with Gmail and largely use it for professional and personal use. Gmail is easy to use, widely accepted, and offers an advanced platform for users. Being a product of Google, it has gained the trust of users as it offers a secure platform for emailing. With the free Gmail account, Gmail also offers 15 GB of free space, which is quite enough if you have limited work. But, for professionals and excessive emailing, with time, Gmail is full issue is common. Hence, users search What do I do when my Gmail storage is full.
If you are facing a Gmail storage full not receiving emails issue, then it is a very serious case as you can miss several important works. To handle this issue and get a resolution, this blog provides a complete guide covering all the dimensions and offers a professional solution. Even if you have purchased a paid storage plan, still, you can face issues with storage because data remains increasing from time to time.
Workarounds for "Gmail Storage Full Not Receiving Emails":
Start with Checking Storage:
The first and foremost step is to check the exact storage available and consumption. For this, click on Gmail Settings, then navigate to Storage, and check the storage consumption. Or you simply scroll down your inbox settings, and at the bottom, you will get your storage details.
Whenever you delete your emails or trash folder, you must clear your bin. After deleting your trash folder/or deleting emails, it still remains in the bin and occupies space, causing Gmail storage to be full.
Remove Unwanted Emails and Attachments:
We get several unwanted emails on a daily basis, and over time, they occupy a significant portion of our Gmail storage. So, it is recommended to review your inbox, check for unnecessary emails/attachments, and delete them from the bin, too.
Doesn't matter whether emails are in the trash or spam; wherever they are, they consume storage. Gmail's automatic spam detector diverts malicious and spam emails to the spam folder, but in the overall scenario, they consume storage. It also causes Gmail out of storage issues.
One obvious solution for the same is purchasing a paid storage plan. Users can simply purchase a Google 1 storage plan that comes under Basic, Standard, and Premium plans. Plans are available with monthly subscriptions as well as annual subscriptions.
But, the main issue is that it will put an extra effort into your pocket. You regularly need to pay for your storage. If you do not want to delete emails but archive them, then having a backup in local storage is wise. Having data stored in the local storage saves you from the extra storage purchase as well as keeps data at your near.
How to Back Up Gmail Emails to Handle Gmail Out of Storage Issues?
If you have multiple emails because of which you are facing a Gmail Storage Full Issue, then downloading emails from Gmail to local and then deleting/ freeing up space from Gmail is a wise decision. To back up Gmail emails, there is professional software for you: Shoviv Gmail Backup and Restore Tool. It comes with multiple advanced features, some of which are:
Users can back up Gmail emails to multiple useful file formats like PST, MBOX, MSG, EML, MHT, et cetera.
It is also capable of restoring/exporting email from files to Gmail mailbox.
It is a job-based utility, and in a single job, you can add multiple Gmail mailboxes, and you can create and run multiple jobs.
There is no restriction on data size; it speedily backs up/restores any size of email data.
You can filter the data based on the date range and folder criteria.
It resumes the process from the last stoppage, hence preventing duplicity as well as saving time.
Shoviv Gmail Backup and Restore Tool is compatible with all Windows OS.
A free trial of this software is also available.
Simple Steps to Backup Gmail Emails:
Click on the Backup Directory tab and provide the destination where data will be saved.
Click on the Backup Jobs tab and select the Gmail option, or you can simply select the IMAP Single Mailbox or Multiple Mailboxes option as per the need.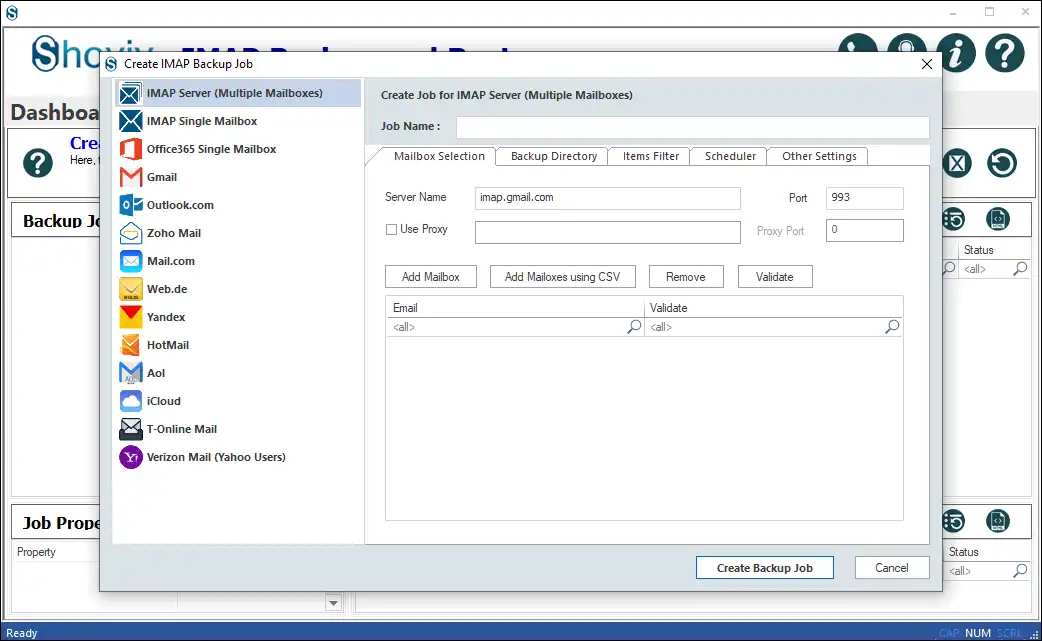 Give a name to the job, enter the server name, and add mailboxes by entering the email address and password.
After adding mailboxes, move to the Backup Directory section. Here, you will find the backup directory added in the first step. Also, you can add a new backup directory here. Must select the backup type preferred file format in which data will be saved.
Here, you can apply the filter based on the Date Filter and Folder Filter.
Under the Scheduler tab, you can select whether you want to immediately run the job after creation or manually run or want to schedule.
If you want to schedule the migration job, then you set the occurrence, frequency, and duration.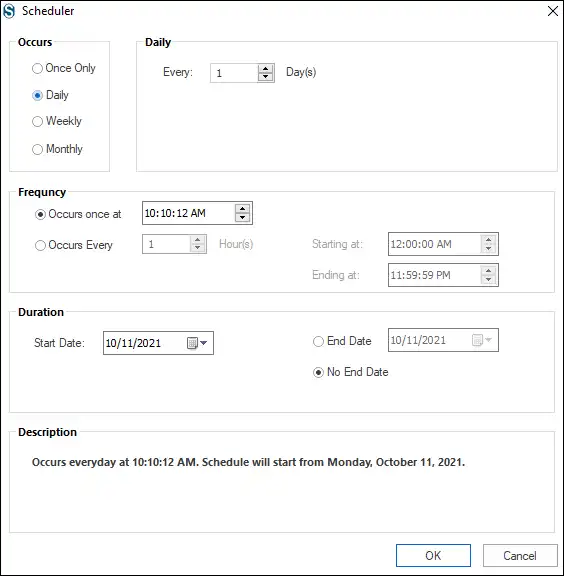 Now, finally, under the Other Settings, apply settings. Also, can also set the size for the PST files to split.
Finally, click on the Create Backup Job, and the backup of Gmail emails will start.
Also Read: How to Backup Gmail Emails to a Hard Drive?
Final Words:
Gmail Storage Full is a very common issue with Gmail users, and over time, many Gmail users face it. Users search for What do I do when my Gmail storage is full, and Shoviv Software answers it. You can simply back up Gmail emails in a professional way and free up Gmail space. By doing so, you can resolve the Gmail storage full not receiving emails issue. A free trial version of Shoviv Gmail Backup Software is also available to download.