For Users, sometimes it becomes Everest winning task to convert EDB data to PST format. As converting EDB to PST format is a very needy practice, and mainly practiced to securely transfer the data from corrupt EDB or tend to be Corrupt EDB or may be due to some other reasons, sooner we will know. Let's have an eagle's eye on all aspects of this process.
First of all, make it clear:
What is an EDB?
EDB is abbreviation used for the Exchange Database. EDB files store in-process and non- SMTP messages (Simple mail transfer Protocol). EDB file stores the multiple mailboxes of exchange server, so backup of EDB is a tough task.
What is PST?
PST Stands for Personal Storage Table, used to store Outlook messages and other mailbox items i.e. calendar events.
Why Convert EDB to PST?
It is always good to clear the term "Why" before "How". In this sequence we will understand; why someone needs to convert EDB file to PST file.
The Reasons may be:
EDB has more possibilities of getting corrupt, so to reduce probabilities.
To improve the performance of the server by reducing the size of mailboxes.
Doer want to back up exchange mailboxes
To retain the data of corrupted EDB by displacing it to PST. I.e. by EDB to PST conversion.
For person to person, the reasons may differ because everyone has its own "why". After understanding the reasons; let's move toward the center of the Article, "How" to convert EDB to PST.
For better understanding of OST to PST Conversion you can read our previous post on "OST to PST"
How to Convert EDB to PST?
As EDB to PST conversion can be done by different methods. One can go through any manual way but they are a little bit techy and not too handy but before making any perception let's move through some common manual ways then after we will automatically reach to the conclusion:
1st Method: Exchange Management Shell Method
In this method, one can access the database and make the desired changes by following command-line interface.
Step 1: Go through with given command to get the list of mailboxes in the database.   
Get-MailboxStaistics-Database<Databasename>
(By following this command all the mailboxes present in Database will be enlisted.
Step 2: Now run this command to ship the EDB file to PST.
New-MailBoxExportRequest-Mailbox<MailboxName>-FilePath\\Exchange Backup\PST\Mailboxname.PST 
By following this command mailbox data will save to new PST file. Just remember, the destination folder is a shared folder. 
Step 3: To check the status of mailbox export request, just follow given command.
Get-Mailbox Export Request 
Step 4: After completing the process of Exportation; cancel the request by below-written command.
Remove-MailboxExportRequest-Identity<name of the export request>
 2nd Method:  Using the Exchange Admin Centre
Step 1. Login to Exchange Admin Centre; as an Administrator
Step 2. Drive to the "permissions" tab and then after click "admin roles"
Step 3. By following admin roles, go to Recipient Management and click (+)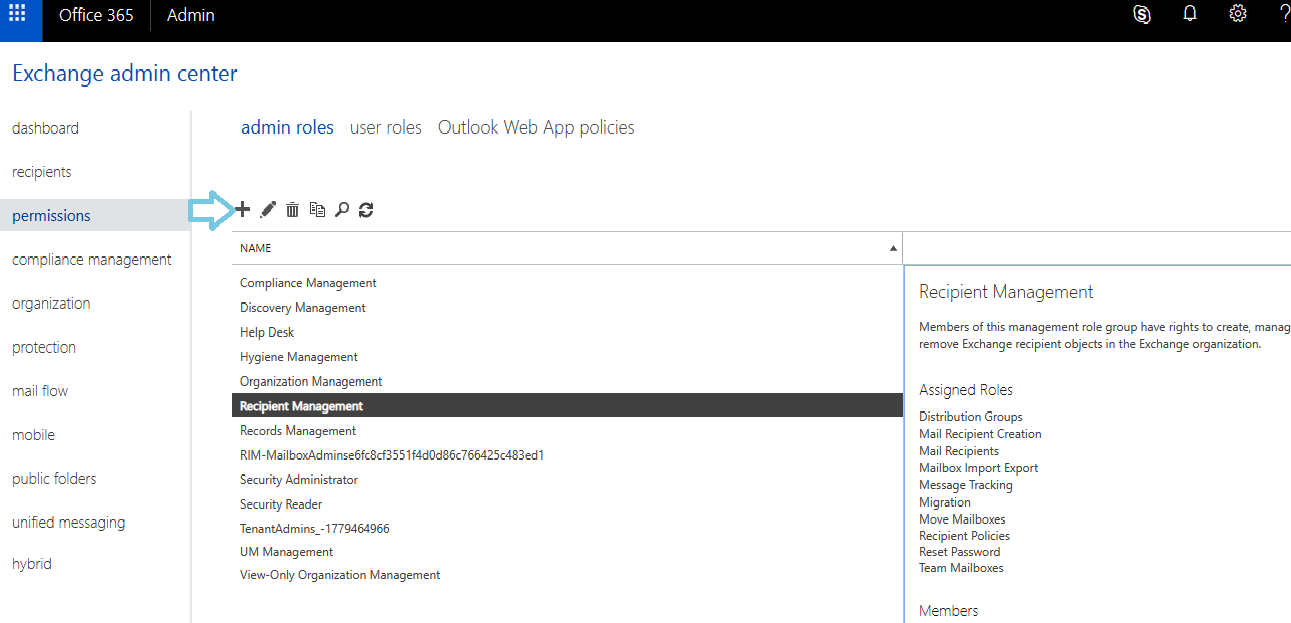 Step 4: Now, go with (+) option under the "Role Group" Wizard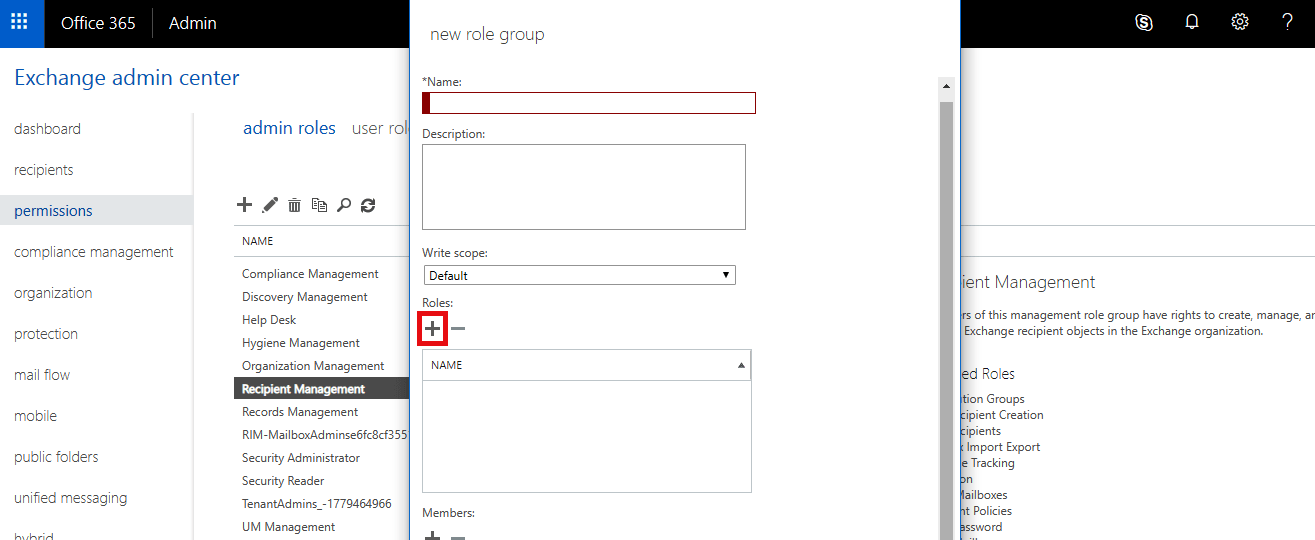 Step 5: Now select the "Mailbox Import Export" Option and then "Add" and move to next by clicking "OK"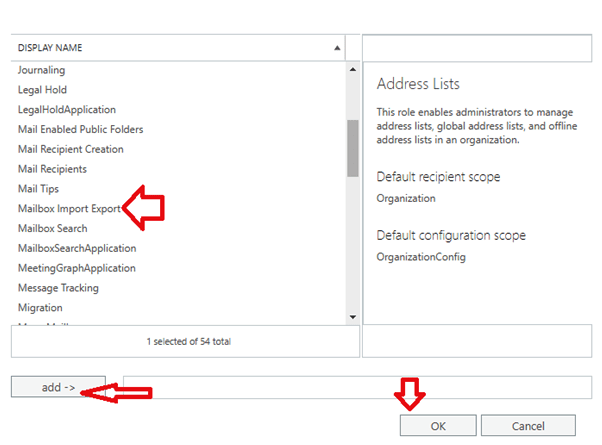 Step 6: Now "Mailbox Import Export" option is visible under the "Recipient Management"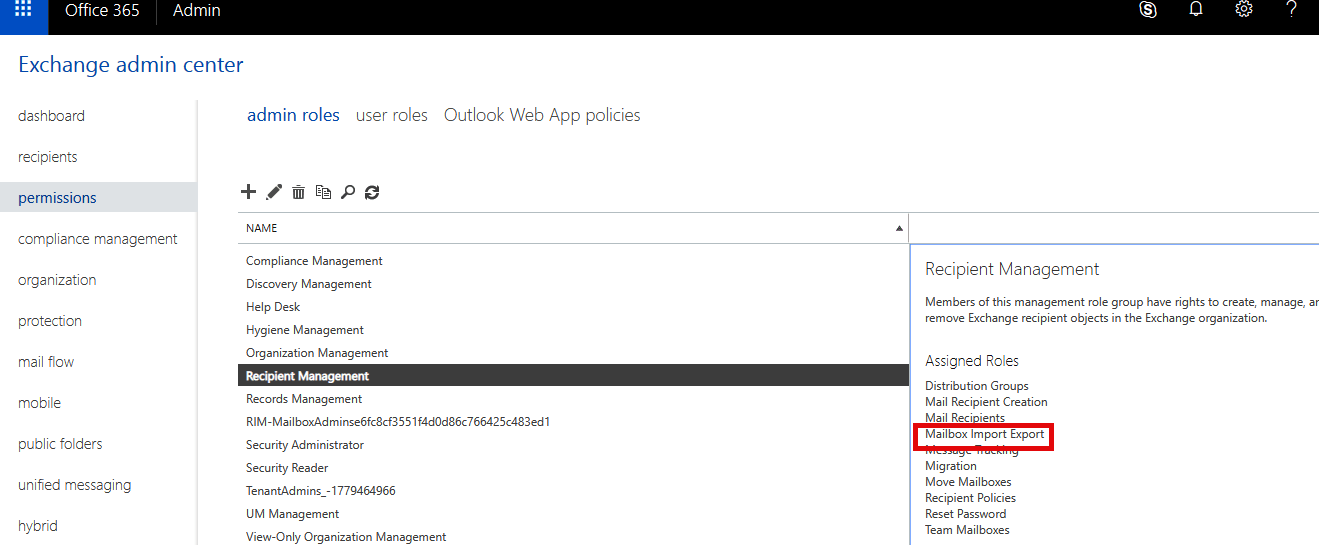 Step 7: Now select "mailboxes" by going to "recipients" and choose the mailbox you want to export. After that, click on More(…) option and select the "Export to a PST file" option.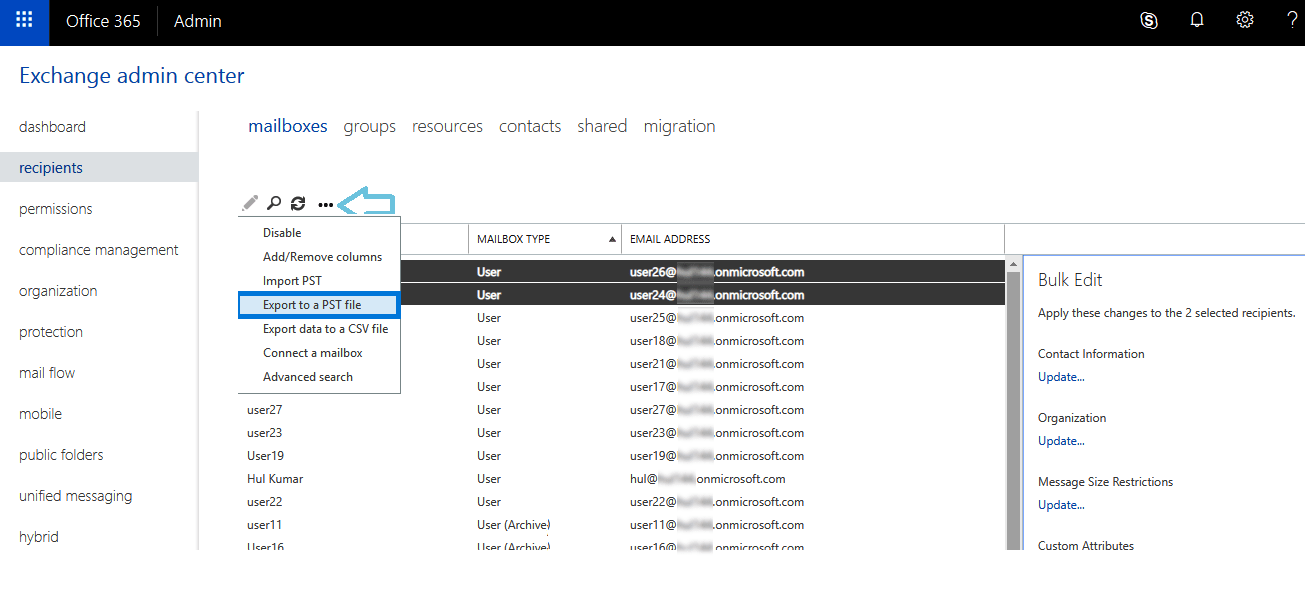 Step 8: Now "Browse" the Mailbox, you want to export.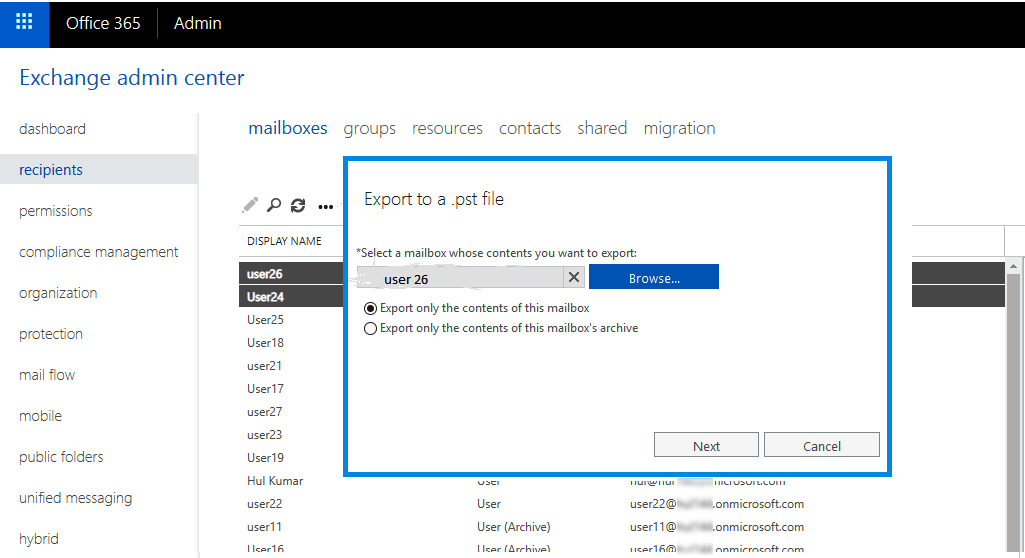 Step 9: Now convey the path of a Shared Folder.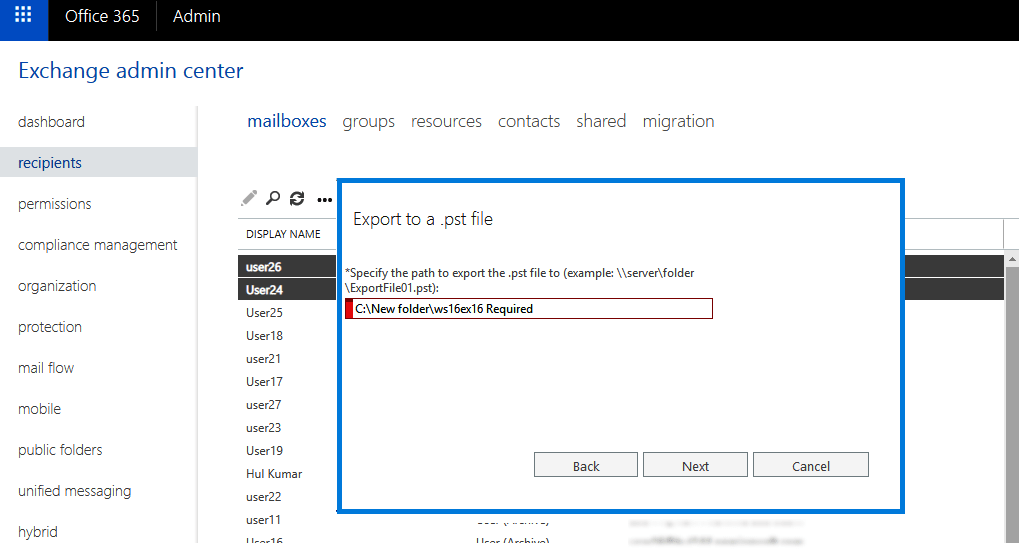 Step 10: At the end, choose the mailbox where the email will go after the successful conversion. After doing this, click on Finish, the content of mailbox will be migrated to the PST file.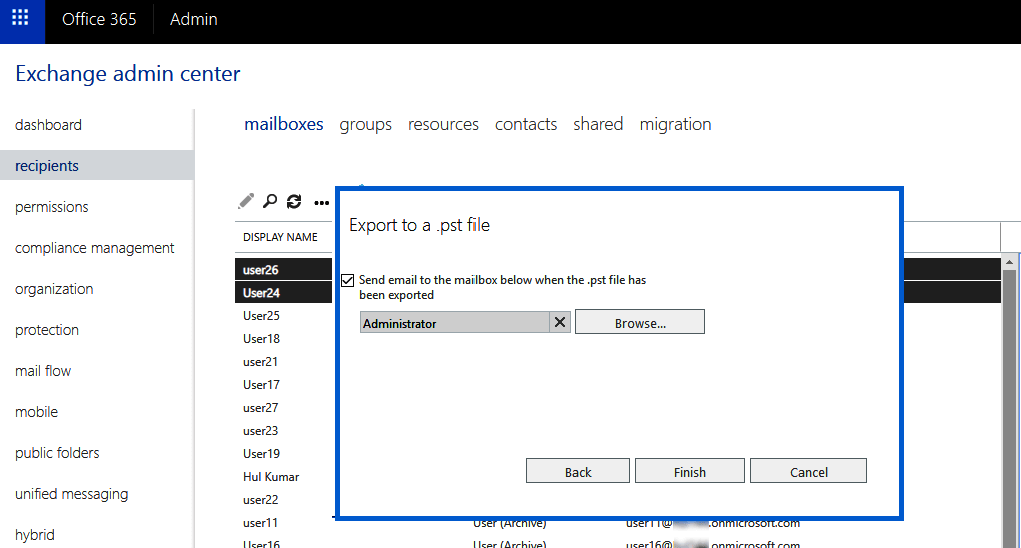 So, these were the manual ways by which one can go for the conversion of EDB to PST file. But the manual ways have the gloomiest side too. Let's have a look on the unwelcome side of manual ways.
Drawbacks of Manual Ways:
It asks for technical as well as used to hands.
No guarantee of data; can lose during the process.
It will be size limited.
It is a very time-consuming process with the uncertainty of the result.
How to make this conversion Easy and Professional?
As manual method comes along a lot of hustles and risk of data loss, so, it is obvious for a professional and time saver smart worker; to go with an alternate and easy to do option. For those who want to complete this process in a while; a smooth, easy to handle automated software, Shoviv EDB to PST Converter is also available. Shoviv EDB to PST Converter has all the feel-good things.  Let's have a look on the perks that one will get along Shoviv EDB to PST Converter:
Shoviv Software provides the fastest recovery for the Corrupt/Non-corrupt EDB files.
There is no size limitation; it can convert any size EDB to PST.
It converts all component during Conversion
It maintains data integrity at the time of EDB to PST conversion.
It converts all the EDB items to various file formats such as EML, MSG, HTML, CAL, vCard, etc.
Shoviv EDB to PST Converter facilitates to preview EDB mailbox data before migration.
It excludes and filters already migrated files.
It also exports Offline EDB mailboxes to Office 365 and Live Exchange.
As per above-described points, it is clear that Shoviv Software is Best EDB to PST converter and the first choice of professionals. And to make users satisfied about the working process, Shoviv EDB to PST Converter also provides Free Demo conversion of first 25 items per folder.