Properly written words make you feel confident and create a good impression on your readers. A reader can be your client, colleague, or anyone of the utmost importance. Spelling blunders and grammatical errors drag down the content value of your emails/report/or any piece of written work. Hence, to get rid of spelling and grammar errors in Outlook, users rely on grammar and spell-check utility. But it becomes a big concern when you face Outlook Spell Check Not Working Error and users face Outlook spell check not working on a reply. Here, in this blog, we will learn the possible reasons behind the "Outlook Spell Check Not Working" error. And ways to fix this error.
Possible Reasons for Outlook Spell and Grammar Check Not Working Error:
Check if your automatic spell and grammar check feature is disabled.
Check for the language of the email. It is possible being not supported by the spell/grammar check.
An old version of Outlook.
Pending Outlook update.
Interruption by any third-party app.
Improper installation of Outlook.
Ways to Fix Outlook Spell Check Not Working Error:
For Outlook 2019/2016/2013/2010
File>>Options>>Mail>>Under Compose Message, Choose Always Check Spelling priorsending>>Click Ok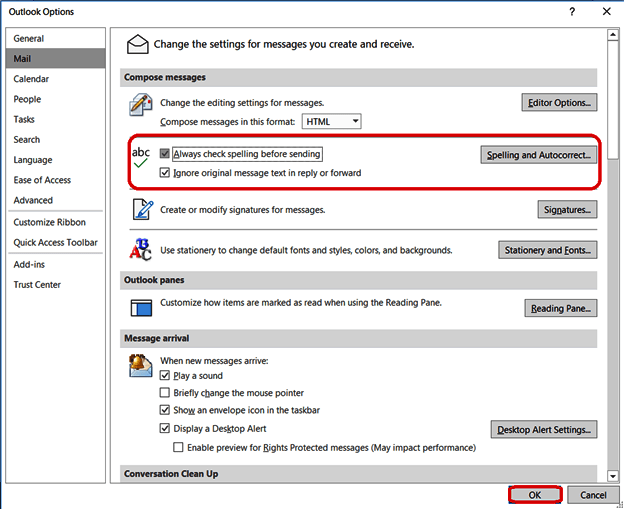 Click on the Tools>>Options>> click on the Spelling tab>> choose always Check Spelling before Sending.
 Enable Proof Reading Using Language Options:
For Outlook 2019,2016,2013,2010
Make a click on New Email>>click Review>>Language>>Set Proof Reading Language.
Uncheck Do not check spelling or grammar.
Click on set as a result.
Finally, click on the Ok
For MS Outlook 2007:
Make a click on New>>Select Mail Message
Now click in Mail tab Home>>in Proofing Group
Click on spelling>>Set language.
Now uncheck the Do not check spelling or grammar tab and click on the Default button.
You can also check for Manual Spelling and Grammar Check before Sending:
Manually checking for spelling and grammar can be done with this feature.
You can check for spelling by pressing the F7 short key on your keyboard.
Otherwise, click on the Review tab of the menu bar and click on the Spelling & Grammar.
Wrapping Up:
Outlook Spell Check Not working error creates unusual conditions when correcting spelling in Outlook is disabled. Proper write-up makes you confident about your message and creates a good impression on your readers. Using the above ways/technique, you can fix Outlook spell check not catching misspelled words. If you have any other issues related to Outlook like conversion of OST file to PST or Repairing of Outlook PST files, must follow the link.
Himanshu Pandey is a passionate web content writer with having a copywriting certificate from open Sap and a graduation degree in Psychology. He is associated with Shoviv Software for the last three years. Being a tech geek, he has commendable command over Emailing and all its dimensions, and he loves to share it with readers. Blending professional language with a friendly tone is the best part of his writing style.