Summary: Do you hold an account on Microsoft Office 365 and looking for a solution to migrate into G Suite? In this guide, we will deep dive into probable reasons to migrate Office 365 to G Suite, along with a few solutions to make the migration effective.
Users will get many benefits from Google Workspace, previously known as G Suite. In short, it is a productivity suite that comes along with various applications. It makes it easier for users to operate it because of the intuitive and user-friendly interface. 
On the other side, Microsoft Office 365 is also a productivity suite that is one of the most widely used across the globe. But when the organization requires a better and more advanced platform, many of them search for a solution to migrate Office 365 to G Suite over the web. All users who have landed in this guide would surely have the same agenda. However, before we look for the migration solution, we will study the various reasons behind user intention to migrate.
G Suite vs. Office 365: Which is best?
There has been a continuous debate which is going on that which platform will have an edge over other. G Suite is a much newer productivity suite as compared to Office 365. However, it got many features that attract users to migrate Office 365 to G Suite. To clear the doubts of most individuals, we are putting some light on this topic:
Better Pricing
G Suite is now becoming one of the most sought emailing platforms for many individual users because of the flexibility in their plans. Even a user who is operating a small-scale organization can easily purchase the G Suite. Conversely, the pricing of Office 365 suits big organizations.
Working Experience
Multiple users feel that working on the G Suite is probably more convenient than using any other emailing service. Google is known for creating a user-centric platform, and even a non-tech user will easily adapt to its interface.
Browser-Based Apps
G Suite comes with multiple apps that are browser-based and more streamlined as compared to Microsoft Office 365. This will eliminate the requirement of running high-end machines to run applications.
Works in Real-Time
Users will get a bundle of applications after purchasing a Google Workspace account. Users can easily work on the online docs wherein they can work in real-time with the other team member. 
Are you looking for a simple and reliable way to migrate your Office 365 mailboxes to G Suite? If so, 
then Shoviv O365 to G Suite Migration tool is the perfect solution for you. This powerful tool can 
help you migrate your mailboxes, calendars, contacts, and tasks with ease. It is also easy to use, 
even for non-technical users.


Migration from Microsoft 365 to Google Workspace
Till now, we have looked at some basic explanations behind this cloud-to-cloud migration. Before making towards the process to migrate Microsoft 365 to Google Workspace, kindly become familiar with Google Workspace. Thereafter, you need to follow certain phases to complete the process to migrate Office 365 to G Suite.
Prepare a list of G Suite Users for Migration
To see how you can do it, check below:
Go to the Google admin console and log in with the admin credential.
After opening the Admin console need to click on Directory and then Users.
Click on Add new user option.
Now you will need to fill out the form for your team member by adding their details. 
This process will add up to only one user. For multiple users, kindly repeat the steps repeatedly. Also, users can import a CSV file containing a list of users whom they need to add to Google Workspace. 
Configure Mail Delivery to Google Workspace
The next mail from step that users will need to take is to route the incoming Microsoft Exchange Online to Google Workspace. However, the mail is still received on Office 365, but a copy of the mail will go to the G Suite account. This is possible by setting up a dual delivery and did not need to change the MX Records. 
Set Up Roles in Microsoft Office 365 before Migrating Office 365 into Google Workspace
Before starting the process to migrate Office 365 mailboxes to G Suite, there are some set of requirements which needs to be fulfilled. It is important to assign some roles to users for the migration. We will look at the DMS Method to set up the roles in Office 365.
Open the Microsoft 365 admin login page.
Enter the credential to get sign-in yourself.
Go to the Admin centre, and choose the Security and Compliance option. After that, click on Exchange.
Now, visit the permissions section and explore the admin roles page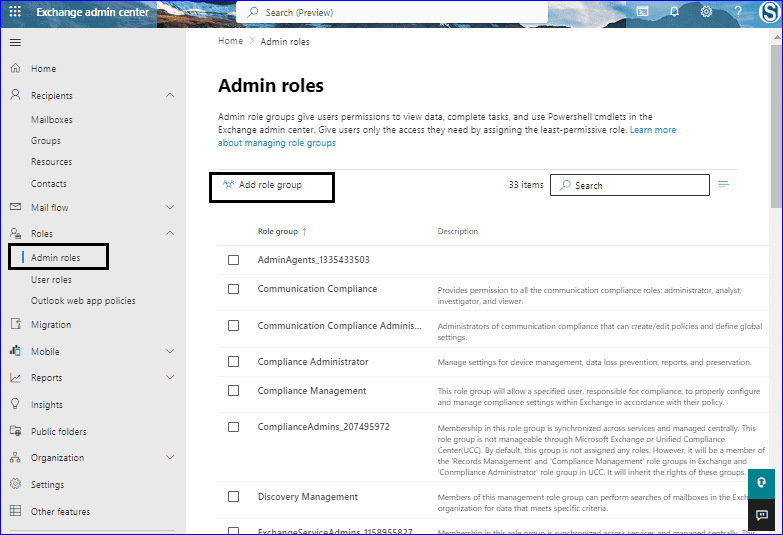 In the admin role, you need to click on the + sign, which is used to add the roles. Thereafter, add the two roles: the View-only configuration and the Application Impersonation. After making the changes click on the Next button.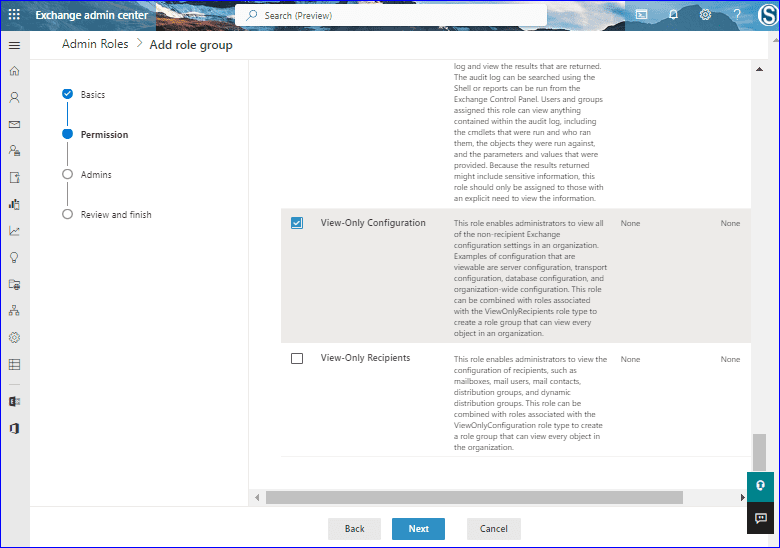 Go back to the permission, and select user roles. Click on the add sign to add your account.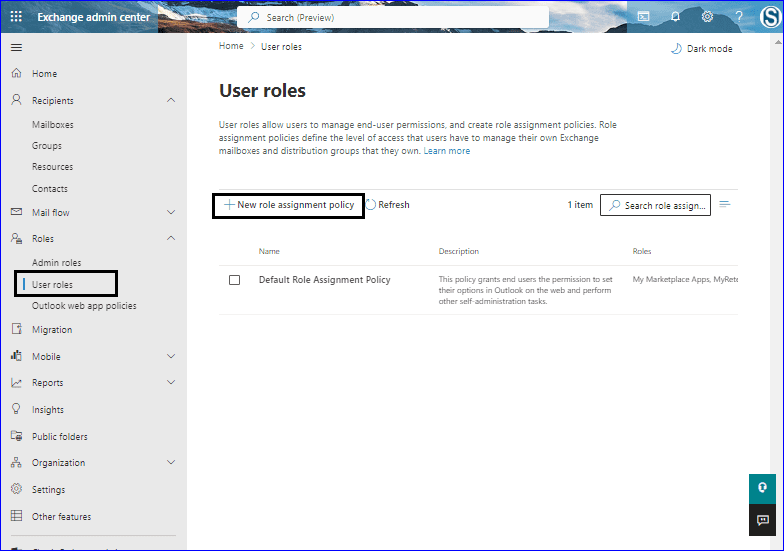 Note: – Kindly add admin account if you are looking to migrate multiple mailboxes.
Wait for some time to add the account, and once done, kindly move ahead to migrate Microsoft 365 to Google Workspace environment. In the upcoming section, we will use the Google admin console for the migration. So kindly read until the end to clearly understand the migration.
Start Migrating Data from Microsoft 365 to G Suite 
Now the most important phase of the Microsoft 365 to Google Workspace migration comes. Users must now start migrating the data from their Office 365 account into the newly created G Suite. 
Start with opening the Google admin console and go to the Data migration.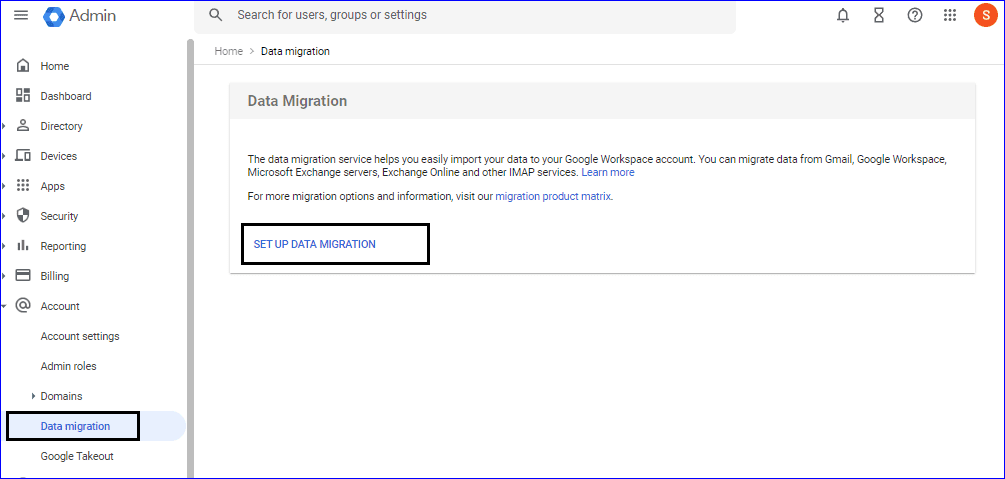 Now go ahead by selecting the email.
You need to mention what to migrate on this page, such as emails, calendars, or contacts. After doing so, click on Continue.
Kindly fill in the desired inputs in the given fields and click Connect.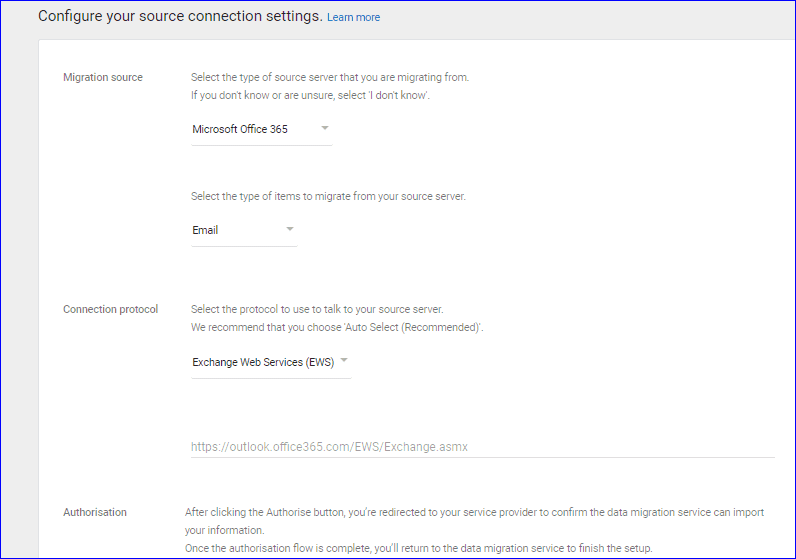 Now the connection has been build up successfully. Make sure to configure whether you want to migrate the deleted emails, junk emails, etc. Click on Select Users to continue.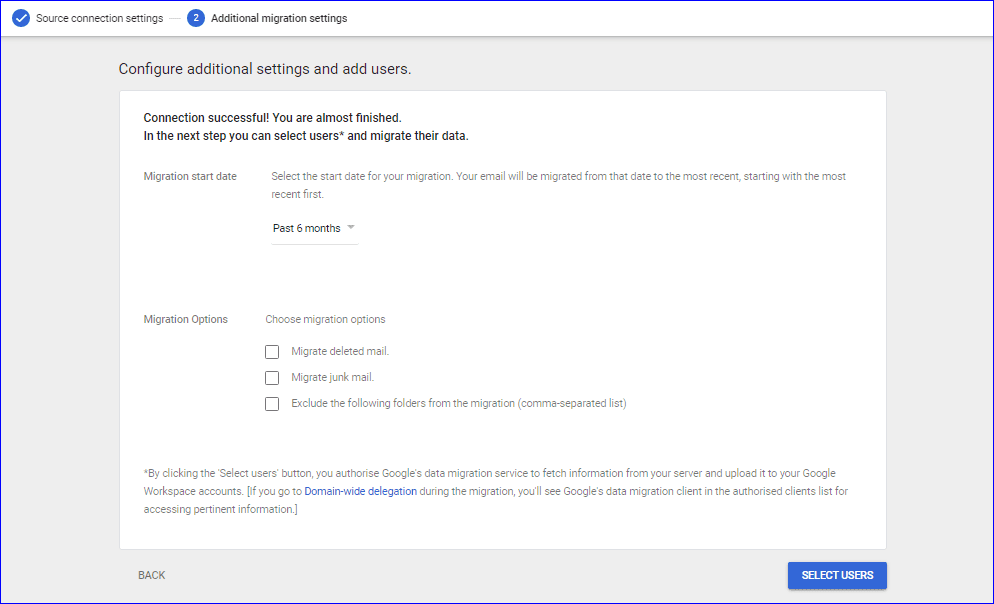 The last step in the process of migrating Office 365 to G Suite will be to map the users between both platforms.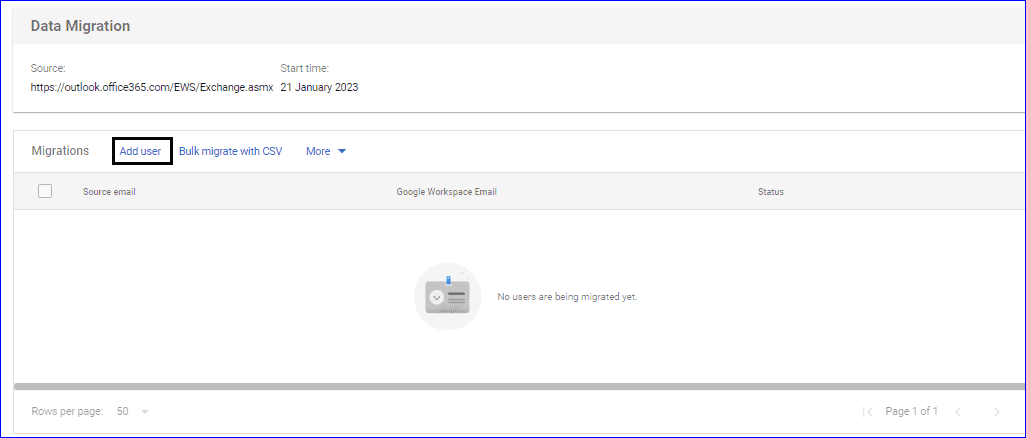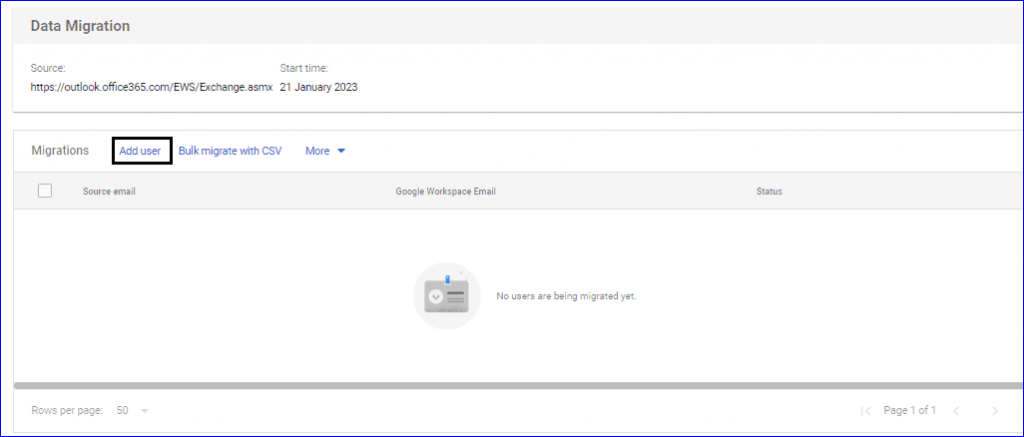 The migration will take time to migrate Office 365 into G Suite completely. So, kindly wait until the completion of the migration.
Secured Way to Migrate Microsoft 365 data into Google Workspace
The manual migration solution to migrate Microsoft 365 to Google Workspace discussed above not promises to keep data secured during migration. However, there will be a need for a professional solution to migrate Microsoft 365 data quickly and provide data safety.
Users can choose the Shoviv Microsoft 365 to Google Workspace Migration tool, a picture-perfect solution to migrate data from the Office 365 account safely. Also, the data filter settings of this software play a role in order to offer better customization in the migration.
Migrate Office 365 data with the help of third-party tool
The first step for users will be to create a connection between Office 365 and Google Workspace with the tool.
Go to the Migration Job tab. A dialogue box appears where you select from the given options.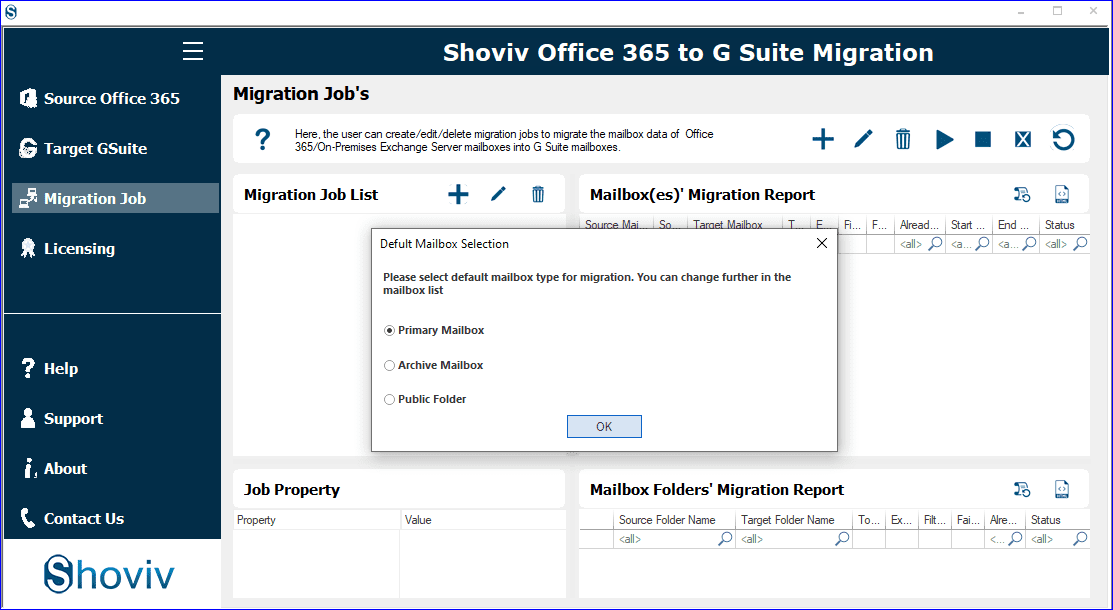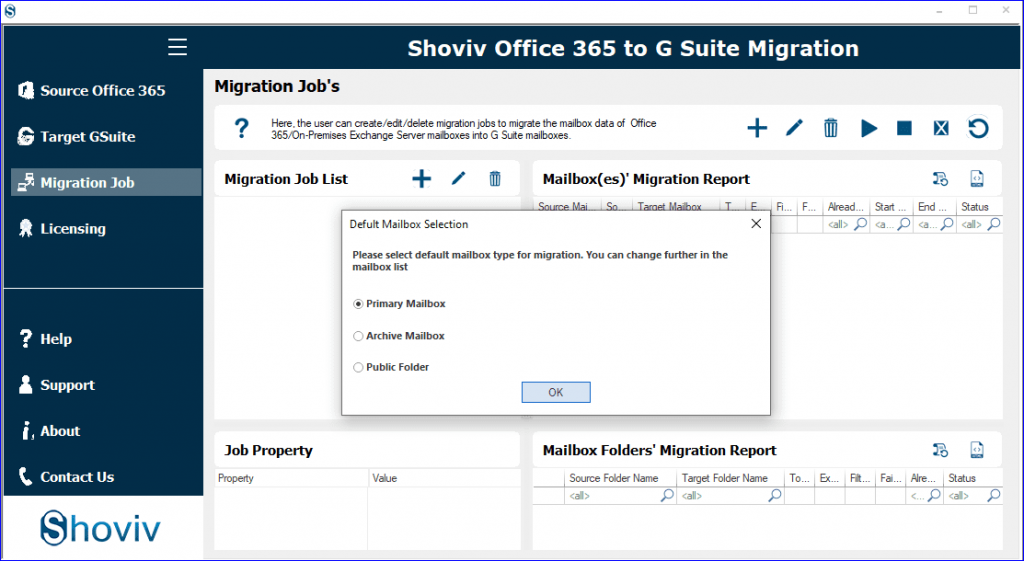 Assign the name for the migration in the Job Name field. Use the Add Office 365 project to add the source project and similarly use the Add G Suite project to add the target project. Click on Next to continue.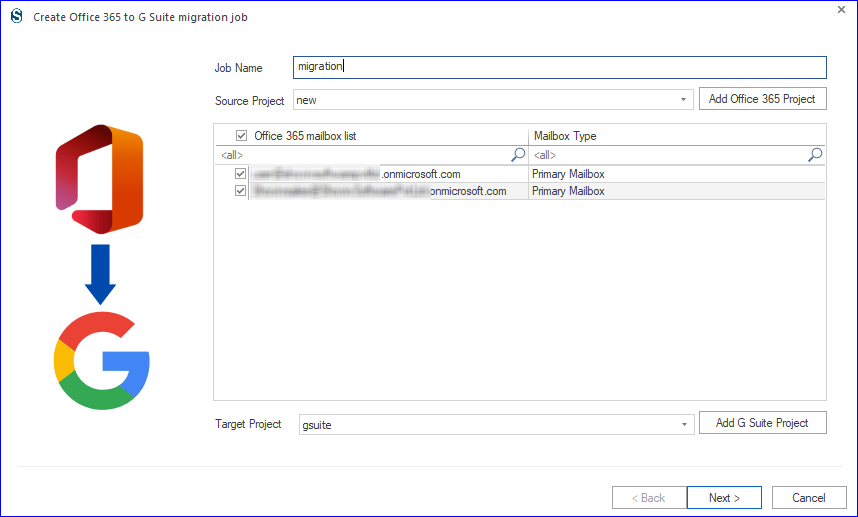 Map the added source mailbox with the target with the help of the Map Mailbox button. If you have multiple mailboxes to map, then use Map Using CSV.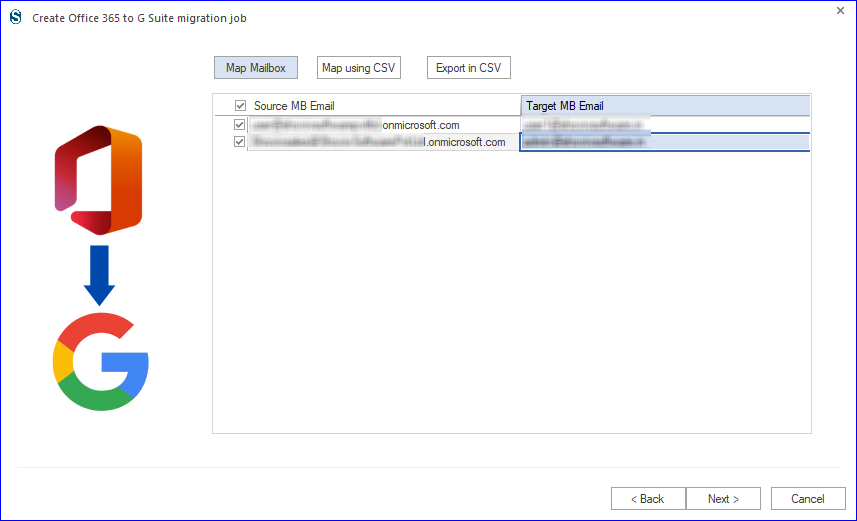 Here, the filter options are given. Use only the required, and if you do not wish to apply any data filter criteria, leave it as it is. Click on Next to go ahead.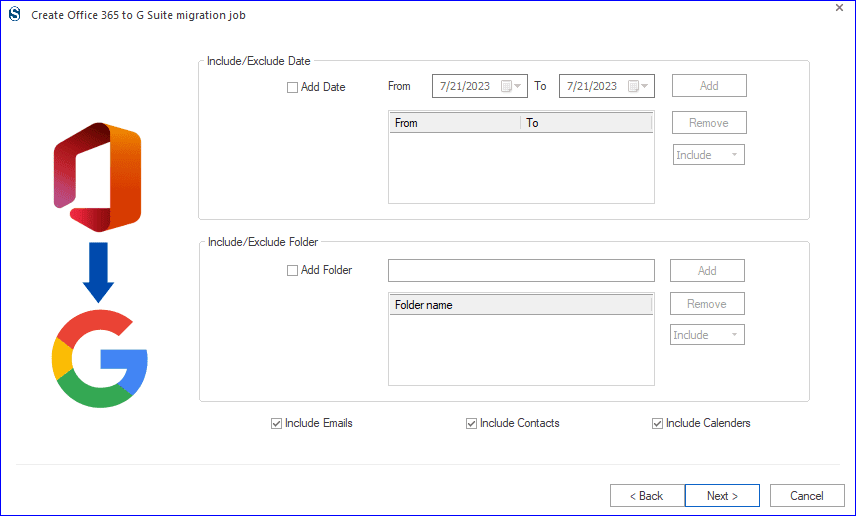 To increase the speeds of migration, make use of the Migration threat count option. Use the Job Schedule option if you need to schedule the migration job periodically.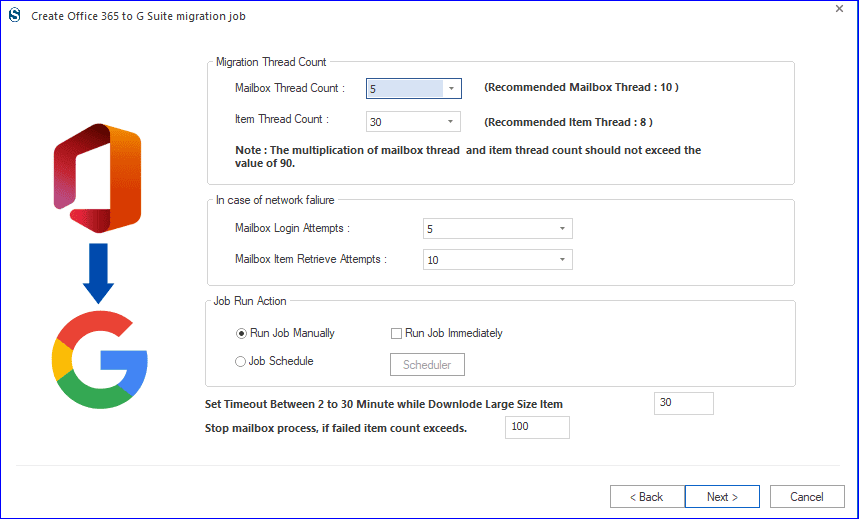 After that, the migration will start, and users can check the live status from the Migration job dashboard.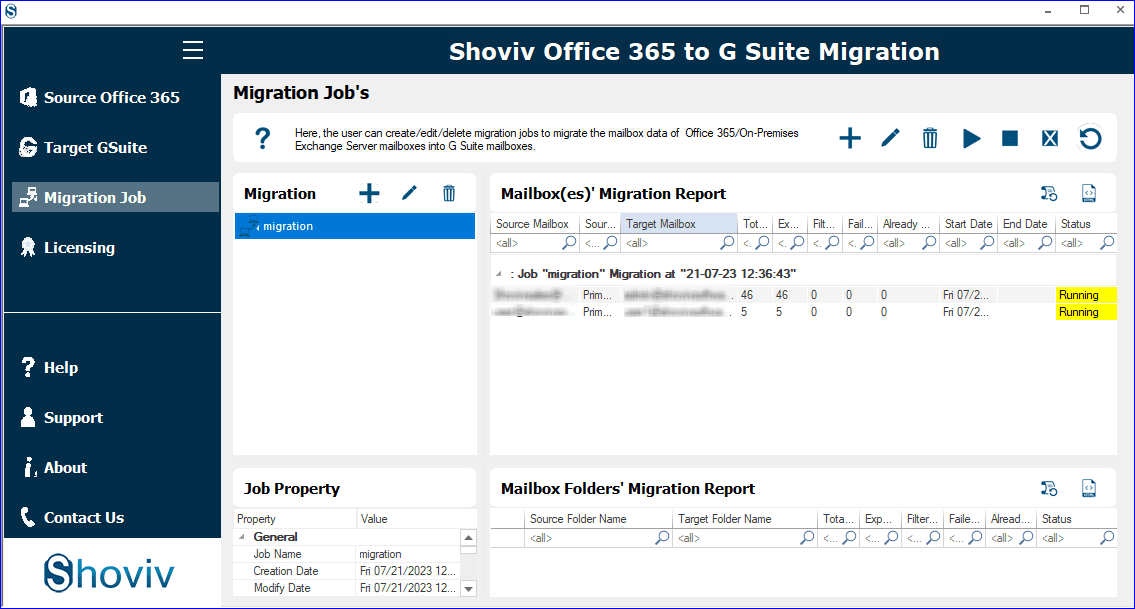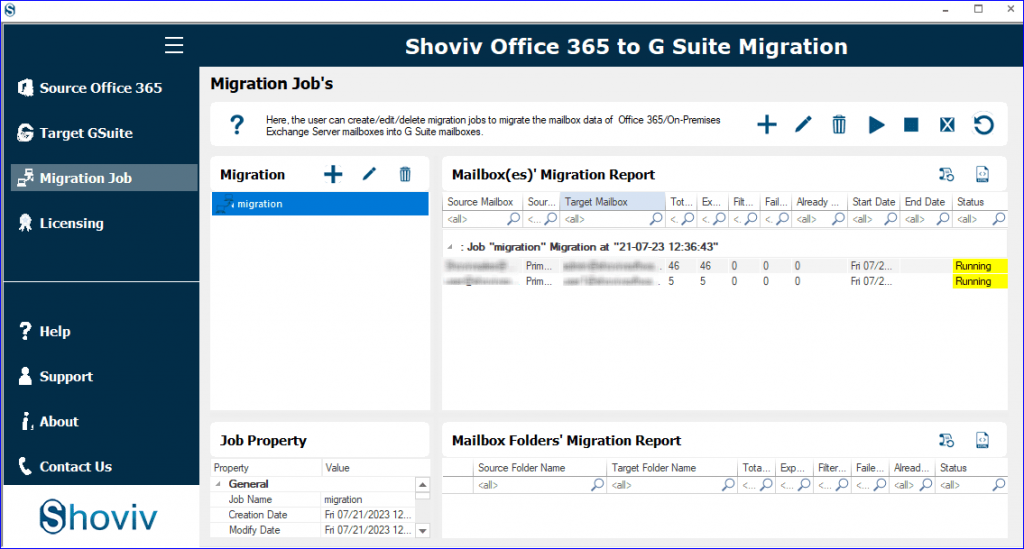 Conclusion
Migration from one cloud-based emailing service to another will require much preparation and planning. In this article, we have highlighted solutions to migrate Office 365 to G Suite that will make it easier for all users. We only suggest users try the software listed here because of their advanced capabilities. Also, It is better to analyze the software performance through its demo version to ensure that your migration towards Google Workspace will be smoother.