Last updated on May 18th, 2023 at 01:28 pm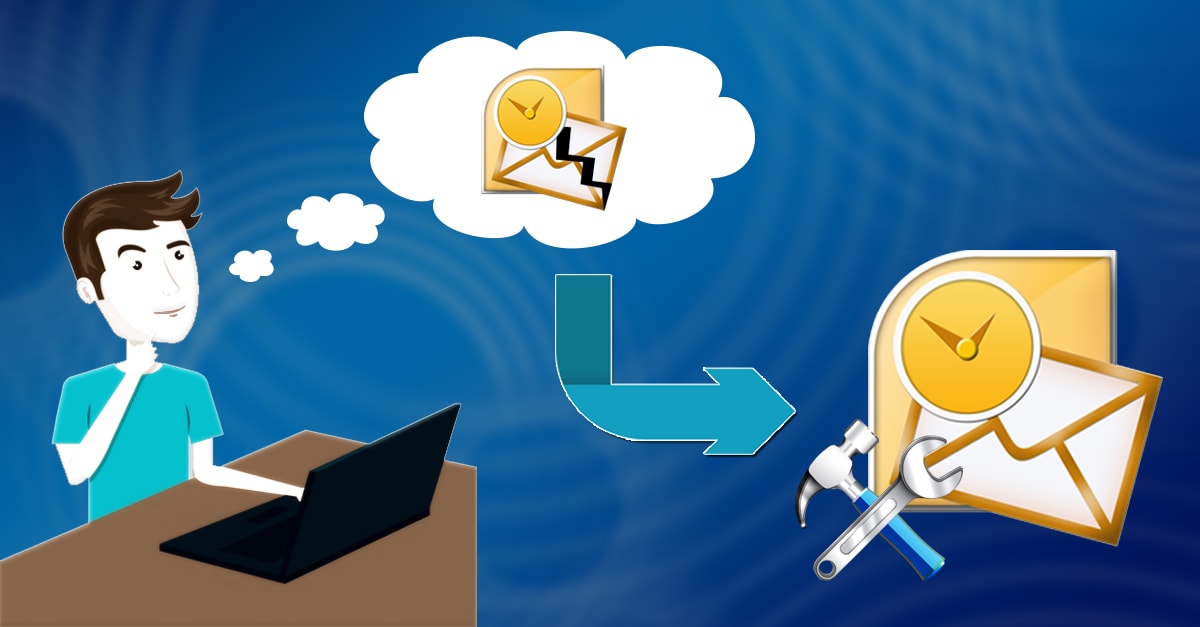 Every computer file is likely to be corrupted with time; no certain!. The Outlook data file ain't immune to corruption. There are many possible reasons that can make a PST file inaccessible. And if you don't repair PST file in time, you may lose the crucial emails and other mailbox data forever. Although the Inbox Repair tool is considered the best solution to deal with a corrupt PST file, sometimes it may fail miserably. In this article, I'll show you how to repair PST file when the Inbox Repair tool fails.
Microsoft Outlook is unquestionably a popular email client. It's a personal information manager from Microsoft. Although Outlook is primarily used as an email application, it offers you various outstanding features like calendar, task manager, contact manager, note-taking, journal, and web browsing. And to store the entire mailbox data which includes emails, contacts, calendars, notes, tasks, as well as attachments, it creates PST, an Outlook data file. The PST aka personal storage table file is saved on the local computer where the Outlook client is installed. Although Outlook is immensely popular, it has few demerits as well.
Corrupt PST File
Have you ever faced any corruption issue in the Outlook mailbox? Corruption is considered one of the major drawbacks of the Outlook client. The PST file created by Outlook is highly prone to corruption due to many reasons. And the primary reason lies in the fact that the PST file has a definite size limit, i.e. 2 GB for ANSI and 50 GB for Unicode. Whenever a PST file reaches its maximum size, Outlook users are likely to face severe troubles which include performance issues. And corruption is the worst thing that happens when the PST file crosses the maximum size limit. Also, there are various other reasons which are highly responsible for corruption in the Outlook mailbox. Some of the common reasons include virus infection, abrupt system shutdown, software malfunction, hard disk failure, etc.
If you have a valid backup, you can successfully restore the PST file from it. But if there's no backup available, you're left with only one option, repair the PST file. Thankfully, Microsoft provides the Inbox Repair tool to repair PST file without using any paid software. It's a freeware utility, commonly known as scanpst. It comes as a built-in repair tool with the Outlook client. Refer to this article to know more about the scanpst utility and how to use it.
If you are interested in exporting PST files, then you must read our latest article on " Export Office 365 Mailbox to PST"
When the Inbox Repair Tool Fails…
Sometimes the Inbox Repair Tool fails to repair the PST file. This usually happens when the PST file is severely corrupted. In such a situation, you encounter an error message saying
"The Microsoft Inbox Repair Tool does not recognize the file xxxx.pst. No information can be recovered."

When the Inbox Repair Tool fails, what would you do to repair PST file? A professional PST Repair tool is something you should definitely consider using. It's considered the best way to handle corrupt PST file without requiring any prior technical expertise. There are many software vendors which provide 3rd party PST Repair tool on the Internet. But it's always difficult to choose the best solution overall. Thankfully, most of the software vendors offer free evaluation before purchasing the PST Repair tool. So before you can purchase any such paid solution, you should download the free demo version. In this way, you can see the preview of the mailbox data which you can actually recover from the corrupt PST file. And if you're satisfied with the results, then only you should consider buying the PST Repair tool.
Shoviv PST Repair Tool 
After comparing the wide range of solutions for fixing corrupt PST files, the Shoviv PST Repair tool is the one highly recommended by professionals and expert users. It offers you a huge variety of features at a highly affordable price. The primary objective of this tool is to help Outlook users deal with the severe issues which lead to file corruption. Generally, this PST Repair tool mainly works in three different stages:
Scanning: First, it scans the corrupt PST file in an intensive manner. It may take some time if the PST file size is large.
Previewing: Once the scanning process is successfully completed, it generates a preview of the mailbox data prior to saving. Here you can check the mailbox data which you can actually recover from the corrupt PST file.
Recovering/Saving: Finally, you need to save the recovered data. You can select the mailbox folders which you want to save into a new PST file. Other than PST format, you can save the recovered data into EML, MSG, MBOX as well as HTML formats.
Shoviv PST Repair Tool is available with the free demo for evaluation purposes. The demo version of this tool allows you to scan the corrupt PST file, and displays the preview of the mailbox data which you can actually recover. And after that, it enables you to save the first 50 email items from each mailbox folder of the selected PST file(s).
Conclusion
In this article, we've learned how to repair PST file when the Inbox Repair tool fails. This PST Repair tool is always the best solution for Outlook users. But choosing the best option over others is your responsibility.