"In this article, we will discuss how to Split PST files into small-sized ones. We will also know all possible reasons why one wishes to split PST files in Outlook 2019/2016/2013/2010. It is to be noted that the maximum size for the Unicode PST file is 50 GB, while for the ANSI PST file is 2 GB."
The chances of data loss and corruption of PST files are directly proportional to the Storage limit of PST files. Whenever the PST files exceed the limit of storage, the performance of Microsoft Outlook goes down, and most probably, it can ruin your reach to the mailbox, the worst, you can lose your data.
So, to avoid such a situation and to save data from any damage, a widespread solution is to split PST files into small sizes. Theoretically, it is easy to say "just split the file," but practically, this process is not too straight. The manual method of PST file splitting asks for the technical hands and unbound time; it is a compulsion until you have an automated PST Splitter.
"Get to know all the features of Shoviv PST Splitter tool by downloading its free trial version. 
You can reach us 24x7 if you have any questions."

    
Before knowing the process of splitting the PST files, let's discuss all possible reasons for the term "Why"? The common reason for splitting PST files is the storage issue. Huge files are always at risk of data corruption. Heavy file worsens Outlook performance. It also makes .pst files data inaccessible. Now we will know about some manual ways by which we can split PST files.
After discussing the possible reasons, now we will know about some manual ways by which we can split PST files in Outlook.
 1st Method: By Using "Move to Folder Option"
Step1. Launch the Microsoft Outlook application to start the process.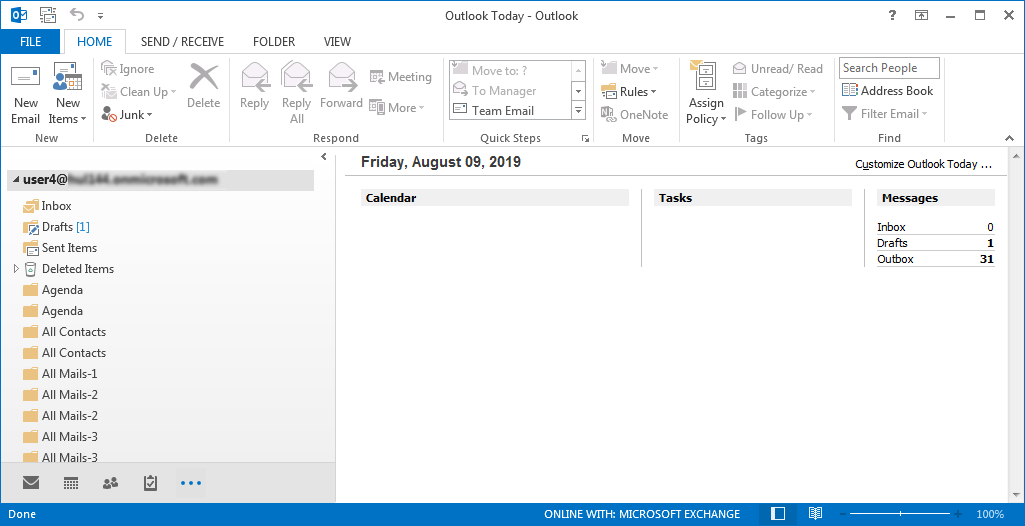 Step2. Click on upper left corner tab, "File", >>Account setting>>Account setting.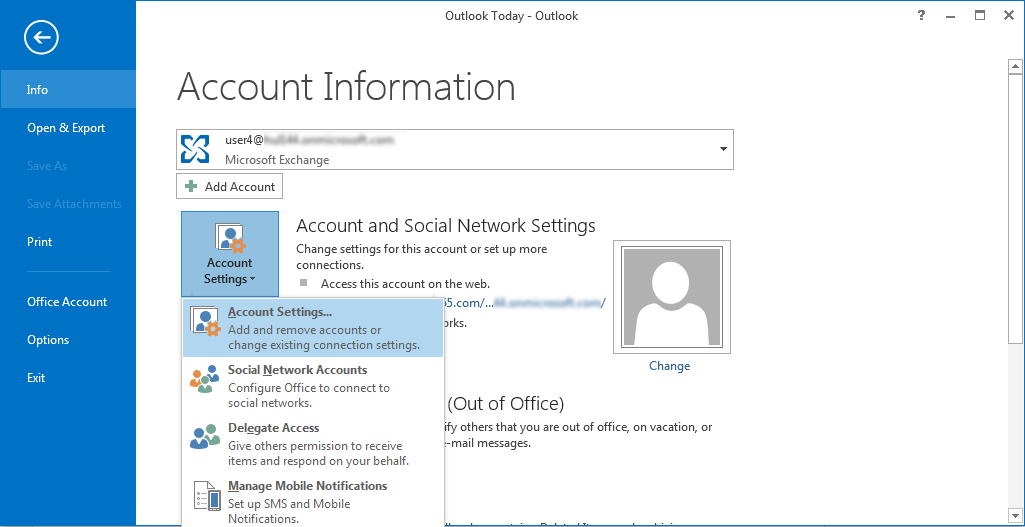 Step3. Then, click on the tab "Data files" and then simultaneously click on "Add" button to add a new PST file, giving it a unique name for convenience.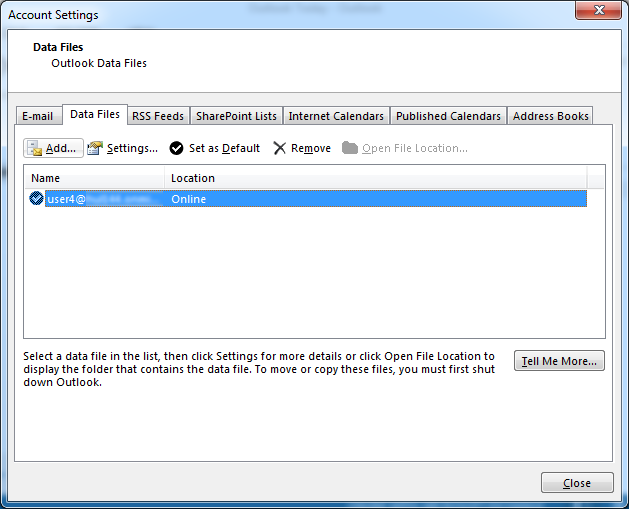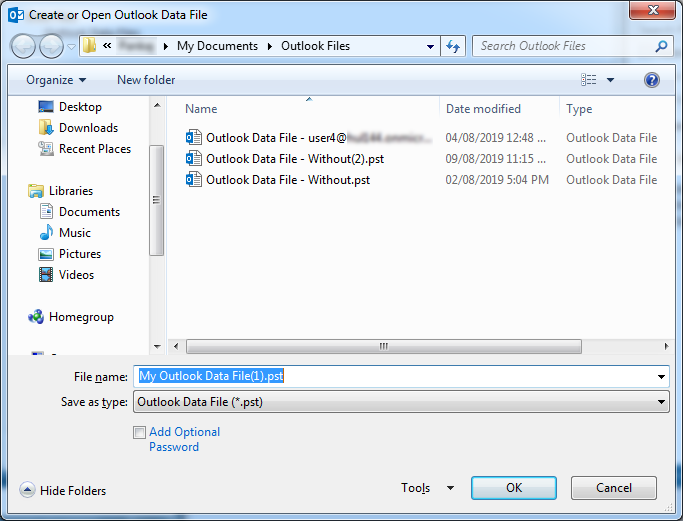 Step4. After adding, just go to "Home" and then open your Outlook profile's old PST file.
Step5. Choose items you want to move to the newly created PST file.
Step6. For moving, click on the "Move" tab of the ribbon and then click on "Copy to Folder".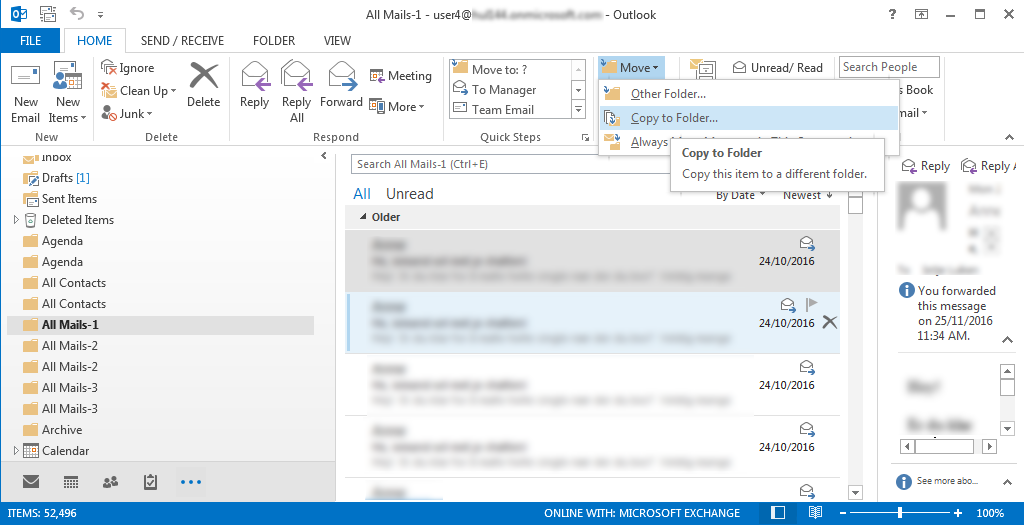 Step7. After going through "Copy to Folder" wizard, select the newly created PST file to move your selected items from the old PST file.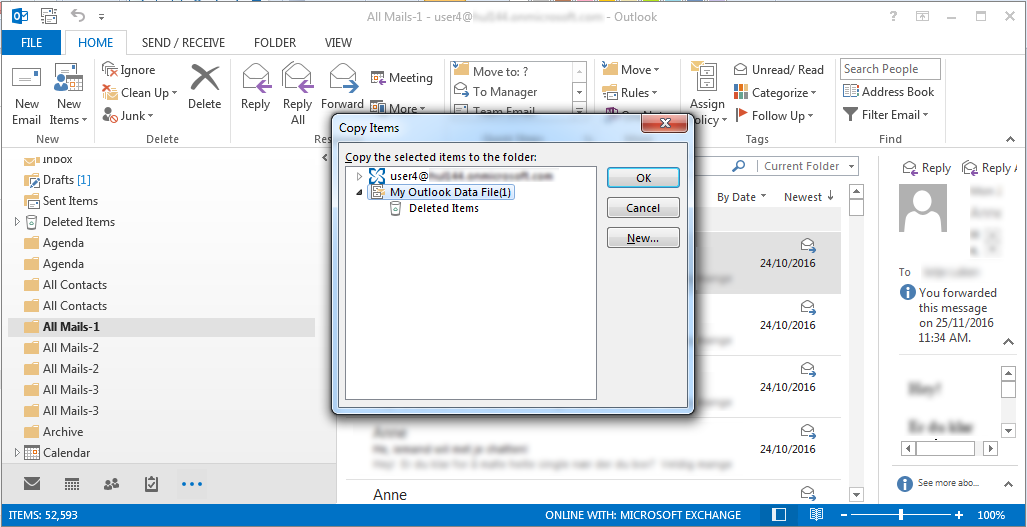 Step8. After moving items to the new PST, follow your purpose of doing all this by deleting copied items from the old PST to reduce the size of the old PST.
2nd Method: With the help of Import and Export Options
As, we have many manual methods for Splitting PST files, in this sequence, let's move to another and Split PST files by following given directions.
Step1. first, open Microsoft Outlook application in your system.
Step2. Then after, click File >> Open and Export >> Import/Export.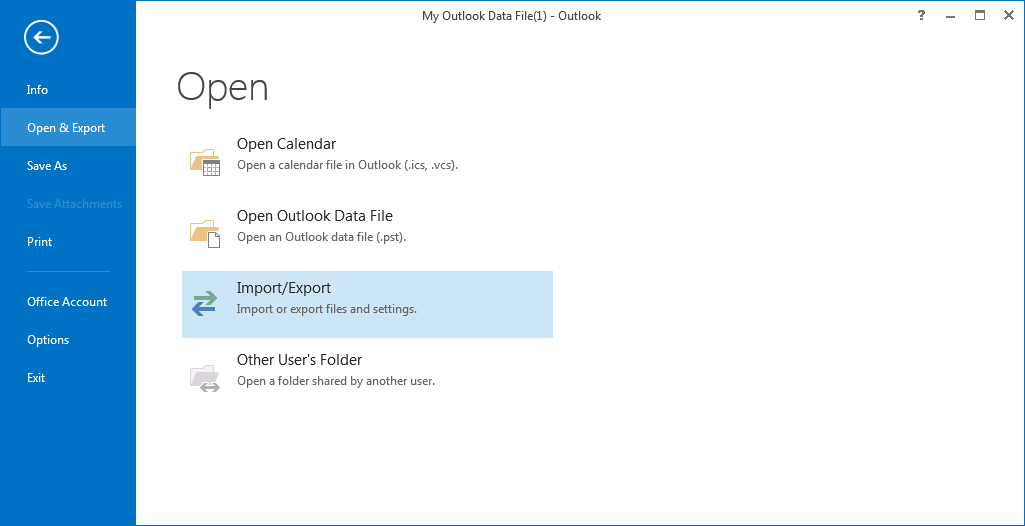 Step3. In Export and Import wizard, you will find "Export to a file" option, go through with this by clicking Next.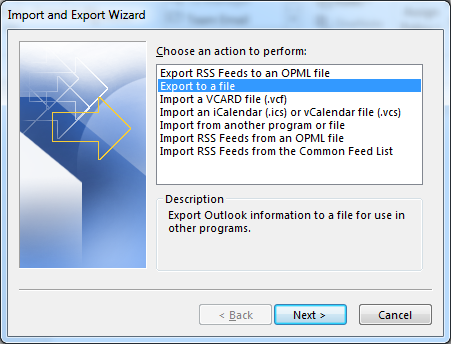 Step4. Now, in the Export File window, you will find the option of "Outlook Data File (.pst)", choose this and go to the next step by clicking Next.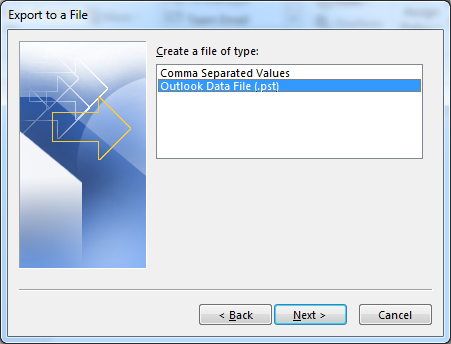 Step5. "Export Outlook Data File" wizard will open, choose "folders to export and export subfolders" >> "Include sub-folders" option.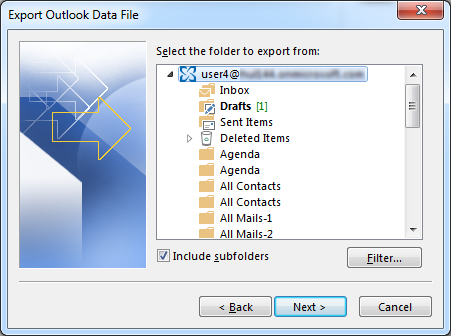 Step6. Now, to select the saving location of the exported file, select "Browse" tab, stop exporting duplicate items, click on the option "Do not export duplicate items". Finally click on the Finish button.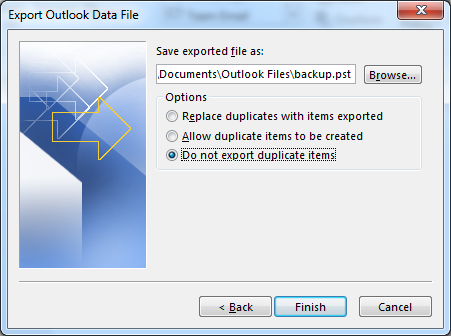 Step7. At last, set a password for the PST file, or you can cancel the option of password setup.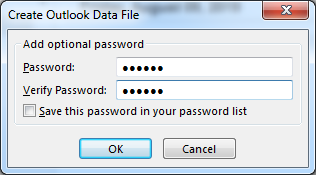 By, following these step, you can create a new PST file. Let's move to the next method.
3rd Method: By Archive Wizard PST Size Reduce Method
In the absence of automated PST Splitter, we can also split huge PST files into a small once with the help of the Archive Wizard method.
Step1. Open the Microsoft Outlook, as always, follow the given navigation, File>> Info>>Cleanup Tools>>Archive…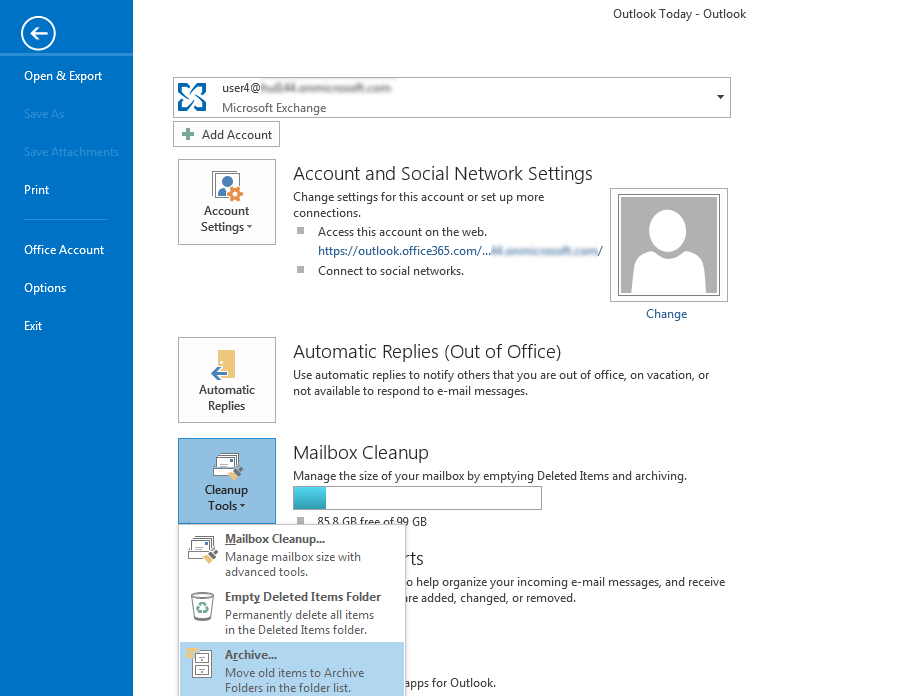 Step2. Then choose the desired Archive folder, select a date till before of which you want to Archive items.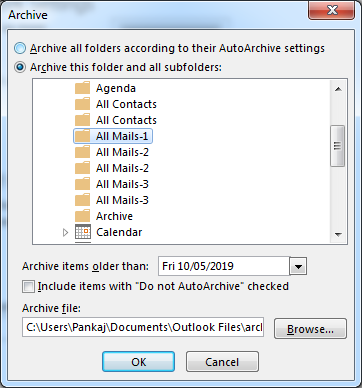 Step3. Simultaneously with 2nd step, click on "Browse" option for saving items and give it a name like "new PST file".
Step4. In the end, confirm by clicking on the "OK" tab. A newly made PST file will generate at the desired location. The purpose of reducing PST file size will be completed by following this Process.
Drawbacks and Limitations of Manual Methods:
We have many methods by which we can split PST file in Outlook 2019/2016/2013/2010 by splitting. But the practical approach is not too easy as well nor safe. Manual methods have several drawbacks; let's discuss the disadvantages of manual methods:
The worst can happen in this process, you can lose yours all data permanently, and it is like a nightmare.
No guarantee of Data Security.
Manual Processes are very time-consuming.
Manual Processes needs a lot of technical knowledge.
It is not easy to do the task, one can lose command over the process at any time.
So, what to do?
Automated PST Splitter Tool: Professionals' Way
The wise choice is to use the automated Split PST file Tool to escape all the problems of manual methods. I.e., Shoviv PST Splitter Software. This PST splitter has all the properties of a professional's desire, like:
It works very quickly on any size of PST file and safely splits it.No fear of losing data.
It retains all the Meta properties of email as it is.
With the help of Split PST File Software, one can split any length of PST soundly.
It offers 4 splitting options to users. 1) split by size 2) split by folder 3) split by date 4) split by year.
It creates a new PST after splitting.
This tool slickly works on all versions of outlook.
It has the latest graphical user interface and completes the task in fewer steps.
It automatically creates a new PST after the split.
Above I have listed a quick snippet to split PST files easily. Below I am explaining the complete process with instructive images to guide you. Follow the below-given steps to complete the process without any mishappening.
A Glance on Steps to Split Large PST File:
Install Shoviv Split PST Tool.
Run and Add PST file.
Select splitting criteria, i.e., By Size, By Date, etc.
After that, click on the Split button.
The process will start, and the report will generate.
A Detailed Procedure to Split PST File Professionally:
Download and install the Shoviv PST Splitter.
Open the software, and make the file selection by clicking the Browse You can search and add .pst files from a specific directory on the disk using the Search option. Click Ok.
After selecting the PST file for processing, you can see the .pst file in the selection bar. Also, the PST file description will be shown. Click on the
You will be prompted to the split options page. Here, you will find the Target Folder option using which you can set desired target location. Here, you also check the subfolders that you want to process. Also, here are the options to split PST files, viz. By Size, Date, Year, and selected folder in single/multiple PST options; use options per the need. Click on the Next to continue.
The split PST file process will start, and the complete status of the process will be displayed. After completing the process, a message "Process Completed Successfully" will display. Click Ok and finally click on the Finish button. You can also save the report in the HTML file format by clicking the Export Report
It is how you can easily split large-sized PST files into multiple smaller parts.
Step by Step Video Guide for Split Oversize Outlook PST file
Summary:
PST  files have an upper size limit above which PST files may get in trouble. Oversized PST files are prone to corruption, and the chances of data loss remain high. The need to split PST files arises to prevent a file from this situation. To reduce PST file size, we have explained three manual ways; unfortunately, all manual ways are insufficient to satisfy users' needs. For quick, errorless, and feature entirely split PST files, Shoviv PST Splitter comes as a remedy. It has all the features a user can think of for the perfect processing. A free trial version of the software is also available; you must download the demo version and check to get satisfied with the tool.