Last updated on September 14th, 2020
Over the past few years, many organizations have migrated to Office 365 from their on-premises email clients. If you are using IBM Lotus Notes and planning to switch to Office 365, you have come to the right place. In this article, we will be discussing how to migrate data from Lotus Notes to Office 365.
Microsoft Office 365 is the most popular enterprise cloud service with 155 million corporate users around the world. It has been a great deal for organizations, and it is getting better day by day. There are so many reasons why users choose Office 365 over any other application. It offers some great benefits to businesses and organizations. If you are a business owner or running an organization, it is very handy for you. Moreover, it will help you to boost your collaborative abilities, increase work productivity, and ensure data security. It is also cost-efficient and it gives you flexibility to scale your business quickly. Using Office 365 you can work from anywhere as long as you have an Internet connection. These are few reasons which make Microsoft Office 365 the topmost choice for corporate users.
Lotus Notes to Office 365
Are you still using the old Lotus Notes client? If you are not happy with its performance or not feeling like using it anymore, maybe you should now consider Microsoft Office 365. IBM Lotus Notes has been a great email application for so long. However, if you compare it with Office 365, there is no match at all. Unlike Office 365, the Lotus Notes application is expensive and it requires technical expertise to use this. On the other hand, Microsoft Office 365 has lots of productivity features for businesses and even a novice user can use it with ease.
Since Office 365 is a different application, you cannot import or export your emails and other business data into it. You need to understand a few things before migrating mailbox data. Lotus Notes stores all the emails and business data into a database called NSF file. Neither Microsoft Office 365 supports this file format nor does it have any built-in feature to import the email messages from Lotus Notes client. Now the question is, "how to migrate data from Lotus Notes to Office 365".
Use IMAP Connector
Generally, a third party professional utility is considered the best solution to migrate data from Lotus Notes to Office 365. In case if you are looking for a free solution, you can use IMAP Connector. It will help you to migrate your data without using any other paid software. However, before you can use the manual procedure I am sharing below, do not forget to take a backup of your mailbox stored in the NSF database. This will help you to avoid any type of data loss that may happen while doing the manual procedure. Remember, no manual method or solution is 100% safe and accurate.
Once you have taken a backup of your NSF database, you can start the manual procedure of Lotus Notes to Office 365 migration. The whole migration process is divided into three parts:
Part #1: Create a New Mailbox
You should start the manual procedure by creating new mailboxes for almost every user who has an existing profile in IBM Lotus Notes.
Part #2: Enable IMAP TCP/IP Port
Now follow the below steps to enable IMAP for all the users:
On IBM Notes, open Domino Administrator and click on the Configuration
Now open the Server document for the Server running the IMAP service.
Click Ports>Internet Ports>Mail
In the Mail (IMAP) column, enable the default IMAP TCP/IP Port.
Finally, click Save.
Part #3: Connect with IMAP Connector
The final step is using the IMAP Connector to synchronize emails in Office 365 from the IBM Lotus Notes client.
Remember, the manual procedure of Lotus Notes to Office 365 migration via IMAP Connector has the following limitations:
The IMAP Connector will not connect to the Internet if Lotus Notes is behind Firewall and proxy.
The IMAP Connector does not support calendar entries so you have to migrate them manually. This might be a time-consuming process.
You can only migrate the online data from Lotus Notes to Office 365.
Only 1 GB of the NSF database can be migrated via IMAP Connector.
A non-technical user may find it difficult to use the IMAP Connector. It requires sound technical knowledge.
Professional Solution For Lotus Notes to Office 365 Migration
If you cannot use the IMAP Connector or if it does not work, then, you should consider using a professional solution. There are many software vendors in the online marketplace who provide Lotus Notes to Office 365 Migration tool. Shoviv Lotus Notes to Office 365 Migration tool is one of the best solutions that you must try. Using this software, you can migrate all the mailbox data that include email messages, drafts, address books, calendars, etc. Being a non-destructive tool, it does not cause any data loss during the Lotus Notes to Office 365 migration process.
Key features of Shoviv Lotus Notes to Office 365 Migration Tool
Instant and effective migration of complete mailbox data.
Migrate single & multiple NSF files to Office 365, Live Exchange as well as Microsoft Outlook
Date Range feature to filter mailbox data to migrate
Folder Mapping feature, to map Lotus Notes mailbox folders with Office 365 mailbox folders for the migration with ease
Preview the data before migrating them
Easy to use application that requires no prior technical expertise
Shoviv tool is available for a free evaluation, but you can not migrate more than 50 items per folder.
Steps to Use Shoviv Lotus Notes to Office 365 Migration Tool
It is very easy to use Shoviv tool even a non-technical user can use this software without requiring any prior expertise. You need to start the process by downloading and installing the software on your computer.

Step 1: Once the installation process is successfully completed, double-click on the software icon to run the software on your computer. The welcome screen of the software will appear. Now you need to add the NSF file from which you want to export the mailbox data to Office 365.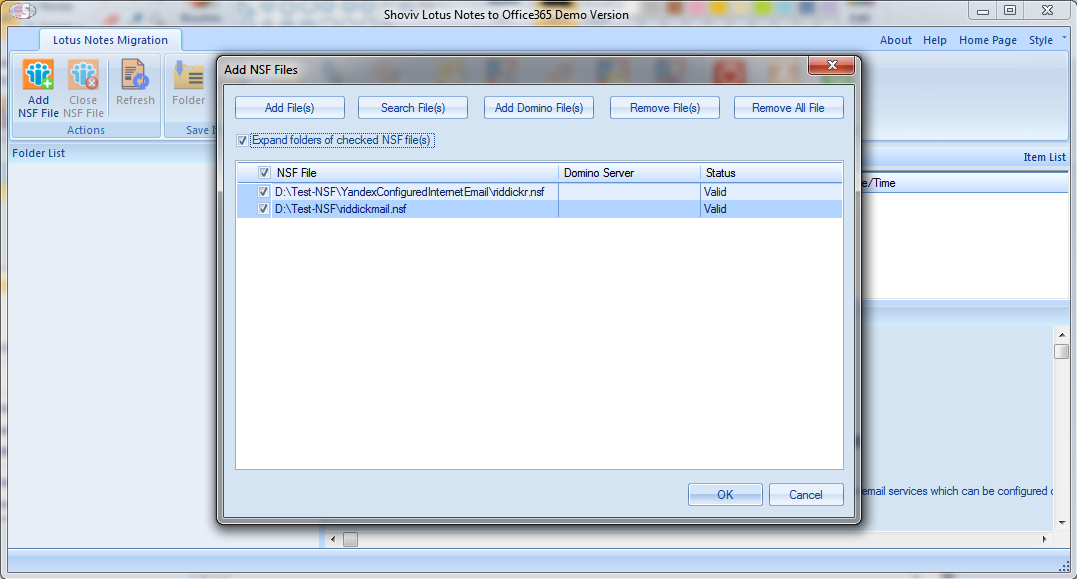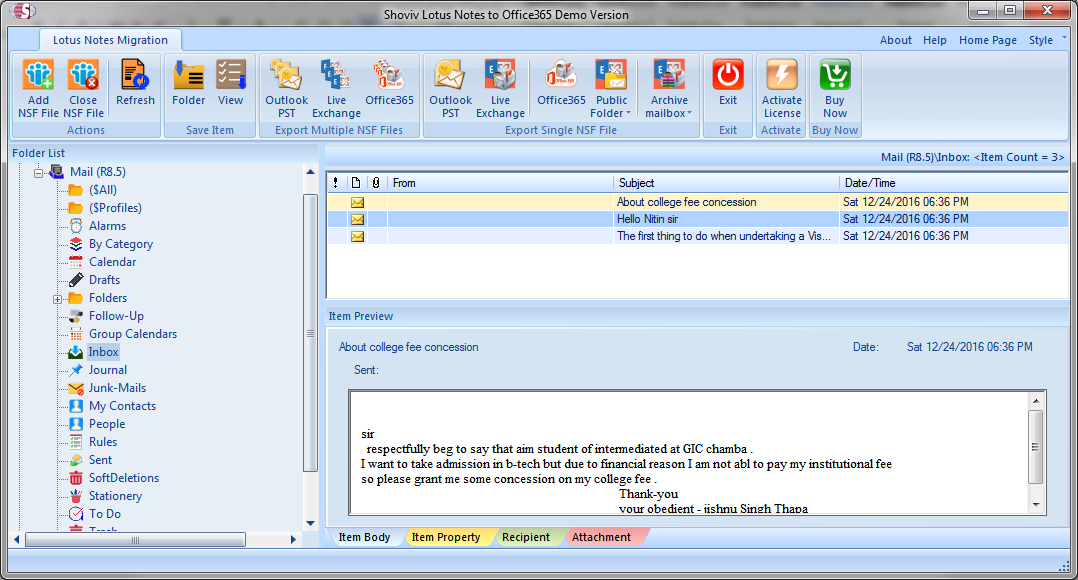 Step 2: If you want to export multiple NSF files, then you need to select the Multiple NSF Files option. Then click Office 365 on the taskbar. Also, you can export the NSF files to Microsoft Outlook and Live Exchange Server.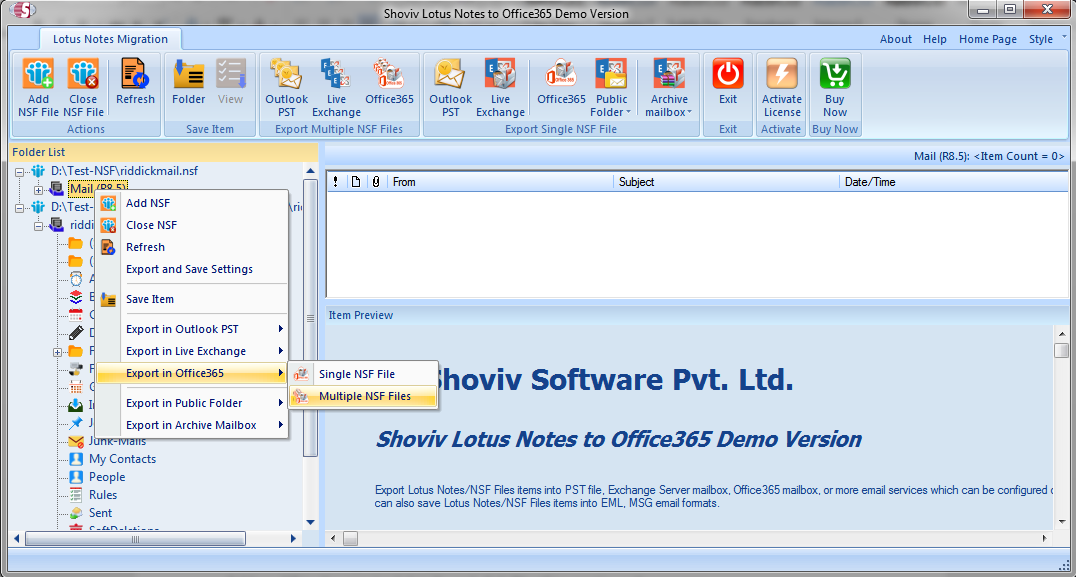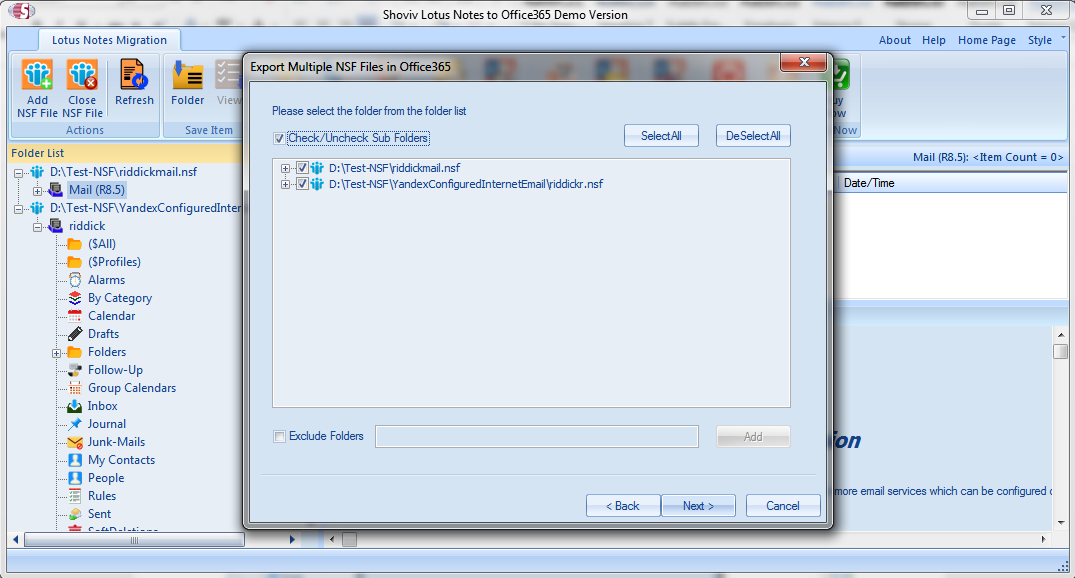 Step 3: On the Export Multiple NSF Files in Office 365 window, select 'Retrieve all Mailboxes from Office 365' option. Fill in the required details and click 'Next' to continue the process.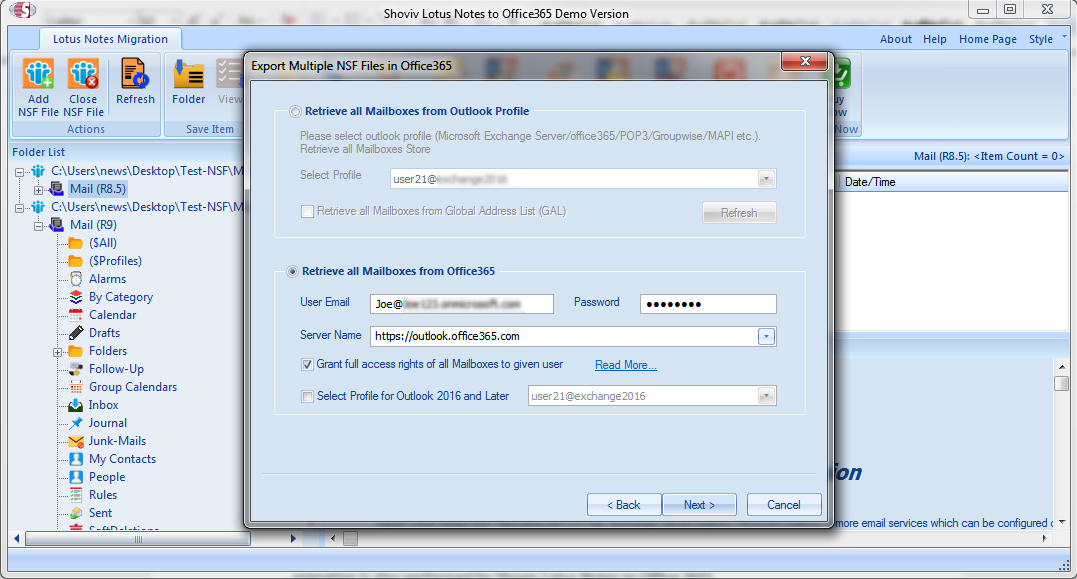 Step 4: The above process will fetch the mailbox list from Office 365 server. It will automatically map the mailboxes of Lotus Notes with the same name Office 365 mailboxes. If the name is not the same, you can manually map them by using the 'map mailbox' option. Map the mailboxes with their respective mailbox and click 'Next' to continue the process.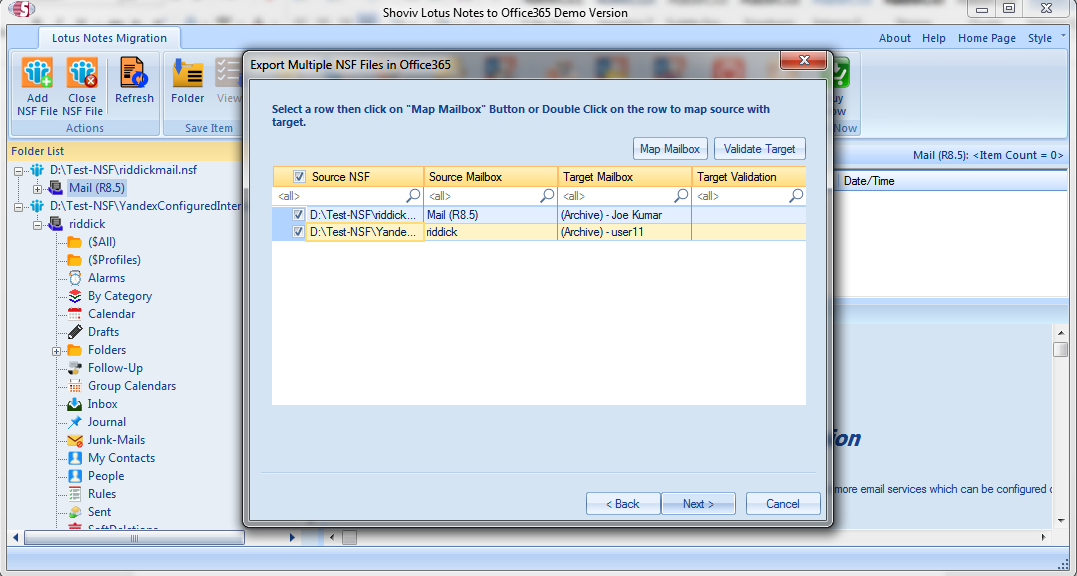 Step 5: After clicking the 'next' button the filter page will be opened and you can see these options.
Export Selected Item Type: Choose the item's type(s) which you want to export.
Export Only Message Date: It allows you to select the date option of the items. Select the date range and click on the "Add" button.
NSF Folder Mapping: It allows you to Map the source folders with the destination folder (This setting will apply for each NSF mailbox).
Item Email Translation: With the help of this option you can change the NSF mailbox's email addresses with the new custom email addresses. This new email address will be shown on the Office 365 mailboxes.
Export Duplicate Items: This option helps you to exclude already migrated items of NSF into Office 365 and prevent the duplicate items. (Only applicable if the previous migration is also performed by Shoviv tool)
Step 6:After applying the filters you can proceed to start the migration by clicking the 'Next' button.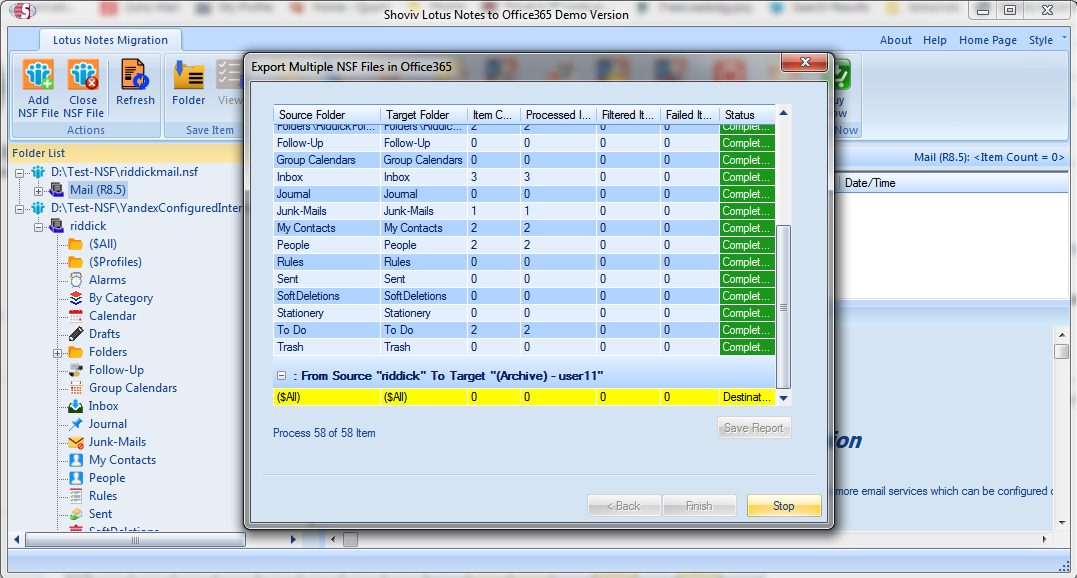 Once the migration process is completed, you can see that all the mailbox data have been successfully migrated to Office 365 mailbox.
Conclusion
In this article, we have discussed how Microsoft 365 is better than Lotus Notes for corporate users. Also, we have learned how to migrate the mailbox data from Lotus Notes to Office 365. Two methods have been shared in the article. If it is difficult to use IMAP Connector, you can use the professional solution like Shoviv Lotus Notes to Office 365 migration tool which is recommended in the article. The demo version allows migration of the first 50 items per folder.