Last updated on May 19th, 2023 at 03:07 pm
Calendars are an integral part of emailing and directly impact our schedule. Calendaring surrounds both personal and professional life balance. As today's life is full of emailing and scheduling, calendar management is essential. Due to having data in multiple PST files and scattered calendars, users face the issue and search for how to merge calendars in Outlook. To get an answer to this question, must read this blog till the end.
Ways to merge calendars in Outlook:
Everyone wants to have managed calendars; hence users search for solutions per their needs. Therefore, how to merge calendars in Outlook is a popular question over the internet. For this task, users have two ways: Manually one by one and professionally with an automated tool. First, let's know about the manual way that has two steps:
Step 1: Exporting Outlook Calendar
Open Outlook and click the Calendar option.
Now go to the File tab and click the Options from the list.
Under the Outlook Options, select the Advanced option and then click on Export.
Choose the "Export to a file" option and click Next.
Now there are two options: Comma Separated Values and Outlook Data File (.pst); select PST option and Next.
Browse the calendar folder that you want to export.
Using the browse option, select the location to save the calendar folder.
Finally, click the Finish button.
Step 2: Import Outlook Calendar
Click on the File tab >> Open and Export >>Import/Export.
Select "Import from another program or file">> Next.
Choose Outlook Data File (.pst) option)>> Next.
Browse the location.
Go with the "do not import duplicate items".
Now select the Calendar folder in which you want to merge Outlook calendars.
Import item in the same folder>>Finish.
Why do professionals not find themselves comfortable with the manual way?
All professionals always search for an immediate and effortless solution for their tasks. Manually if you merge Outlook calendars, you must be technically sound and have a lot of time. For a vast number of data, it is very tedious and time-consuming.
For non-technical persons, the manual execution of the task is like walking on eggshells. Professionals have to do task time and again if multiple PST files.
There is no option to make a selection for the folder hierarchy in the resultant PST file.
Users must follow multiple technically enriched steps, therefore, chances of human error.
How to merge calendars in Outlook in a proficient way?
Shoviv Software has developed Shoviv PST Merge Software to make the merging process easy and efficient. We all know PST (Personal Storage Table) files are the data storage files of Outlook. This tool is developed by keeping the user's needs at the centre of the development process. It comes with a user-friendly GUI hence easy to run. Its fast speed makes it a time-saving utility for all professionals.
What does Shoviv PST Merge Software offer?
Shoviv PST Merge Software offers to add multiple PST files simultaneously to merge them.
The metadata integrity remains intent even after merging more than two PST files.
The size and number of PST files don't matter; it works for all PSTs.
Similarly, it works for both ANSI and UNICODE PST files.
You can select if you want to merge PST files in a new file or with an existing one.
in addition, the software is compatible with all versions of Windows OS.
This utility also offers a demo version to have a trial before making any purchase.
How to merge calendars in Outlook with Shoviv Software?
Shoviv Outlook PST Merge Software provides a straightforward and efficient way to merge Outlook PST files. Below I have explained the complete process step by step.
Download and Install the Shoviv PST Merge Software.
 Open the software.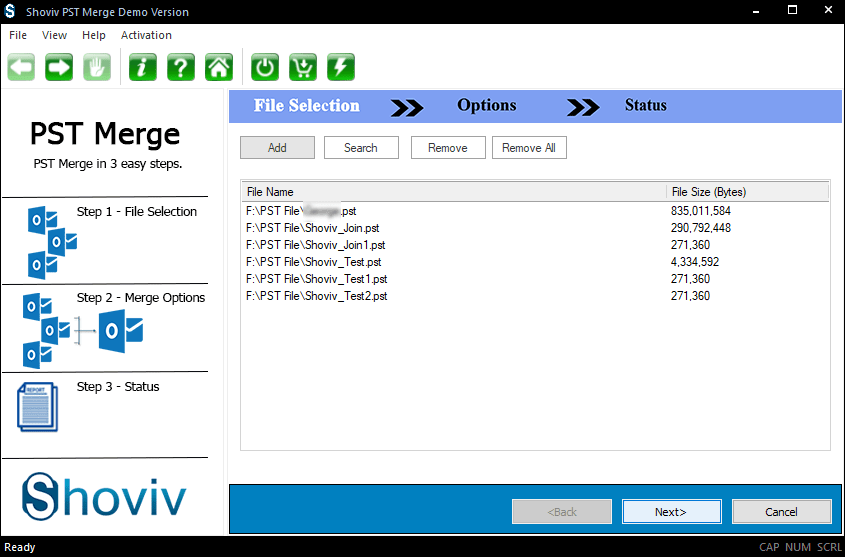 Use the Add/Search option to list required PST files and press Next.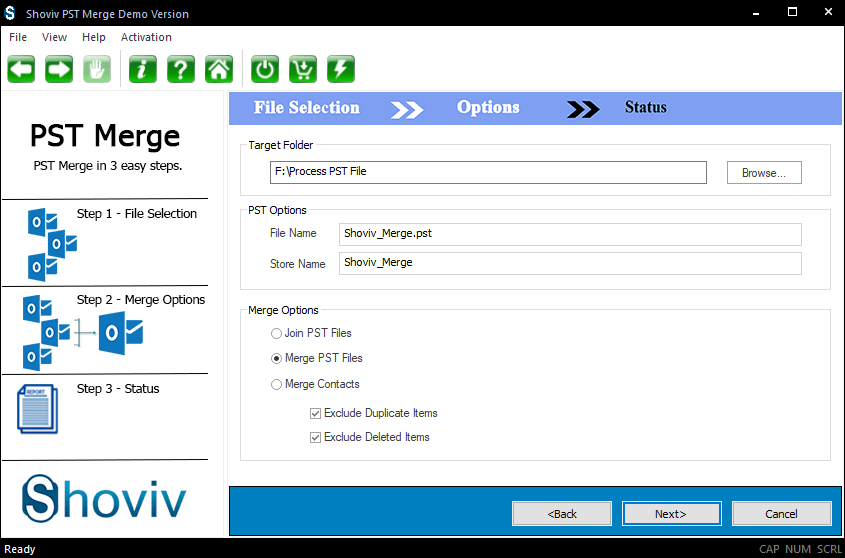 Browse the location of the target folder where the resultant PST file will be saved. Also, name the file and store it. There are three options: Join PST Files, Merge PST Files, and Merge Contacts. By joining PST files, you will get a separate folder hierarchy, while by merging PST files, you will get a single folder hierarchy for all desired PST files. Check the exclude duplicate items and exclude deleted items options. Finally, click Next.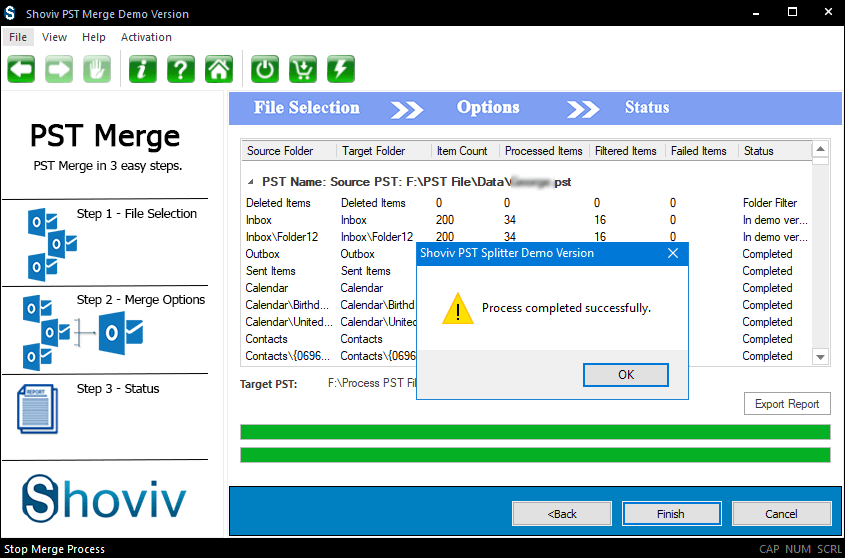 PST merging process will get started, and you will also be able to see the real-time report. You can also save the report for the future.
Summary:
This write-up answers how to merge Outlook calendars efficiently. Firstly in this blog, we learned how to merge Calendars in Outlook the manual way then we learned about a professional tool. Professionals usually prefer automated third-party solutions to make the process efficient and effortless. In addition, Shoviv Outlook PST Merge Software's free trial version is also available to download. Must download the demo version and have a trial!