Last updated on December 31st, 2020
Since there are so many email clients in the online market place, email migration has become very common these days. Users often switch from one email client to another. There are many users who want to import their EML to Office 365 account. If you are one of them, this article will surely help you. Here we will be discussing how to import EML files used by different email clients into Microsoft Office 365.
Generally, there are two ways to execute email migration from one client to another. In order to transfer emails stored in EML files to Office 365, there are two methods recommended by experts and professionals:
Manual trick
Professional solution
Before discussing further on how to convert EML to PST and Office 365 format, let us understand the EML format.
EML File Format
EML is an email file format that stores data in RFC 822 standard format. It contains the content of the email message along with the subject, sender, recipient(s), and the date of the message. Also, it may contain one or multiple files as email attachments. The EML file format is used by various email clients such as Thunderbird, Apple Mail, Windows Live Mail, Outlook Express, etc.
If you are planning to switch to Microsoft Office 365, you need to understand a few things about this application.
Microsoft Office 365
Microsoft Office 365 is SaaS (Software as a Service) solution that provides you a comprehensive set of software applications like Word, Excel, PowerPoint, and much more. Additionally, it has features to perform communication and management tasks with ease. Office 365 certainly helps you grow your business and increase its productivity. Therefore, most of the users have switched to Microsoft Office 365 in order to access the important mailbox data from anywhere at any time.
 There are various reasons due to which an email user wants to migrate the email messages to Office 365 account or Exchange Online. But the question is how to do that. Well, there are two possible ways that can help you import EML to Office 365 account. Generally, a professional converter utility is considered the best way to convert email files. However, if there is a manual solution available, you must try it first.
Manual Solution to Import EML to Office 365
Below I am sharing the manual solution that will help you import EML to Office 365. There is no need to use any 3rd party tool here. All you need to use is Windows Live Mail that is it. Follow the steps shown below:
Step 1: First, launch Windows Live Mail on your system. Click the File tab on the taskbar, and select Export email>Email messages.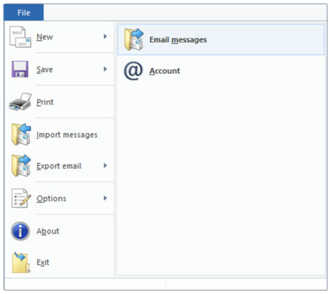 Step 2: On the Windows Live Mail Export window, select Microsoft Exchange as the program you want to export email to. Click Next to continue the progress.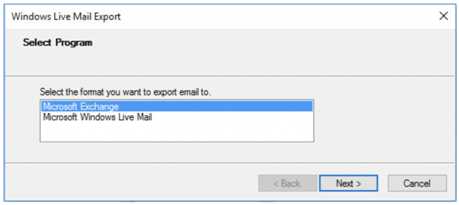 Step 3: On the Export Messages window, a message of confirmation for "exporting the messages" will appear. Click on OK to proceed.

Step 4: Now select the files and folders you want to export from Windows Live Mail to Outlook. Then click OK to start exporting the messages.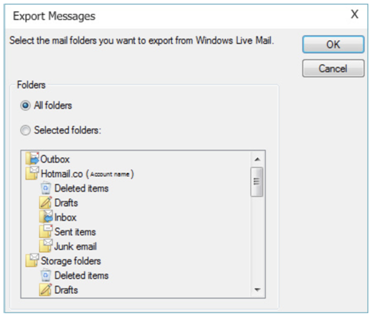 Step 5: The exporting process is being conducted on your system.


Step 6: Within a few minutes, the messages will be successfully exported using the Microsoft Exchange format. Click Finish.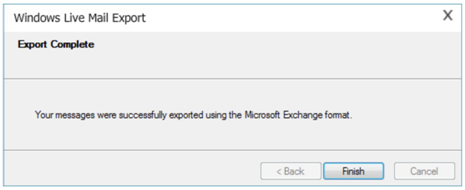 Step7: Now login into the Microsoft Office 365 account.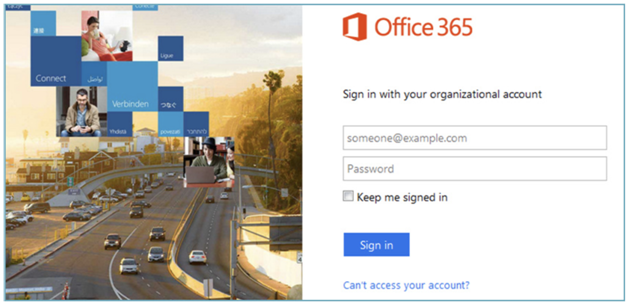 Step 8: On the Import page of Data governance, you need to create a new job for uploading data to Office 365 Azure storage location.
Step 9: Now copy and save the network upload SAS URL. Then download and install Azure AzCopy tool and run it.
Step 10: In the command prompt, use the AzCopy.exe tool to upload the PST files to Office 365 account.
Step 11: Now create a CSV file that has the details of mailboxes (in the file format recommended by Microsoft).
Step12: Create a PST import job (validating the CSV file you have created earlier).
Step 13: Finally, import the PST files to Office 365. You can also filter the PST file data if required.
Professional Solution
If the manual solution does not work for you or you cannot use it, you should consider using the professional solution. Unlike manual solution, the professional EML to PST Converter tool can easily, quickly, and directly import EML to Office 365 account as well as PST format. There are many vendors in the online marketplace which provide EML Converter software, and Shoviv EML to PST Converter tool is one of the best solutions.
Before purchasing the licensed version of this software, you must download the free demo version. By using the demo version, you can export 25 EML to Office 365 account. If you are satisfied with the results, then only you should purchase the software.
Steps to Use Shoviv EML to PST Converter Tool
It is very easy to use Shoviv EML to PST Converter tool. Even a non-technical user can use this software without requiring any prior expertise. You need to start the process by downloading and installing the software on your computer.

Step 1: Once the installation process is successfully completed, double-click the software icon to run the software on your computer. The welcome screen of Shoviv EML to PST Converter will appear. Now you need to add the EML files which you want to export to Office 365. You can search the EML folder if you do not know the exact location of your files. Once you select the EML files, click OK to go to the next step.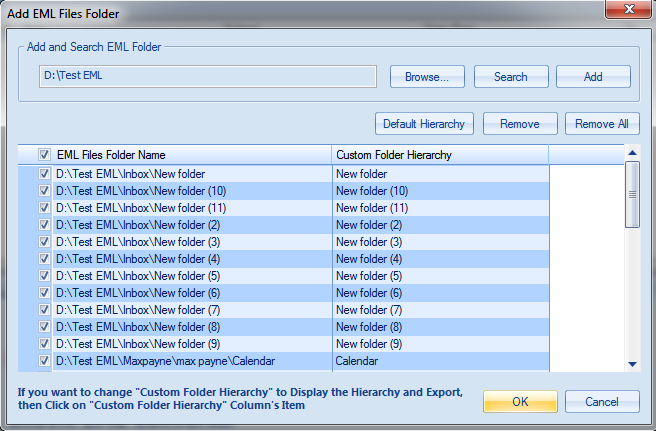 Step 2: From the software's 'Export EML In' option click on 'Office 365'option.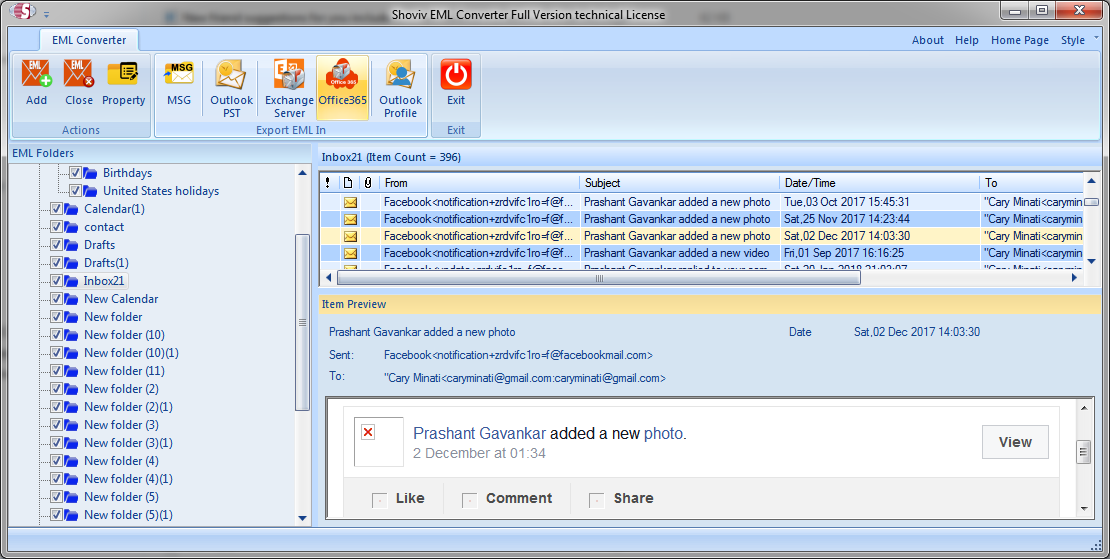 Step 3: On the Export in Office 365 window, enter the Username and Password in the fields shown under Export Target. Also, select the Export option, i.e. Mailbox, Public Folder, or Archive Mailbox. Click the Export button to start the export process.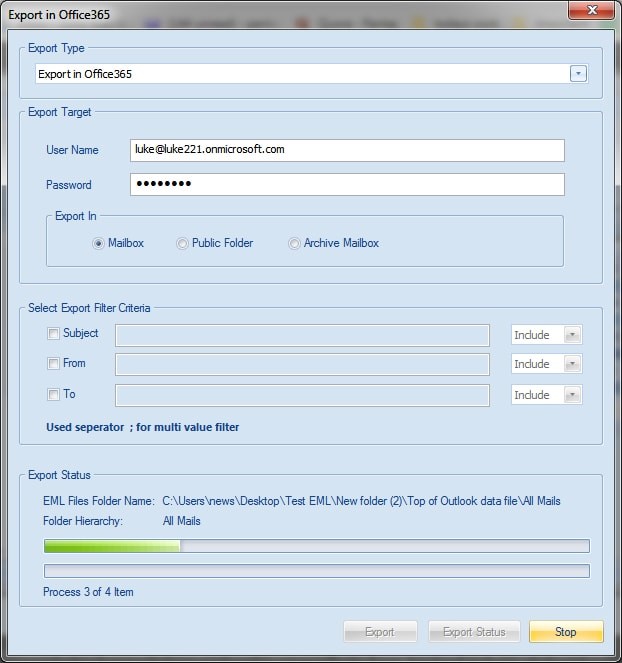 Step 3: On the Export Status window, you can check the exported EML items status report. Click Save Report to save the report.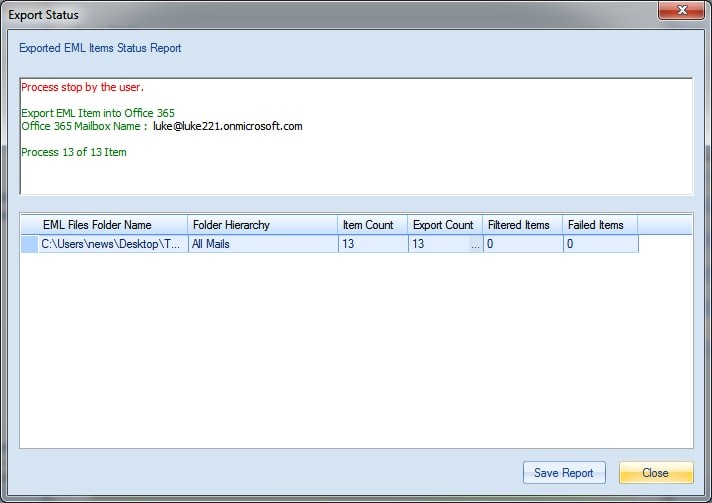 Note: Within a few minutes, the migration process will be completed. All the EML files will be successfully migrated to Office 365 mailbox.
 Conclusion
Moving data from one email client to another is not at all an easy task. There might be any possible situation in which you need to migrate EML files to Office 365 suite. In this article, I have explained two methods to import EML files to Office 365 account. However, I would recommend the professional EML to PST Converter tool mentioned in this article that is easy and effective. Using this software, you can successfully import EML files to MSG, PST, on-promises Exchange, and Office 365.