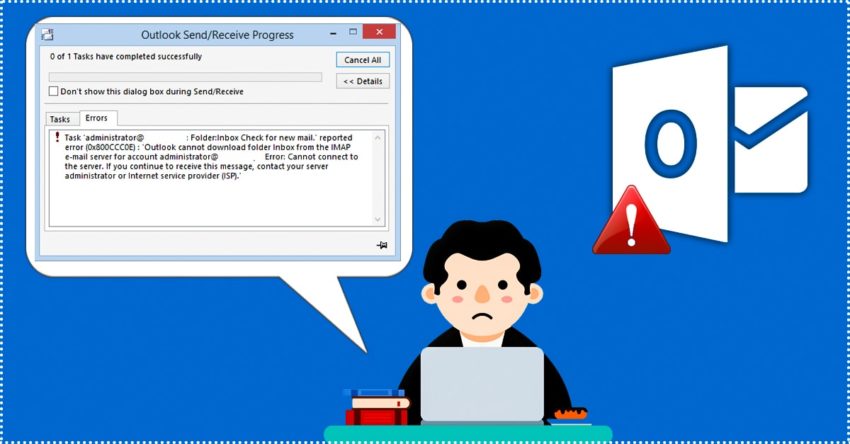 Today's topic is The best way to fix Outlook Error 0x800ccc0e.
Hope, I shouldn't talk more about the popularity and prominence of Microsoft or Microsoft Outlook's email client. Obviously, Numberless people and organizations are utilizing the same email client server across the world for executing and accomplishing their each and everyday task. It enriches you with astute features with incredible performance. With being huge auxiliary for us, infrequently it makes us stressful. Might you had suffered or might be you're suffering.
Combat with the Outlook Error 0x800ccc0e during utilizing MS Outlook is being common these days, Might you have also combat to an Outlook Error 0x800ccc0e within going weeks like an Outlook Error 0x800ccc0e message which means there's a problem with the Outlook client. Microsoft Outlook Error 0x800ccc0e code is the generic error on your Windows PC, and if you don't have an idea how to fix Outlook error 0x800ccc0e, read it out finish it before executing settlement of Outlook Error 0x800ccc0e message.
Well, when you get the notification or Outlook Error 0x800ccc0e, you'll have to work slower than the speed you perform with MS Outlook. You will not able to send/receive emails tasks as well as remove old email messages.
The Outlook Error 0x800ccc0e message can also take a form in Microsoft Outlook Express and Windows Mail. The strife amid SMTP servers during utilizing the email client is the basic factor behind this Outlook Error 0x800ccc0e message. You may get delivery of this message while you make effort or doing mail sending execution during account configuration.
Well, this error can disappear by executing simple tricks: yeah, readily you'll get your MS outlook ready to execute and flaw-free by doing some simple tricks. Anyway, before conveying the tricks of fixing, I am going to tell you the generic factors behind the Outlook error message.
Generic facts behind this Outlook Error 0x800ccc0e Message
Might be in your case you get different factor or reason of Outlook Error 0x800ccc0e on MS Outlook, but I'm listing most common factors behind the Outlook Error 0x800ccc0e, so scroll down to see next.
Erroneous email settings
Internet Service Provider connection is incorrect
Computer system malfunction
Problems with Antivirus program
Blemish or error Outlook add-ins
Corrupt/deprave email files
After, giving you render the idea of the factor, I'll focus to erase the name of error on from MS outlook of PC by these easy tricks and tracts. It's common to get such alert and an error during utilizing the MS Outlook client 0x800ccc0e is an error which is inescapable, so do give tracts will help you out from seeing the error while utilizing MS Outlook.
Tract no. 1 Examine Virus/Malware
Virus/malware is one of nasty and harmful thing and being a factor almost of many issues. Hereby, you should always look first for the virus/malware on your system. And also should ensure yourself that your computer is in the finest condition, or virus/malware free. You should utilize the Antivirus programs to fend virus/malware invasions. You should also utilize MS Outlook feature built-in tool to get and mend the corrupt files in the panel.
Tract no. 2 Disable the Antivirus Program
Infrequently, it can happen that an Antivirus will prove harmful during your execution of sending/receiving emails, and can also left the serious impact upon other aspects. Hereby, it's recommended if you get an error during the execution of email sending/receiving, you should disable the Antivirus program for a while. And then retry the execution of email sending/receiving might you get success with the first move. After disabling the Antivirus program for a couple of moments check the email sending execution and then enable the Antivirus program. If you get the success that will best whether there will another factor, so try another method.
Tracts no.3 Disable the Outlook Add-ins
Might, you have installed any Outlook add-in very soon. Maybe that Outlook add-in is causing the (Outlook Error 0x800ccc0e) message. You should disable that add-in before executing the sending/receiving email messages. If you fixed that error means that Outlook add-ins are noisome for your MS Outlook. Simply delete that.
Tract no.4 Check the Email Settings
The email providers execute a perquisite patronage of the server and add the new setting. Sometimes these patronages and maintenance or resetting being factor emergent changes in the email settings. It can happen that your email settings don't work with the new settings the email provider has made frequently do. So you should examine whether the email settings are accurate or inaccurate. If you got them inaccurate, accurate them to settle the Outlook error 0x800ccc0e.
 Tracts no.5 Delete Doublet Accounts
That can create defy and lead to Outlook error message 0x800ccc0e. When you keep doublet accounts, Keep in mind you don't have another copy of Accounts or Duplicate accounts. If you have, please delete the doublet accounts, with the steps given below:
Click the Tools tab, on the main menu.
Then click Accounts and navigate to the Mail tab.
Choose the doublet email account, and then click the Remove or delete button.
After doing deletion of doublet account, re-launch the MS Outlook and check if the problem still exists.
 Tract no.6 Mend Outlook Client
A factor behind the Outlook error maybe the Outlook corrupt installation, and might be this is the only reasons behind appearing of this error message. Anyway, we have a built-in option to mend Outlook installation. You should mend Outlook client and re-check might you succeed in fixing the MS Outlook Error 0x800ccc0e.
Tract no.7 Mend the Outlook Database File
The last and the final tract to fix the problem. In many cases, it has proved the Outlook data file is corrupt and being a big reason behind the appearance of error message on MS Outlook. So, I really recommend you try to mend Outlook data file, i.e. either manually by utilizing the given option by MS Outlook utility Built-in tool that will mend sure whether you can take the second option the third party solution like, Shoviv PST repair tool to repair your Outlook Database file.
Termination point: Well, here end of the topic based on fixing MS outlook error. As I've cleared before that the error is a usual issue which can appear by those reason given above and this issue is easy to fix by following these step as it is. Hope, you like reading me and delighted with this, now can also readily short this issue by following tract given above.